---
The NEMO Bugout Tarp Shelter is an incredibly versatile and functional bug and sun shelter that can be used with a hammock, for camping, picnics, and anywhere outdoor.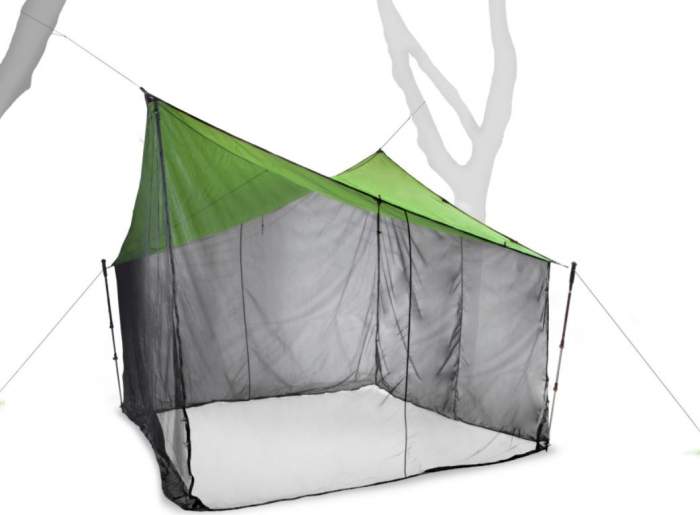 ---
Key features & benefits
Incredibly versatile.
No poles in the package.
Two zippered entry points.
Suitable for hammocks.
---
So what this is about
This NEMO Equipment Bugout Tarp Shelter is built as a floorless screen house or you can call it also a sunshade. There is a roof taffeta and netting everywhere around. It comes without poles, so you can hang it to the trees around as shown in the top picture above, or use your own poles.
When deployed, the shelter is quite tall, the peak height is 84 inches (213 cm). As mentioned, it hangs attached to the trees, so in principle, its roof can be at any height you want. But the meaning of the mentioned peak height is that with this position you will have netting around all the way to the ground to protect you from flying insects.
Note that there are loops for stakes in the corners, and also in the middle of the sides. If you stake the corners with zippers, then you can use such a zipper with one hand only.
The shelter has two zippered entrances, and each of them is with two zippers. The purpose of these dual zippers in one door is the following. When you unzip from the top, you can pass the rope of your hammock and attach it to the tree. Yet, you can still use the lower zipper as you would normally use on any tent's door.
Note that the same design of zippers is used also in this OneTigris TEGIMEN Hammock Hot Tent with Stove Jack that is built as a hammock tent.
The mesh can be rolled up completely and you can fix it with toggles under the roof, see the picture above. In such a setup you can have a great sunshade only, see how it looks: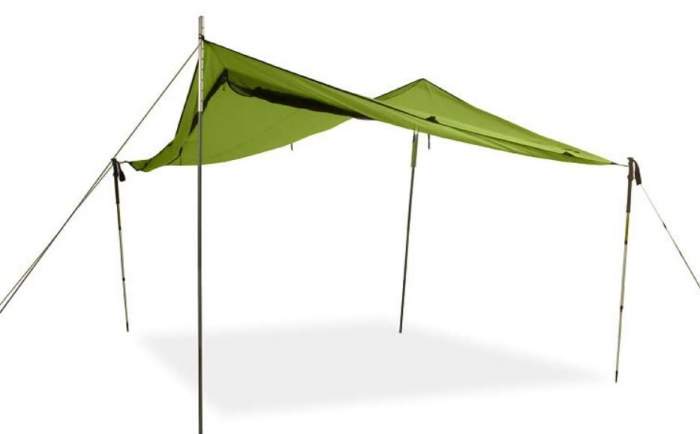 How to set it up
Obviously, this is a non-freestanding shelter. If you have trees around, and use the shelter without poles, then one person can easily do the job. If you have two trees only or any other solid object to attach guylines, you will need extra poles. One person can still do this alone.
But without trees, and if you have to use poles only, you will need several people, ideally four. You have seen it above with 4 poles, to pitch it like this can be tricky unless you have people around to help with poles. 
Materials
The roof is a durable 75D polyester with a PeU coating that gives it a 1500 mm waterproof rating. The walls are all No-See-Um Mesh. This shelter comes with a stuff sack that is equipped with a drawstring closure. 
Please see more in this video:
---
Who is it for
Regarding the weight & packed size, the shelter weighs 7 lb 1 oz (3.2 kg) and it measures (L x D) 23 x 8.5 inches (58 x 22 cm) when folded. So it is moderately light and compact, and you can transport it on a bicycle and even carry short distances attached to the pack. 
Regarding the size, you have a total protected area of 144 ft² (13.4 m²), and the dimensions are 144 x 144 inches (366 x 366 cm). So this is big enough to put above any fixed picnic table in the park. You can put your own table and chairs underneath it, the covered area is big enough for 6 people.
Regarding best use & purpose, this is primarily a shelter from flying bugs and a sunshade. But you have seen above that the roof is waterproof. The zippers on the doors are designed for hammock use, so you can use it as a rain shelter with your camping hammock.
You can also use this shelter as your annex to the family camping tent. This is a great dining and sitting area, and you can use it also as you camp kitchen. It can be used anywhere, no matter what sort of ground you have.

---
Specifications
Packed weight: 7 lb 1 oz (3.2 kg).
Packed size (L x D): 23 x 8.5 in (58 x 22 cm).
Peak height: 84 in (213 cm).
Area: 144 ft² (13.4 m²).
Dimensions: 144 x 144 in (366 x 366 cm).
Included in the package are stakes, guy-out cords, and a repair kit.
Warranty: the NEMO Lifetime Warranty.
---
Final thoughts, rating, pros & cons
So this NEMO Bugout Tarp Shelter is an incredibly versatile product and you can use it in many possible ways. I have included it in my list of best camping screen houses but it is more than that, and it is not a typical screen house at all. This is also a great shelter to use with your camping hammock. Fully recommended.
It is a bit tricky to rate this product using my standard rating criteria for screen houses. But see how it stands:
If you need more products that share some features with this shelter, please check under the category Screen Houses. You will see yet another similar product from the same brand, the NEMO Victory Screenhouse. Check also this Caddis Rapid Screenhouse Shelter that is instant-setup type.
Thank you for reading. There is a comment box below, so let me know if you have questions or comments. Have a nice day.