This NEMO Victory Screenhouse is lightweight and freestanding, quite expensive but built from top-quality materials, with aluminum poles, and some really useful features. Keep reading.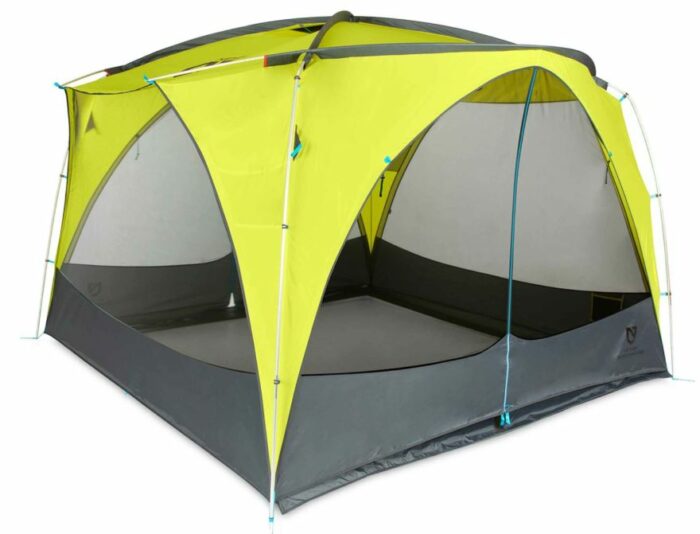 ---
Key features & benefits
Aluminum poles.
Waterproof roof.
2 Doors.
Freestanding.
Stash pockets.
Roof vents.
Rain gutters.
Splash guards.
Carry bag.
---
What this is about
This NEMO Victory Screenhouse is a unique construction supported by 4 poles and on the first look you would not expect it to be freestanding but it is indeed so. This is a clever design and the structure is self-supporting due to tension in the fabric and mesh after you add the poles in all the sleeves and grommets.
This means that after you set it up, you can still move it around to find its best orientation and position in the camp. But it comes with a full set of stakes and guylines so you should never miss staking it properly. Note that they have yet another screen house that is more suitable for hammocks, the NEMO Bugout Tarp Shelter.
The walls are almost completely vertical so I would describe it as a cabin-style structure with lots of headroom. There are two doors with stand-up height and with vertical zippers, and with a nice useful detail, a step pad. This allows you to unzip the door with one hand, you step on the pad and pull the zipper with one hand only, such a small but very clever addition, see the picture.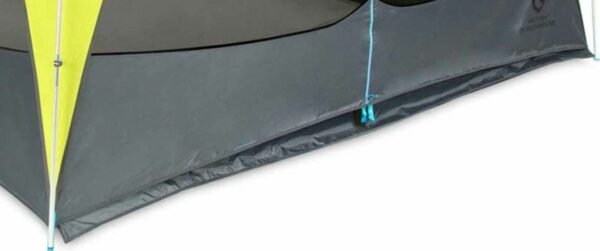 The inner area is with a peak height quite typical for such screen houses, you have 85 inches (216 cm). Note also that you have a few useful storage pouches on the walls, see the picture below, this is again attention to detail. Observe the roof vents.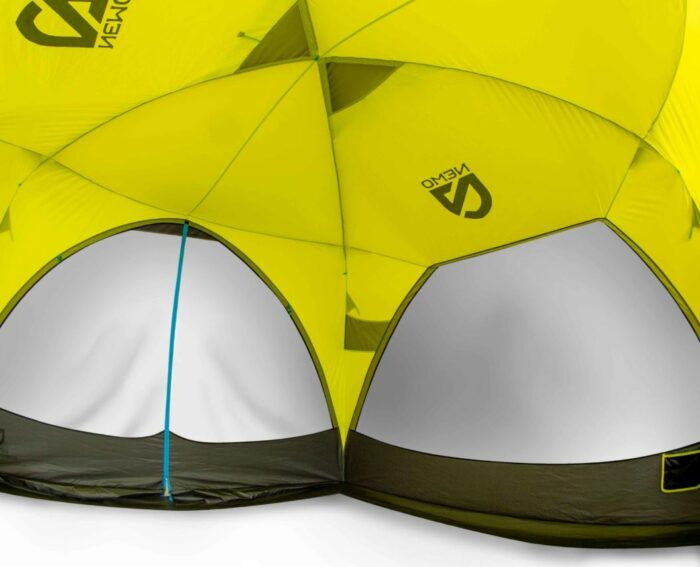 ---
Materials
The poles
You have 4 poles in total and these are top quality aluminum poles in pairs, with 14.5 mm and 12.8 mm diameter.
The fabric
As you would expect, there is a No-See-Um mesh on all 4 sides, but there is also lots of waterproof fabric here. So the roof is a durable 75D PeU polyester with a 1500 mm waterproof rating, and you have it all the way to the ground in the corners. There is also that darker fabric area that goes all the way around the base of the tent. So these are splash guards to protect from splatter.
Note also that the roof is with vents, who would expect this in a screen house. But this allows vapor to escape and reduces condensation. the roof is with rain gutters to channel water properly and mainly along the corner fabric zones, and to avoid water pooling on the roof. To have this working properly, it is best to have this structure pitched on flat ground. The roof and all the other fabric in the corners provide a good sunshade as well.
This NEMO Victory Screenhouse comes with a duffel storage bag, stakes, guylines, and a repair kit.
---
Who is it for
Regarding purpose and functionality, the picture below shows one of the best ways to use this NEMO Victory Screenhouse. You see it next to one of their tents from the Nemo Wagontop series. So if the tent is not particularly large, this screen house provides a lot of extra space that is partly protected from elements and fully protected from flying insects. You can use it as your dining space in the camp or a cooking or sitting space.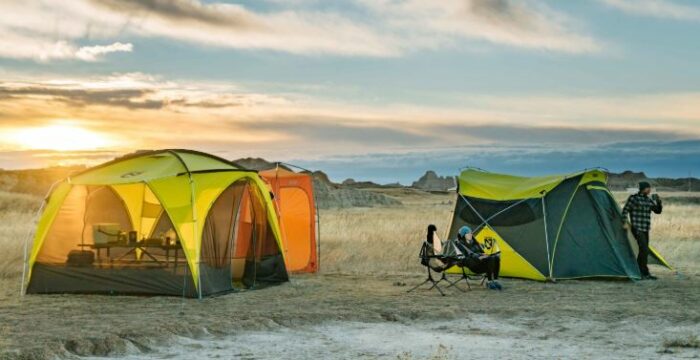 You can take this screen house also to your ordinary picnics and pitch it above any pre-existing park table and have an area protected from insects and from rain, and you can use it in your backyard as well.
Obviously this is not a tent, but note that the roof is waterproof and the screen house provides surprisingly good protection from the rain. So if you put a freestanding hammock in the central area, or just a camping cot, you will be pretty much protected and you can sleep there.
But this is primarily a flying-bug protection structure and a sunshade, you will feel a few degrees cooler under its roof, and with all the breeze through its mesh walls. They describe it as a 3-season shelter and this is more or less so, but I see it mainly as a summer camping shelter.
Regarding the area, you have 100 ft² (9.3 m²) of it, so this is large enough for a camping table and 4-5 camping chairs no matter how big.
Regarding the weight & packed size, in view of its 16 lb 1 oz (7.29 kg) of weight, it could be described as lightweight, but I am surprised that it is not lighter with such aluminum poles. The area/weight ratio is 1.27 m²/kg.
Take for example this Browning Camping Basecamp Screen House with its steel/fiberglass poles yet its area/weight ratio is 1.38 m²/kg and it is even taller. Note also that this YDYL Screen House 13 x 9 is a bit lighter.
The packed size 27 x 10 x 10 inches (69 x 25 x 25 cm) is such that I would describe it as a bit bulky. But you will need a car for such an item so this is of secondary importance.
Regarding the price, well, this is one of those expensive screen houses, but you have seen all its features and quality materials, see also about the warranty below.

Warranty
On the Nemo site, they write that they strive to build the best outdoor equipment on the planet and that they work tirelessly to ensure the highest level of workmanship.
They believe that their products should offer the greatest comfort and protection from the elements. Consequently, all NEMO products carry a lifetime warranty against defects in workmanship and materials.
---
Specifications
Minimum weight: 14 lb 7 oz (6.54 kg).
Packed weight: 16 lb 1 oz (7.29 kg).
Dimensions: 120 x 120 in (305 x 305 cm).
Area: 100 ft² (9.3 m²).
Packed size: 27 x 10 x 10 in (69 x 25 x 25 cm).
Peak height: 85 in (216 cm).
---
Final thoughts, rating, pros & cons
In the summary of this NEMO Victory Screenhouse review, to stress that this shelter may look ordinary if you do not focus on its numerous small but essential details. This is properly designed and only the best materials are used in its construction. This is reflected in its steep price so the shelter may not be for those that are in search of a budget-friendly option.
All in all, this is a versatile and reliable screen house, it has all you need in an item of this type, and this is a nice addition to your tent. Fully recommended. It is included in my list of best camping screen houses.
Please see how I rate this screen house against my standard set of criteria. As you see it scores very well.
For more options check under the category Screen Houses here in the site. You might want to check also this Wenzel Zephyr Screen House. Note that there are screen houses without zippers, with magnets for closure, you can see this design in the Wenzel Durango Magnetic Screenhouse.
You might want to bookmark this site and visit occasionally, this will keep you informed because we add texts here regularly. Thank you for reading and have a nice day.