---
This Outwell Hartsdale 6PA Prime Air 6 Man 3 Room Inflatable Tunnel Tent is a huge structure with inflatable beams and with a great waterproof rating, suitable for a 3-season family camping.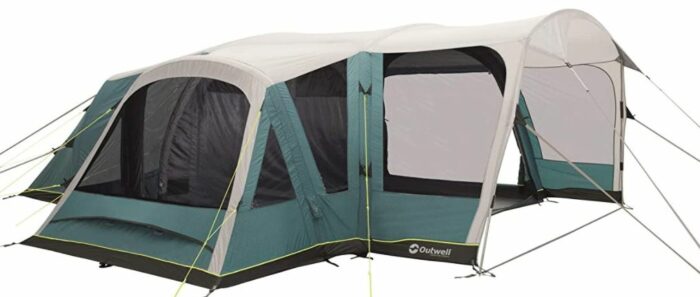 ---
Key features & benefits
Inflatable beams.
3 Rooms.
2 Doors.
Magnetic inner doors closure.
Large porch.
Tinted windows.
E-cable ports.
Air pump included.
---
What this Outwell Hartsdale 6 Person Tent is about
Here you have a unique and huge tunnel type structure with an extension on the side, so the tent is L-shaped. This is a luxurious and tall tent with large solid windows on all sides, so let's see its most important features.
Air beams
This is a tent with advanced air-beam technology, so it is supported by inflatable beams instead of classic poles. The position of the air beams is shown in the picture below (the yellow and the red lines). This is what they describe as the Rigid Air System where all the beams are inflated separately. There is only one solid pole used to support the porch, on the right in the picture below. Observe also the positions of the E-cable ports.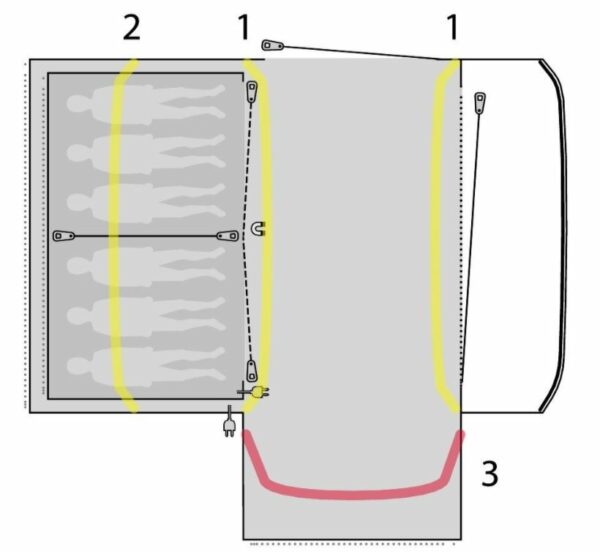 Such air-beam tents are more or less freestanding but you should never miss staking it down properly. Note also that an air pump is included so one person can raise this tent from the ground in several minutes. I have included it in my list of best inflatable tents.
The rooms
There are 3 rooms in total plus a large porch. So you have an inner tent within the tent with a zippered divider in the middle and this is a sleeping area for 6 people. The picture below shows how it looks.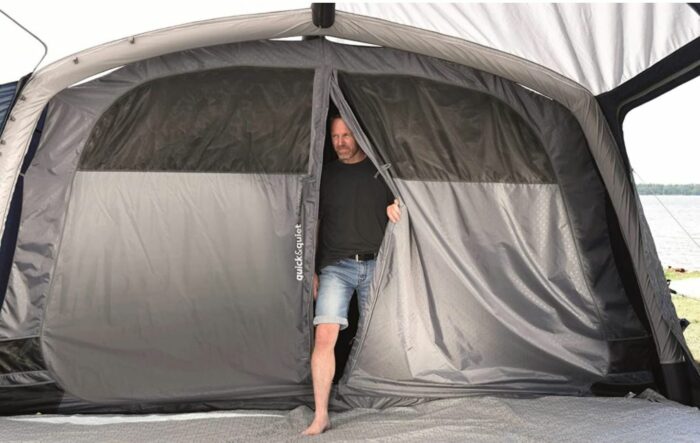 The sleeping area has a dark roof and side panels to reduce light and to improve sleep quality. There are also dark curtains over mesh vents to control light entry. This all will save you from waking at sunrise, and because of these features, I have included it in my list of dark rest tents.
In front of it you have a gigantic living room that is much bigger than the two sleeping rooms combined. You can realize this from the floor plan below. On the right, you have a large covered porch that is protected on the sides.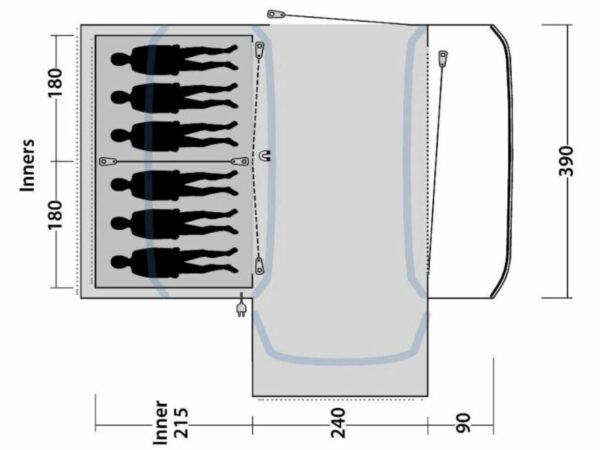 Note that the sleeping rooms are a tent within the shell tent, so this inner tent has its own sewn-in and sealed floor. But the whole shell tent also has its own sewn-in and sealed floor. So you have maximum protection from the ground, and the sleeping area that has two waterproof floors one above another. Very impressive.
The tent is a large and complex structure and it may be useful to see some of its dimensions shown in the picture below. You can see the annex on the left with all its numbers so you can plan what kind and size of camping furniture you can put there.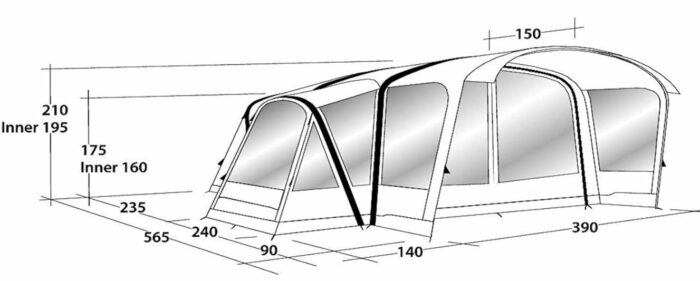 The picture below shows how tall the tent is, so you have a stand-up height in its huge living area. Note that the overall dimensions are 18.5 x 17.4 ft (565 x 530 cm), bear this in mind when you choose your camping spot, this tent needs lots of ground for itself, plus all the guylines around.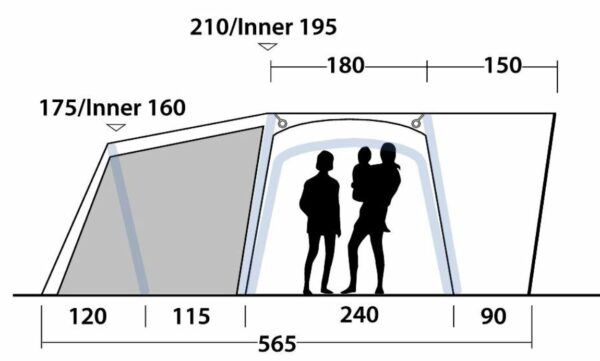 The doors & windows
There are two large doors here, one on the front and one on the side. The former is a panoramic two-layer structure with a mesh and separate panel for protection.
The inner tent doors are with magnetic strips sewn into the vertical seams, so this allows for quick and quiet bedroom entry and exit, but you also have standard zippers here as well for more secure closure when needed.
One of the best elements of this tent is its numerous solid windows, tinted to prevent too much light and for privacy. You have them in the living room and also on the porch. Note that they are also equipped with inner shutters for privacy. The picture below shows some of the solid windows as seen from the sleeping area. The massive air beams are also visible.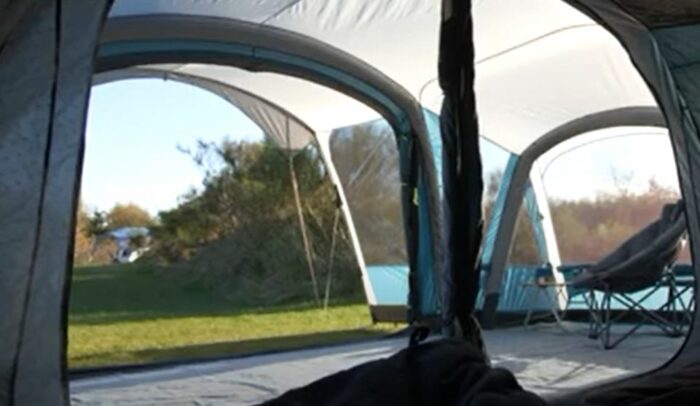 Ventilation
The tent has so many solid windows and the shell is quite enclosed. But there is the panoramic front door with its huge mesh, and this door is deep under the porch so it is fully protected from the rain. This means you can keep it with mesh all the time.
But they have added large vents, so you have one huge on the rear side, the picture below shows it from inside of the sleeping room. As you realize it is almost the full width of the tent. Observe also how dark the inner area is.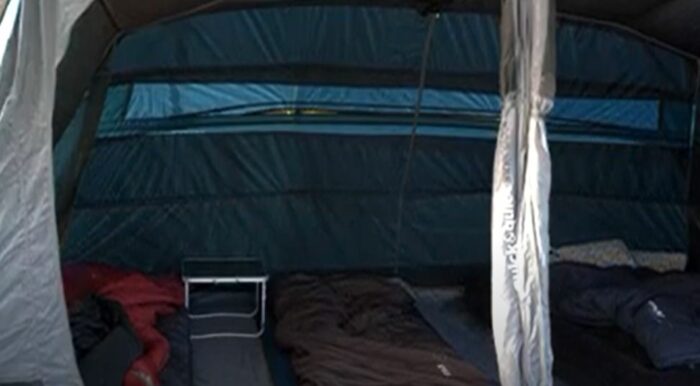 There is yet another vent on the side in the living room, you can see it under the side window in the picture below. With all this, you can have perfect ventilation in any situation. But if you feel cold, you can close all this.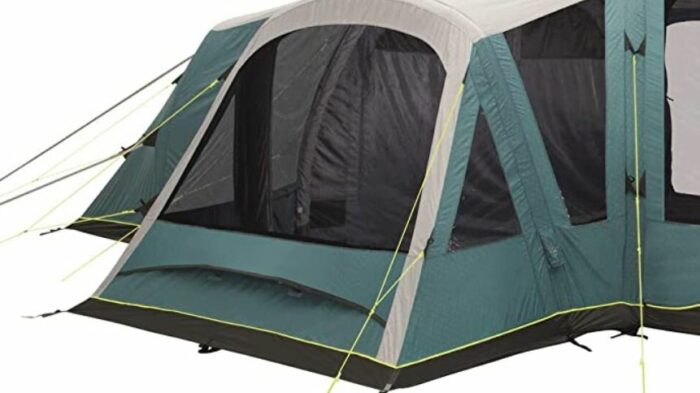 ---
Materials
The poles & beams
As mentioned above, there is only one solid pole, and this is a steel loop with a diameter of 19 mm, in the porch area. The beams are designed for a maximum pressure of 9 psi (0.6 bar).
The fabric
Here is again some great stuff related to this tent. The shell fabric is a 100% hard-wearing and durable polyester which they call the Outtex 4000 Select, and its waterproof rating is 4000 mm. The seams are taped throughout the tent.
The inner tent's fabric is a breathable polyester, and the floor is a double-coated waterproof polyethylene. They claim that the materials meet all the latest regulations and they are fire-retardant.
Other details
A hook track system is in place. It allows for placing hooks to run cables and attach lightweight accessories.
Pre-attached luminous guylines.
Outwell Guyline Retainer System, it ensures avoiding mess with guylines when packing away.
Easy pegging system with color-coding.
Numerous storage pouches on the walls.
Outwell Wind Brace System that includes a supportive webbing in key positions along an air tube to provide enhanced stability in windy conditions.
---
Who is this Hartsdale 6PA Tent for
Capacity: Officially this tent is for 6 people. They have built it for the EU market and such giant tents are quite common there. You have seen its dimensions, but see now the breakdown of the area.
The inner tent with its two sleeping rooms offers 83.3 ft² (7.74 m²). They call this the Premier Bedrooms design, and the letter P in 6PA part of the name means 'Premier'. If you are curious, the letter A here means 'Air'. I do not think this is a particularly large space for 6 people, but see more below.
The living room has 137 ft² (12.72 m²). So the total floored area is 220.3 ft² (20.46 m²). This qualifies it to be included in my list of extra large family camping tents.
In the case of 6 people, the floored area per person is 36.7 ft² (3.4 m²). Now, this is an incredible luxury, a glamping more than a camping. The tent is built for comfort and not to be packed like sardines. But if necessary, the living room alone can accommodate 8 people more, so the total capacity determined in the usual but wrong way (by the number of sleeping pads on the floor) could be 14 people.
Note that there is still the additional porch area with its 37.7 ft² (3.5 m²). All in all, amazing for a tent with a 6-people official capacity.
Seasons & climate: This is a true 3-season tent and even more than that. It is nicely ventilated so it can be used in warm weather, the dark inner makes it very suitable for sunny places.
But it comes with solid windows, and you can also close everything so it will work great in a cooler environment. One thing where it cannot work is the snow conditions, such beams would likely collapse under snow accumulated on the tent.
The air beams are massive, you have seen them in the pictures above. But they are from inside so the structure is aerodynamic and smooth. They claim that the tent can handle winds with wind force 9. This is in the range of strong and severe gale 47–54 mph (75–88 km/h).
Note also that such air beams can never break. They will bend under the pressure but they restore the shape instantly when the pressure drops.
Regarding the weight & packed size, these are not its best features, the tent is heavy and bulky. It weighs 63.3 lb (28.7 kg) and its packed size is 39 x 16.9 x 16.9 inches (99 x 43 x 43 cm). But you have seen its dimensions, so this is expected. In fact, the area/weight ratio is 0.71 m²/kg so this is not bad at all. In any case, this is for places with a car access.
Please see a bit more about this tent in this short video below, and a bit more about pitching and packing of the tent see in this pdf file:
---
Specifications
Official capacity: 6 people.
Weight: 63.3 lb (28.7 kg).
Dimensions: 18.5 x 17.4 ft (565 x 530 cm).
Living room area: 137 ft² (12.72 m²).
Inner tent's area: 83.3 ft² (7.74 m²).
Total floored area: 220.3 ft² (20.46 m²).
Total floored area per person: 36.7 ft² (3.4 m²).
Porch area: 37.7 ft² (3.5 m²).
Packed size: 39 x 16.9 x 16.9 in (99 x 43 x 43 cm).
---
Final thoughts, rating, pros & cons
To summarize this Outwell Hartsdale 6PA Prime Air 6 Man 3 Room Inflatable Tunnel Tent review, the long and complicated name of this tent implies many great features. This is a tent of gigantic dimensions, yet because of its air beams one person can set it up with ease.
It can accommodate far more users than what its official capacity tells you. So how many really? Well, I would think about 14 or so. It is pleasant and livable, and you will have full protection no matter of weather conditions. With so much to offer, the price must be steep, but if you can afford it, you will have a camping castle for your family. Fully recommended.
Here is the summary of my rating, and pros & cons, so you can compare it with some other large tents here in the site. As you see, the overall rating is Excellent:
If you need more options of this type with air beams, please check under the category Inflatable Tents. See their Outwell Chatham 4 Person Air Tent built in the same style. For more of such tents with reduced glare see in the group Dark Rest Tents. You might want also to see this huge Skandika UV Protection Montana Unisex Outdoor Tunnel Tent with classic poles.
Bookmark this site and visit again. If you search around you will realize that we add texts here regularly. So this will keep you informed about the situation in the family camping tents industry. There is a subscription form below for our weekly newsletter, so subscribe and stay in touch, there is no spam ever in our emails. Thank you for reading and have a nice day.