---
Ozark Trail 10 person tent with screen porch is an extraordinary large dome-style family camping tent with 3 rooms plus a screen porch, and it comes with an unbelievable price tag.

---
Key features & benefits
Huge area; 315 ft² (29.3 m²).
3 inner rooms.
2 removable dividers.
2 external doors.
2 windows + 2 windows on the doors.
Screen porch.
Mud mat.
Large storage pockets.
Electric cable port.
Media sleeve which doubles also as a gear loft.
---
What is in the name – what type is this
This is a new tent on the market and there seems to be some confusion in the terminology. You will see it in some videos described as a cabin tent. In fact, this is a tent with fiberglass poles which create a typical dome structure extended on both sides. So this is an extended-dome style tent in the true sense as you can realize from the picture below.
This tent should not be mixed with the Ozark Trail Cabin 10 tent, or with the Ozark Trail 10-Person 3-Room Vacation Tent with Built-In Mud Mat which is a smaller tent and without the screen porch. Actually, there are more 10 person tents from the same brand with very similar descriptions, so try not to get confused (if you can).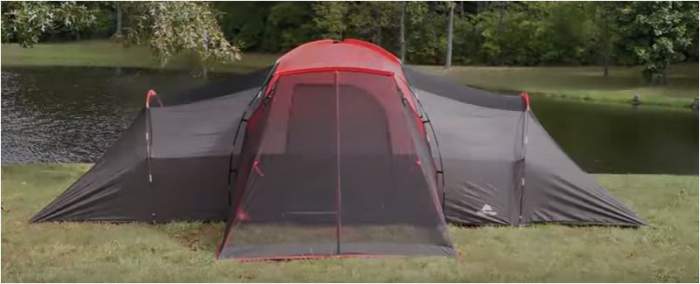 The tent is not freestanding, so you have to stake it down and you will need lots of the area, so plan in advance. All stakes are included in the package. The picture above shows how it looks when it is staked completely.
The tent is with three rooms, the two side rooms are with the windows which you see in the top picture above. The central room is behind the porch, and you have two doors on this central section, one on the front and one on the back.
This is a summer camping tent with a lot of mesh on the ceiling and with a minimal fly which covers only the ceiling. Such a structure doesn't keep the warmth, so the tent is not for a cold environment and for strong winds and rain.
The front porch
The front screened porch is an extra half-protected space, so it has its own fly above, and its sides are also partly protected. But the bigger part of the screened section on the front and on the two sides is without panels. So you can store some gear here and it will be at least protected, but this is mainly the sitting area for chairs and a table and for cooking, with full protection against flying insects.
Note that the porch is without a floor; you only have a mud mat inside. I think this is better so, this is an area for sitting and you wouldn't want to take care of the floor. You have plenty of the floored space inside of this giant.
---
Who is it for
This is a huge tent, and it is rare to see that a tent really has enough space for the declared number of users. But this is the case here, it has more than enough space for 10 people sleeping on the floor.
You can also put several largest queen size beds inside and you will still have plenty of space. So 2 couples can organize the space nicely. The 2 included dividers will give some privacy, note that both entry doors are in the central room.
For parents with kids, it is always best to downgrade it drastically, but you really have enough room here for parents and 5-6 kids.
You will need a car for transportation regardless of where you camp, and you will need lots of ground. Bear in mind that the front porch needs extra space and you have to plan where to set it up.

---
The construction
The poles
You have the following 6 fiberglass shock-corded poles:
2 main poles that create the central dome.
2 poles for extended sections on the sides.
1 pole which gives the shape and support to the front screened porch.
1 shorter brim pole that creates a small awning above the back door.
The fabric
They do not provide enough information. But the main body and the fly are polyester taffeta and polyester mesh, and the floor is polyethylene. No data are available regarding the waterproofness rating, but for a summer camping, it should be good enough in any case.
All the windows and the doors are with mesh and waterproof panels, so you have full protection here when needed but you can keep them open with mesh only for ventilation.
Ventilation
There are no vents but the main door can be kept open even when it is rating, so this will create enough air circulation, at least when the dividers are not in place.
On the other hand, the mesh in the side rooms is all the way down to some 60 cm above the ground, so the air has plenty of possibilities to circulate under the fly. I do not think you will ever have a serious issue with condensation here.
The setup
It is best that you see the video, all is shown very nicely and this all can be done in 15-20 minutes or so. This is a dome tent and the poles are shock-corded so the procedure is self-evident, but see more here:
---
Specifications
Type: extended dome tent, non-freestanding.
Capacity: 10 people.
Weight: 32 lb (14.5 kg).
Dimensions (L x W): 21 x 15 ft (252 x 180 in; 640 x 457 cm).
Floor area: 315 ft² (29.3 m²).
Area per person: 31.5 ft² (2.93 m²).
Peak height: 78 in (198 cm).
Packed size (L x D): 42 x 8 in (107 x 20 cm).
3 rooms + screen room.
2 doors.
---
Ozark Trail 10 person tent with screen porch vs competitors
Here is the Ozark Trail 10 person tent side by side with some other tents formally in the same size range, but clearly regarding the size, those are not a match for this tent. To see more please follow the links.
Ozark Trails 10
With Screen Room

Core Cabin 11
With Screen Room
Mountain Trails
Grand Pass 10
---
Final thoughts, rating, pros & cons
So this was my review of the Ozark Trail 10 Person Tent With Screen Porch, as you realize this is an impressive tent with the huge floor size and with an incredible price tag. The 3 rooms allow for lots of versatility and organization, for different users and for different equipment.
This tent is for summer camping in mild weather conditions so I wouldn't put it to serious tests in very harsh situations. Though being an extended dome tent, it is quite aerodynamic and it can withstand a lot of pressure. But use it in summer and you will have a castle at your camping spot.
There is only one window on each of the side rooms. This is enough but I miss to see yet another on the opposite side. See how I rate it:
Ozark Trail 10 Person Tent With Screen Porch 21 x 15
There are many other tents for 10 people described in the site, so if you need something different just check this text with a long list of such tents. If you need something different with a screen room please check this Ozark Trail 9 tent. Need a cabin style tent? No problem, check the Core 10-person cabin tent. You might want to check also this tent from the same brand, the Ozark Trail 16′ x 9′ Modified Dome Tunnel Tent which is a hybrid type as the name suggests.
Please use the comment box below in the case of questions or comments. I wish you a nice day.

---