Ozark Trail 12-Person Cabin Tent with Screen Porch is a nicely designed summer camping tent with two floored rooms, numerous large windows, two doors, and a great price.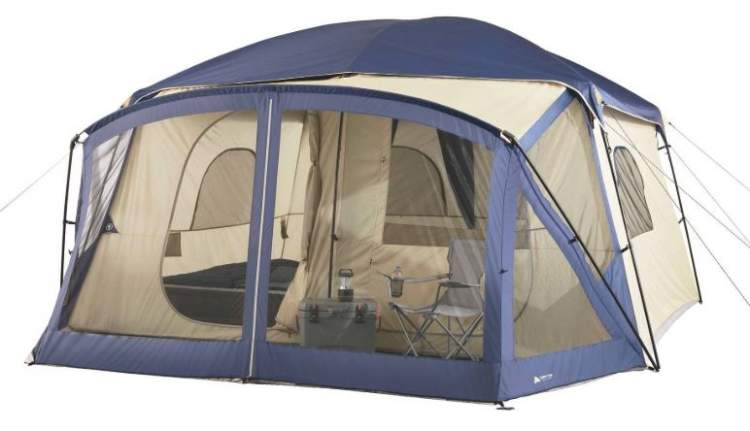 ---
Key features & benefits
2 Rooms plus a screen room.
4+2 Windows.
Steel & fiberglass poles.
E-cable port.
Freestanding.
---
Where to buy
This tent is available on Amazon, so please follow the link and check shipping conditions for your location, they operate globally.
Check also at Walmart.
---
What type of tent is this
Here you have a beautifully designed family camping tent built in the cabin style with straight and tall walls. This is a structure with two inner rooms plus a front screen porch. So I would put it in the group of 3-room tents.
Note that the inner divider is sewn-in (see the picture below), and you have a zipper in the middle of it. This gives a bit of privacy, but as you know you cannot expect much of it in a tent.
The screen area is not floored, so you can use your camping furniture in it without being worried about the floor. It provides protection from flying insects, and it is with a roof so you can sit in the shade and use the area for cooking as well. I have included it in my list of best family camping tents with a screen porch. The tent comes with an E-cable port shown below so you can get power in.
One could also describe this structure as a freestanding tent but this is a tall and heavy construction so don't even think of using it without stakes, they are included. The peak height is 90 in (229 cm), so you realize how pleasant and tall this structure is, see the picture below. I have added it to my list of very tall tents for camping.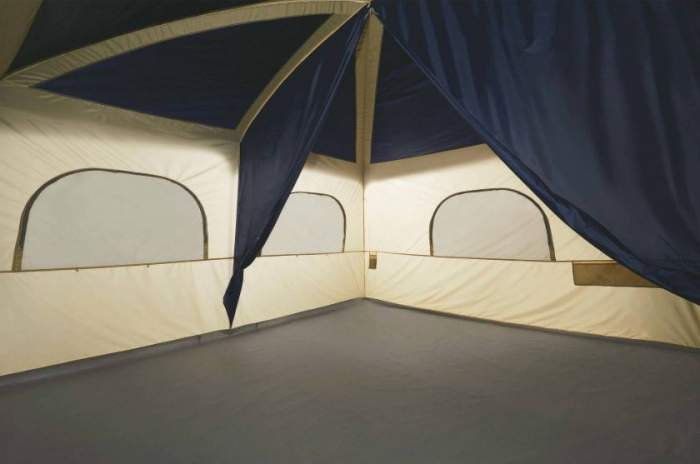 The doors & windows
There are two huge doors that get to the screen room, so both of the inner rooms have their own door. The screen room itself has a huge inverted-T shaped door and you can see it in the top picture above.
The tent has 4 separate windows on the three sides, some are visible in the picture above. All are with mesh and zippered panels for privacy and rain protection. The two mentioned inner doors are also with mesh and panels, so this makes 6 windows in total. The screen room has no panels so you have great views everywhere around.
---
Who is it for
Space-wise, the tent is with the declared 12-person capacity. The inner area is 168 ft² (15.6 m²) and this would imply that you have 14 ft² (1.3 m²) per person. This is not much for such a number of people, and the picture below shows what the manufacturer suggests for using the floor. Although it is indeed possible to put 12 pads on the floor, this is not so practical for real camping.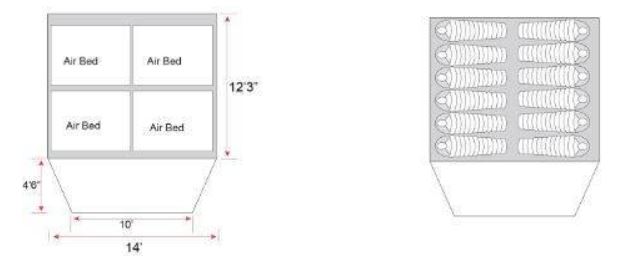 But this is indeed a large space and you can organize it as you wish.
If you use bunk camping cots, you can have even more than 12 people inside. As you see from the picture above, the screen room also provides 54 ft² (5 m²) of the covered area. This is not full protection because the walls are mesh, but a big part of it is protected from the rain. This adds to the comfort of this tent.
Seasons-wise & climate-wise, there is no doubt this is a summer camping tent and most suitable for warm weather camping. See the picture below to realize why; the ceiling is all mesh and you would not feel great in a cool environment.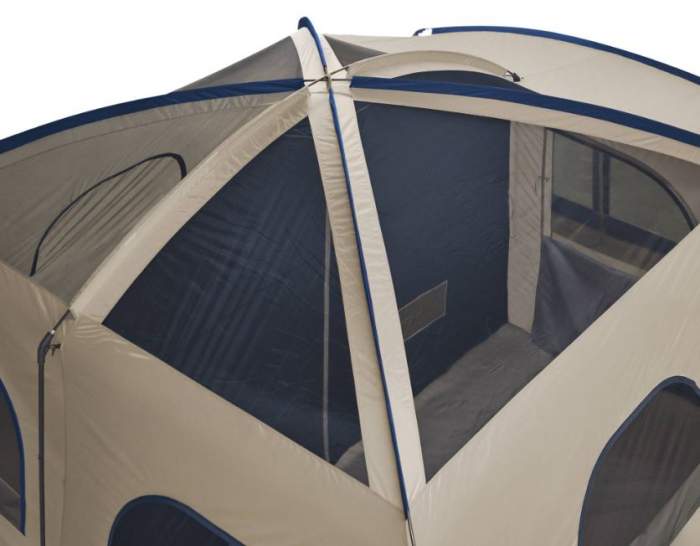 On the other hand, this is a pleasant tall tent but this does not make it suitable for windy conditions. So use it in a quiet area. Note also that you have what they describe as a cathedral roof, this is great but this cannot support any extra weight. This is why you should avoid snow with this tent.
Weight-wise, with its 44 lb (20 kg) this is is a heavy tent. Nore also that its packed size is 28.9 x 17.3 x 10.9 inches (73 x 44 x 28 cm) so it is bulky. In any case, you will need a car for transportation.
However, the setup time of this huge tent is some 20 minutes or so. It is much easier to set it up with a partner, this holds in particular for the fly because of the height of the tent.
---
Materials
The poles
You have a combination of steel used for its 6+2 legs, and fiberglass used for the 4 roof poles. The elbow elements which connect the roof poles and the legs are pre-attached to the tent so you cannot lose them, see one in the picture below.
The poles attach to the tent through a combination of sleeves on the roof and clips, plus the usual pin-and-ring system at the base of the tent, see the picture below.
The fabric
They do not provide any official information about the fabric and its waterproof rating. The rain fly is with taped seams but it covers only the roof.
Other features
You have 6 steel and 13 plastic stakes in the package.
10 Guy ropes are included, see one shown above.
8 Corner joints are included.
Several storage pockets are on the walls, see the picture above.
---
Rating, pros & cons
Please see how I rate this Ozark Trail 12 tent, I use my standard set of criteria so you can easily compare with the other tents presented here in the site.
---
Specifications
Declared capacity: 12 people.
Weight: 44 lb (20 kg).
Inner dimensions: 14 x 12 ft (4.27 x 3.66 m).
Floor area: 168 ft² (15.6 m²).
Area per person: 14 ft² (1.3 m²).
Screen room area: 54 ft² (5 m²).
Peak height: 90 in (229 cm).
Packed size: 28.9 x 17.3 x 10.9 in (73 x 44 x 28 cm).
---
Ozark Trail 12-Person Cabin Tent with Screen Porch vs Competitors
You might want to see how this tent compares with some other family camping tents with the same declared capacity. So here you have the NTK Super Arizona GT which is far superior regarding protection because of its full-coverage fly and high waterproof rating. The Tahoe Gear Gateway 10 to 12 Person Deluxe Cabin is also a summer camping tent, so I would say in the same group as the Ozark Trail tent, but bear in mind this is a tunnel tent and not a cabin as its name suggests.
As you realize, the Ozark Trail tent offers far less area than the other two tents, but it has plus a screen room which you do not have in the other two tents. So please follow the links to read more.
Ozark Trail 12 with Screen Room
28.9 x 17.3 x 10.9
(73 x 44 x 28)
29.6 x 13.7 x 9.7
(75 x 35 x 25)

28 x 16 x 14
(71 x 41 x 36)
---
Final thoughts
In summary, this Ozark Trail 12-Person Cabin Tent with Screen Porch is nicely designed and the price is appropriate. It would be better with a few floor vents. Also, it would be great if the manufacturer provided some reliable information about its fabric and rating, this is disappointing. So do not put it to harsh tests, this is a tent for quiet summer weather conditions.
Check on Amazon
Check at Walmart
I already gave a few alternatives in the comparison table above. If you need more, just look around in this site, it is all about family camping tents and you will find something for you. Check this Coleman 12 Person Skydome XL Tent which is officially with the same capacity but an extended dome tent.
Note that this is not a sponsored text, and I am not paid by the brand. Please use the comment box below in case of questions or comments. Have a nice day.