Tahoe Gear Gateway 10 to 12 Person Deluxe Cabin Family Camping Tent is a tall L-shaped 2-room tent with 2 doors and many windows, suitable for warm weather camping.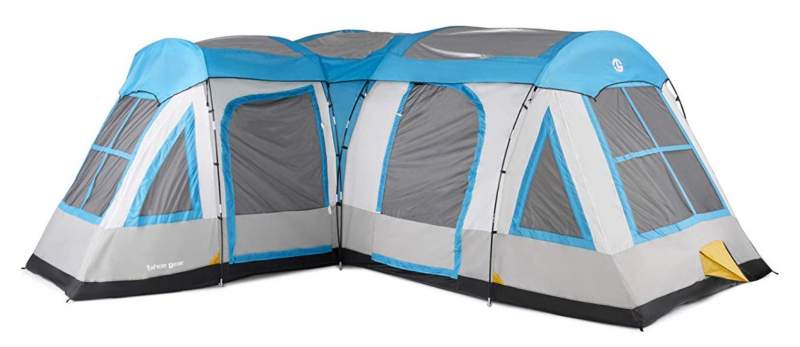 ---
Key features & benefits
L-shaped tunnel tent.
Non-freestanding.
Huge area.
2 Doors.
Many large windows.
Floor vent.
2 E-cable ports.
Very good price.
---
Where to buy
This tent is available on Amazon. So please follow the link and check the price and shipping conditions for your location.
You can get it also at Walmart.
---
What type of tent is this
What you have here is a very unique design, an L-shaped tent which is also a tunnel-type structure supported with 5 loops, most of them visible in the picture below. So the word cabin used by the manufacturer in the name of this tent is not completely accurate. The tent is not freestanding, it is essential that you stake it down properly on all three narrow sides.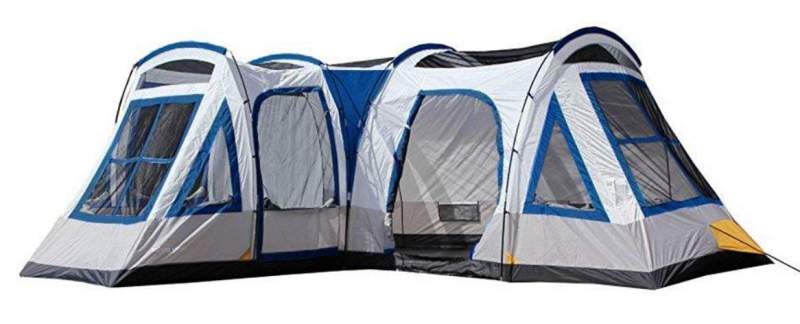 The tent is with 2 large doors visible in the picture above, and 7 separate windows. This is a 2-room construction, and you have the main room plus a smaller one which is separated by a sewn-in divider and an inner door with zipper. Each of the two rooms has its own entry door. So in terms of privacy, there is nothing one could object here.
In addition to all this, the tent is also 84 inches (213 cm) tall, so this is a very pleasant structure. However, the back side is without any opening as you can see from the picture below.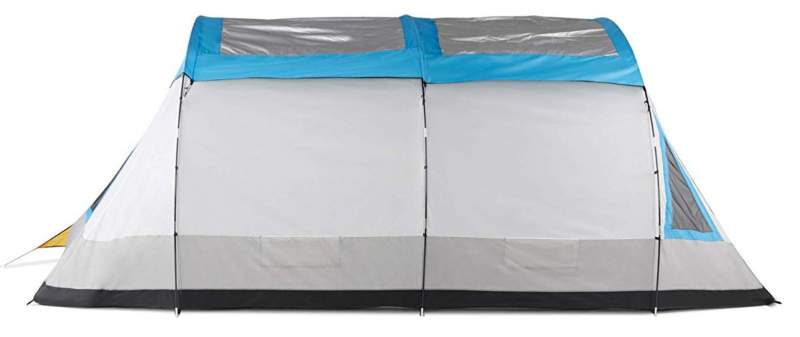 Near each of the two doors, you have a cable entry point, and inside there are a couple of storage elements on the walls. The package includes a tent carry bag shown below, pole bag, stakes, and assembly instructions.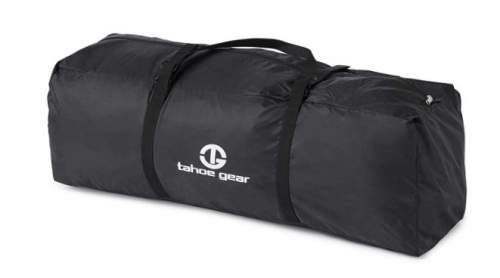 ---
Who is it for
Space-wise, the declared capacity of this tent is 12 people. They do not provide any info about the area, but from the picture below you can conclude that roughly speaking it is around 215 ft² (20 m²). So in the case of such a number of users, you would have 17.9 ft² (1.67 m²) per person.
This is quite a good number and I have added it to my list with best 12-person family camping tents. Nevertheless, in the case of family camping it is best to downgrade the number of users drastically.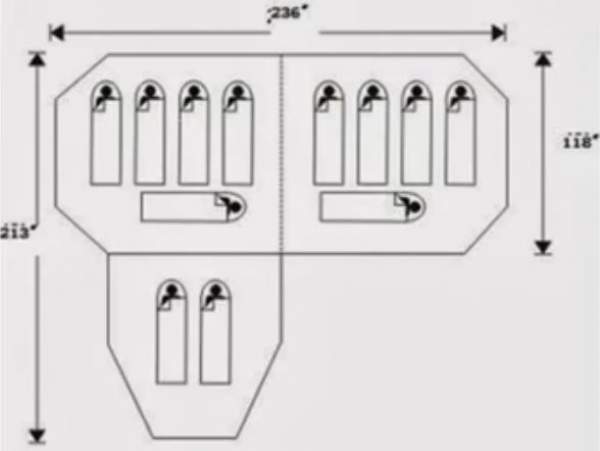 Weight-wise, with its 39.6 lb (18 kg) this is not a lightweight item. This together with its packed size 29.6 x 13.7 x 9.7 inches (75 x 35 x 25 cm) tells you that you need a car for such a tent. But you will see in the comparison table below that this weight is completely normal for a tent of such a size. In fact, its Area/Weight ratio is not bad at all, see in the rating below.
Seasons-wise & climate-wise, this Tahoe Gear Gateway tent is best suited for summer camping, for warm weather conditions, and for areas without much rain and wind.
This is because of so much mesh on the roof which is perfect for a warm climate but far less appropriate for a cooler environment, see the picture.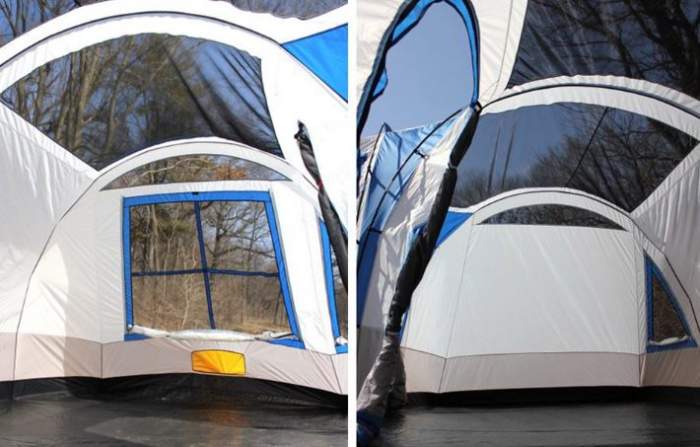 The waterproof rating for this tent is quite appropriate for such a type, but the fly is minimal and there are so many windows with zippers. You have seen also how tall this tent is. This is why it is best suited for calm weather conditions.
---
Materials
The poles
You have them 5, all shock-corded fiberglass poles with standard pin and ring connection system on the tent's base, clips on the sides, and sleeves on the roof.
The fabric
The body and the fly are a durable 70D/190T polyester with a 1200 mm waterproof rating. The fly includes guy ropes for securing the tent in windy weather, and it also features a solar shield that reflects sunlight for a cooler atmosphere. The floor is 120-gram polyethylene, a strong and fully waterproof material.
The windows and the doors are with mesh and panels with zippers, so this adds to the weight. You have seen how many windows this tent has.
Ventilation
With so much mesh around, ventilation is perfect as long as you can keep the windows with mesh only. When it is raining you will have to zip up the panels. In such situations, you will rely on a small floor vent (with a yellow cover visible in the pictures) and on the mesh ceiling.
---
Specifications
Declared capacity: 12 people.
Weight: 39.6 lb (18 kg).
Dimensions: 236 x 213 in (600 x 541 cm).
Area: around 215 ft² (20 m²).
Area per person: 17.9 ft² (1.67 m²).
Packed size: 29.6 x 13.7 x 9.7 in (75 x 35 x 25 cm).
Peak height: 84 in (213 cm).
---
Tahoe Gear Gateway Tent vs Core 11 & NTK Super Arizona GT 12
I have decided to show these tents side by side because of their similar declared capacity, the weight, and the number of rooms. So the Core 11 Tent is much smaller than the other two and it is also lower. The NTK Super Arizona GT 12 offers a far better protection because of its full-coverage fly and a high waterproof rating, but it is also more expensive. Please follow the links for more details.
29.6 x 13.7 x 9.7
(75 x 35 x 25)
31 x 11.2 x 9.7
(79 x 29 x 25)

28 x 16 x 14
(71 x 41 x 36)
---
Final thoughts, rating, pros & cons
So this Tahoe Gear Gateway 10 to 12 Person Deluxe Cabin Family Camping Tent comes with a unique design. Large windows, 7 feet high ceiling, two rooms, and two doors make it a comfortable option for a long weekend away with the family or for longer summertime excursions.
Please see how I rate it against my standard set of criteria which I use for all the tents here in the site so you can compare easily:
If you need more options in this size range, please check under the category Tents for 11 people plus. Check this Ozark Trail 12 Person Instant Cabin 16 x 16 3-Room Tent which has a huge awning area.
Note that this is not a sponsored text, and I am not paid by the manufacturer. Please let us know what you think about this tent, there is a comment box below.

---