The Ozark Trail 5-in-1 Convertible Instant Tent and Shelter is a completely unique system with 2 separate 4-person tents, one screenhouse, and an instant setup fly.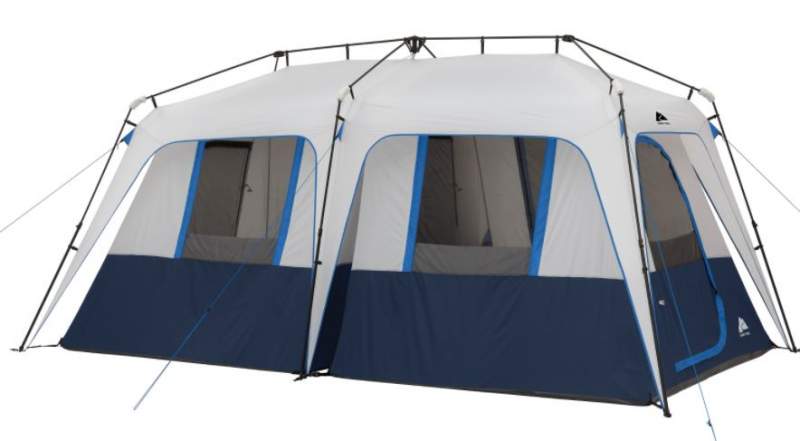 ---
Key features
5-in-1 System.
Instant setup fly/sunshade.
Unique design.
2 Tents & 2 rooms.
Screen room included.
Incredible price.
---
What is in the name
5-in-1 System
This is currently completely unique system on the market. It can be described as an semi-instant system because the roof/fly is with a pre-attached frame, and the remaining elements are then attached to it separately.
The pictures below show the most important steps when you want to pitch this structure, the meaning of the steps will become more clear in the text below. You realize that the fly is pre-attached to the frame and you raise them instantly.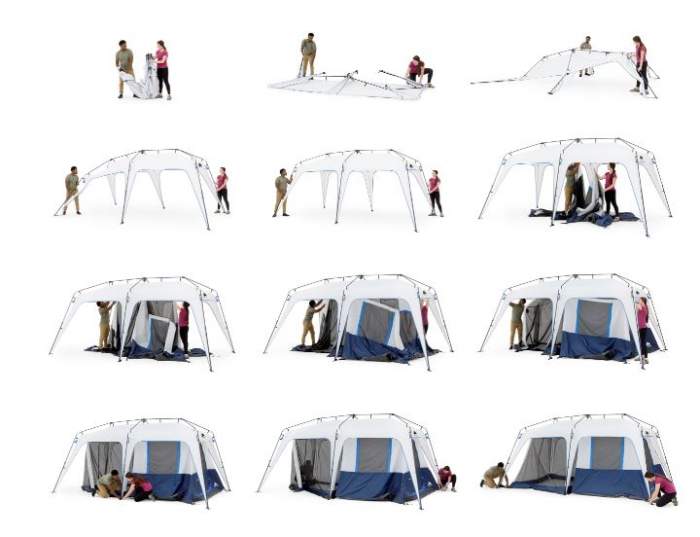 If you are puzzled with the phrase 5-in-1, here is what this means:
You have a fully freestanding instant-setup fly/sunshade.
There are two separate 4-person tents that attach under the sunshade.
There is a separate screenhouse that you can use instead of any of the two tents.
This means you can use it as follows:
i) Use as a sunshade alone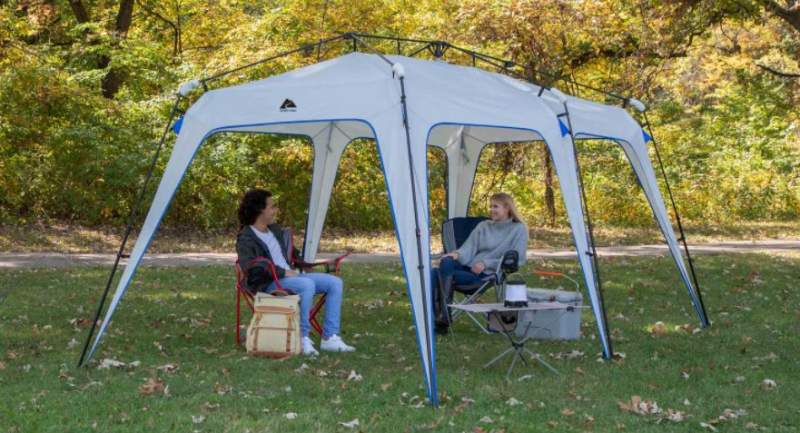 All the elements in the picture above are pre-attached to each other, so you simply unfold and extend its poles. This is done in a minute.
ii) Use two tents with the sunshade/fly above
This configuration is presented in the top picture. So you have two separate 4-person tents attached to the roof (fly). Both tents have their two separate doors and windows on all sides. You have lots of privacy in this setup. But you can also walk from one tent to another if you wish, see how this looks: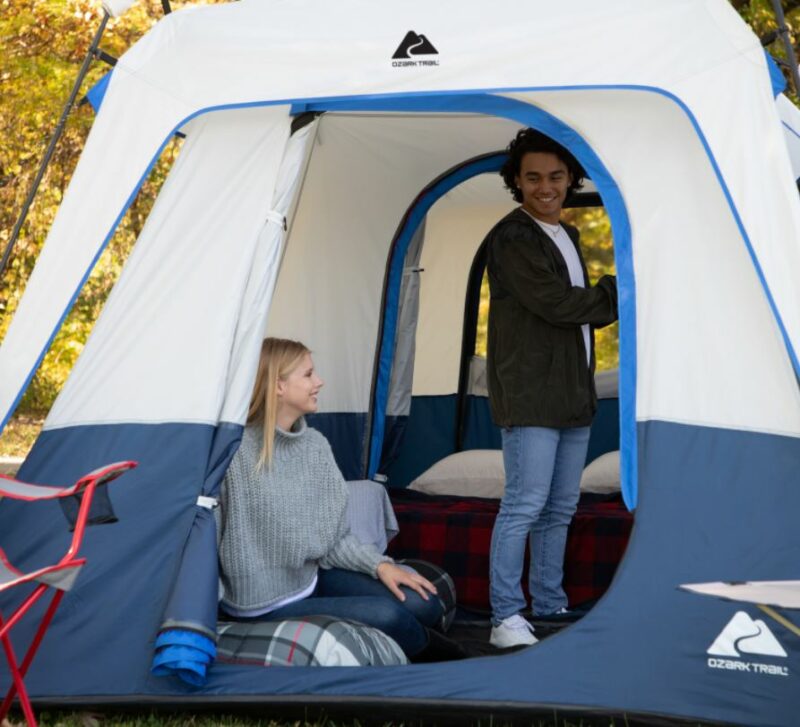 iii) Use any of the tents with the sunshade/fly above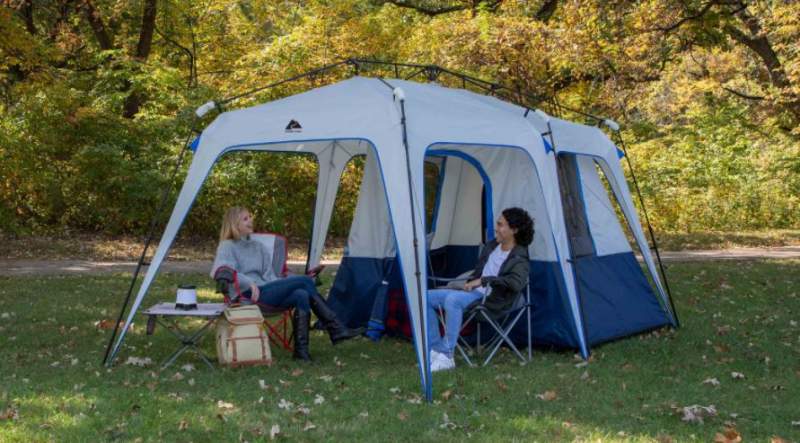 In this configuration you have one of the two tents attached to the roof, and this can be any of them, the structure is fully symmetric. So this is a 4-person tent with a huge porch in front of it. This is why I have included it in my list of 4-person tents.
iv) Use any of the tents with the screenhouse & fly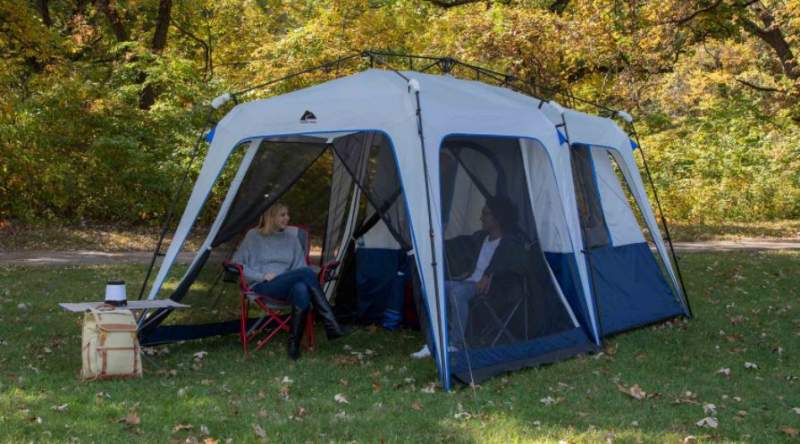 In this setup you have a 4-person tent plus a screened area in front of it. This is a very useful option and I have included it in my list of family camping tents with a screen porch.
v) Use the screenhouse with the sunshade above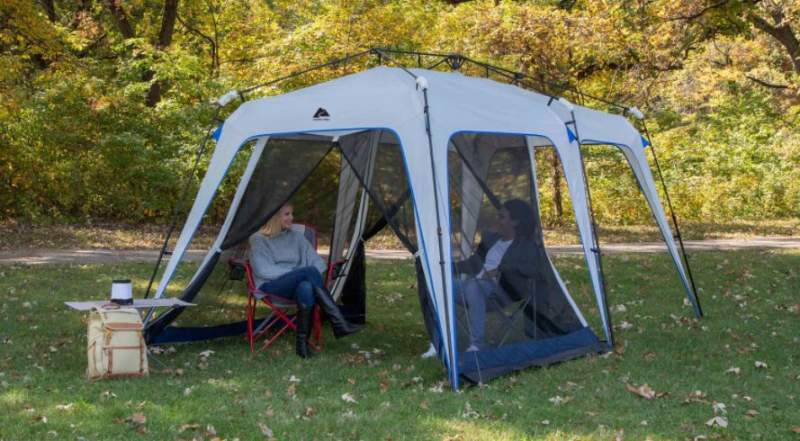 So this is again a very functional setup suitable for picnics. You have a floorless 2-door screenhouse for protection from flying insects, plus a large porch for sitting in the shade. I have all the good reasons to include it to my list of best screen houses for camping.
Now you understand why this is a 5-in-1 system.
Materials & other features
The frame is steel and the leg poles are with easy push buttons for quick setup and takedown. The fly seems to be polyester (but they did not provide this information) with 1200 mm PU water and weather resistant coating. The pictures below show some extra details, the wall pouches and attachment buckles:
---
Who is it for
Regarding best use, you have already seen it, this is an incredibly versatile product with many variants of using it, as a 4-person tent, as a 8-person tent, as a screenhouse, etc. You can use it as an annex protected space next to your family camping tent.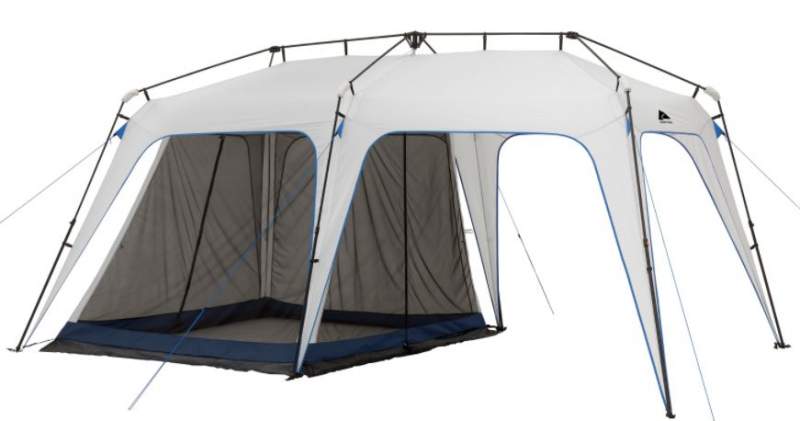 Regarding capacity, each of the tents can accommodate 4 sleeping pads. But for real camping I see it as a system for up to 5 users, ideal for parents with 2-3 kids, and also for two couples.
Each of the two tents can accommodate one queen size bed, see the picture. The screen room alone is large enough for a couple of camping chairs and a small side table.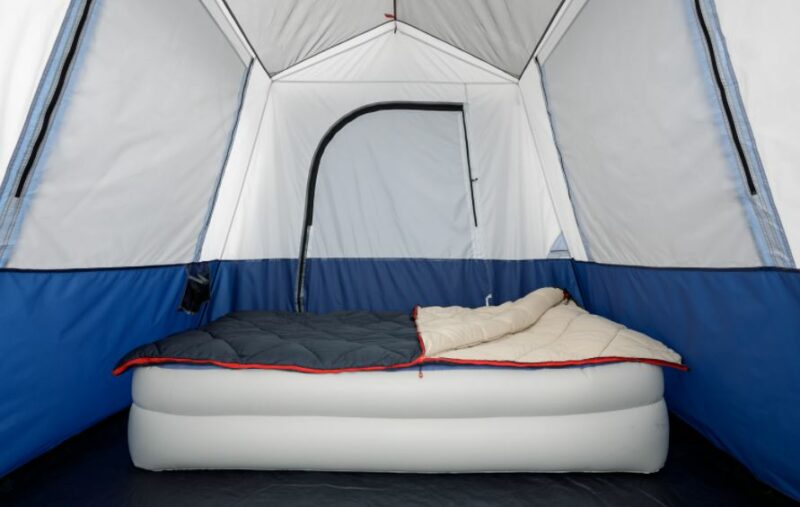 Regarding the weight, this system is heavy, but there are many elements here and this is a very stable structure. This is a car camping tent so the weight is not really a big issue.
---
Specifications
Official capacity: 8 people.
Weight: 41 lb (18.6 kg).
Dimensions: 15 x 9 ft (457 x 274 cm).
Screen room size: 8 x 7 ft (244 x 213 cm).
4-Person tent size: 8 x 7 ft (244 x 213 cm).
4-Person tent area: 56 ft² (5.2 m²).
Total floor area in two tents: 112 ft² (10.4 m²).
Total floor area per person: 14 ft² (1.3 m²).
Inner peak height: 76 in (193 cm).
External peak height: 84 in (213 cm).
Packed size in the bag: 4 x 1 x 1 ft (122 x 30 x 30 cm).
---
Final thoughts, rating, pros & cons
So as of the moment of writing this text, this Ozark Trail 5-in-1 Convertible Instant Tent and Shelter is completely unique on the market. I do not remember anything similar and so versatile. When you see all its features, its price looks unbelievable.
I have a set of rating criteria that I use consistently for all the tents here in the site. This makes it easy for readers to compare. This tent has great features but the weight and packed size affect the overall rating.
Please check under the category Cabin Tents if you need more options in this shape. You will find them many. But if you want a tent with a screen porch, you might want to check the Venture Forward North Shore 8-Person Cabin Tent.
Please let me know if you have questions, the comment box is below. Subscribe to my weekly newsletter and stay informed, you have the subscription form below. Thank you for reading and have a nice day.