---
This Ozark Trail 6 Person Instant Cabin Tent with Light is fully freestanding with a steel frame and three windows. With its 60 seconds setup time it is very suitable for users who change the place frequently, and it is at a price that is hard to match.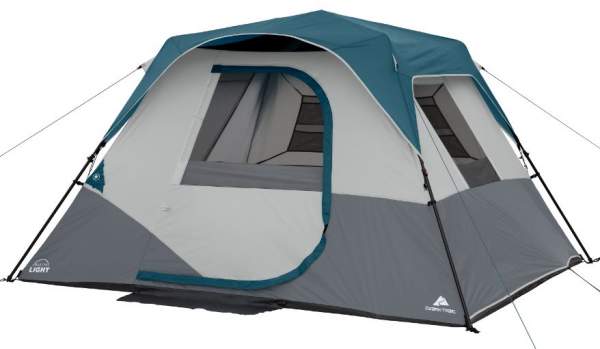 ---
Key features
Instant setup under 60 seconds.
Freestanding.
Built-in LED lights.
Removable media pocket.
Removable organization pockets.
E-cable port.
3 windows.
Very affordable.
---
Where to buy
This tent is currently available on Amazon at a very good price, and they usually have the best shipping conditions.
You can find it also at Walmart.
---
What type of a tent is this
You have seen already several of its important features in the title. So this is an instant setup tent which you can make ready in under one minute. This is because of the frame which is pre-attached to the tent, so you simply unfold it and extend the four telescopic poles. You can see several steps of the setup presented in this picture: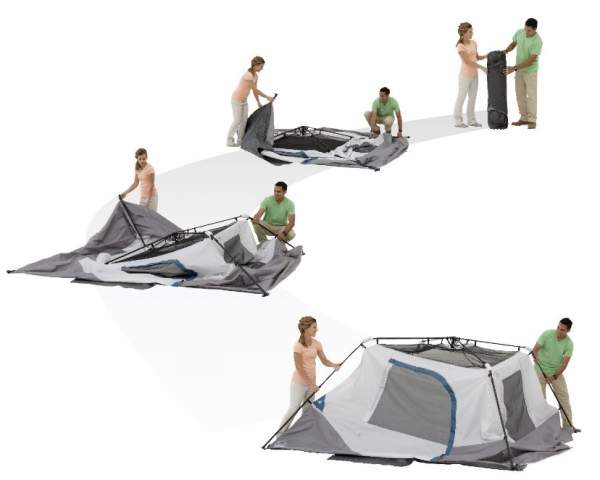 The picture below shows the tent without the fly so you can see the frame. As you realize this is a nicely balanced construction, very stable and self-supporting. The tent is a true freestanding structure, and this remains so even after you add the fly and clip it to the corners, so you can move it around and rotate. But the fly is with four guyout lines and you can stake it out in windy conditions.
This is also a cabin style tent with straight but angled walls, though you do not have a stand-up height, the tent is with the peak height of 66 inches (168 cm). The dimensions and the shape are the same as in their Ozark Trail 6-Person Dark Rest Instant Cabin Tent.
The bigger part of the tent is a single-layer structure, only the ceiling is with the mesh and here you have the minimal fly added as the second layer. However, the windows and the door are also double-layer with mesh and waterproof panels.
You might like to know that the windows are with zippers so you can keep the panels at any height to regulate the amount of light and privacy.
Lighted tent
This tent comes with the LED light integrated in its structure. The picture below shows the light on in one out of three modes, low, medium and high light. There is a pocket for batteries and with the switch on the ceiling, it is visible in the picture. I have included it in my list of Best Lighted Tents.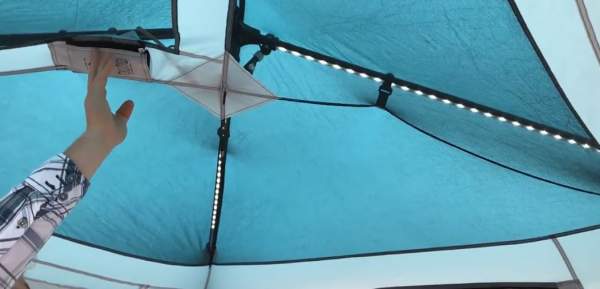 ---
Who is it for
Regarding the capacity, this is officially a 6-person tent, but the area is 90 ft² (8.36 m²) and this implies 15 ft² (1.4 m²) per person. The dimensions are such that you can indeed put 6 pads on the floor. So this can work for a group of friends on a cross-country tour or for an open-air concert and festival.
But in the case of a real summer camping, I see it suitable for couples or for parents with one small child. They write that it can accommodate 2 queen airbeds but you would not have much space around.
Regarding the weight and packed size, you will see the numbers in the specifications below, so this is a heavy tent and only for a car camping. But it is still lighter than its closest competitors, you will see this in the comparison table below.
Seasons-wise and climate-wise, this is a summer camping tent or perhaps maximum for 1.5 – 2 seasons. They do not provide any info about the waterproof rating, also the fly is minimal and there are many openings on its three sides. So I would not put it to very serious tests in harsh weather conditions.
The structure is boxy and although it looks so stable, I would not use it in strong winds and rains. Note that there are no options to stake the floor sides in the middle, but you have guylines for the vents' flaps, they are visible in the picture below.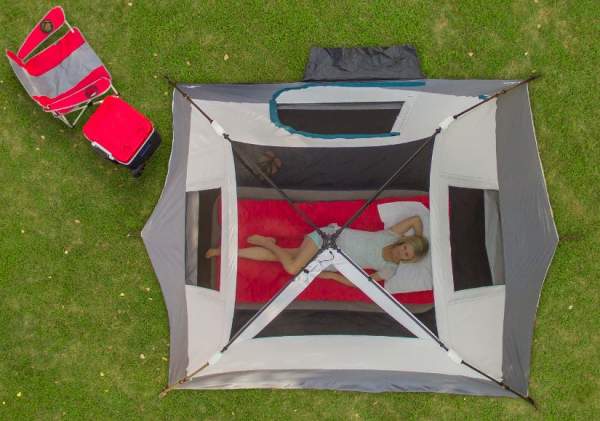 With such a mesh roof you would not want to use the tent in a cold environment. This is why it is much better suited for a warm climate.

---
A few more details about materials and construction
The poles
This is a steel structure with 4 telescopic legs poles that continue into crossed roof poles which you can see in the picture above, so the weight should not be a surprise. There is one extra pole that you add above the door to have a small brim.
Bonuses
The tent has an E-cable port to use external power when it is available, and you also have a lantern loop on the top, both are shown below.
There is also a removable media pocket (shown below), and a large removable organizer with many pockets which you can hang on the wall without windows or just over the window as the picture shows.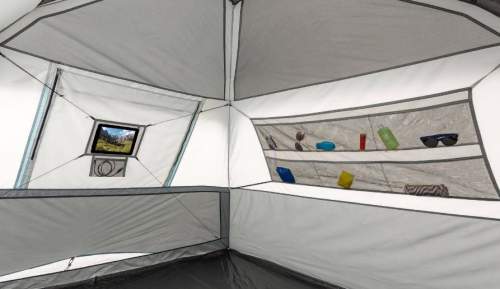 Ventilation
As you have seen, the roof is all mesh and there are two windows plus one window on the only door, and they are all with mesh and panels. So this alone should give lots of air circulation.
But they have added two huge vents on the sides, they go all the length of the tent (see the picture above) and they are with mesh against insects, so even if you close all the panels due to rain, you will still have a good airflow. There is nothing one could object to this design.
---
Specifications
Capacity: 6 people.
Weight: 19.38 lb (8.8 kg).
Dimensions: 10 x 9 ft (3.05 x 2.74 m).
Floor area: 90 ft² (8.36 m²).
Area per person: 15 ft² (1.4 m²).
Peak height: 66 in (168 cm).
Packed size: 43 x 8 in (109 x 20 cm).
Carry bag included.
---
Ozark Trail 6 Person Instant Cabin Lighted Tent vs Competitors
I have decided to show this tent side by side with two other cabin tents with the same declared capacity. This may help in making an informed choice. As you see it is a bit lower, but it is lighter and it packs better. The other two have no integrated light. Above all, it is more affordable than the other two tents, please follow the links for updates.
Ozark Trail 6
Lighted Tent
---
Summary, rating, pros & cons
So this Ozark Trail 6 Person Instant Cabin Tent with Light is really nicely built and with several very useful details. The tent is with an express setup design and very suitable for people who change the place frequently, and the integrated light sets it apart from its closest competitors.
If you do not want to spend much and need a tent for occasional use, this is the item to consider. The price tag is simply unbelievable. You realize this if you compare it with yet another lighted tent, the Big Agnes Titan 6 mtnGLO tent.
Please see how I rate it, I use the same criteria and formulas for all the tents in the site so you can easily compare:
Ozark Trail 6 Person Instant Cabin Tent with Light
$115.63
If you need more options to consider, please check around in various categories in the site, this is all about family camping tents and you will surely find something for you. This Alps Cedar Ridge Rimrock 6 Tent is also very affordable and built in a different style.
Check this Eureka Jade Canyon 6 tent which is also full of great features and built as a cabin style tent. But if you need a tent with the same capacity to carry on shorter trails, this Big Agnes Big House Deluxe Camping Tent 6 could be a nice choice.
Note that this is not a sponsored text and I am not paid by the brand. Please use the comment box below in the case of questions or comments. I wish you a nice day.