---
If you need an incredibly affordable tent with an express setup and for use in mild weather conditions, this Coleman 6 Person Instant Tent Review is for you, so please keep reading.
---
Key benefits & features
Incredibly fast setup.

Unbelievable price.

Built-in rain fly.

Single-layer design.

Heavy-duty materials.

Freestanding tent.

Huge windows.
---
What type is this
The Coleman 6 person instant cabin tent is what its name says: a tent with an instant setup and a cabin-type tent. The former feature implies that the frame (four side poles and roof poles) are pre-attached to the tent. This makes the setting easily done within one minute. It is included in my list of 6 person instant tents.
The term cabin is described in detail in my separate text, so here just to stress that this implies a very tall tent with nearly vertical walls and huge windows. You have 6 ft. 2 in (1.88 m) of height here.
I mentioned in the key features above that the tent is single-layer and the fly is built in. The latter means that the roof and the walls are made waterproof, so an extra fly is not needed in principle. Many family camping tents are built as single layer types. You can see the Nemo Wagontop 6 tent as yet another example.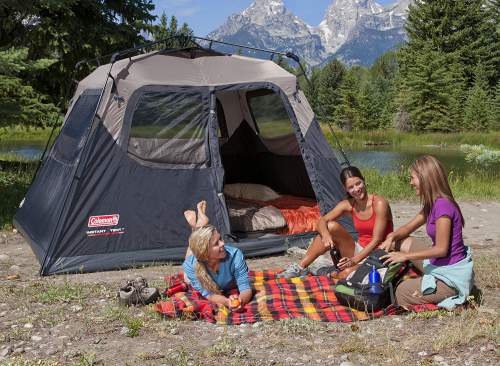 This is also a typical 3-season tent, so you have huge windows (see the picture above) and you need them because there is no mesh on the tent walls and without such openings, ventilation would be an issue.
The tent is freestanding of course, so when you set it up, you can move it like a box, rotate as you wish, etc. In other words, you do not depend much on the surface, regardless if this is sand, concrete, grass, or rock; this tent will do just fine on any type.

---
Who is it for
Is it really for 6 people
With the floor size of 10 x 9 ft (3 x 2.7 m), you can indeed put 6 sleeping bags there, but you will be cramped. You have put 5 pads in one row, and the sixth would be separate, oriented along the length of the tent. Note that there are no vestibules, so you have no extra covered space for gear. If used for families, this is a tent for parents and two kids maximum.
They write that the tent can accommodate two queen-size beds, but is it really so. Its mentioned dimensions are such that this is not possible. Take the Coleman Queen size camping bed as an example of the same brand; its width is 59 inches (1.5 m), so if you use two beds, you will not have any space left on the sides. Besides, those queen size beds have integrated side tables, so there so no way they can fit. It is disappointing to see such statements in view of the fact that the same brand sells such beds, and they clearly cannot fit.
But, in view of the height of this tent, 6 ft. 2 in (1.88 m), and its steep walls, you will have much more space if you use bunk beds. There are great models on the market, both for kids and for adults, see some of them here. One set of bunk beds for adults and one set for kids will fit easily, and you will have almost one-meter wide corridor in between.
How about weather protection 
The tent is single-layer as I already pointed out. So it is built waterproof (they do not provide any official rating, which is disappointing, to say the least), but they write about the WeatherTec patented system used here, which implies welded floors and inverted seams.
If you are not familiar with this terminology, in general, this so-called plastic welding creates the best possible and the most durable seals which do not deteriorate or decay in time. The welds can be even stronger than the material around. So with such a technology used on the floor, you can be sure it should work fine.
On the other hand, the inverted seams are also known as French seams. Here, 2 pieces of fabric are seamed and folded in on itself, and the second seam is added behind.
The windows and the door are with zippers and flaps, and here you have waterproof panels of course. But this will not protect you completely in the case of a storm and wind.
If the rain lasts for many hours (and this is what I have had this summer in the Alps), the panels must be closed, and the same is with the two vents on the roof. So imagine, in such situations, this tent will not be a very pleasant place.
But, you have seen its design, it offers a lot of comfort in normal summer situations. So this is the matter of compromise and purpose – do not count on this tent as a completely weather-proof tool.
The rain fly question   
There is a rain fly as an extra option, you can order it here. In view of the tent's great price, this small extra cost is not such a big deal, it is only around $28, and this would be a smart move. But remember, this will only add extra protection to the roof, the fly is minimal in design; it is not supposed to cover those great windows.
Transport and weight
The tent is on the heavy side, 24.9 lb (11.3 kg), and the surface/weight ratio is not so great, but this is due to strong materials, and this is not necessarily bad. So you will use it in your base camp at places with a car access. In such a case, it can be used for a variety of outdoor sports (climbing, mountaineering, fishing), for some summer activities like festivals and similar gatherings, and for ordinary vacations.
---
Setup and takedown
The steps are best seen in these pictures: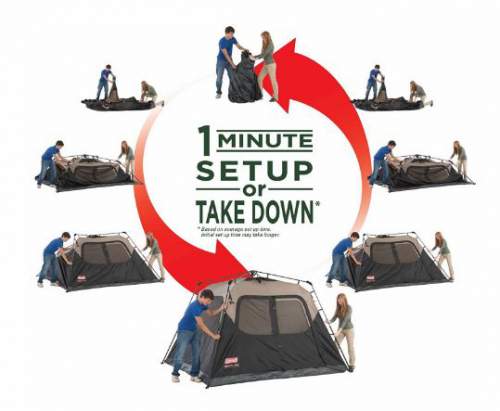 I think it is best that you see this video, the guy raises the tent in 56 seconds:
So the key piece in the construction is the clip system which you have in the four corner poles. The poles are telescopic, something similar to what you have in telescopic trekking poles. So when you extend it completely, you will have the clip popping out and the pole is locked to the required length, see the picture: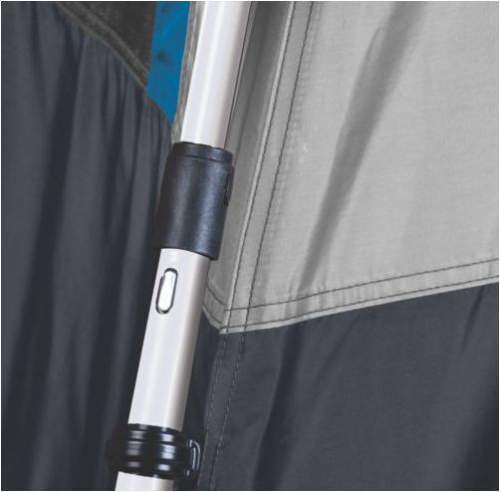 ---
Other features
In fact, there is not so much more to say. The inner structure is very simple, almost a square. There are only 2 small mesh pockets on the walls, so this is really far from impressive.
The fabric is very durable, 150D, and you can compare this with some other tents like this Eureka Sunrise EX 6 tent where you have 63D, or the Nemo Wagontop 6 where the floor is with the same denier value but the walls are 75D.
The poles are also heavy-duty, the main corner poles are 16 mm and the roof poles are 12 mm. There is a clip on the top for a lantern, the stakes and guylines are included. So this is basically all.
Ventilation
As long as the windows are with mesh only, the ventilation is definitely great, and you will not have issues with condensation. Remember that there are two vents on the roof, so the airflow is guaranteed. But the situation is quite different when it is raining; this design will simply not work for extended rain periods.
---
Specifications
Type: instant cabin-type freestanding 3-season.
Capacity: 6 people.
Weight: 24.9 lb (11.3 kg).
Dimensions: 10 x 9 ft (305 x 274 cm).
Area: 90 ft² (8.4 m²).
Area per person: 15 ft² (1.4 m²).
Peak height: 6 ft 2 in (1.88 m).
Packed size (L x D): around 48 x 9 in (122 x 23 cm).
1-year limited warranty.
Fabric: 150D polyester.
Taped seams.
2 vents.
Illumiline reflective guy lines for greater visibility.
---
Coleman 6 person instant set up tent vs competitors
See how this tent compares with two other cabin type tents, to see more please follow the links, they are described in separate reviews.
---
My verdict, rating, pros & cons
In the conclusion of this Coleman 6 Person Instant Tent Review, I would only stress again the pros and cons described in the text. So bear in mind all its features when you decide. I personally love its instant setup feature. This can be of particular importance when you are in rush, either tired from your outdoor activity or when you are setting the tent up in rain.
Observe that when it is raining, you can still set this tent and its interior will not become wet in the process; everything is already closed inside. Now compare this with a typical two-layer tent; everything inside will become soaked with water before you attach the rain fly. If you have ever done this, you will know what I am talking about. I have made such mistakes in the Alps with my backpacking two-later tent, waiting until the last moment, or better to say until it is too late.
So yes, this design has its advantages. But do buy the extra rain fly and put your mind at ease at least when this is about the most important segment of the tent, i.e., the roof.
Some of the key benefits of the Coleman 6 tent, like its huge windows and its height, contribute also to its cons. These windows are so great that you can use this tent as a sunshade on a beach or at home in the garden. But they will not perform great in the case of the rain and wind combined.
The same is with its height; the tent with such huge straightened walls is an obstacle for winds so rather use a dome tent if you expect very windy situations in your outdoor adventure.
The tent is heavy, but this is not such a big deal. First, this is due to strong and durable materials. Second, this is a tent for car camping, so you are not supposed to carry it long distances.
Packed size
Did you try to check the packed size? There is no information about this even on the Coleman's site, this is disappointing from such a big company. But the packed size of this tent is not so great, this is a bundle of around 48 x 9 inches (122 x 23 cm), bear in mind this length when you plan the space in the car.
Vestibule – or the absence of it
Imagine preparing the meal for kids when it is raining outside; you would need a vestibule. So this is a big issue will all tents of this type, and you will see several of them in the comparison table below. Now, compare this with the comfort of a tent like the Nemo Wagontop 6 with its huge vestibule.
The price
The price is one of the best features of this tent, and it is simply amazing for such a tent. But there are several colors on Amazon and those are tents from different years, and the prices may be different. But I do not think that there is any difference in the functionality and features.
What users think
The Coleman 6 person instant cabin tent has been on the market for at least 6 years already. This is an exceptionally popular model, so the number of reports is also exceptionally big. On Amazon alone, this tent has received more than 3500 reports (for all colors and sellers which you have there), and the average rating is very high. So this all is really remarkable. Here is my own rating for this tent:
Coleman 6 Person Instant Tent
$123.40
Note that they have yet another version with fly, but with a bit different roof poles. This tent is very similar to this Pacific Pass Camping Tent 6 Person Instant Cabin, you might want to compare them. But if you need a bigger tent from the same series, please check this Coleman Instant Cabin 8 tent.
If you are still undecided, please look around, this site is only about family tents, so you will find something for you. See this completely unique Coleman 6-Person Connectable Tent.
Thank you for reading, please use the comment box below if you have any question or comment. Have a nice day.