This Ozark Trail 6-Person Dark Rest Instant Cabin Tent review is about a freestanding family camping tent with a new darkroom technology which creates a cool atmosphere during the day.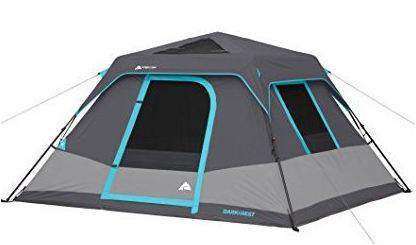 ---
Key features & benefits
Dark-room design.
Floor vent available.
3 windows.
Freestanding.
Gear loft included.
Electrical cord access.
Carry bag included.
Vinyl windows on the fly.
Incredibly affordable tent.
---
What is in the name
This is an instant tent, which means that the frame is preattached to the tent in the factory. So you just unfold and extend the main four poles and the tent is practically ready. This all can indeed be done in 60 seconds as the pictures below suggest: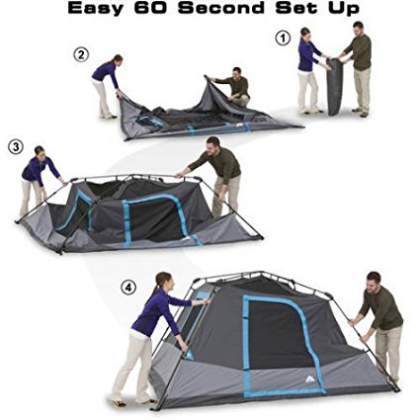 The tent is also cabin style type, with straightened and tall walls. More about cabin tents, in general, you can see in my another text, and about instant-cabin tents please have a look here.
You see also the words 'dark rest' in the name, so this is a new trend in the manufacturing of family camping tents. The idea is to reduce the glare in the tent so that you can sleep longer in the morning and take a nap during the day. Such tents are generally also cooler because some amount of the Sun's energy is reflected. More about this technology in my recent text.
In this particular tent, you have a 3-layer roof: an external fly, the usual mesh on the ceiling, and the dark-rest panels which you can zip or keep open as you wish, see on of them in the picture below.
This Ozark Trail 6 is also a free-standing tent, so when you extend it and set it up, you can still move it around in the camp like a rigid box and orient as you wish. But do not miss to stake it down to make it secure against sudden winds. You have 9 steel stakes included. So this is already a remarkable amount of features, see more below.

---
Who is it for
Sizewise, the tent is officially for 6 people. You have 15 ft² (1.4 m²) per person in the case of such a number of occupants sleeping on the floor. This may work so if this is only about staying the night, otherwise make it half of this number to have a proper comfort. This is because you do not have external space for gear storage. I have discussed the issue of the family camping tent capacity in my another text, so please have a look.
They claim it fits two queen size beds. In theory, it could, in practice do not even think of this. But with one queen size bed, you will be doing fine, see its floor dimensions below to realize this.
Its packed size 43 x 8 inches (109 x 20 cm) and weight 20 lb (9.07 kg) are such that you clearly need a car for transportation, this is a camping tent.
Seasons-wise, I would not use it for more than 1 – 1.5 season, basically it is best for summer camping. If you need something for more challenging weather situations, you will have to pay far more, check this Big Agnes Flying Diamond 6 or Nemo Wagontop 6 tent.
The Ozark Trail 6 is a tent ideal for people who change camping places frequently and do not wish to spend too much time setting it up.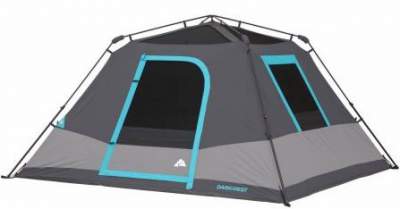 ---
Materials and construction
Obviously, the key feature is its innovative Dark Rest technology. This blocks sunlight and the tent remains cooler. For this purpose you have multiple skylights with interior ceiling panels, so you can regulate and customize the amount of light. At night, you can roll all of them back and enjoy stargazing.
You have two windows plus one on the door, all are with mesh and with panels for privacy and rain protection. There is only one door, but it is big and quite enough for this tent.
The poles are very sturdy steel, and in general, this is a very strongly built tent. You have several bonuses here, like the gear loft shown and the electric cable port, they are shown below.
Weather protection and ventilation
The fly is minimal, it covers the roof only, and its seams are factory sealed. Note that you have vinyl windows on the fly, so with the panels on the inner ceiling, you can regulate the amount of light in the tent.
There is no information provided about the waterproofness rating of any part of the tent, but in principle, it is completely waterproof.
Ventilation is a bit specific issue with all those panels on the ceiling, but it should be perfect. As I mentioned before, you have mesh on all openings and on the ceiling, and there is a floor vent on the back side.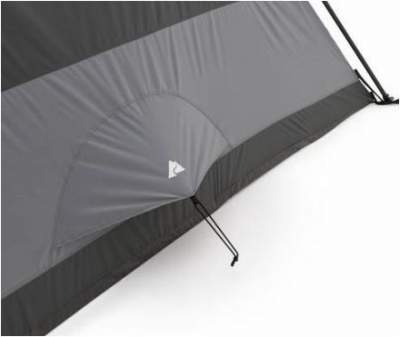 Now, the roof is with mesh but you have a second layer underneath it, those dark-room panels. This has both good and perhaps not so good effects. The one good is already described, you have a dark tent. In addition, such panels close the roof and warmth is better preserved, so this is what makes the tent very different from typical summer camping tents where you have a roof with mesh only.
The tent can be used in a cooler environment but this is not a winter tent. However, the panels on the ceiling may reduce vertical ventilation and increase condensation. So do some experiments and see how it works best for you.
Here is a happy guy with his new Ozark Trail 6-Person Dark Rest tent, see how it works for him:
---
Specifications
Capacity: 6 people.
Weight: 20 lb (9.07 kg).
Dimensions: 10 x 9 ft (3.05 x 2.74 m).
Floor area: 90 ft² (8.36 m²).
Area per person: 15 ft² (1.4 m²).
Peak height: 66 in (168 cm)
Packed size (L x D): 43 x 8 in (109 x 20 cm).
3 windows.
Carry bag included.
6-month limited warranty.
---
Ozark Trail 6 Dark Rest vs competitors
Here is given this Dark Rest tent side by side with two other tents with a similar instant design. You will find more if you follow the links in the table:
---
Final thoughts
So this was my Ozark Trail 6-Person Dark Rest Instant Cabin Tent review, as you realize the tent is nicely built, it comes with the innovative darkroom technology, you have a few bonuses, and the price is really hard to match.
Bear in mind a few objections I pointed above, and it is best that you reduce the number of occupants and that you use it in mild conditions as a summer camping tent.
See how I rate this tent:
Ozark Trail 6-Person Dark Rest Instant Cabin Tent
$94.00
You might want to see its bigger cousins with the same dark rest technology, the 10-person tent, and the 12-person tent. Note that they also have a very similar tent with integrated light, the Ozark Trail 6 Person Instant Cabin Tent with Light.
If you need something different, just look in the Categories above, this site is all about family camping tents, you will definitely find something for you. Check this Coleman Tenaya Lake 6 with a hinged door and 2 cabinets, and also this Alps Mountaineering Camp Creek 6 which is also a reliable cabin type tent.
Thank you for reading. Please use the comment box below in the case of questions or comments. Have a nice day.