---
This Ozark Trail Hazel Creek 20-Person Star Tent with Screen Room is one of the most remarkable tents on the market with its 5+1 rooms, 13 windows, 5 doors, and a lot more. Keep reading.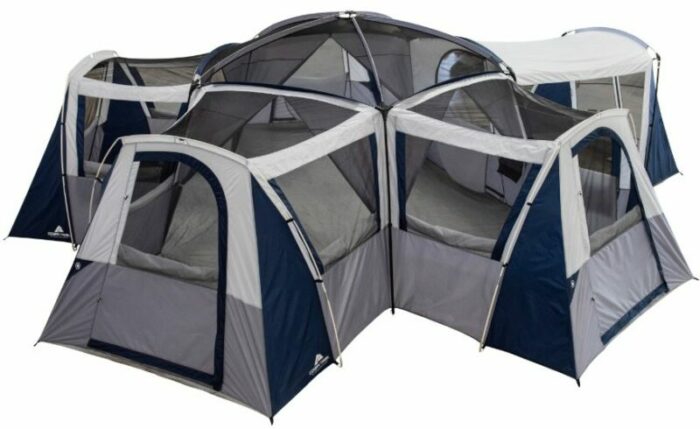 ---
Key features & benefits
5 Rooms.
13 Windows.
5 + 1 Doors.
Huge space.
4 E-cable ports.
Many storage pouches.
Great price.
---
What type is this Ozark Trail Hazel Creek 20-Person Star Tent
This is a huge construction with the base of the size of a smaller house, it measures 23 x 24.5 ft (701 x 747 cm). When you see the picture below that shows the tent from above, you realize how incredible this structure is, and you also understand why they use the word Star in the name.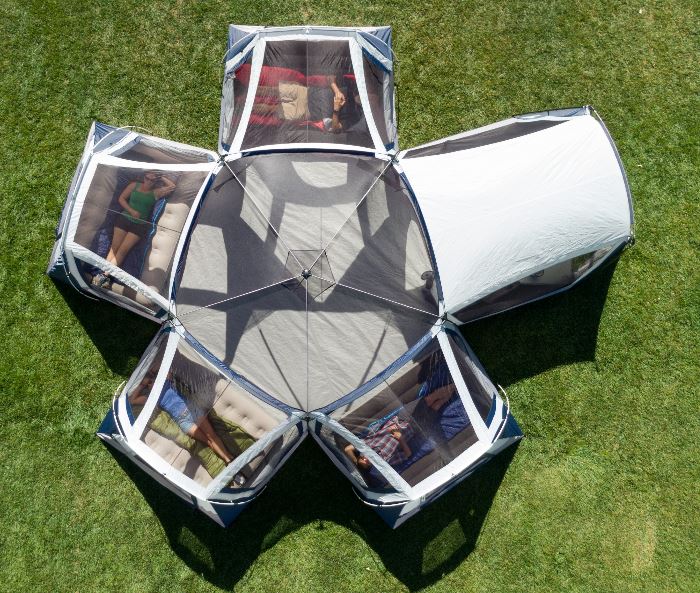 This is a cabin-style structure with 4 separate sleeping rooms, plus the huge pentagonal central room, plus a screen room that is in the elongated section on the right in the picture above. So in total this is a 5-room tent plus the screen room, and I have included it in my list of best 5-room tents.
As of the moment of writing this text, there is no other tent on the market with 6 rooms in total, so this is already one feature that makes this tent unique.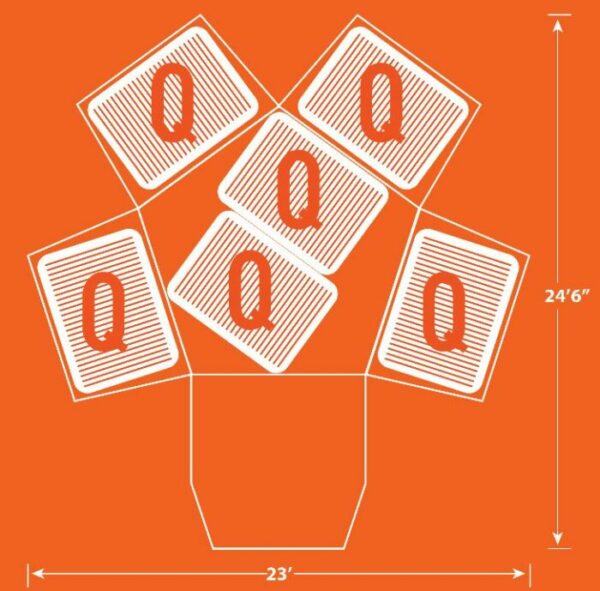 The letters Q in the picture above indicate that the sleeping rooms can accommodate one queen-size bed, and the central room has a place for two. This is also a very tall structure with a stand-up height in all the rooms, and with a peak height of 84 inches (213 cm) in the central room.
This is all floored space, and you can realize how it looks from the picture below, this is the view from the central pentagonal room. Note that you have real dividers with zippers, and they lead to each of the 4 separate rooms.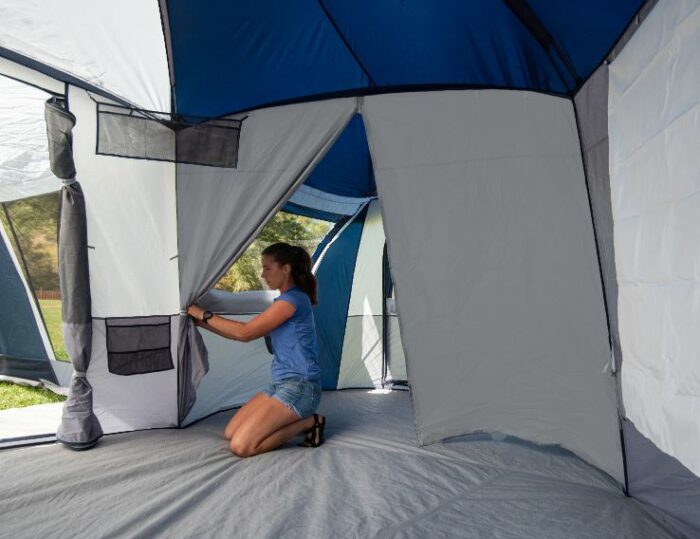 The floor plan above shows that the sleeping rooms are physically separated from each other. This together with the mentioned real zippered dividers gives more privacy than in many other tents on the market. You cannot have more privacy in a tent.
Note also that all the sleeping rooms have their own separate external doors, the picture below shows one of them behind the divider.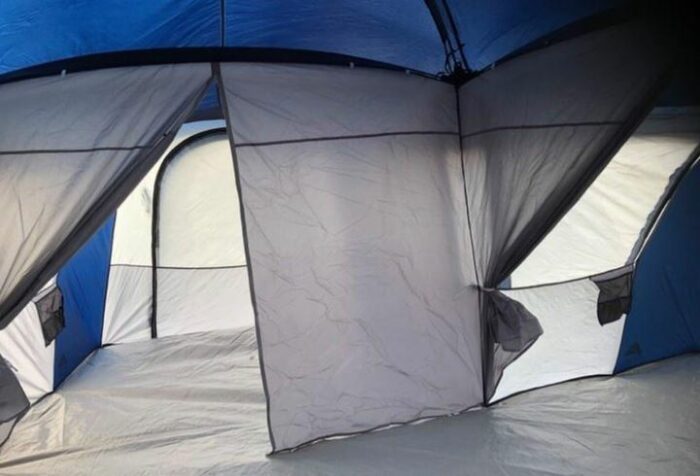 Each of the sleeping rooms has three windows (one on the door plus two on the sides), so in total there are 13 of them. They are the dual-layer type with mesh and with zippered panels from inside, so you have full protection from the elements and from insects, and they are useful for privacy as well.
The screen room
The screen room alone offers 61 ft² (5.7 m²) of the area and the picture below shows how it looks from the front. As you see, it has a removable mat that partly covers the floor, and the room offers only a partial protection from the rain. But you have full protection from flying insects.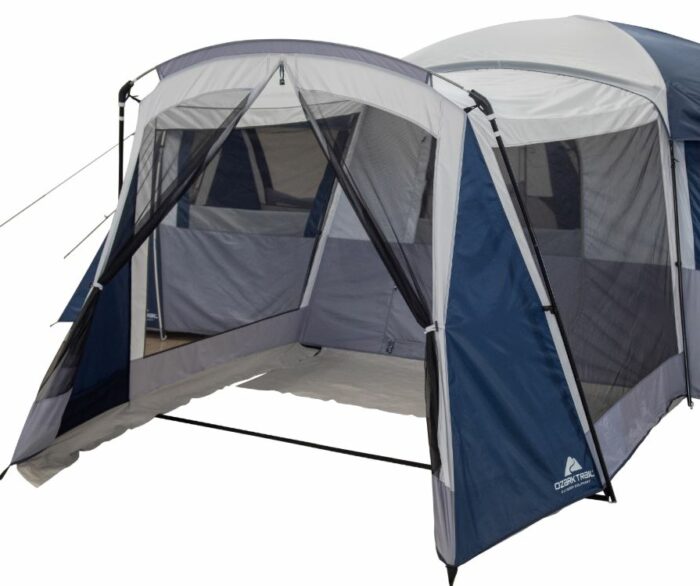 This area is useful as a cooking space or a dining room, so you are in the shade and protected from insects. In view of such a great space, I have included this tent in my list of best tents with screen rooms.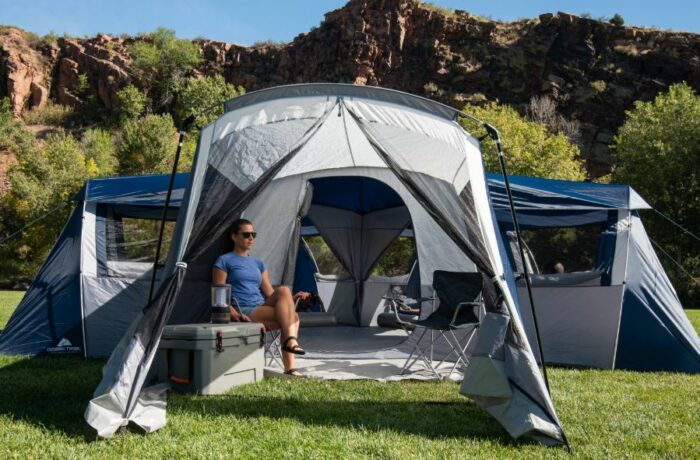 Note that the screen room is really deep, you have 8 feet (244 cm) in this room alone. The picture below shows this.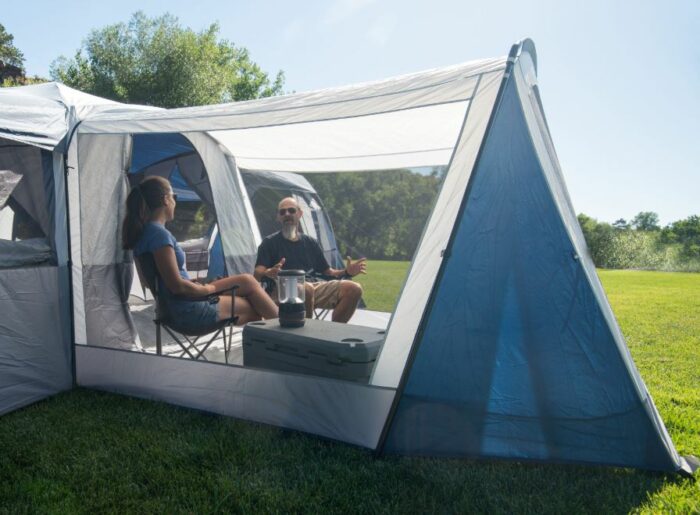 ---
The materials
The poles & pegs
There are no less than 22 poles in the package, and this includes 7 steel poles used for legs, and 15 fiberglass poles that are used for the roof. Everything is color-coded so although the tent is huge, with a bit of practice you can set it up in half an hour or so. You also have 34 steel stakes to secure the tent properly. See all the elements shown in the picture: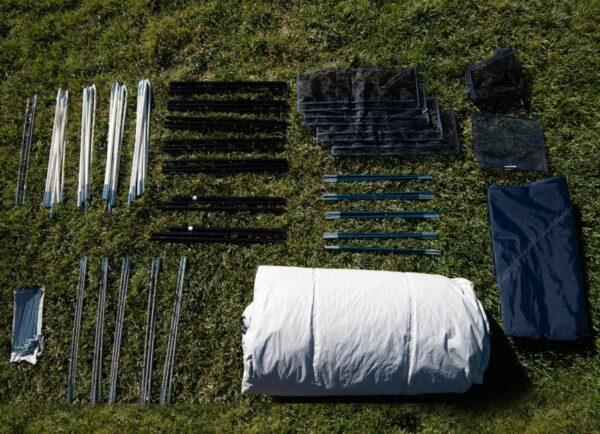 The fabric
The walls and the fly are a poly taffeta 185T with a decent 1200 mm waterproof rating. You will not need more for such a tent. The seams are taped.
The floor is quite durable and fully waterproof polyethylene. The mesh areas are a poly mesh 68D. The carry bag (shown below) is built from a poly Oxford 600D.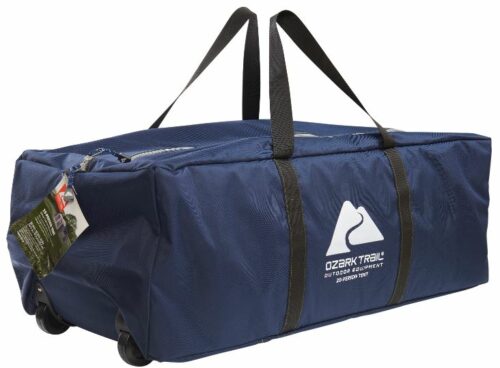 Other features
Four E-ports allow everyone to stay plugged in (one is shown below).
There is a lantern loop (picture below), far from enough for such a tent.
There are multiple storage pockets and a gear loft in the central room. You can see some in the pictures below. So you have 6 pockets that are 3-section type, 2 wall pockets, 1 gear loft, 4 gear hammocks.
Eight reflective colored guy ropes are included.
There is one 5-way center joint for the poles in the main room.
There are five 4-way joints for corner poles' connection.
There are two 2-way joints for the screen room.
This is a large structure and with many elements, so it is important to follow the setup steps they suggest. You can see all the details in this setup manual.
Ventilation
From the pictures above you have realized that the ceiling is all mesh, so you have it more than 279 ft² (26 m²). All 13 windows are also with mesh, so ventilation is almost guaranteed.
But I still miss seeing some floor vents, they are necessary if you have prolonged periods of rain when all the windows must be closed. Pity they did not add any.
---
Who is it for
Regarding the area, the declared capacity is 20 people. For this you have 279 ft² (26 m²) and in the case of 20 users this would give 13.95 ft² (1.3 m²) per person. So although it should be possible to put 20 sleeping pads on the floor, as usual, this capacity makes no much sense. The tent is huge but the declared capacity should be downgraded drastically. Nevertheless, it is included in my list of best camping tents for 20 people.
In view of so many rooms, this is a tent for very large families. Because of the separate doors for each of the sleeping rooms, it is also ideal for 4 couples, so all of them have a separate sleeping area for privacy plus the central living room and the screen room for sitting and social life.
Note that this is practically the same area as in their another 20-person giant presented here in the site, but it looks more impressive with its star structure.
Seasons-wise & climate-wise, they describe it as a 3-season tent. But I do not think this is so, and I see it best suited for summer camping only. With so much mesh on the ceiling you would not want to use it in a cool environment. This is a tent for very quiet weather conditions without much rain and wind.
Weight-wise, the tent weighs 60.2 lb (27.3 kg), so clearly it is not light but you have seen its size and its 22 poles. The mentioned large wheeled carry duffle makes transporting relatively easy.
The packed size is 32 x 15.5 x 11.5 inches (81 x 39 x 29 cm) and for such a huge tent this is a great packed size. All in all, this is a tent for places with a car access.
---
Specifications
Declared capacity: 20 people.
Weight: 60.2 lb (27.3 kg).
Dimensions: 23 x 24.5 ft (701 x 747 cm).
Peak height: 84 in (213 cm).
Inner area: 279 ft² (26 m²).
Inner area per person: 13.95 ft² (1.3 m²).
Vestibule area: 61 ft² (5.7 m²).
Packed size: 32 x 15.5 x 11.5 in (81 x 39 x 29 cm).
Poles: steel and fiberglass.
1-Year Limited Warranty.
---
Final thoughts, rating, pros & cons
To summarize this Ozark Trail Hazel Creek 20-Person Star Tent with Screen Room review, what you have seen above is a unique construction and in my view the most remarkable tent currently on the market. If you have a large family this is a tent to consider. The same holds if you have a group of friends and couples and you plan to go and camp together, more privacy you cannot have in a tent.
Please see how I rate this tent against my standard set of criteria, so you can easily compare:
Ozark Trail Hazel Creek 20-Person Star Tent with Screen Room
If you need more options, check in the category Tents for 11 people plus, you will find the largest tents currently on the market. Check this Ozark Trail Hazel Creek 20-Person Tunnel Tent from the same brand and with a similar name, but completely different by structure.
Let me know if you have any question, there is a comment box below. Thank you for reading and have a nice day.