---
This Ozark Trail Hazel Creek 20-Person Tunnel Tent is a huge but nicely packable double-dome structure with 2 doors and 2 rooms and multiple roll-up configurations with the fly.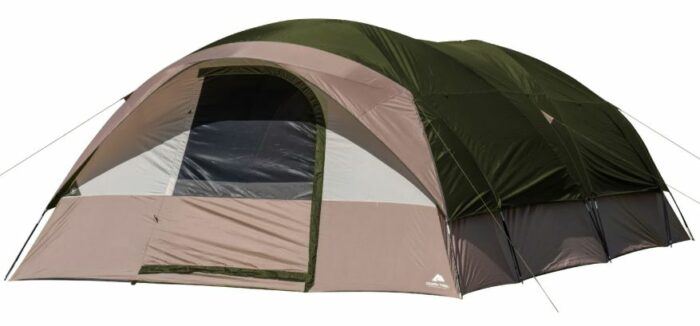 ---
Key features & benefits
Hybrid double-dome and tunnel tent.
Huge area.
Freestanding.
2 E-cable ports.
2 Doors.
2 Windows.
2 Rooms.
Fiberglass poles.
Multiple storage pockets.
Cinema screen.
Gear lofts.
Fly with zippers.
Great price.
---
What this OZARK Trail Hazel Creek 20 Person Tent is about
This brand has several tents with the word Hazel in the name, see for example this Ozark Trail Hazel Creek 18-Person Cabin Tent with 3 Covered Entrances. So it is easy to get confused, but they are all very different. The manufacturer describes it as a tunnel tent, but if you look closely you realize this is more a double-dome tent. I am using the official name.
They have added a loop pole in the middle to support the space between the two domes, and there are two also at the two ends. So the structure is very elongated and it looks like a tunnel tent but this is more a dome-tunnel hybrid. The picture below shows the top view so you realize how it is built: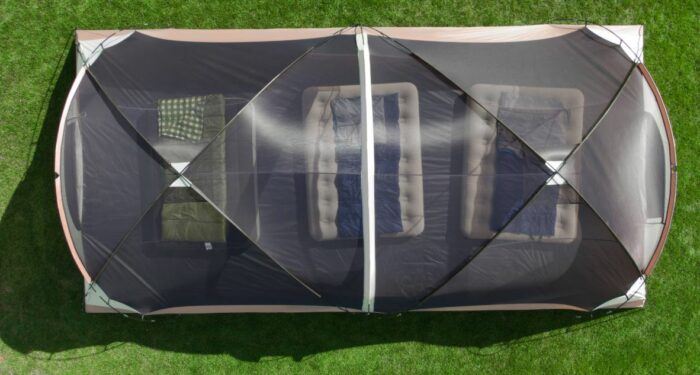 Because of such a frame structure, the tent is self-supporting and freestanding. There are two doors and each of them is with a window in the upper part, see the picture below. The fly covers mainly the upper canopy, and the two poles on the two ends create small awnings so you have a dry entry, and the windows are partly protected from the rain. The picture below shows how it looks without the fly:

But there are some nice features they added to the fly where you have two zippers on both sides, so you can roll the fly and create windows on both sides of the tent, for star-gazing and extra ventilation. The picture below shows how it looks on one side with the fly rolled up:

Note that you can roll the fly separately as the picture below shows. So imagine, you have these various options on both sides of the tent, to enjoy the views whenever the sky is clear.

The tent has an inner sewn-in divider so you can close it and have two separate rooms, and each of them has its own door. The picture below shows how it looks from inside when the divider is unzipped and zipped:
Ventilation
This tent has plenty of mesh on the canopy which is huge. So as long as you can keep some of the windows open, you will have lots of air circulation.
But I miss seeing some floor vents, and also some fly vents. Those are necessary when you have to close the doors and windows, and you will have to do so whenever it is raining. Pity they have not added them here.

---
Materials
The poles
There are many of them here, 9 in total, and this is all fiberglass. The picture below shows what this includes. So you have 4 main poles for the two domes, plus 1 central loop, plus 2 loops at the two ends. There are also 2 brim poles above the doors. The long poles attach to the tent's base through the usual pin and ring system.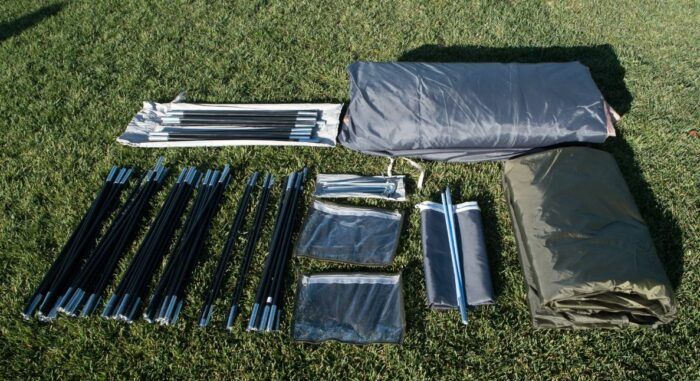 The fabric
This is all polyester taffeta 185T with 1200 mm waterproof rating, and No-See-Um mesh. The floor is also a Poly Oxford 210D 1200 mm. The seams are taped. It is best to test the tent if you can before going camping with it.
Other features
Loops for lanterns are included.
Reflective guy ropes, 6 in total.
20 Steel stakes.
You also have two gear lofts, each in one dome. See the picture below left.
There are multiple mesh storage pockets on the walls, each with several compartments. One is shown below.
Two media pockets are available, shown in the picture below right.
There are two cable ports.
A movie screen is included, see the picture.
---
Who is it for
Regarding the area, you have already seen in the name of this tent that it is officially a 20-person structure. For this you have the area of 288 ft² (26.7 m²). This is a huge space and I have included it in my list of extra large family camping tents and also in the list of best 20 person camping tents.
But the dimensions are such that I seriously doubt that this would be possible to squeeze 20 pads on the floor. For a real family camping, it is always best to downgrade this by half. The picture below shows its dimensions and what the manufacturer suggests for using queen size beds: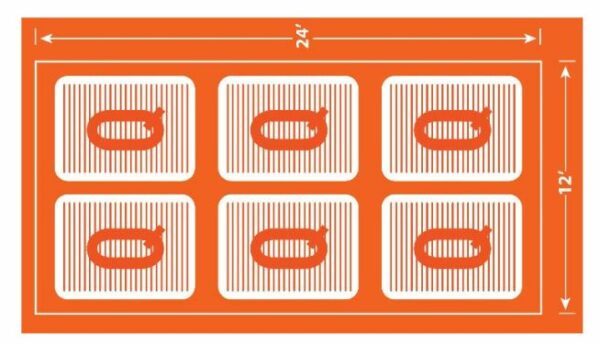 Regarding seasons & climate, they describe it as a 3-season tent and this is more or less so. But with so much mesh you would not want to use it in a cool environment. Note that it is very tall, you have 80 inches (203 cm) under the domes, so it is best to avoid windy places with such a tent.
Regarding the weight and packed size, the tent is heavy with its 47.4 lb (21.5 kg), but see its size, so with respect to its area, this is a lightweight tent, you have 1.24 m²/kg. And see also its height and the inner volume it offers. Nevertheless, it looks like a joke that on Amazon they give it with the word 'backpacking' in the title.
It packs nicely, the carry bag shown below measures only 25.5 x 11.5 x 11.5 inches (65 x 29 x 29 cm), this is simply incredible. But in any case, you will need a car for such a tent.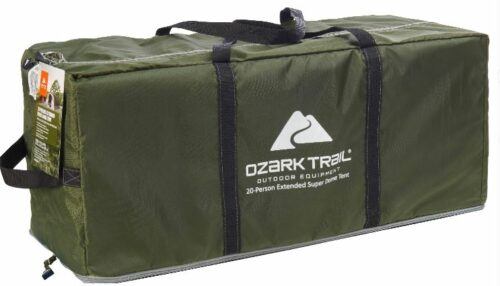 ---
Specifications
Declared capacity: 20 people.
Weight: 47.4 lb (21.5 kg).
Floor dimensions: 24 x 12 ft (732 x 366 cm).
Floor area: 288 ft² (26.7 m²).
Area per person: 14.4 ft² (1.3 m²).
Peak height: 80 in (203 cm).
Packed size: 25.5 x 11.5 x 11.5 in (65 x 29 x 29 cm).
Carry bag: Poly Oxford 210D.
Average set-up time for 2 people: 20 minutes.
1-Year limited warranty.
---
Final thoughts, rating, pros & cons
So to summarize this OZARK Trail Hazel Creek 20 Person Tent review, what you have here is quite a unique construction with two domes combined together. It reminds me a bit of the Chinook Twin Peaks Guide 6-Person tent but it is much more elongated and has extra loops that give it this tunnel shape.
The area is huge but do not even think of using it for 20 people, as usual the declared capacity makes no much sense. This tent has many other great features so that you can ignore what they say about its capacity.
Please see how I rate this tent against my standard set of criteria, as you see it scores great:
Thank you for reading. Please check around if you need something different, this will be easy because all other tents are indeed different, the one presented here is unique.
Bookmark this site and visit again, we add texts here regularly so this will keep you informed about the situation in the family camping tents industry. Thank you for reading and have a nice day.