---
Ozark Trail 20 Person Tent is with 25 x 21.5 feet dimensions, a cabin type structure that offers 26 m² (280 ft²) floor area, and with 4 separate rooms.

---
Key features & benefits
Huge area.
Exceptionally pleasant and livable.
Easy setup.
Fair price.
4 rooms.
3 entrances.
8 windows.
---
Where to buy
---
What type tent is this
This is a cabin style family camping tent, a huge and very livable structure with almost vertical and tall walls and 83 inches (211 cm) height in the central area. It is organized into 4 separate rooms and those include the central hexagon area with a dome ceiling and three side rooms, they all create a Y-shaped structure shown below: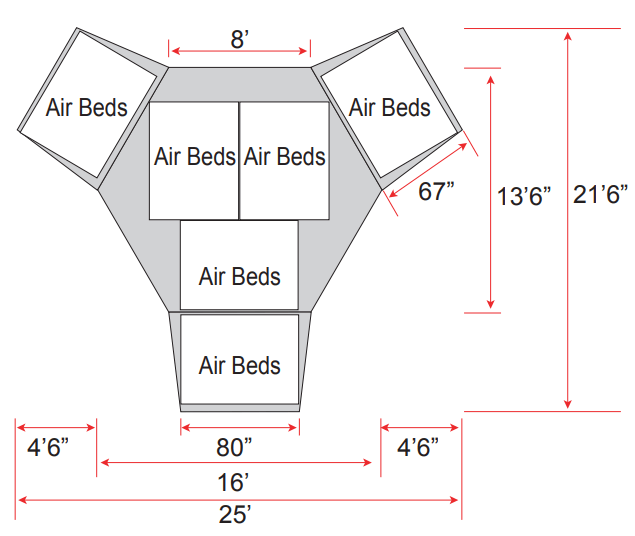 Each of the three side rooms has its own entry door, so the central area can be accessed from any side. The ground area needed to set this tent up is huge as you realize from the floor plan above; you need 25 x 21.6 feet (7.6 x 6.6 m), which is 50 m², but this is not the true inner floor size, more below. See how this huge structure looks without the fly: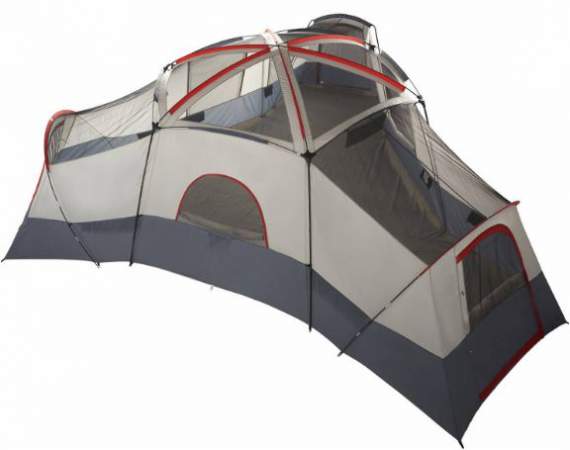 This tent is included in my list of best 4-room tents, so have a look.
---
Who is it for
By the declared capacity of 20 people, this is the largest tent so far here in the site. So this is one of the tents I included in my list of extra large family camping tents. If you have a look there, you will realize that it is not the biggest tent at all, there are some 6 and 7 person tents that are larger.
The true inner area is "only" around 280 square feet (26 m²). This makes 14 ft² (1.3 m²) of the floor area per person. Now, bear in mind that you don't have any external storage area for your camping equipment. So they have used the backpacking principle to determine the tent's capacity, but for a real family camping this cannot work. See how they think the floor area should be used for 20 people: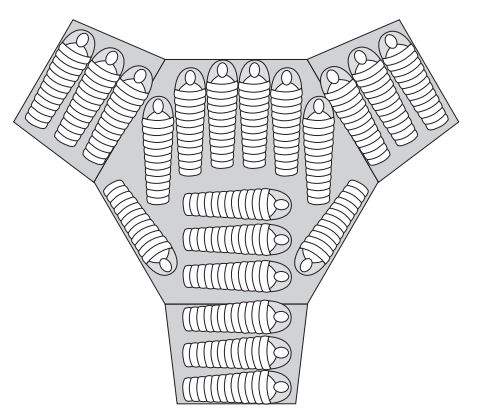 There is enough space to use 6 queen size beds, as shown in the picture with the floor plan and dimensions. Note that the side rooms are 80 x 67 inches (203 x 170 cm) so you will not have much space left if you put queen size beds there. But in general, I would say the tent is for up to 12 people.
But this can change if you use bunk cots, they fit nicely in such a cabin structure and they save a lot of the floor area. With such bunk beds in the side rooms, you will have plenty of space around. Note that there are also such bunk beds for kids, and they love it.
This tent is perfect also for 3 couples, with a separate room for every couple and with separate entrances, plus the huge living room in the middle.
The tent is best suited for summer camping in mild weather conditions and without much wind and rain.
The packed size is really great, it is incredible that it packs down to 28 x 14.25 x 14.25 inches (71 x 36 x 36 cm), this is small enough to be transported on a motorbike.
---
Organization & materials
There is no information provided by the manufacturer about the waterproofness of the materials. Though the seams are taped.
All 8 windows are double layer type, with mesh and with panels equipped with zippers for privacy and rain protection.
There are several types of pockets and storage elements, in each of the rooms and many in the main central room. These include one media pocket, 2 gear hammocks, 4 bottle holder pockets, and 4 large storage pockets. Note that there is also an E-port for a power cable.
What else is included
The package includes the following items:
20 poles metal and fiberglass. They include 8 metal leg poles, 3 fiberglass roof poles, 6 fiberglass perimeter poles in the hexagon room, 2 long fiberglass poles for the 2 side rooms, one fiberglass pole above one of the entrance doors.
6 4-way hub elements for the hexagon structure.
Tent body.
Fly.
22 steel stakes.
4 guy ropes.
Setup
It is best that you see this video:
This all can be done in 20 minutes by two people. Note that the tent is not freestanding, so stake down the main corners first.

---
Specifications
Weight: 49.7 lb (22.54 kg).
Floor dimensions: 25 x 21.6 ft (7.6 x 6.6 m).
Floor area: 280 ft² (26 m²).
Area per person: 14 ft² (1.3 m²).
Center height: 83 in (211 cm).
Packed size: 28 x 14.25 x 14.25 in (71 x 36 x 36 cm).
---
Final thoughts, rating, pros & cons
In the summary of this Ozark Trail 20 Person Tent review I would stress again that this is a very pleasant and luxurious option for family camping, but only assuming that it is used for half of the declared capacity. I would not use it in very windy areas and in areas with lots of rain. The tent is built for a warm environment, the mesh on the ceiling is not meant to preserve the warmth in the tent. It is included in our list of best 20-person tents.
Ozark Trail 20 Person Cabin Tent
You might want also to check its smaller cousin for 16 people, built in the same style, but check also this incredible structure for 14 people. See also this Ozark Trail Hazel Creek 20-Person Star Tent with Screen Room from the same brand, and yet another with a similar name but with a completely different structure, the Check this Ozark Trail Hazel Creek 20-Person Tunnel Tent.
Thank you for reading. If you need something different just look around, there are many tents for family camping and for groups presented here in the site. Check in the Categories above. In the case of questions or comments, please use the comment box below. Have a nice day.