---
There are no many 20-person camping tents on the market these days, those that are globally available are presented here, please have a look.
Are they really for 20 people
Well, yes and no. Manufacturers use the backpacking principle to determine the capacity of a camping tent. This implies the number of sleeping pads that they are able to put on the floor.
So such a tent can accommodate 20 users for overnight sleeping, but you do not have much space left for gear or for anything else. This is the same for most of the large camping tents on the market. For a real family camping, this cannot work. But on the other hand, 20-members families are rare. In any case, it is always best to downgrade the declared capacity by half.
We include here only the tents that are declared as 20-person tents by manufacturers. But there are larger tents on the market, yet with considerably lower declared capacity. Check our list with extra large camping tents to realize this.
See also this incredible Cabela's Ultimate Alaknak tent that offers no less than 351 square feet (32 m²) of area, but its official declared capacity is "only" 11 people. It is bigger than the 20-person tents in the list below. See how it looks: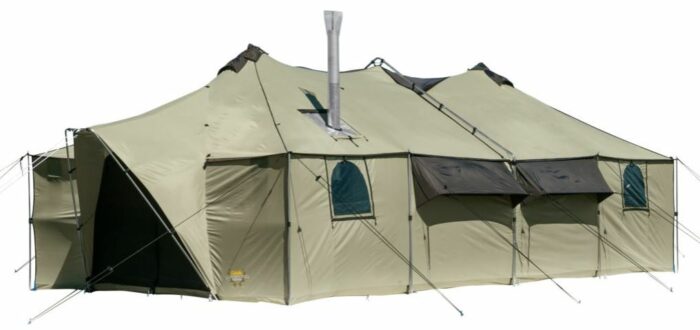 The same holds also for this Bushtec Adventure Echo 2200 Tent which is with more than 300 ft² of the floor area, but its declared capacity is only 4 people. This is a glamping tent and not built to pack people like sardines. Note that it is available on Amazon so have a look here. But see how it looks: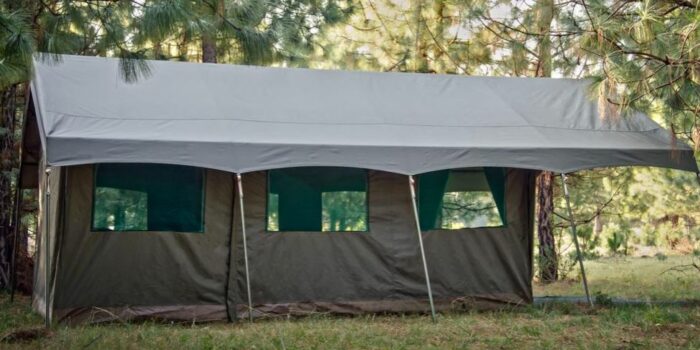 This all aside, the tents in the list are true giants, and you will realize this when you see their specifications. The capacity can effectively be increased and you can have more floor area if you use bunk cots. This works great in tall cabin style tents which you usually have in this size range.
So here is our list with 20-person camping tents:
---
1. Ozark Trail 20 Person Tent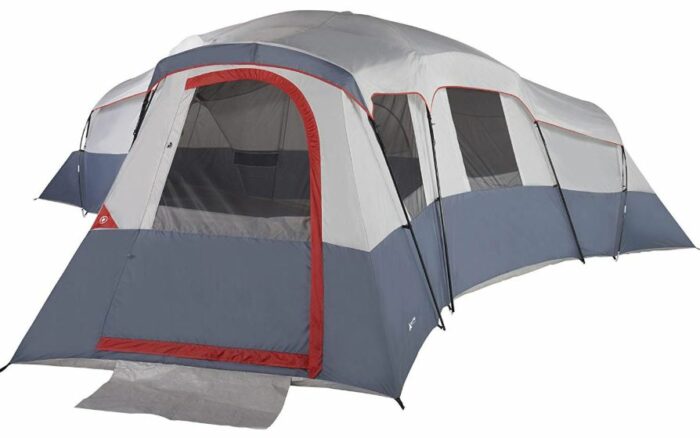 This exceptional structure is with 25 x 21.5 feet dimensions, and this is a cabin-type construction. It offers 26 m² (280 ft²) of the floor area in its 4 separate rooms. The tent is with 3 separate entry points and you also have 8 huge windows with mesh and panels for protection and privacy.

The floor is Y-shaped, incredibly huge and it can accommodate 6 queen size beds. This is a summer camping tent or a tent for warm-weather camping in general, and for quiet weather situations without much wind or rain.
The poles are steel and fiberglass and you have them many. You would like to know that this is also a very affordable tent, so please follow the link for more.
---
2. Ozark Trail Hazel Creek 20-Person Star Tent with Screen Room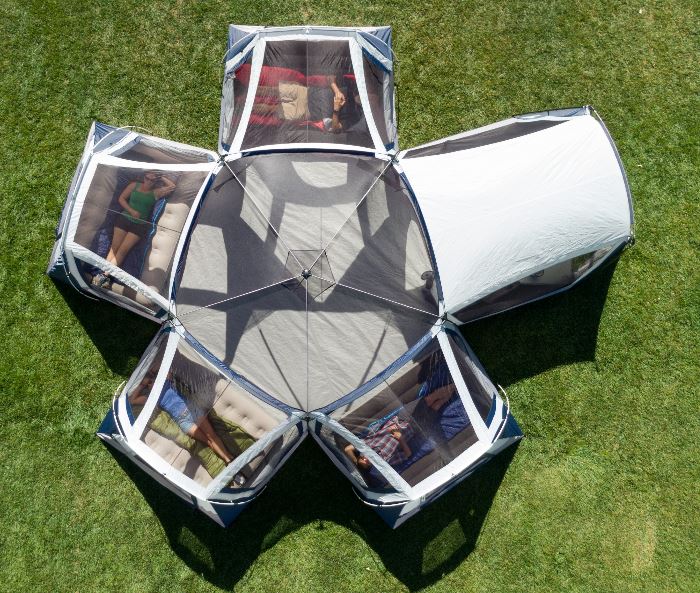 This Ozark Trail Hazel Creek 20-Person Star Tent with Screen Room is one of the most remarkable tents on the market. You have no less than 5 rooms plus a screen room. This is why it is also in my list of best 5-room tents and in the list of tents with a screen room.
The tent has 13 windows in total, then you have 5 doors, 4 E-cable ports, and many storage pouches. The total area is 279 ft² (26 m²) plus the vestibule area of 61 ft² (5.7 m²). It is included in my list of extra large family camping tents. It is heavy as you would expect so the weight is 60.2 lb (27.3 kg). You will want to know that it is very affordable.
---
3. Ozark Trail Hazel Creek 20-Person Tunnel Tent

In this case you have a tunnel tent as its name suggests. Here are some numbers which you might want to know. The weight is 47.4 lb (21.5 kg) and the floor dimensions are 24 x 12 ft (732 x 366 cm). So this gives 288 ft² (26.7 m²) of the floor area. The tent is huge but if used by 20 people, there is not much space per person, it is only 14.4 ft² (1.3 m²). The structure is tall and the peak height along its axis is 80 inches (203 cm).
There are 2 rooms created by a sewn-in divider, 2 doors, and the fly is designed so that you can create several windows shown in the picture above. The fly is multi-positional so that you can roll it back or roll it up on either side to find the perfect balance between stargazing, ventilation, and privacy.
The area is big enough to accommodate 6 queen air beds. The poles are fiberglass and you have them 9. You also get 6 guy ropes, 20 steel stakes, 2 E-cable ports, a 55-inches movable movie screen, and also two hanging media pockets.
---
Final thoughts
So this was our list with best 20-person camping tents, it is short i) because of our principle to include only the tents with the declared 20-person capacity, and ii) because we include only the tents are available globally.
We know that there are manufacturers who build great tents and sell them locally. We shall be adding more tents here whenever we find something worth adding. So stay tuned and bookmark this text.
You might want to check also our list with best 16-person tents, there are more options in that size category.
Thank you for reading, please use the comment box below in the case of questions or comments. We add texts regularly to this site, so you might want to subscribe to our weekly newsletter, the subscription form is below. Have a nice day.