This Ozark Trail Hazel Creek 18-Person Cabin Tent with 3 Covered Entrances is a gigantic and tall tent with 3 rooms, 4 doors, 4 separate windows, 3 E-cable ports, and lots more. Keep reading.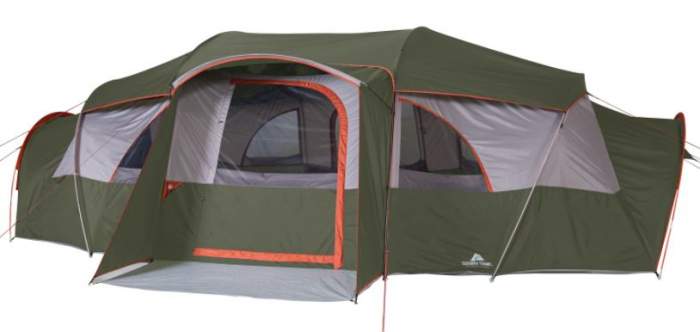 ---
Key features & benefits
3 Rooms.
4 Entrances.
8 Windows.
Very tall.
Huge space.
3 E-cable ports.
Fiberglass poles.
Great price.
---
What is in the name
Ozark Trail brand has many tents from the Hazel series and they are in several different shapes, see this Ozark Trail Hazel Creek 20-Person Star Tent with Screen Room and also this Ozark Trail Hazel Creek 20-Person Tunnel Tent.
In the case of the tent presented here in the text, they use the word Cabin in the official name, but this is a very typical tunnel-type tent and you can realize this from the picture below that shows the tent without the fly. As you see it is supported by 6 loops. Those two in the middle are straight and the central part of the tent indeed looks like a cabin, but the other four are just loops.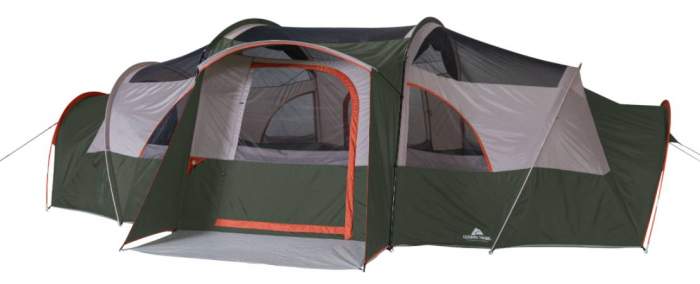 This is a very tall tent with a peak height of 86 in (218 cm), and this is why I have included it in my list of very tall family camping tents. It is fair to say that this height is only in its central part, the two side areas are much lower. The tent is with 3 rooms and each of them has its own entrance, this is what is mentioned in the title above, and you have dividers, one is shown below.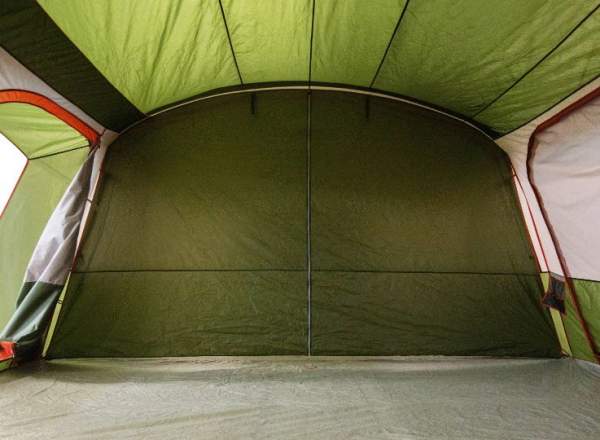 The dividers are sewn-in to the ceiling so they look like curtains. You can fix them to the walls and then you have what is shown in the picture below, a huge area with a sewn-in floor: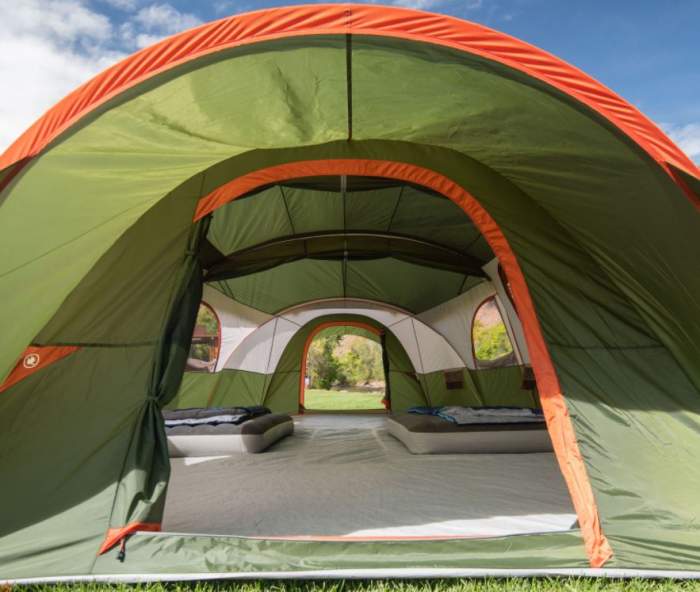 Three covered entrances are mentioned in the official name and in the title above, but the tent has 4 doors in total, the central room has two of them, and on each narrow side of the tent, you have one door. The picture below shows two of the doors: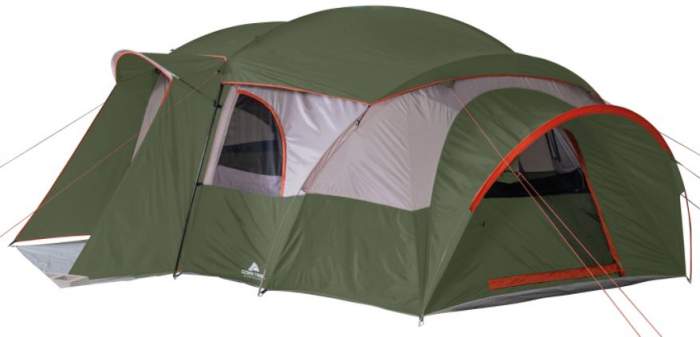 As you realize, the doors are with small awnings that are part of the tent's canopy and not of the fly. With such a design you have a dry entry on these three doors. Here you can see the remaining back door which is huge and partly protected by the fly: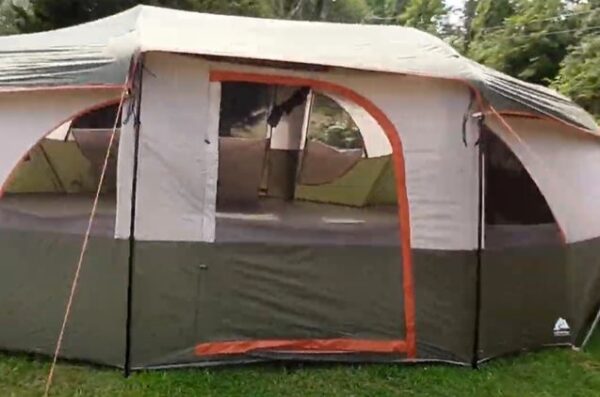 There are 4 separate windows plus 4 windows also on the doors, all these openings are with mesh and zippered panels. The fly itself is minimal and it only covers the mesh ceiling.
Below you have the top view without the fly, this will help a bit to understand the structure of this tent, as you realize you can easily put 4 queen size beds inside and still have plenty of space in between: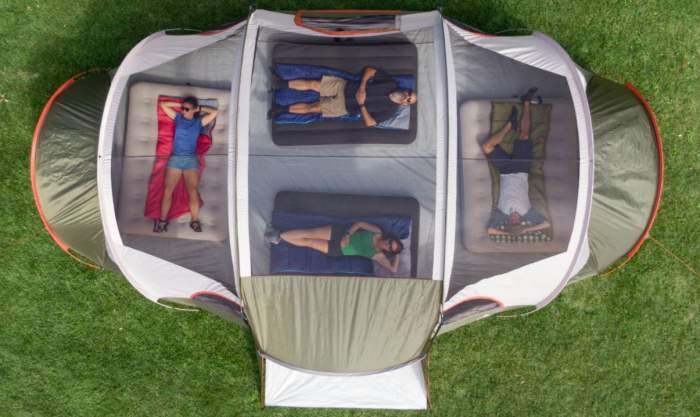 The base is not rectangular, and the picture below shows the floor plan, as you see it is a sort of an elongated octagon: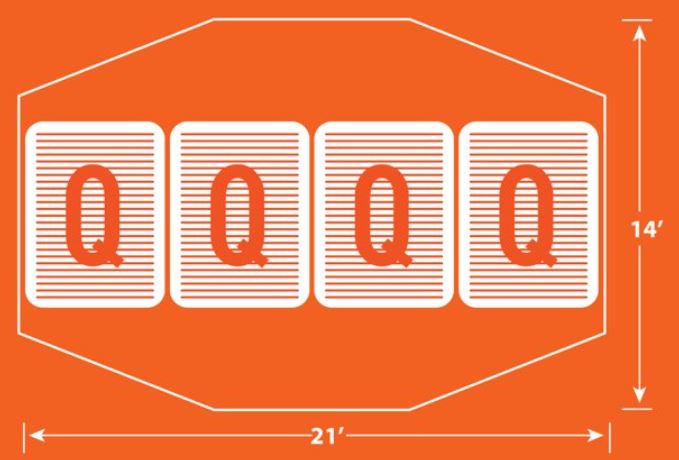 This is a collapsible tent and there are many elements shown in the picture below. But this all folds nicely into its carry bag which you will see in the pictures farther below. The official setup time for this tent is 22 minutes and two people can easily do this. Instructions are sewn into the carry bag. The tent is not freestanding, so you start by staking it properly and then adding the loops. You can do this also a bit differently, stake only one end, then add the loops and after that expand the tent like an accordion and stake it properly.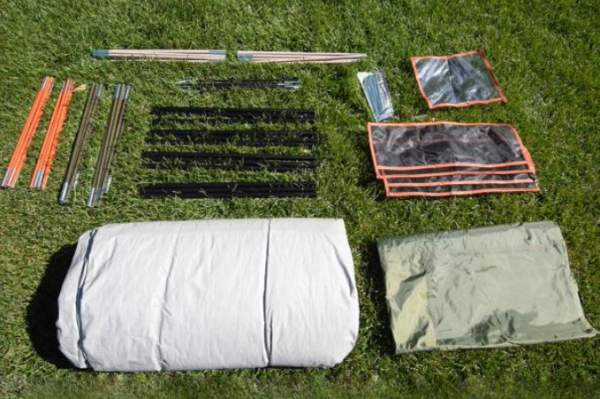 What you see above includes the following:
4 3-Section pockets.
2 Gear hammocks.
11 Poles.
12 Guy ropes.
26 Steel stakes.
Other features
4 Lantern loops.
Media pocket.
E-cable ports, one at each of the covered doors.
A doormat.
A wheeled carry bag is included, see below.
Ventilation
The ceiling is all mesh as you have seen above. The windows on the three protected doors can be kept with mesh most of the time, so this should give enough ventilation. But I must stress that there are no floor vents, so this is not an optimal design if you have prolonged hours with rain.
Materials
The poles: here you have a combination of fiberglass and steel. The poles are numerous but they are shock-corded and color-coded. They attach to the tent's base with the usual pin and ring system, and on the canopy you have clips and long sleeves.
The fabric: The body and the fly are a polyester taffeta 185T with a 1200 mm waterproof rating. The seams are taped. The floor is polyethylene, a sort of plastic, and mesh areas are a polyester mesh 68D. The carry bag is a polyester Oxford 210D.
You might want to see a bit more about its parts and setup instructions in this pdf file.
---
Who is it for
Regarding the area, the tent is officially for 18 people. For this, you have 255 ft² (23.7 m²), and this means 14.17 ft² (1.3 m²) per person. So this is far from enough and the official capacity makes no sense. In my view, it is best to downgrade this number by half. But this is a huge tent and I have included it in my list of extra large family camping tents.
Regarding seasons and climate, they describe it as a 3-season tent, but this is a tent for summer camping and for quiet weather conditions. It would not last long in very windy places.
Regarding the weight, with 48.3 lb (22 kg) of weight the tent is heavy, but see again its floor size and you realize this is around 1.08 m²/kg, so the weight is justified. The packed size is also far from bad, it measures 30 x 15.5 x 10.5 inches (76 x 39 x 27 cm).
---
Specifications
Official capacity: 18 people.
Weight: 48.3 lb (22 kg).
Dimensions (L x W x H): 21 x 14 ft (6.4 x 4.3 m).
Area: 255 ft² (23.7 m²).
Area per person: 14.17 ft² (1.3 m²).
Height: 86 in (218 cm).
Packed size: 30 x 15.5 x 10.5 in (76 x 39 x 27 cm).
1-Year limited warranty.
---
Final thoughts, rating, pros & cons
So this Ozark Trail Hazel Creek 18-Person Cabin Tent with 3 Covered Entrances is indeed huge, tall, and pleasant, but it is definitely not large enough for so many users. Use it for quiet weather and summer camping and you will enjoy its size and features. The price is more than fair for such a large tent.
Please see how I rate this tent against my standard set of criteria so you can easily compare it with some other tents of this size and type:
Please see more options under the category Tunnel Tents and also in the group of Cabin Tents. Let me know if you have questions, there is a comment box below. Thank you for reading and have a nice day.