---
Ozark Trail Instant Cabin Tent with Built in Cabin Lights is a 10-person 2-room freestanding easy to use pleasant summer camping tent with a great price tag. Keep reading.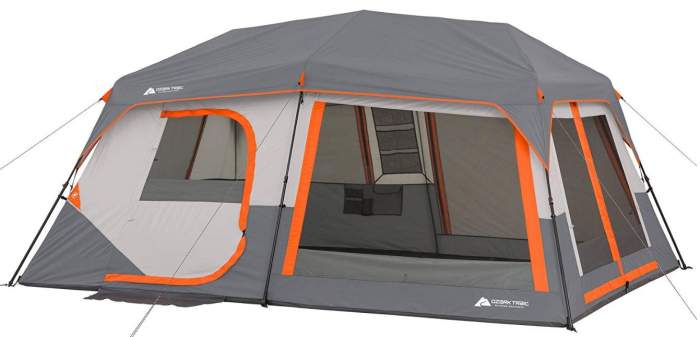 ---
Key features & benefits
Screen room.
Instant setup.
Lighted tent.
Steel frame.
E-cable port.
Media pocket.
Gear storage system.
2 Doors.
7 Windows.
Great price.
---
Where to buy
This tent is available on Amazon under the name shown in the title.
You can have it also at Walmart where it is under the name Ozark Trail 10-Person Instant Lighted Cabin Tent.
---
What type of tent is this
Here you have a feature-rich cabin-style tent. So the walls are steep and straight and the peak height along the main axes is 78 inches (198 cm). This is also an instant setup tent with the frame preattached to the tent, the declared setup time is 2 minutes only, see the steps shown in the picture below.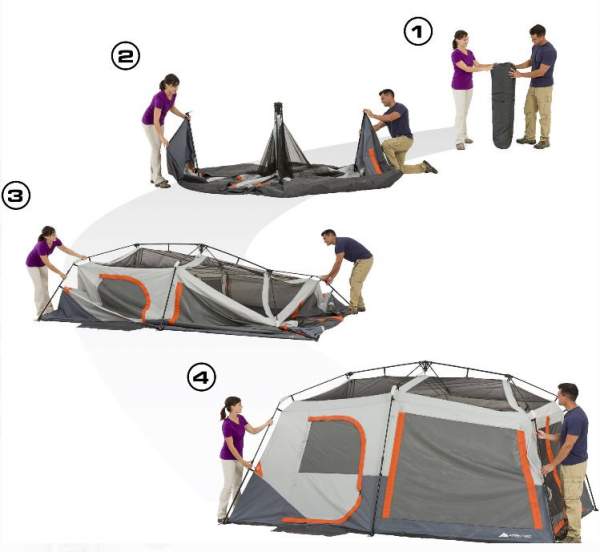 So you simply spread the tent and extend its telescopic poles. One person can do this but it is easier for two. You have to add the fly as well, so it is best to have somebody to help you. This is why I have added it to my list of best instant camping tents.
This is a freestanding construction, self-supporting and stable as you can realize from the picture below which shows the tent without the fly. But you should certainly not miss staking it properly, the stakes and guylines are included in the package.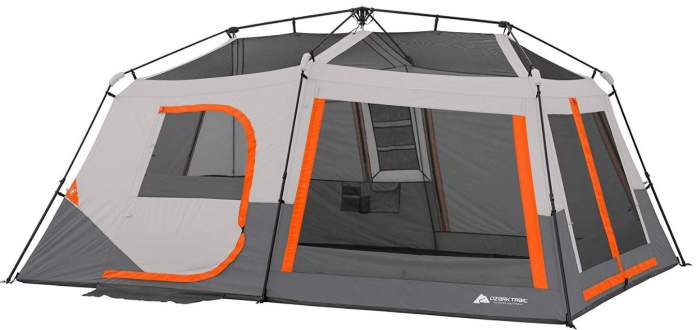 The tent is pleasant with its two large doors and 7 windows. All of them are double-layer structures with mesh and zippered panels for protection and privacy.
Screen room or not
I have seen some confusion about the screen room. Some claim this is not a screen room, but the situation is as follows. The tent is a 2-room structure with the back room that has its own side door visible in the picture above. You have a removable divider shown below, so you can remove it and use the tent as a single room as well.
The front room is with a huge inverted-T shaped door with zippers on the bottom and in the middle. It is fully floored and its side walls are all double-layer with mesh and zippered panels. So it offers full protection just like the back room, but it can be converted to a pleasant screen room as well.
So it depends on what people understand as a screen room. In my view, this is more than just a screen room. In any case, I have included this tent in my list of tents with a screen room. The picture below shows how the tent is divided in two parts, the rooms are the same size, around 7 x 10 ft each.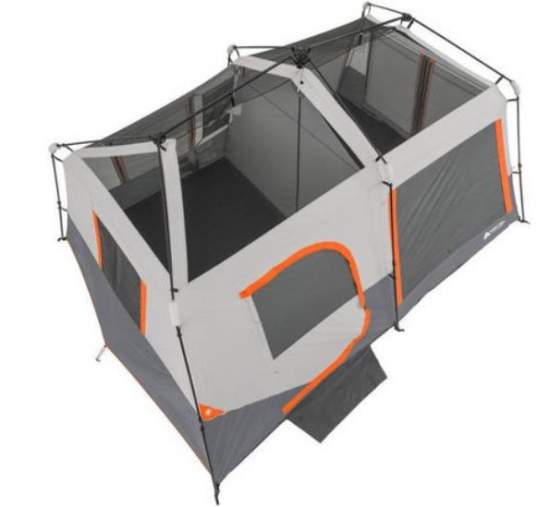 Lighted tent
So you have this extra bonus here, the ambient LED-lighted poles which provide light throughout the tent. You have low, medium, and high settings and the system works on 4 D batteries. The picture below shows the light center on the ceiling and the other shows how it looks with the light on.
---
Materials & other features
The poles
The poles are steel and the structure looks strong and stable. You also have 13 steel stakes included in the package.
The fabric
The fabric is a 190T coated polyester, they do not provide information about waterproof rating. The seams are taped. Many users have reported that the tent was working fine even in strong prolonged rains.
Ventilation
There is nothing to object to ventilation here. You have plenty of mesh around and if you have to keep all the windows and doors closed, you still have a large vent on its narrow side, see the picture below. This together with the mesh on the ceiling will create enough vertical air circulation.
Other features
There is a cable port shown in the picture below.
A media center is included, see the picture.
A removable storage organizer is included.
Two storage pockets are on the walls.
A carry bag is included, see the picture.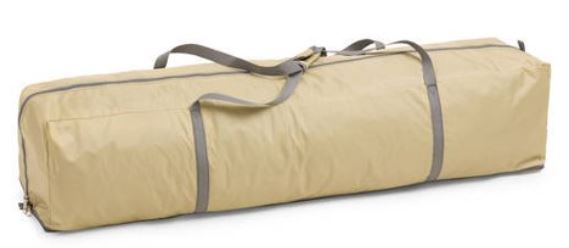 ---
Who is it for
Capacity-wise, they claim this is a 10-person tent. But the area is 140 ft² (13 m²) so this is far too small for such a number of users although indeed it should be possible to put 10 sleeping pads on the floor. Note again that the tent is fully floored, so this can work for a group of friends at a summer festival and for other similar activities. But for a family camping, it is best to downgrade this number by half.
Seasons-wise & climate-wise, I see it best suited for summer camping without much rain and winds. This is a tall and boxy structure so it is best to use it in a quiet area. But I have seen some users reporting of using it in the winds of 50 mph.
There is lots of mesh around and on the ceiling, so this will work great if you use the tent in a warm climate. But with so much mesh on the ceiling, I would not use this tent in a cold climate.
They do not provide any info about its waterproof rating, but this is a tent with a minimal fly that covers the ceiling only. The windows and doors are with panels as mentioned above so you have all protection, but with so many zippers and windows, it is best to use it in areas without much rain.
Weight-wise, with its 32.6 lb (14.8 kg) this is not a lightweight tent, but this is a normal weight for such a steel construction. You will see in the comparison table below that it is lighter than some of its competitors.
Note also that the packed size is not so impressive, but again, this is normal for instant camping tents that come with telescopic poles. All in all, you will need a car for the transportation of this tent.
---
Specifications
Declared capacity: 10 people.
Weight: 32.6 lb (14.8 kg).
Dimensions: 14 x 10 ft (427 x 305 cm).
Area: 140 ft² (13 m²).
Peak height: 78 in (198 cm).
Packed size: 45 x 10 x 9 in (114 x 25 x 23 cm).
6-Month limited warranty.
---
Ozark Trail Instant Cabin Tent with Built-in Cabin Lights vs Competitors
I have decided to show you this Ozark Trail tent side by side with some of its competitors with the same declared capacity. As you see they all have the same floor area.
The Coleman tent is an instant setup design but it is also a dark-rest tent. The Core tent is instant and it also has lights. Both of them are heavier than the Ozark Trail tent. Please follow the links to read more.
Ozark trail Instant Cabin 10
---
Final thoughts, rating, pros & cons
In summary, this Ozark Trail Instant Cabin Tent with Built-in Cabin Lights comes with plenty of useful features, this is a pleasant and functional design suitable for summer camping. Just ignore its declared capacity and you will enjoy this tent. This is a great value/money combination. See below how I rate it.
You might want also to check these nicely built Columbia Mammoth Creek 10 Person Cabin Tent and OT QOMOTOP Tent 10 Person.
Note that I am not paid by the manufacturer, and this is not a sponsored text. Please use the comment box below in case of questions or comments. Have a nice day.
---