---
Columbia Mammoth Creek 10 Person Cabin Tent is a 2-room structure with 2 doors and 7 windows, nicely ventilated and suitable for summer and warm weather camping.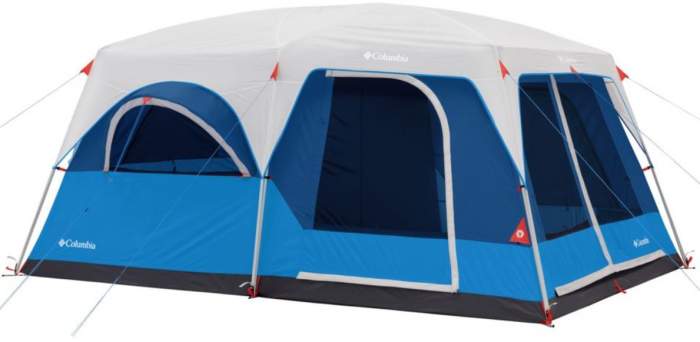 ---
Key features & benefits
Two rooms.
Two doors.
4 + 3 windows.
Fiberglass poles.
Freestanding tent.
Floor vent.
E-cable port.
---
What type of tent is this
This Mammoth Creek 10 is a part of a series that includes also an 8-person and a 6-person tent. So this is a cabin-style tall tent with a peak height of 78 inches (198 cm). The tent is formally freestanding with its 6 legs poles, but I would not miss staking it properly.
The picture below shows how it looks without its minimal fly which is there only to protect the ceiling. This is a very pleasant 2-room construction with two large doors both located in the front room. The main door is double-size and with an inverted-T shaped zipper.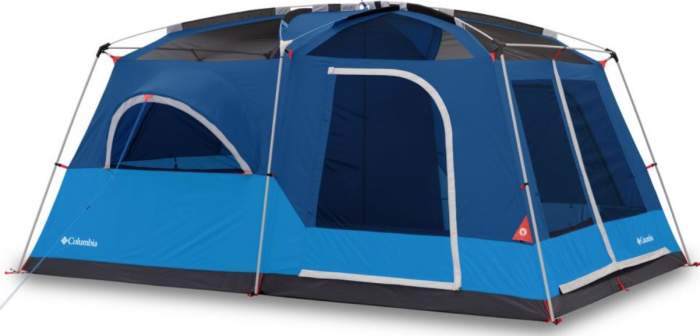 There are 4 separate windows here, plus 3 windows on the doors. All of them are double-layer constructions with mesh and zippered panels. Those side windows are particularly interesting, the pictures below show how they look. So you stake them out and you can keep them at least partly with mesh all the time. But you have an inner panel with a zipper to close the window if you feel cold or in the case of side winds with rain.
The fly attaches directly to the tent's base, you have clips in place for this purpose. Note that you have unobstructed views when the fly is on.
Ventilation
You have good ventilation in this tent. The windows and the doors are with mesh and with zippered panels, and the ceiling is all mesh. This is already enough to have good air circulation. Note again that some of the windows are angled and also protected so you can keep them with mesh all the time.
But they have added a floor vent as well. It is with mesh and with an inner zippered panel visible in the pictures below. You also have the external panel. So this is a really nice design, you can close the vent if you have too much airflow.
The divider
As mentioned, there are two rooms here, and the divider is sewn-in and you have an inverted-T zipper that allows for opening it completely. So this is not just a curtain and it provides some privacy. Note that the back room is without any door, pity. The picture below shows the structure with the divider unzipped.
---
Materials
The poles & stakes
The poles are fiberglass, you have very thick legs poles and thinner poles on the roof. They are with the usual pin-and-ring system for attachment to the tent. The roof is with sleeves for poles and below you have clips. Stakes are included in the package as well as guylines.
The fabric
They do not provide info about the waterproof rating. There is only a statement about Omni-Shield coated fabric that provides advanced repellency. They claim that this Omni-Shield fabric dries 3-5 times faster than untreated fabric so it stays lighter. The floor is a bathtub type, and this is polyester with a thick coating. The openings are with No-See-Um mesh. The carry bag is nicely designed, see the picture below.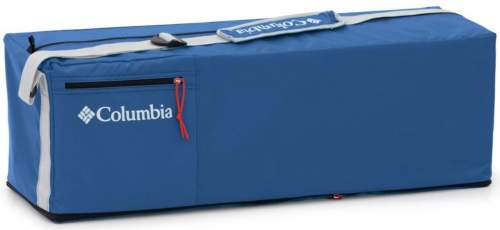 There is a statement by the manufacturer that the tent is made of flame-resistant fabric which meets CPAI-84 specifications, but it is not fireproof of course.
Other features
E-port is available, see the picture below.
There are small pockets on the all, far from enough.
Repair patches are in the package.
---
Who is it for
Space-wise, the declared capacity is 10 people, and the tent offers 140 ft² (13 m²) of the area. Clearly this is small for the declared number, but you will see in the comparison table below that this is quite a typical size for 10-person cabin style tents on the market.
In my view, this tent is best suited for a maximum of 5 people. But it is true that you can put 10 sleeping pads on the ground, this would be fine for a group of friends on a summer festival or a similar event.
Seasons-wise & climate-wise, you have seen all its features so the tent is best suited for warm-weather camping for summer or for maximum 2-season use. Ventilation is very good, but the ceiling is all mesh so better avoid a cold environment.
Weight-wise, you will see in the comparison table below that its 40 lb (18.1 kg) of weight is a bit more than in some of its competitors. This is not so unusual for such a type, but this is a heavy item. The packed size 29.5 x 9.8 x 9.8 inches (75 x 25 x 25 cm) is not so bad. But in any case, this is a camping tent and for places with a car access.
---
Specifications
Declared capacity: 10 people.
Weight: 40 lb (18.1 kg)
Dimensions: 14 x 10 ft (427 x 305 cm).
Area: 140 ft² (13 m²).
Peak height: 78 in (198 cm).
Packed size: 29.5 x 9.8 x 9.8 in (75 x 25 x 25 cm).
The daily updated price is given below so you see this is an Amazon Prime product and you can have it shipped for free.

---
Columbia Mammoth Creek 10 Tent vs Ozark Trail 10 & Core 10 tents
I think it is interesting to see how these tents compare, this may help in making an informed decision. All are built in the same style as cabin tents and as you see the area is the same.
The Ozark Trail 10 is without floor vents but it is far more affordable. The Core 10 tent has been on the market for some time already and this is a reliable tent. Please follow the links for more details.
Columbia Mammoth Creek 10
29.5 x 9.8 x 9.8
(75 x 25 x 25)
35 x 13 x 13
(89 x 33 x 33)

28.5 x 10 x 10
(72 x 25 x 25)

---
Final thoughts & rating
In conclusion, this 2-room Columbia Mammoth Creek 10 Person Cabin Tent is really nicely built and pleasant, and it is most suitable for warm weather camping. It has some really interesting features and the ventilation is very good. The price is a bit steep but here you have an item from a top brand.
Please see how I rate this tent against my standard set of criteria used for all the tents here in the site. This allows for easy comparison.
If you need more options of this type, check under the category Cabin tents here in the site, or in the group Tents for 9-10 people. Need something bigger in the same style? Check this CORE Two Room 12 Person Instant Cabin Tent with Side Entrance. You might want to see also this Outdoor Products 10 Person Instant Cabin Tent built in a similar style but with instant setup.
Note that this is not a sponsored text, and I am not paid by the manufacturer. Please use the comment box below in case of questions or comments. Have a nice day.