The REI Co-op Wonderland 6 Tent is a 2-room and 2-door freestanding and unique tunnel-type tent supported with aluminum poles.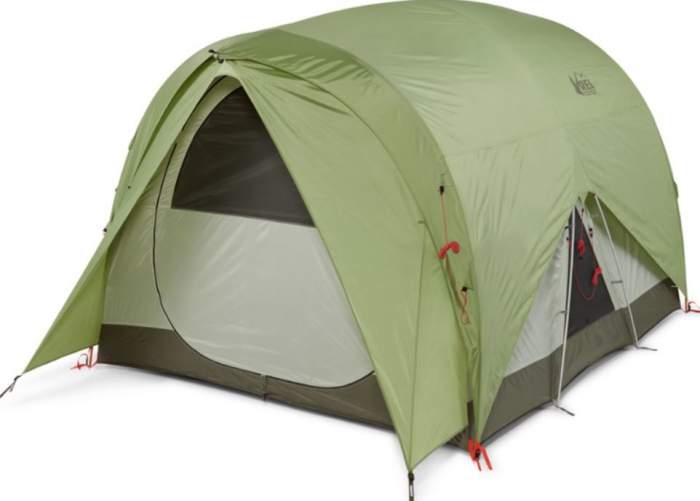 ---
Key features & benefits
Tunnel-type tent.
Freestanding.
Dry entry.
2 Doors.
2 Rooms.
Aluminum poles.
---
Overview
This REI Co-op Wonderland 6 Tent is a tunnel tent of a particular type. It is freestanding and this feature is not so frequent with tunnel tents. The picture below shows the tent without the fly so you can better understand what makes it freestanding.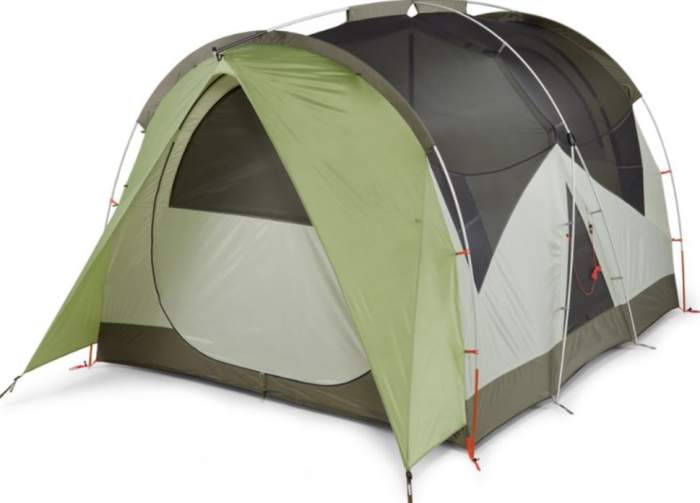 The following 3 details are important for this feature:
i) There is a ridge pole that crosses the loop poles and it attaches to the tent at two ends. This alone makes the tent freestanding because of the tension created in the fabric. A similar effect you can see in a few other tents presented here in the site, like this ust House Party Car Camping Tent 6, and Ozark Trail 8-Person Dome Tunnel Tent With Full Fly.
ii) But they have added a split design in the middle loop pole. It has Y-shape ends on both sides of the tent. One is shown below where you see the hub element where the pole splits.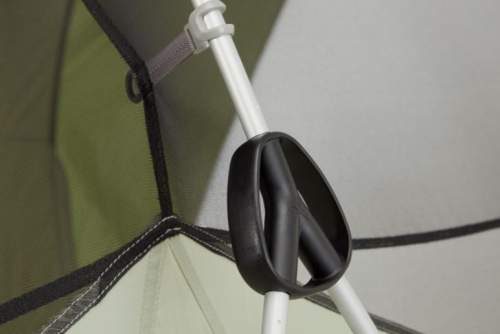 iii) Many tents on the market are described as freestanding while they are not. This is typical with dome tents where you can have a completely freestanding inner tent, but when the fly is added, you have to stake it down to make the tent functional.
Well, this is not so here. The fly is a partial-coverage type and it attaches to the tent's base. This is why you can indeed move and rotate this tent when you set it up and when the fly is on as in the top picture above. But this is why you do not have vestibules, so this is a trade-off as usual.
There are small awnings on the two sides and you can see they are staked to the ground but they do not have to be. They are a convenience because they create dry entry and wind protection, but you can roll them to the sides and you will still have covered entrance, see this in the picture below.
2 Rooms, 2 doors, & 2 + 2 windows
The tent has 2 rooms, a divider is in the middle and it is equipped with a zipper in the center, the picture below shows how this looks when it is in place. Do not expect much privacy as usual in tents, this is just a curtain with gaps on the sides and on the bottom, it is not sewn in.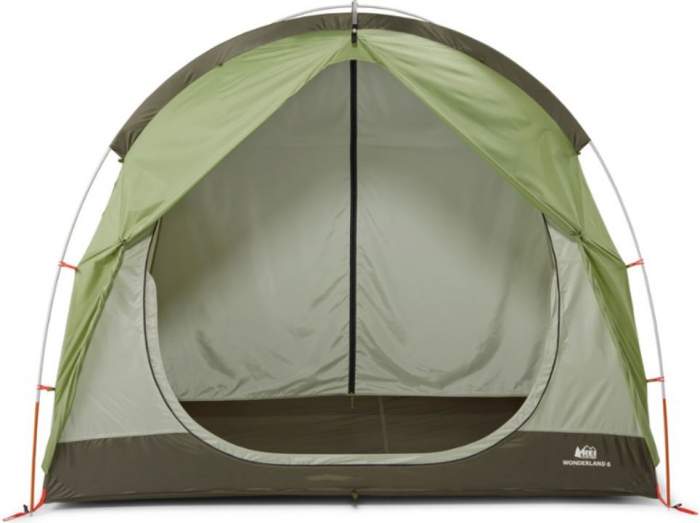 There are two large doors on the two sides. Below you can see them both because divider is removed. Each of the doors has a window with a mesh and a zippered panel.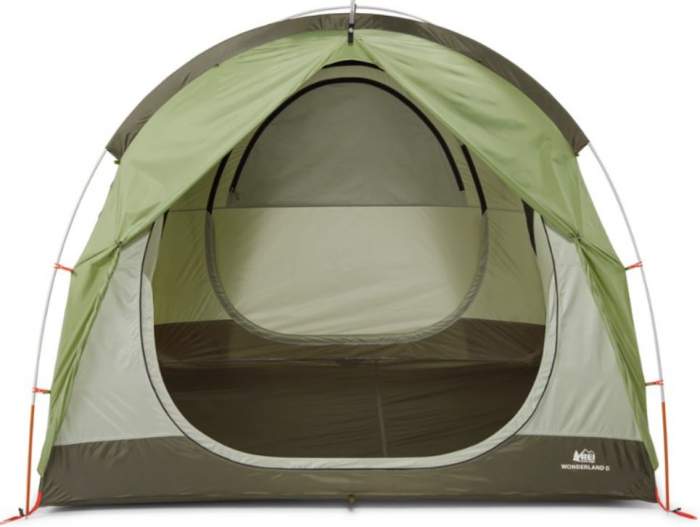 You see above the door fully unzipped. There is a pocket inside where you store it and keep out of the way, see how this looks: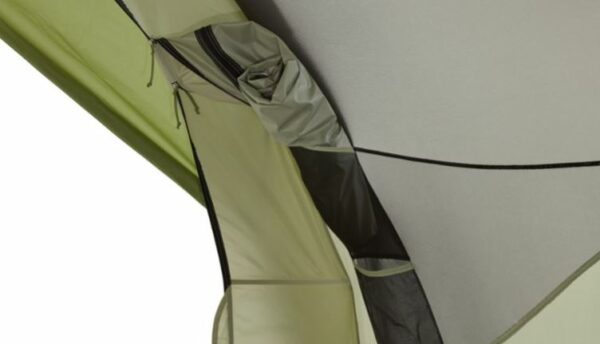 Note also that you have lots of headspace here, the tent is tall, its two walls are completely vertical, and the peak height is 75 inches (191 cm).
Materials
The poles: The poles are shock-corded and color-coded aluminum with the diameter of 12, 12.4, 13, and 16 millimeters. They attach to the base through grommets, and higher you have color-coded clips and sleeves.
The fabric: The canopy is a combination of a 75D coated polyester and a mesh. They write it is solution-dyed to reduce the environmental impact of the tent.
The rain fly is the same polyester material. They do not provide waterproof rating, pity. The floor is bathtub style polyester but much more durable 150D. All seams are sealed.
Ventilation
I already mentioned its mesh windows, so you have cross circulation of air. But see also its canopy which is all mesh. Observe also its inner divider which is unzipped.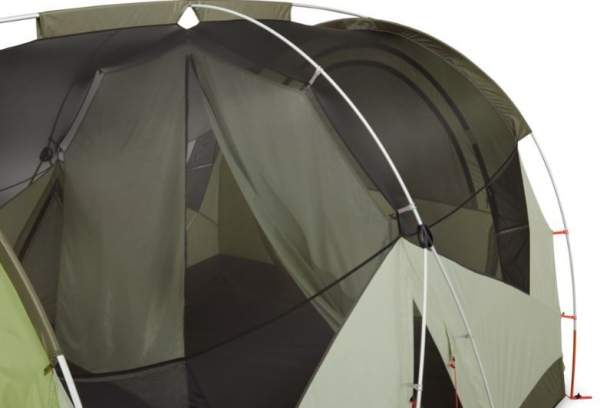 They have added 2 triangular side vents close to the floor, you have inner zippered panels. One is shown below. They are large and you have views around when you are on the pad, so they are like 2 low windows.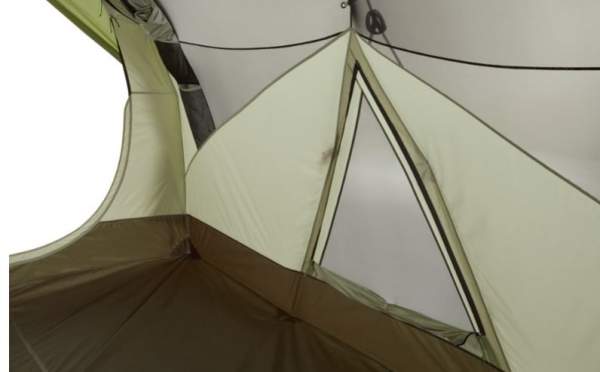 Though when it is raining, you have to keep those low vents closed, the picture below shows that they are not protected by the fly. Even if you stake out the fly this will not create enough protection.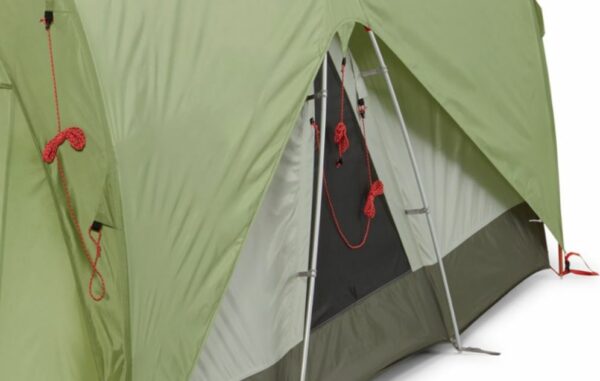 In such situations classic floor vents work much better, I would rather have them instead of these hybrid windows/vents. The fly is without high vents but this should not be a big problem because in principle vapor can escape on both ends.
Other details
You have multiple interior storage options.
18 Stakes and 8 pre-attached reflective guylines with cleat-lock tighteners are included.
You get a pole repair segment tube.
Includes main stuff sack with shoulder strap and handle. Inside you have separate organizer stuff sacks for poles and stakes.
---
Who is it for
Regarding the area, the tent is officially for 6 people and for this you have 83.3 ft² (7.7 m²). This makes 13.9 ft² (1.28 m²) per person, the same as in REI Co-op Skyward 6 Tent. With divider in place it may be difficult to place 6 regular size pads. All in all, in my view the official capacity is unrealistic.
Regarding seasons & climate, they describe it as a 3 season tent. You have seen its mesh on canopy, so this is not a shelter for a cold climate. It is best to downgrade it to 2-season use, late spring, summer, and early autumn.
The materials are durable and the poles are aluminum, but the shape is not very aerodynamic and the tent is tall. I would not use it in very windy places.
Regarding the weight, the tent is heavy with its 22 lb 15 oz (10.4 kg). But this is not a big deal because it is built to be a car camping tent. The packed size is 32 x 13 inches (81 x 33 cm).
---
Specifications
Weight: 22 lb 15 oz (10.4 kg).
Official capacity: 6 people.
Dimensions: 120 x 100 in (305 x 254 cm).
Inner area: 83.3 ft² (7.7 m²).
Inner area per person: 13.9 ft² (1.28 m²).
Peak height: 75 in (191 cm).
Packed size: 32 x 13 in (81 x 33 cm).
Poles: aluminum.
---
Accessories
REI Co-op Wonderland Mud Room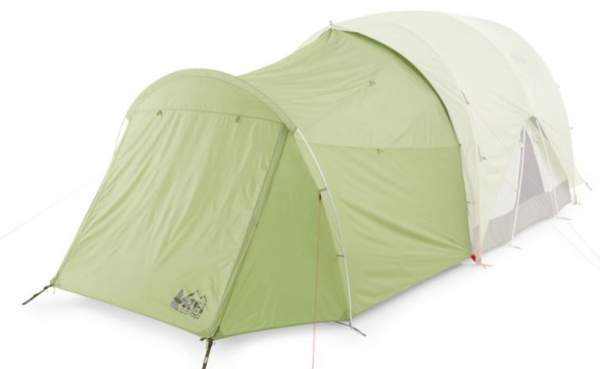 This Mud Room works for both REI Co-op Wonderland 4 and 6 tents. It adds 56 ft² (5.2 m²) of a useful protected vestibule space. It has zippered doors on both sides that can be rolled back for an open space with great ventilation.
It comes with a carry sack, aluminum tent pole, 6 stakes, and 2 guylines with tighteners. See more details about this Mud Room here.
REI Co-op Wonderland 6 Footprint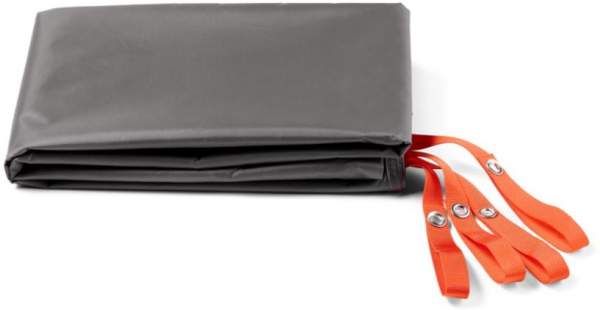 This is a durable 150D polyester and its dimensions are 9 ft 8 in x 7 ft 10 in (295 x 239 cm). It weighs 2 lb 1 oz (0.9 kg). Please see more here.
---
Final thoughts, rating, pros & cons
In summary, this REI Co-op Wonderland 6 Tent is a unique design, it is fully freestanding and it is very functional with its 2 doors and 2 rooms. The materials are durable, the poles are aluminum, and the tent is ventilated. Fully recommended.
Below you can see how this tent stands against my standard rating criteria that I apply consistently to all the tents here in the site so that you can easily compare:
BEST PLACEs TO BUY:
For more tents from this brand, see my separate list with REI camping tents. Note that they have yet another tent with a similar name, the REI Co-op Wonderland X Tent, but this is a very different structure.
Let me know if you have questions, there is a comment box below. Bookmark this site and come again, this will keep you informed, as you realize I add texts here on a regular basis. Thank you for reading.