This Russian-Bear Hot Tent with Stove Jack is an incredible instant-setup double-wall structure, unlike any other tent on the market, suitable for all seasons and all climates, with 2 doors & 2 windows, plus a lot more.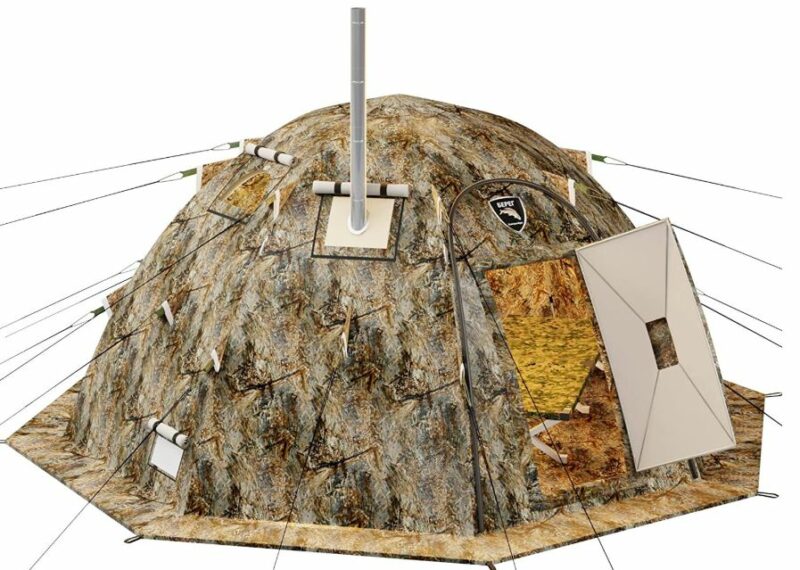 ---
Key features & benefits
Two-wall tent.
2 Doors.
2 Windows.
5-Layer windows.
3-Layer doors.
Instant setup.
Integrated stove jack.
Tent for all seasons.
Tent for extreme conditions.
Removable hinged door.
Solid windows.
Darkened area.
Awning included.
External ground flap.
Gear loft.
---
What is in the title – what this Russian-Bear tent is about
This tent is so full of features that it is difficult to formulate an appropriate and reasonably short title that would describe it properly. So they sell it on Amazon under the name given in the title, but you should know that this is about 3 tents with different sizes so you have:
Tent for 3 people without stove. This is known also as UP-2 Mini.
Tent for 5 people without stove, aka UP-2.
Tent for 8 people without stove, aka UP-5.
This is what they call UP tents series, just to know the terminology. Actually, they have a few more tents, but those mentioned above are available globally and on Amazon-US and you can have them all at the same place on Amazon, see them here. The floor plan of the three tents is shown in this picture below, and in the same order as mentioned above:
So terminology may be confusing because the 5-person tent is in fact the UP-2 tent while the 8-person tent is the UP-5 tent.
The pictures above show the floor plans used respectively (from left to right) in the following configurations:
With cots + a camping table + a stove.
With cots alone.
Without anything, but with pads on the floor.
In the fourth column, you also see the corresponding peak heights and the diameters.
All the tents have the same external shape, but there is the size difference of course.

However, they have accessories (more about this farther below in the text) and they sell the same tents with some of them. So you have them: i) with a wood-burning stove included in the package, and ii) with an insulated floor layer. This version you can see here, and again in all the three sizes mentioned above.
In what follows I shall describe the basic configuration which is the same in both links given above, i.e., I shall focus on the tent with the stove jack and I shall use the 5-person tent (UP-2 Tent) as an example. Its cross-section is shown below: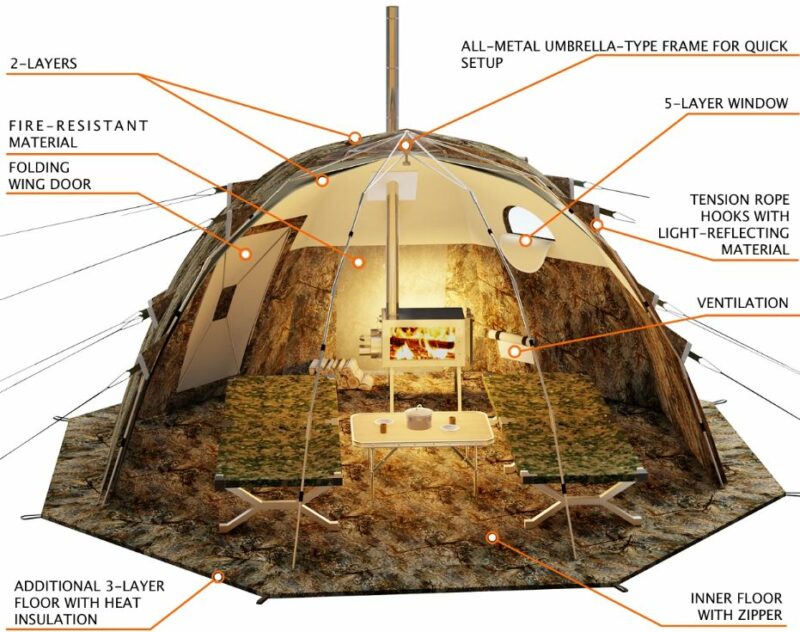 ---
Overview of features
So to start from its general shape, this is a single-room dome-style tent, and it is also fully freestanding. But it comes with incredibly many guyout points and guylines, plus many stake points and stakes, so do no miss fixing it to the ground. I have all good reasons to include it in my list of best dome tents.
This is also an instant setup tent, and this implies that the frame is preattached to the tent and you open it like an umbrella. One person can easily set this tent up in just a couple of minutes, and this applies to any of the three sizes. So naturally, I have included it in my list of best instant tents for camping.
This Russian-Bear Hot Tent with Stove Jack is also a fully 2-wall tent in the best sense of this word. So you have an external shell plus an inner tent. With all its features which you will see below, even without the wood-burning stove, this is one of the best examples of a cold-weather tent, and also a true winter tent.
Around the tent's perimeter on the ground, you will see a built-in external ground flap. It is there to press it with snow and to prevent drafts underneath the tent.

5-Layer windows
What you have in the design of the windows here, I have never seen in any other tent. So the windows have 5 layers in total and these include the following:
There is one external flap with Velcro. Note that you have a stiffener (a support bar) added here so this flap can be raised and supported and you can keep it open as a vent.
Underneath it, you have yet another translucent solid window with Velcro closure. To have direct sunlight, you can roll up the mentioned external flap and fix it above. There are toggles in place for this purpose. After that you have the solid PVC window free. Now, this solid window is also with Velcro and you can roll it up as well to get to the third layer which is inside.
Note that the PVC window can also be supported by the stiffener and used as a vent. This transparent polyvinyl-chloride layer can be used up to -58° F (-50 C).
So the third layer is again a fabric and it is equipped with a zipper. Obviously, to have the sunlight through the mentioned solid window, it is necessary to roll up this third inner layer as well. But there is more to all this.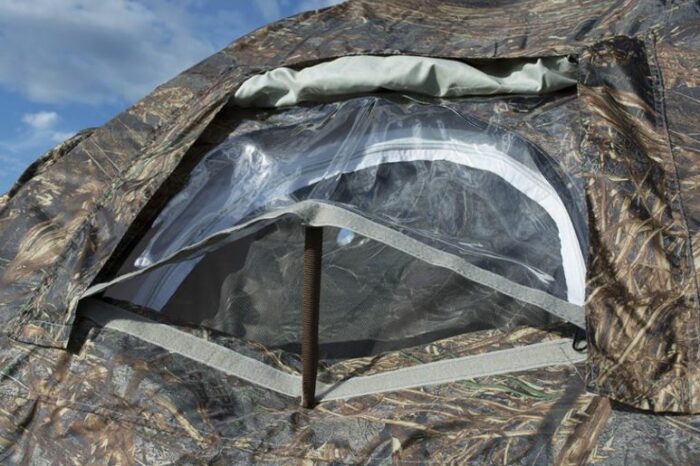 Note, all three mentioned layers on the windows are a part of the external shell tent. However, when you get into the tent, you have the inner tent, and the windows have 2 additional layers:
So the first layer on the window from inside is a zippered liner, see the picture below.
When you open this innermost layer, you have a zippered bug net layer shown below.
Remember what I have said above, this is incredibly impressive and I have never seen anything like this. You have two windows with such a design.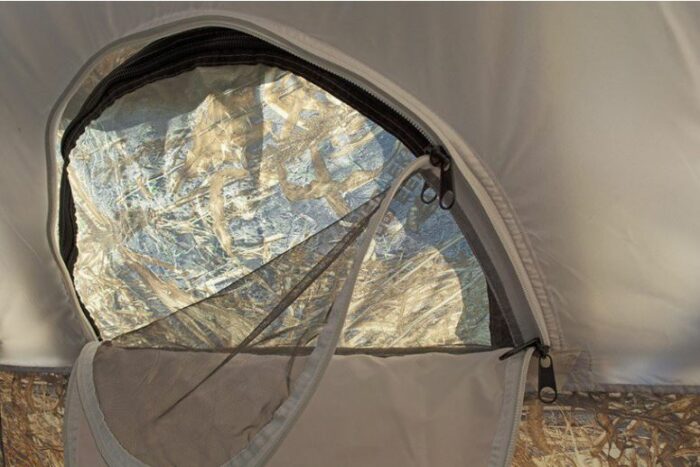 Awning
There is a removable awning with toggles on the top of the tent so you can detach it in windy weather. You can also roll the awning to the side of the door.
The doors
The doors are equally impressive and you have them two, positioned on the opposite sides. Each of the doors is a 3-layer structure. So you have:
Outer panel with zipper. It is protected by a flap all the way around, and this flap is with an elastic. This is a part of the outer shell tent.
There is also a full-size zippered mesh door.
Finally, there is a taffeta inner zippered layer.
The latter two layers are a part of the inner tent. All three layers with their zippers are presented in the picture: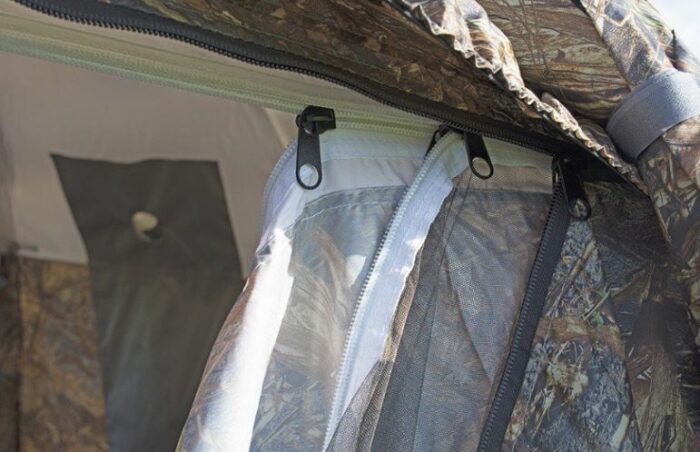 But this is not all related to the door structure…
Hinged door: You can roll all three layers to the side and fix them with toggles. There is a folding and removable hinged door included in the package and you make it ready in seconds, by unfolding and pressing. There are 4 pre-attached poles integrated in its structure and you also have a semi-rigid handle. This is yet another brilliant detail here.
This hinged door attaches to the door opening by Velcro, and the earlier mentioned flap with elastic that goes all around the opening protects the hinged door from elements. You can see it in the pictures below. So I have added this tent to my list of tents with a hinged door.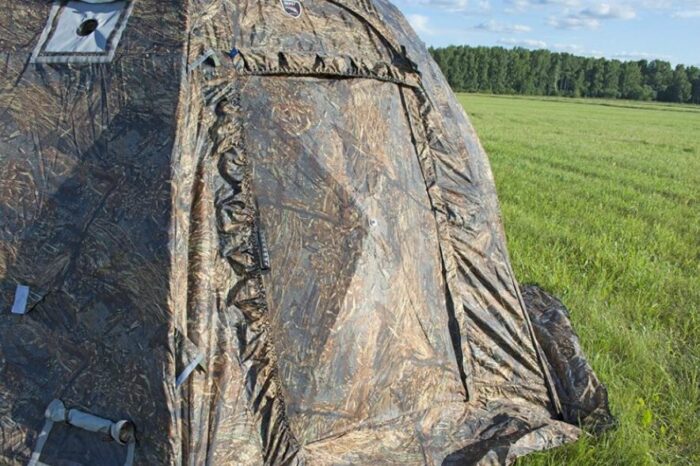 The picture below shows the same hinged door open: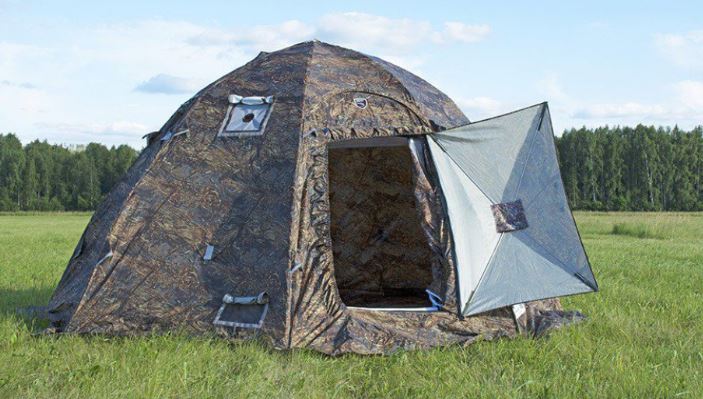 Stovepipe jack
The picture below shows the stove jack from inside. What you should know about it is the following. This is a dual stove jack, so you have one from outside and one from inside. This is because the tent has two separate walls. The opening is surrounded by a fire-resistant material so the tent is safe up to 1200 degrees. The two rings are a stainless-steel.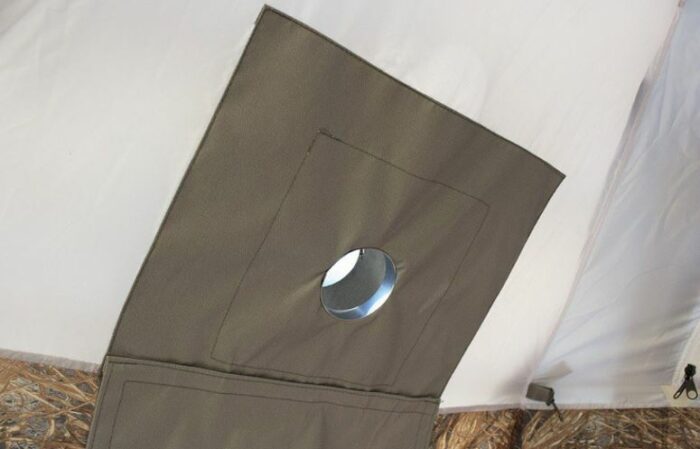 From outside you also have a panel that is fixed in place with Velcro, and you can roll it up when you use the pipe, and fix it so rolled with straps and toggles, see the picture below. The hole diameter is 3.54 inches (9 cm).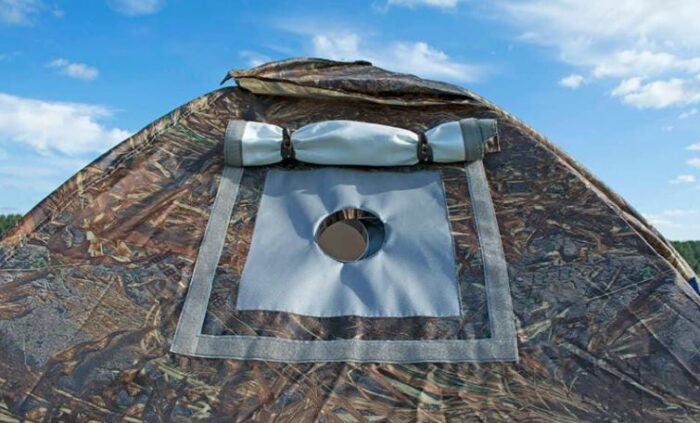 Inner area
The picture below shows the view from inside with the door open, you see one of the windows and in the middle is a removable fire-retardant material that attaches by Velcro underneath the previously mentioned stove jack. This is a fabric impregnated with silicone and it can withstand temperatures up to 1200 degrees.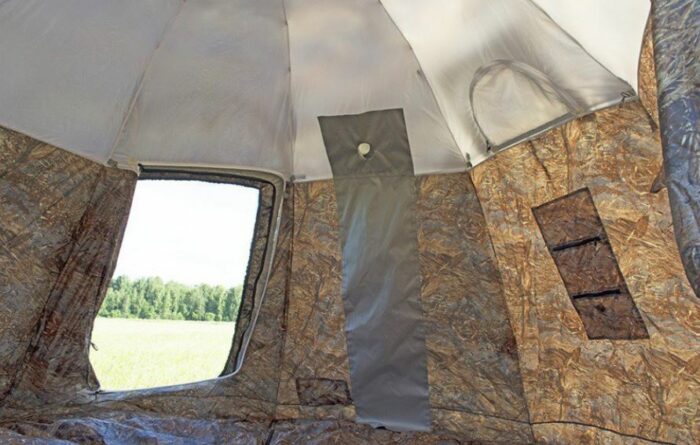 Note that the floor is with a zipper that goes around so you can unzip it if you wish, to clean for example, or you unzip it partly and have some extra ventilation.
Setup
It is very easy to raise this tent. This is an instant design with all the frame pre-attached to the tent. So you spread the tent, unzip the door and step inside through the door with the tent on the ground, and raise its central bar and slide the roof along it just like opening an umbrella.
When the tent is raised, you unscrew the central bar and attach the previously mentioned knob in its place (it comes included inside the carry bag). See more in this video (in Russian), note this is the smallest of the three tents (the UP-2 Mini) but the same procedure applies to all of them:
Stake-points & guyout points
The tent is an octagon-shape and you have one stake-point on each of its 8 corners. There is also one stake point in between, so this means 8 more stake points.
You have tens of guyout points with guylines on several levels from the base to the top, so you can fix the tent and make it stable in any weather conditions. They are on every pole plus between the poles.
Storage elements
There are 2 small removable and zippered pouches that attach to the wall with Velcro.
There are also two large organizers with multiple pouches with and without zippers, also removable and attached by Velcro.
You also have a gear loft above the head (picture below).
There is a series of hooks on the inner tent where you can fix strings to dry your clothing and to keep them off the ground, and to hang a lantern. One series of hooks is around the gear loft, see the picture. There is yet another group of hooks lower on the wall.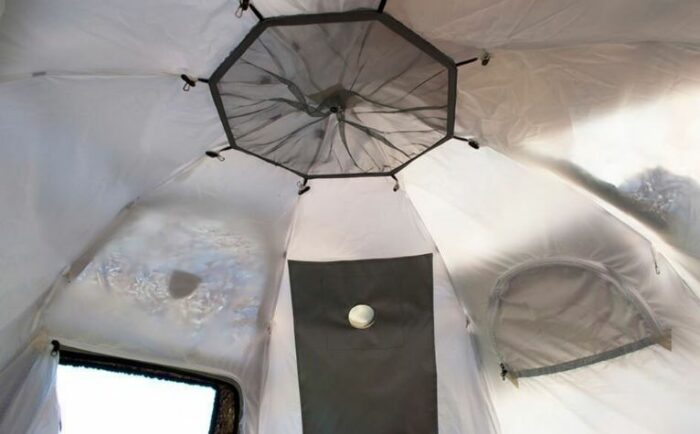 The carry bag & what's inside
Like everything else with this tent, the carry bag is also exceptional, built from a strong material and equipped with two very wide adjustable carry straps so that you can carry the tent as a backpack. It also has straps around it to compress it better. There are dual compression straps on both ends as well.
The long zipper opens the bag completely so it is very easy to pack the tent again. You will find the hinged door inside. There is also an inner pocket where you have those removable tent's pouches mentioned above, plus guylines, plus a separate small bag with steel J-shaped stakes, 24 in total. There is also a knob that you use when you remove the central pole in the tent. You will also find a bag with repair parts.
Ventilation
The tent has plenty of mesh openings, so if you missed them here is the list:
Both doors have a full-size zippered mesh.
Both windows have zippered mesh layers.
There is also a separate low vent with mesh, plus a panel with Velcro from inside. So you can close it if you feel cold.
Note that all those mesh parts are removable so you can wash them when the camping season is over. I already mentioned that the floor can be unzipped so you can have as much ventilation as you wish but this is not optimal because insects can get in.
There are no roof vents, but the two windows are designed to serve this purpose. You have already seen that they have stiffeners (support bars) so you can keep them open as vents either with the fabric panel or with its PVC panel, or you keep them with mesh without the stiffener.
---
Who is it for
Regarding the area, as you realize there are 3 tents in the series, and the capacity depends on what you use in the tent. You have already seen the floor plans above. So in the case of the UP-2 Tent (5-person), it can accommodate two cots, plus a camping table, plus the wood-burning stove.
But if it is used without the stove and for sleeping on the ground, it has a place for 5 people. The area of this 5-person tent is 88 ft² (8.17 m²). This means 17.6 ft² (1.6 m²) per person if used by 5 occupants. This is enough space but think about all your gear. My rating below is based on the declared maximum capacity.
The same holds for the other two sizes, in both cases the tents can indeed accommodate 3 and 8 people, so the capacity is realistic.
Regarding the weight and packed size, this is a heavy and bulky tent and my rating is low simply because I use the same criteria for all the tents and I apply them consistently for easy comparison.
The weight is 55.1 lb (25 kg) for the UP-2 Tent and its packed size is 55.12 х 11.81 х 11.81 inches (140 x 30 x 30 cm). So this is for places with a car access, but its weight and packed size are justified, this is an incredible structure. See more in the specifications below.
Regarding climate & seasons, this is a tent for all seasons and for practically all climates. You have plenty of ventilation options for situations when you use it in a warm environment.
The tent is very aerodynamic and well-secured with its numerous stakes and guylines, so it can withstand a lot of wind or snow pressure. With all its features shown above, it is clear that you can use it in the most extreme weather conditions. This is simply an incredible construction.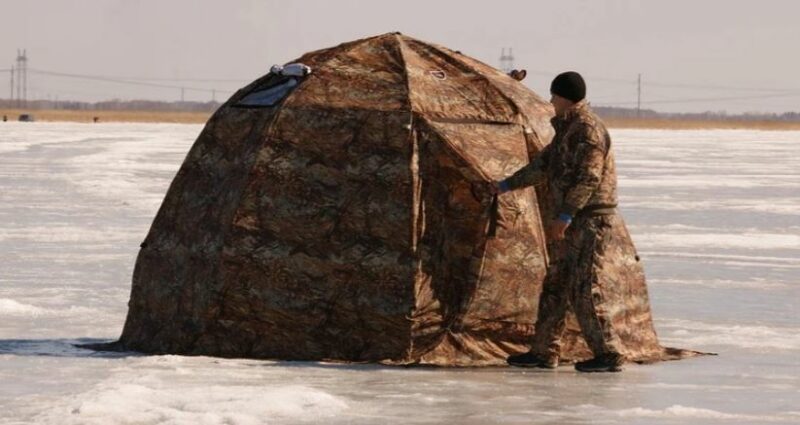 ---
Materials
The poles & stakes
You have a combination of steel rods and aluminum В95Т1 alloy, with a diameter of 8 and 10 mm. The stakes are very strong but simple steel pieces. There are extra two aluminum rods included for the awning.
The fabric
The shell fabric is Oxford 300 with a PU coating that gives it a 4000 mm waterproof rating. The inner layer is Oxford 210 also waterproof and with a 2000 mm rating.
---
Specifications
UP-2 Tent (5 person)
Declared capacity: 5 people.
Weight: 55.1 lb (25 kg).
Diameter: 11.15 ft (3.4 m).
Area: 88 ft² (8.17 m²).
Area per person: 17.6 ft² (1.6 m²).
Peak height: 6.23 ft (1.9 m).
Packed size: 55.12 х 11.81 х 11.81 in (140 x 30 x 30 cm).
The stove jack hole diameter: 3.54 in (9 cm).
Tents and accessories are shipped from and sold by Russian-Bear, a US-based official distribution company. Shipping in the US and Canada is free.
UP-5 Tent (8 person)
Declared capacity: 8 people.
Weight: 63.9 lb (29 kg).
Diameter: 14.4 ft (4.4 m).
Area: 147.5 ft² (13.7 m²).
Area per person: 18.43 ft² (1.7 m²).
Peak height: 7.2 ft (2.2 m).
Packed size: 55.12 х 15.7 х 15.7 in (140 x 40 x 40 cm).
UP-2 Mini
Declared capacity: 3 people.
Weight: 36.4 lb (16.5 kg).
Diameter: 8.85 ft (2.7 m).
Area: 55.4 ft² (5.15 m²).
Area per person: 18.46 ft² (1.7 m²).
Peak height: 5.9 ft (1.8 m).
Packed size: 53.11 х 9.84 х 9.84 in (135 x 25 x 25 cm).
---
Accessories
1. Accessory vestibule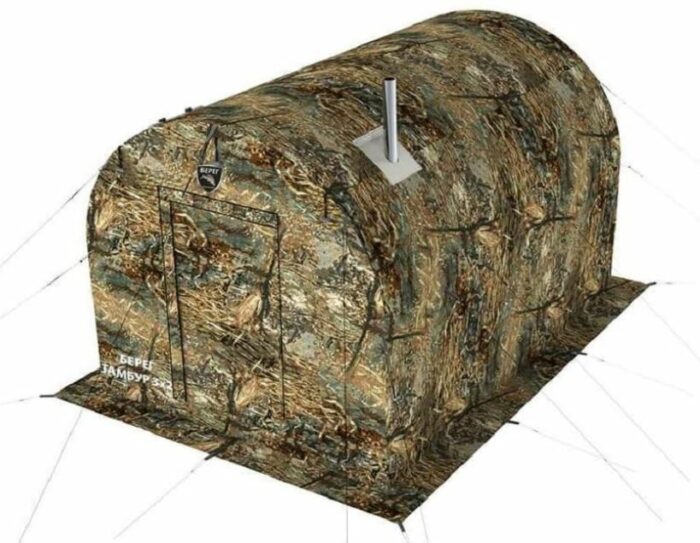 This is a great addition to this already great tent. You can order it separately here.
So this is an incredibly functional space that includes the following:
It comes with an aluminum frame.
There is a cover layer with a fire-resistant hole for the smoke pipe.
There are two zippered doors, windows with mosquito nets, and a zippered canopy.
The vestibule can be attached to a UP-series tent by a zipper located on a special canopy above the doors.
Pockets are on the walls.
Dimensions: 9.84 x 6.56 ft (3 x 2 m).
Height: 6.23 ft (1.9 m).
Weight: 26.46 lb (12 kg).
2. Russian-Bear Heat-Insulated 3 Layer Floors for UP-Series Tents

This is a 3-layer heat-insulated tent floor and they build it for all three tents. It is designed for extremely low temperatures so you will want to use it for insulation from the ground and also to prevent snow melting beneath the tent if you use the stove.
The picture above shows its two zippered openings introduced here to use in the case the tent is on a frozen lake, so you can drill fishing holes. The sizes of the openings are 28 x 16 inches (71 x 41 cm).
Note also that it has two zippers which allow you to fold out one part of the floor in the area where the stove is located. This you can use if you wish to keep the stove on the bare ground.
The mentioned 3-layers include the following:
1st – Oxford 300 cloth.
2nd – Heat insulator – foil isolon. This is a low-density 26-45 kg/m³ material with the ability to reflect 97% of heat.
3rd – Oxford 300 cloth.
The temperature range for this floor is from -76° F to +221° F (-60 to 105 C) and you can use it in the following ways:
Under the tent. You have special holes in all of its octagonal corners, this is for the tent's poles.
You can also spread the floor inside the tent.
The data depend on the size. So in the case of the floor for the UP-2 Tent (5-person) you have:
Weight: 8.2 lb (3.7 kg).
Weight in box: 9.2 lb (4.2 kg).
Package size: 75 x 27.56 х 11.81 in (191 x 70 x 30 cm).
This floor can be ordered from Amazon, or from Russian Tents so please follow the link to check shipping conditions.
3. Russian-Bear Caminus wood-burning stove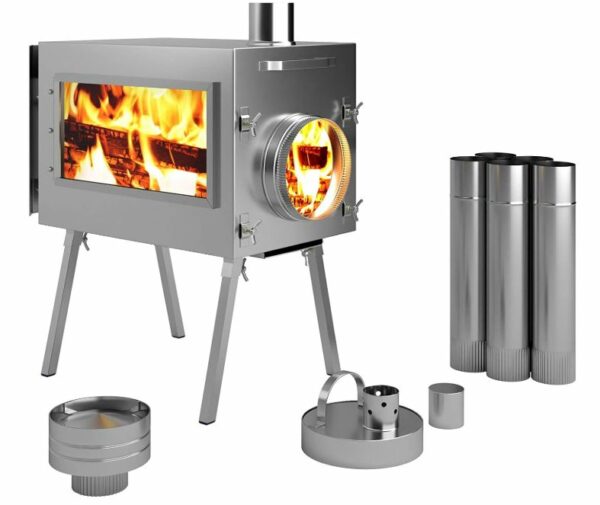 This is again something exceptional, with glass walls on the two sides and many other features. It is so great that I am going to present it in detail in a separate text. You can order this stove on Amazon but read first my detailed review.
---
Buying the version with the stove in the package
So as mentioned above, all these tents can be ordered with the stove and the insulated floor in the package. The link will lead you to all of them:

---
Final thoughts, rating, pros & cons
To summarize this Russian-Bear Hot Tent with Stove Jack review, this is a long text but this tent deserves it. It has so many features and I hope I did not miss anything important. There is nothing on the market similar to this tent.
I would not repeat what I have already described above, just to stress that this is a reliable and easy to use tent for all weather conditions. But it is heavy and bulky, and it comes at a price. Nevertheless, fully recommended.
See how I rate it against my standard set of criteria. I took some points off for the mentioned ground zipper which I dislike.
Russian-Bear Hot Tent with Stove Jack
$1,199.00
If you want something different, check our long list with tents for cold weather and also the list with winter tents. This tent is included in both of them.
Note that we add new texts on a regular basis, so bookmark this site and check occasionally. There is a subscription form below for our weekly newsletter, so subscribe and stay informed. Thank you for reading and have a nice day.