Caminus Russian-Bear Camping Stoves for Tents are portable stainless steel structures with glass side walls, built in 3 sizes, and they can be used in their UP-2 and UP-5 tents.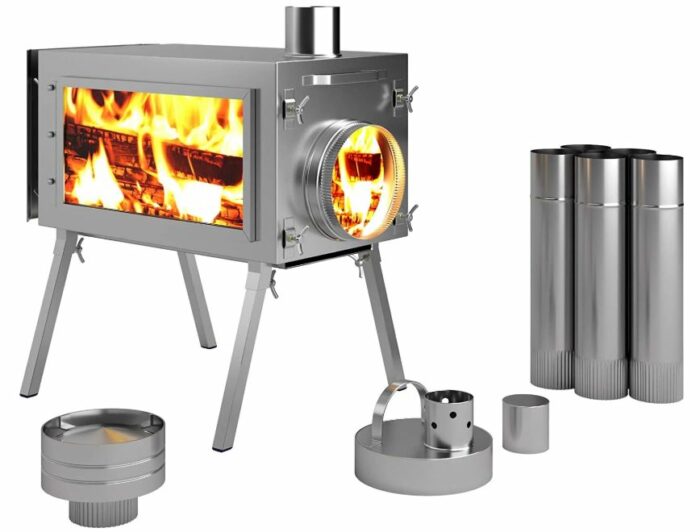 ---
Key features & benefits
Portable stove.
Stainless steel.
Glass walls.
Carry bag included.
Removable legs.
---
So what this is about
You have three Caminus stoves in this group and my focus is on the middle size, the Caminus M stove as their representative. The other two are Caminus L and Caminus S with the same main features, just some dimensions are different.
This is a stainless steel construction built from a 0.04 inches (1 mm) thick high-tech stainless steel AISI 430. The stove comes with removable legs that can be stored in a separate pouch.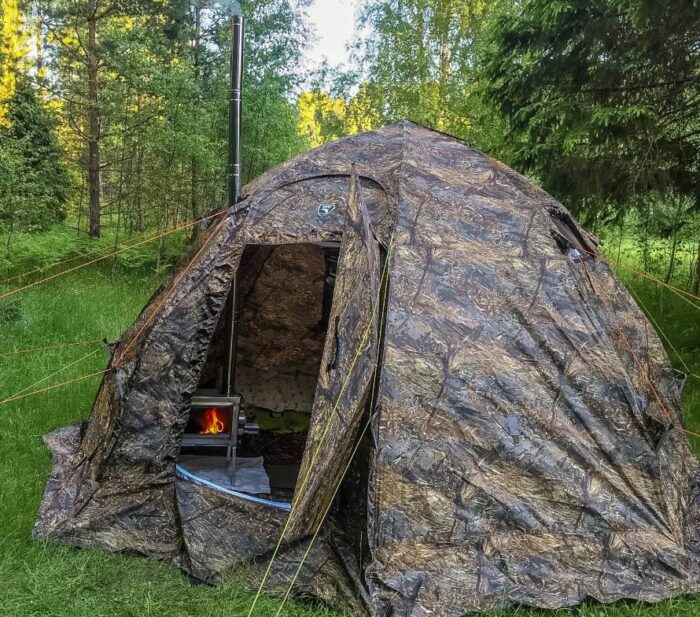 They have an excellent series of tents where these stoves fit, see the picture, and they sell the stoves in the package with the tent and an insulated floor, you can see it here. But obviously, you can use it with any other tent or for cooking outside in general.
Side glass walls
The top picture above shows the stove with its glass sides. This is one of the most important features here. This is a heat-resistant ceramic glass, 0.16 inches (4 mm) thick. They claim that it offers a better heat emission than steel walls. Above all, this creates a pleasant atmosphere in the tent, and you always see what is happening and when it is time to add some wood.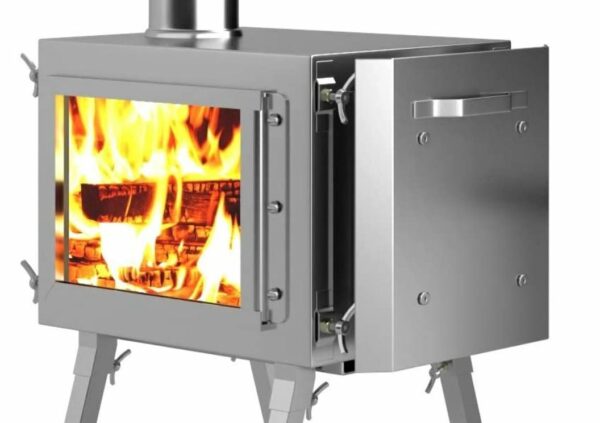 4 Shields
The stove has fixed shields from below and from the back. This is to protect the floor and the wall from the heat. The picture above shows the stove from the back and you can see the back shield and a handle on it.
But note that you have two more shields included in the package, they are thus removable and can be added from the sides. The picture below shows how the stove looks when they are attached.
These two shields are also adjustable, it is possible to shift them closer or farther from the stove, and this regulates air circulation and heating. You will use them also when you transport the stove, to protect the glass walls behind the shields.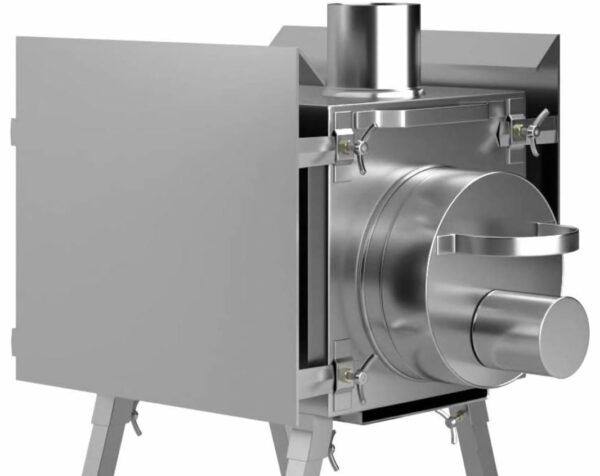 The firebox & heating capacity
The firebox is with the dimensions 19.49 x 9.65 x 9.84 inches (49.5 x 24.5 x 25 cm) and this means 1849 in³ (30.3 liters) of volume. If you are not familiar with such stoves and what heating capacity is expected, it is best to compare.
So you can see in our separate text the Winnerwell Nomad Large stove which is with the firebox of 1500 cubic inches (24.6 liters). On the other hand, the Guide Gear Outdoor Wood Stove is with the firebox volume of 1465 in³ (24 liters).
The pipe diameter of the Caminus M stove is 3.15 inches (8 cm), and this is similar to the other two mentioned stoves where you have 3.5 inches (8.9 cm) and 3.375 inches (8.6 cm), respectively. In view of its 23% bigger firebox, it would be reasonable to assume that this Caminus M stove should have a bit better heating capacity.
They have built this stove to be used with their UP-2 Tent. This tent is a dome with an 88 ft² (8.17 m²) area and a peak height of 6.23 ft (1.9 m). So the volume is roughly around 12-14 cubic meters (424-494 cubic feet). So if you have a different tent you can compare the volume and get some idea.

Note that you could choose the Large version if you need to heat a larger tent, but the pipe diameter is the same so the heat capacity is probably not much bigger. I find it strange that they did not make the pipe wider.
Yet another detail related to the pipe is that it is on the front, right above the stove's circular door. There is a barrier inside (or a spark arrestor as they describe it) that forces the heat to goes to the back and then towards the front and through the pipe. This increases cooking efficiency, and this also prevents sparks to escape out easily, see the cross-section in the picture below.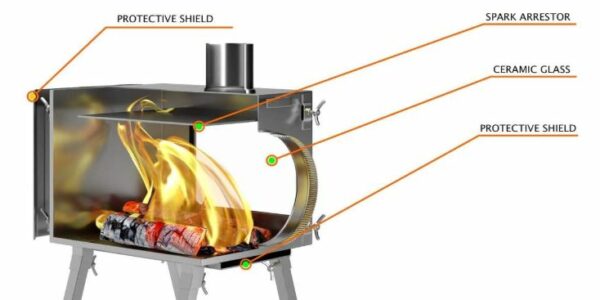 The door
The door is a circular cap that you remove when it is time to add wood inside. There is a handle on the door, and the cylinder which you see on the door is an air damper. It regulates the intensity of burning and the temperature inside the tent.
This all looks cool, but the door is normally warm and you have to put it somewhere whenever it is time to add woods. I am not so impressed with this design.
The pipes
You have them 5 and they all fit inside the stove for transportation, see the picture below. The top segment has three loops to secure it against the winds, and it also has a deflector that helps protect the smoke pipe from rain and improves smoke ventilation.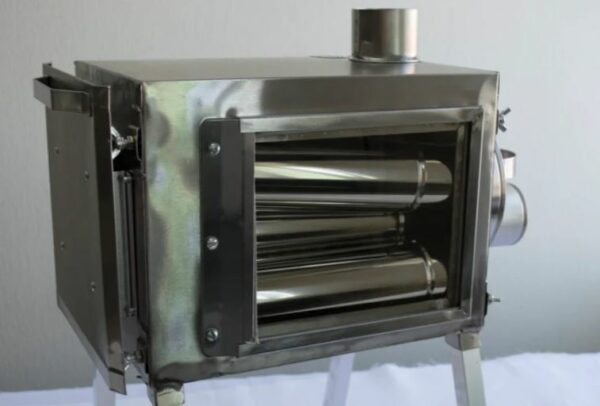 Other features
There are two stainless steel plates on the bottom of the firebox, welded at a 45° angle alongside the walls. They act as additional stiffening ribs, and they also help to keep wood inside the stove closer to the center.
The package includes 2 additional metal plates of the same size as ceramic plates. These plates can be used instead of glass in case the glass is accidentally broken.
The legs are aluminum and angled outwards.
There are two handles, one on the back (visible in the picture above) and one above the door.
What is in the package
You have the following:
The stove.
5 Pipe segments.
Stove legs case with legs.
2 Removable metal shields.
2 Spare metal shields. Those you can use if the glass walls are damaged.
A carry bag.
Please see more in this video:
---
Specifications – Caminus M Stove
Weight: 30.42 lb (13.8 kg).
Dimensions when assembled (L x W x H): 25.98 x 13.98 x 23.23 in (66 x 35.5 x 59 cm).
Firebox size: 19.49 x 9.65 x 9.84 in (49.5 x 24.5 x 25 cm).
Smoke pipe diameter: 3.15 in (8 cm).
Packed size: 27.56 x 15.35 x 11.81 in (70 x 39 x 30 cm).
Warranty: 3-year manufacturer's warranty.
---
Final thoughts, rating, pros & cons
So to summarize this Russian Bear Caminus M Stove review, what you have here is an excellent stove built from great materials and with some truly unique features. It comes with a durable carry bag that adds to its portability and ease of use.
The glass on both side walls sets this stove apart from its competitors. This is a great feature that not only creates a pleasant atmosphere and provides light in the tent, but it is also practical and allows you to keep an eye on the fire. Fully recommended. I have added it to my list of best wood burning tent stoves.
Please see how I rate this stove, and the summary of my pros and cons, so you can easily compare with some other stoves here in the site:
For more options please check under the category Tent Stoves & Heaters here in the site, you will find the best items currently on the market. See this DANCHEL Outdoor Tent Wood Stove and compare. Check also the Russian-Bear Tents which these stoves are built for.
Note that we add new texts on a regular basis, so bookmark this site and check occasionally. There is a subscription form below for our weekly newsletter, so subscribe and stay informed. Have a nice day.