The Snow Peak Dock Dome Pro. 6 Tent is an impressive all-year round double-layer tent with aluminum poles and quality materials, for full protection in all weather conditions.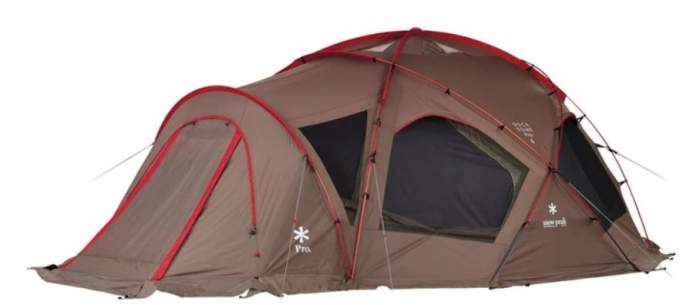 ---
Key features & benefits
Dome style tent.
Solid roof windows.
True double-layer tent.
Aluminum poles.
Connectable tent.
---
What this is about
This Snow Peak Dock Dome Pro. 6 has been on the market for a number of years, and they have it in brown and in ivory colors. The essential features are the same, it is just the matter of color. The picture below shows the Snow Peak Dock Dome Pro. 6 Ivory.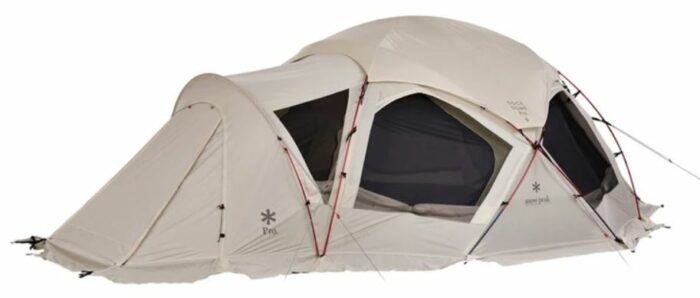 So this is a true double-layer tent with an inner taffeta tent and an external dome-shaped shell tent. Note that it is not freestanding in spite of so many poles, this is because of the extra pole which supports the porch/vestibule. To have it functional, you have to stake it properly.
This is an impressive construction and you realize this from the picture below which shows the shell tent only. This is how you can use it as a rain shelter or sunshade for some events in the garden at home. The peak height is moderate 5.9 ft (180 cm), but this is still quite high for a dome tent with such an area.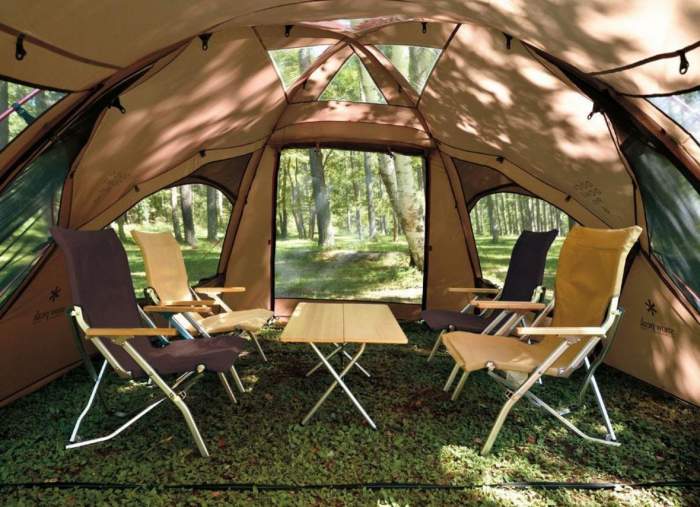 You have poles from outside, so this is a design that allows for dry setup. You first raise the shell and then attach the inner tent, which means that the inner tent remains protected if you are in situation to set the tent up while it is raining. The picture above shows that you have roof windows, you can see them a bit close in the picture below.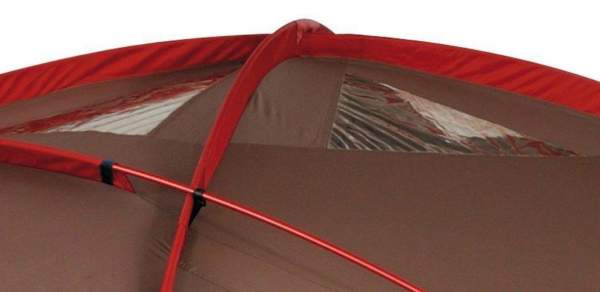 When you attach the inner tent, the picture below shows what you have inside. Observe the closable ceiling mesh window that matches the fly windows. All the inner tent windows visible in the picture are closable, which means you have full size mesh plus zippered panels.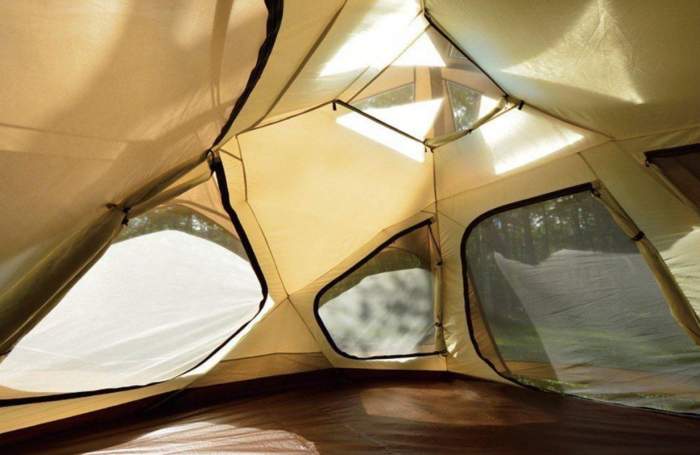 The tent has two doors, and the one on the rear side is in fact larger, see how it looks. This is the door on the fly, and you have a full size mesh plus a zippered panel which is here rolled and fixed above the door.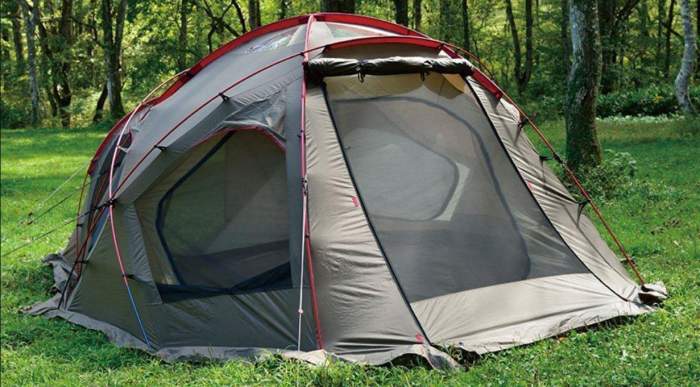 Below you have a close view of the porch/vestibule where you have plenty of space for sitting under the roof. This protected area you can use for cooking as well. Observe the mesh inner door in the background.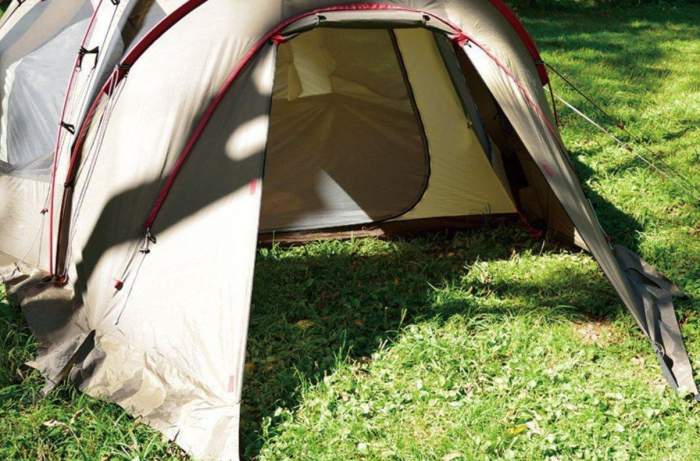 Materials
The poles and pegs: There are 4 poles for the dome plus one pole for the porch. This is a strong duralumin. You also have 20 pegs of the same material included.
The poles attach to the base through the pin and ring system, and on the roof you have clips and long sleeves. Note that there are 7 intersections of the poles, so the structure is very strong and stable.
The fabric: The fly sheet is a 75D polyester with a teflon coating that gives it a 1800 mm waterproof rating. The inner tent is also a 75D polyester ripstop.
The floor is an exceptionally durable 300D polyester Oxford with a PU coating and 10000 mm minimum waterproof rating.
Ventilation
You have seen already all those huge mesh windows and doors. Note that those on the inner tent are completely protected with the fly, so you can keep them with mesh only. When the sky is clear, you can also keep the shell door with mesh only and have plenty of air circulation.
The shell has a skirt all along its perimeter, so this reduces air circulation, but this drains rain away and also prevents cold drafts.
But they have added several vents on the sides, you can see some in the picture below, they are above the windows, and you have them on both sides of the tent: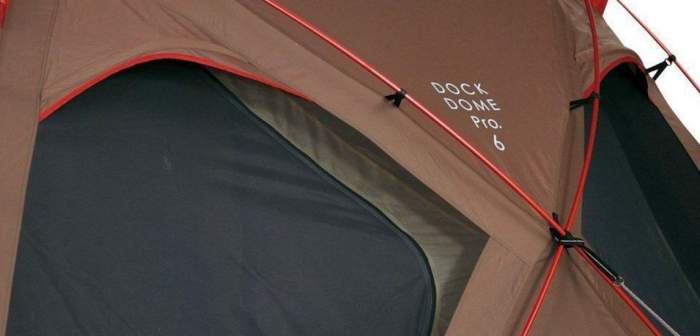 So ventilation is this tent is simply excellent. More you cannot have in a tent of this type. Please see how to set it up in this video:
---
Who is this Tent for
Regarding the area, the tent is officially for 4-6 people. The floor plan and the dimensions are shown below. But they do not provide the exact numbers for the inner floor area and for the vestibule. I think it is obvious that there is less than 9 square meters in the inner room.
So I have included it in the group of 4-person tents here in the site. This is realistic for family camping, you will have plenty of space for sleeping and for storage.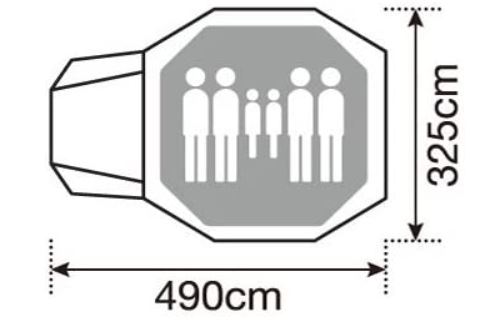 Below you can see how it looks with a double-wide pad on the floor. No doubt 4 people can easily sleep in this tent. For more people this would be tight.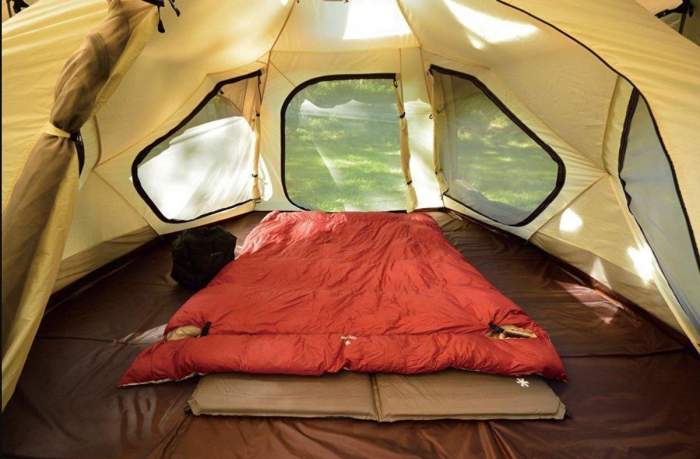 Regarding seasons & climate, the tent includes excellent materials and design features. It is with a full-cover fly, its waterproof rating is very good, ventilation is excellent, and all its openings are closable. So it will work great in any environment and in any season.
Regarding the weight, the tent is a bit heavy but the weight is justified. It weighs 28.2 lb (12.8 kg) but you have very durable materials here and lots of space.
The packed size is 27.6 x 12.6 x 11 inches (70 x 32 x 28 cm) and this is good in view of its size. In any case, this is a camping tent so the weigh and packed size are not so important.
---
Specifications
Weight: 28.2 lb (12.8 kg).
Official capacity: 4-6 people.
Dimensions: 16.08 x 10.7 ft (490 x 325 cm).
Inner area: below 97 ft² (9 m²).
Porch area: not specified.
Peak height: 5.9 ft (180 cm).
Packed size: 27.6 x 12.6 x 11 in (70 x 32 x 28 cm).
---
Accessories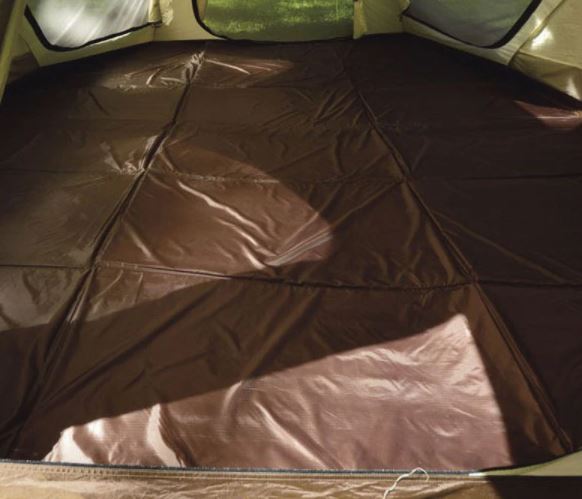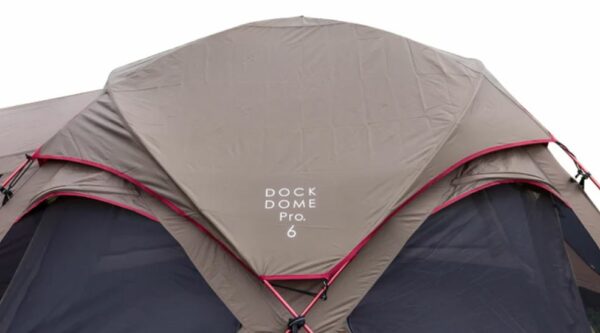 The most attractive accessory is the Snow Peak Living Shell Long Pro shelter. In other words, this tent is a connectable type and you can attach it to this shelter. They have it for both brown and ivory version of course. The picture shows how this looks: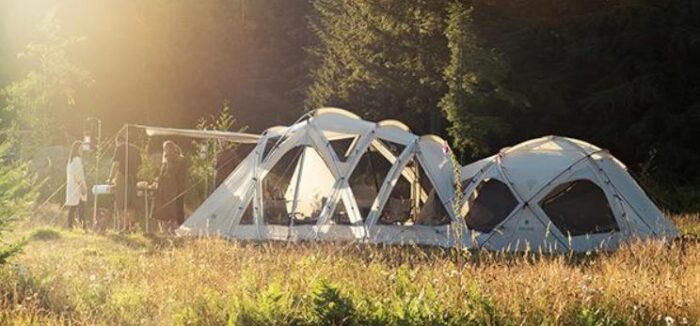 You can see it below also in the brown version: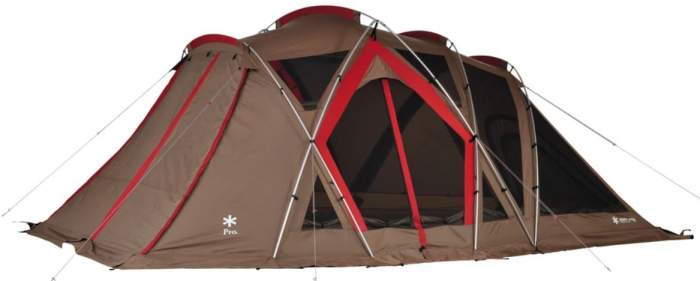 ---
Final thoughts, rating, pros & cons
So you have seen the title and you know that this Snow Peak Dock Dome Pro. 6 Tent is very expensive. Is it worth the money? If you are on a budget, this question is meaningless. But this is a quality product from a reliable Japanese brand.
The tent is built to protect you and to provide a great shelter throughout the year and in any weather conditions. There are accessories that add to its livability and functionality, but you do not have to add them, the tent is excellent on its own. If you can afford it, you will have a great product, fully recommended. I have included it in my list of best connecting tents.
Below you can see how this tent stands against my standard rating criteria that I apply consistently to all the tents here in the site so that you can easily compare:
Snow Peak Dock Dome Pro. 6 Ten
BEST PLACE TO BUY:
The link above is for the brown version, but if you would rather have the Ivory tent please follow this link. You might want also to check this Snow Peak Spearhead Pro L Tent from the same brand, built as a connecting tent with three doors and great ventilation.
For more tents of this shape please check in the category Dome Tents. Let me know if you have questions, there is a comment box below. Bookmark this site and come again, this will keep you informed, as you realize I add texts here on a regular basis. Thank you for reading.