---
Tahoe Gear Bighorn XL 12-Person Teepee Tent is a single-pole structure with the sewn-in floor, 2 doors and 4 PVC windows, nicely packable and easy to use.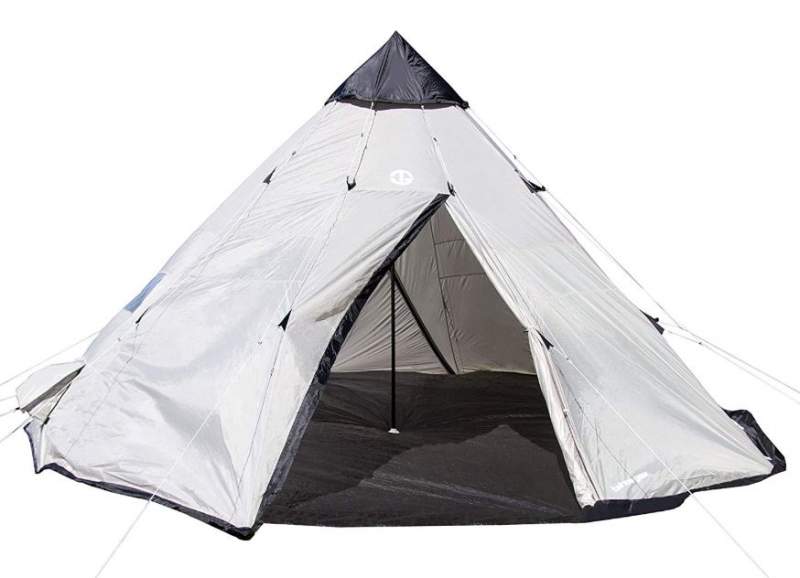 ---
Key features
Non-freestanding.
Single pole.
2 Doors.
4 PVC Windows.
Lightweight.
Great price.
---
Where to buy
This tent is available on Amazon. They have a very efficient shipping service so check the link from your side and benefit from it.
You can find it also at Walmart.
---
What this is about
This Bighorn XL Teepee has been around for a number of years already. It seems they have modified it in the past and this is behind some confusion about its floor. So the version on the market now has the floor sewn-in and sealed. Note that they also have a smaller 4-person teepee on the market.
This with the floor is what makes it different from classic teepees, but in addition to this, you also have a non-freestanding structure here. It must be so because you have only one pole here. So to have the tent up and self-supporting, you have to stake the base first.
The tent is a single room space with two doors and with 4 solid PVC windows (see the picture below where two of them are visible). Note that the doors have no mesh to protect you from mosquitoes and other insects. The windows are inside with panels for privacy.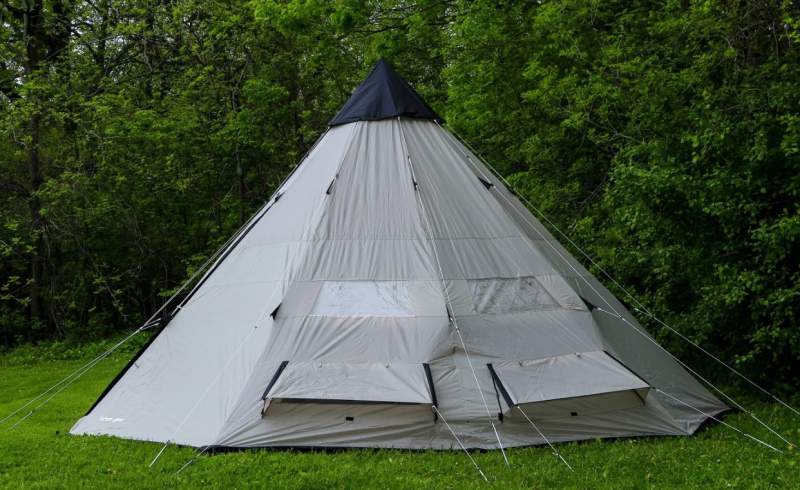 As you would expect from a tipi tent, this is a very tall structure with a peak height of 9.75 ft (297 cm). But see the conical shape above, this does not give much of volume. Nevertheless, I have added it to my list with extra tall tents.
This is a big structure but one person can easily set it up in under 15 minutes. Just spread the tent and stake the base, then add the pole with its stand and raise the tent. The remaining job is to stake guylines.
---
Who is it for
Space-wise, the declared capacity is 12 people. This is a polygonal-base and the floor area is around 230 – 237 ft² (21 – 22 m²). So in the case of 12 users this gives 19.2 ft² (1.75 m²), not bad and doable, but think about your gear. So it is best to downgrade this number of users by half. I have included it in my list of best 12-person tents.
But you might want to compare it with yet another 12-person tent from this brand, Tahoe Gear Prescott 12 Person Tent which is a tunnel type, so the structure is completely different.
Seasons-wise & climate-wise, the manufacturer writes that it "can handle just about any rainstorm".  This is a bit exaggerated but although the waterproof rating is low, you do not need more for such a conical and steep roof. Note that this is a high structure but they claim that it "can withstand winds of up to 35 mph". There are indeed many guyout lines, 8 in total, and stakes that keep it in place but find something more aerodynamic if you will be camping in a very windy area.
There are many vents and this should work fine if you camp in a warm environment. On the other hand, the solid windows and the option to close the flow vents will preserve the warmth if you camp in cold weather. But all in all, it is better suited for a cooler climate than for warm summer camping.
Weight-wise, with its 27 lb (12.2 kg), this looks like a heavy item, but you have seen its huge floor area. In view of its packed size 33.2 x 10.9 x 9.3 inches (84 x 28 x 24 cm), this is something for places with a car access. But you will see below that I rate very high its area/weight ratio which is one of its best features.
---
Materials
The pole & stakes
There is a single steel pole, and it is equipped with a plastic stand to protect the floor, shown in the picture below. There are many pegs included in the package for the tent's base, for the four floor vents and for the guyout lines.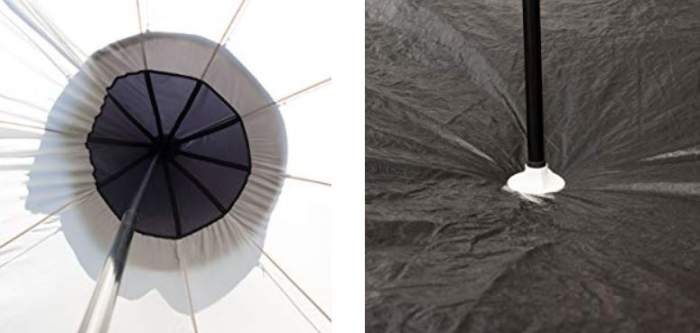 The fabric
The tent is made of a 1000 mm polyester, and all the seams are taped so this should be good protection from the rain. The floor is a polyethylene, see the picture above, and such materials are normally fully waterproof.
This is a single-layer structure so you do not have an inner tent, but this is typical for such a type. The picture below shows the panels on the solid windows.
Ventilation
This teepee has 4 large floor vents plus one top vent. All of them are with mesh and with panels. The floor vents' panels have zippers so you can open them more when needed and stake down with the guylines. The top vent is protected with a cover, see the picture below:
Please see more about this Bighorn 12 Teepee in this video:
---
Specifications
Declared capacity: 12 people.
Weight: 27 lb (12.2 kg).
Diameter: 18 ft (549 cm).
Area: 230 – 237 ft² (21 – 22 m²).
Area per person (in the case of 12 users): 19.2 ft² (1.75 m²).
Peak height: 9.75 ft (297 cm).
Packed size: 33.2 x 10.9 x 9.3 in (84 x 28 x 24 cm).
Product warranty: 2-year warranty.
---
Tahoe Gear Bighorn XL Teepee vs Competitors
In the table below you have this Tahoe Gear Bighorn XL 12 shown side by side with two other teepees. The Guide Gear Teepee is almost identical to this tent but it has mesh on the doors. The Winterial Teepee is much smaller and this is to show you what you can expect in terms of the weight and the packed size if you go for a considerably smaller model. All of them are very affordable, please follow the links to check for the latest price.
Tahoe Gear Bighorn XL Tipi
---
Final thoughts, rating, pros & cons
So this Tahoe Gear Bighorn XL 12-Person Teepee Tent is a cone structure, easy to set up, and suitable for a campground, music festival, and other open-air gatherings. The best features here are its area/weight ratio and the price. But my biggest issue with this tent is the absence of mesh on the doors.
This tent is currently on Amazon with a great price tag. It has received a number of reports by customers and the average rating is not so high. Note that this rating includes the previous version without a sewn-in floor, and people were indeed complaining about it for all good reasons. But this is improved now. Please see how I rate this tent:
Tahoe Gear Bighorn XL 12 Person Teepee
If you would rather have a bell-shaped tent, check this Robens Klondike Tent which is a poly-cotton 4-season tent. But if you would rather have something in the cabin style, check this huge Northwest Territory Grand Canyon Tent. If you would want something different from the same brand, see this Tahoe Gear Olympia 10-Person tent which is an extended dome type.
Please note that this is not a sponsored text and I have no relation with the manufacturer. There is a comment box below so please use it in the case of questions or comments.  

---