---
This Robens Klondike Tent Review is about a feature-rich poly-cotton 4-season tent with a breathable fabric and suitable for a wood burning stove. This is a feature-rich tent, so keep reading.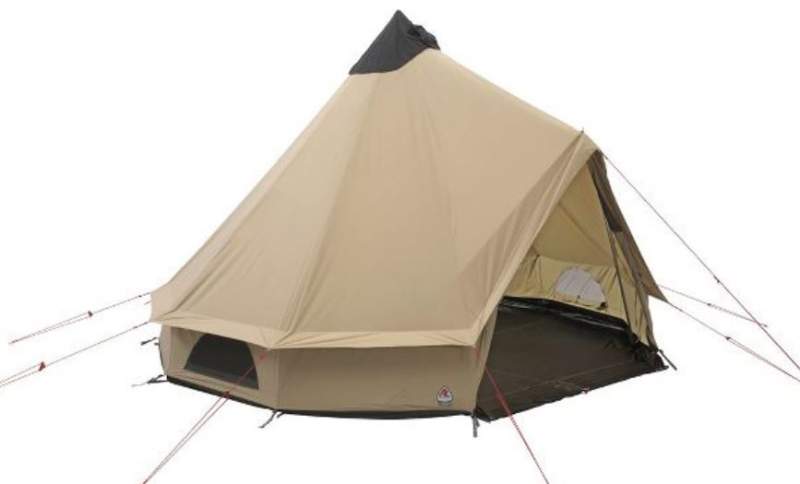 ---
Key features
Bell-shape 4-season tent.
Poly-cotton.
Non-freestanding.
Full protection.
Standing height.
Suitable for a wood burning tent stove.
3 Floor vents/windows.
2 Top vents.
---
What type of tent is this
This is an impressive structure in many ways and it is a pleasure to write a text about such a tent. Note that it is sometimes on the Internet under the name Robens Klondike Outback Tent, so do not get confused, this is the same model. They also use the name Robens Klondike Tipi Tent, but this is not a tipi (teepee) tent.
The tent has been on the EU market for several years already but it seems that it is new on the US market.
As you realize from the picture, this is one of the bell-shaped tents with a single supporting pole, and this is why it is not freestanding. So it is essential to stake this tent properly before you raise the pole. As a bell tent, it has the lower portion with a vertical wall under the fly skirt, so this is partly protected from the rain, and this is what makes it different from the teepee tents.
This is a canvas tent of a particular type, a cotton and polyester mix, so I have included it in my list of best canvas tents. The structure is single-room and single-layer type. The single room is not so great but this is quite typical for such a type; but you can transform it in a 3-room tet, more below.
The single layer is normal for canvas and poly-canvas tents, they do not need yet another layer because these are breathable materials and condensation is far less an issue as compared with synthetic materials. But they have a two-layer option, just keep reading.
This tent provides a standing height in the big part of it, for comfort and freedom to move and dress, the peak height is 106.3 inches (2.7 m). This is why I have added it to my list of very tall tents for camping.
---
Who is it for
Regarding the area: The declared capacity of this tent is 6 people. The pictures below show you the floor plan and the most important dimensions (in centimeters). As you see this is a decagon with the area of 127 ft² (11.8 m²). So in the case of 6 people you have 21.2 ft² (1.97 m²) per person. This is certainly more than enough for sleeping on the floor. But for real camping with lots of gear, it is best to reduce this number of users by half.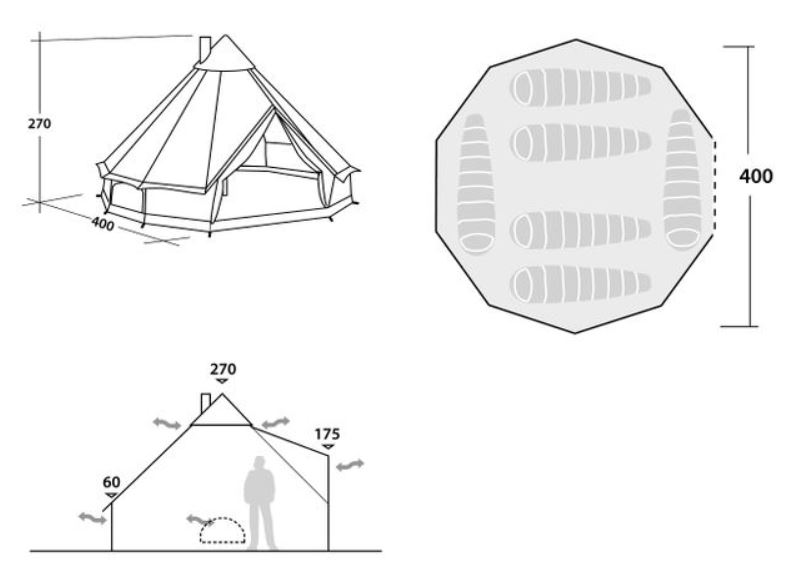 Seasons-wise & climate-wise, I would say what I normally always write about these canvas or poly-canvas tents, and this is that those are the closest what you can have for all seasons use. This is much different from a winter tent which is what its name says, mainly suitable for cold weather only. Contrary to this, canvas tents are cool in summer and they offer at least some insulation in winter. Note also that this tent allows for using a wood-burning stove, more below.
On the other hand, in this particular case you have quality materials so the tent will protect you in any weather conditions. Observe the peak height in the picture above, so this may not look like the best option for very windy conditions. However, they claim that the tent has passed rigorous wind tests and it should be able to withstand winds of up to 168 km/h.
Weight-wise, the tent looks heavy with its 35.5 lb (16.1 kg). This makes it 0.73 m²/kg, and you can compare this with the Teton Sports Sierra 16 Canvas tent where you have 0.55 m²/kg. So the weight of the Robens Klondike tent is not bad at all. Quite generally, the weight of canvas tents is on a completely different level as compared to synthetic tents. If you want canvas, be ready for the bulky and heavy stuff.
So all in all, this is a camping tent and not designed to be carried around. But see also its packed size (L x D) 31.5 x 10.6 inches (80 x 27 cm) which is not bad for a polycotton structure.
---
Materials & construction
The poles
You have the central alloy anodized 30.8 – 52 mm diameter pole, and the range indicates the fact that the 5 segments slide into each other so they do not take lots of space.
But they have added also an A-frame with 22 mm diameter for the single door which you have here, this is a shock-corded system. This frame makes the door vertical and it is also 175 cm tall.
The fabric
They use what they call the HydroTex Polycotton, and this is 35% cotton and 65% polyester. This percentage is from the manufacturer's site, but on Amazon the numbers are reversed so it is not clear which is true. In any case, such a blend results in a tent that is far lighter than standard canvas tents, you will realize this also from the comparison table below.
There is no coating here, this is essential, and this means that the material is breathable. So the tent maintains its microclimate and condensation can evaporate, this keeps the internal temperature cool in summer and warm when temperatures fall.
But there is a water-repellent spray used so this will keep light rain out. In the case of more rain, the cotton will swell and it will close the pores in the fabric, this is what makes it waterproof. They claim that the tent was subject to a UV-inhibitor treatment.
As you see in the pictures, there is a protective eave that runs around the tent, so this protects the door and windows.
Using the wood-burning stove & groundsheet design
The groundsheet is a story for itself. There are some features that are great and some that I dislike. This is a zip-in groundsheet, which means that you can unzip it completely and used the roof alone as a canopy. The zipper is above the ground so you have a sort of a bathtub design. This removable floor adds to the versatility of this tent.
But there is also a floor zipper that runs from the door to the center where you position the pole. So you can unzip it at any time and roll to the sides in this part of the tent, and have the open ground where you can place a wood burning stove. They introduced it to avoid having the stove on the floor. But many tents are with a full and non-removable floor and with the stove inside, so such a design should not be a big deal, people simply add some protection underneath the stove.
So, on the one hand, I like this, but on the other hand, this means that you can have groundwater getting in the tent. Observe also that the floor material is a top-quality 210T Oxford polyester with a 10000 mm waterproof rating. I stress that this info is from the manufacturer, although the person in the video below says it is 5000 mm, in any case, it is a lot. But what's the point when the water can get in through the zipper?
The motivation for such a design is obvious and no doubt many will like this. This should be perfect if you use the tent with a stove in winter, on a frozen ground, or just in a cold environment without rain, where there is no groundwater in any case. I guess many will use this tent without the stove, and having a fully sealed floor for such a purpose looks better. But there is more related to this, see the Inner Tent below, it justifies the presence of this floor zipper.
Back to the wood-burning stove use – obviously, for a stove, you would have a pipe, but no worry, this tent has an elasticated stovepipe port on the top, see the picture. When not in use, you simply keep it closed. Great feature indeed. This is why I have included it in my list of best tents with a stove jack.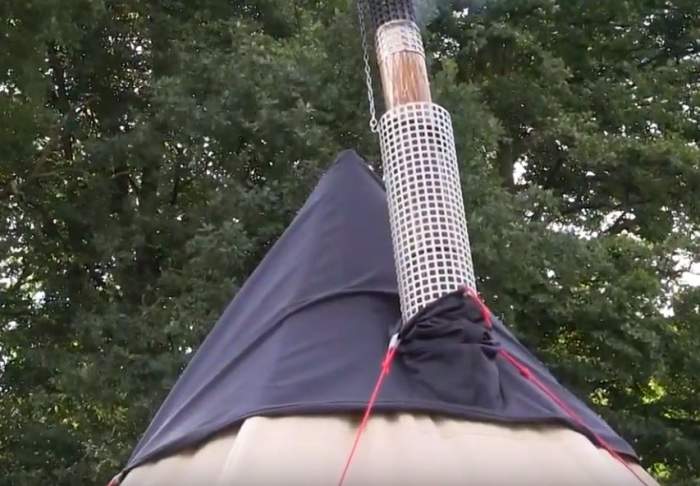 Ventilation
This tent is built from a breathable material. Nevertheless, you have numerous vents here. So there are three on the vertical wall, you could call them windows if you wish, but they are rather low and they have both mesh and zippered panels.
Now, there are also two mesh windows on the A-shaped door, in its upper part, one on each side of the zipper. In addition, you have two top vents, you can open them or close with integrated strings (pulley system) that run along the roof, see the picture below. This is what they call the Internal Apex Vent Control, so you can easily open and close vents from inside as it suits you.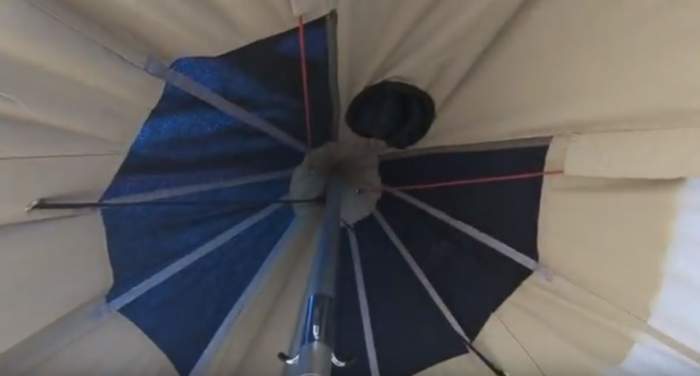 The picture below shows how one of those pulley strings is attached to the tent so you have it close at hand: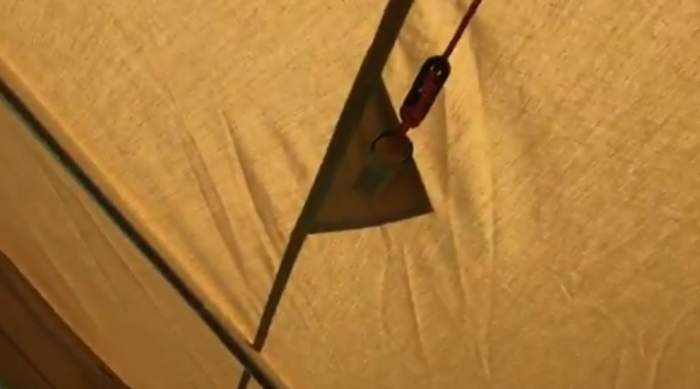 So it is hard to find any objection here, this is an excellent design. Note that all these openings can be closed when you use the tent in a cold environment. Now you know why I have included this tent in the list of cold weather tents for camping, but it is more than that.
Please see more in this video:
---
Specifications
Declared capacity: 6 people.
Weight: 35.5 lb (16.1 kg).
Dimension: 157.5 in (4 m).
Area: 127 ft² (11.8 m²).
Area per person: 21.2 ft² (1.97 m²).
Peak height: 106.3 in (2.7 m).
Packed size (L x D): 31.5 x 10.6 in (80 x 27 cm).
---
Accessories
Robens Klondike Inner Tent
They have an optional Robens Klondike Inner tent which offers two separate sleeping rooms with a space left for a living room. So this transforms the tent in a much more livable structure with more privacy: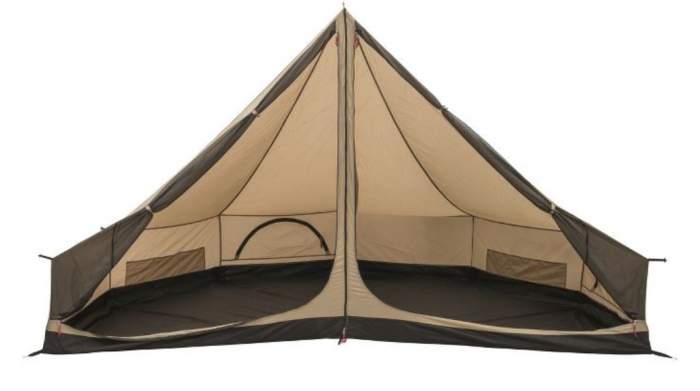 Now it becomes clear why having the mentioned floor zipper can really be a useful feature. When you add the inner tent, you can use the front area as a wet room (see it in the floor plan below), for sitting and cooking. So after unzipping that floor zipper and rolling the floor to the sides, you can use the living room with camping chairs and do not have to worry about damaging the floor. The picture below shows what you have when the inner tent is in place: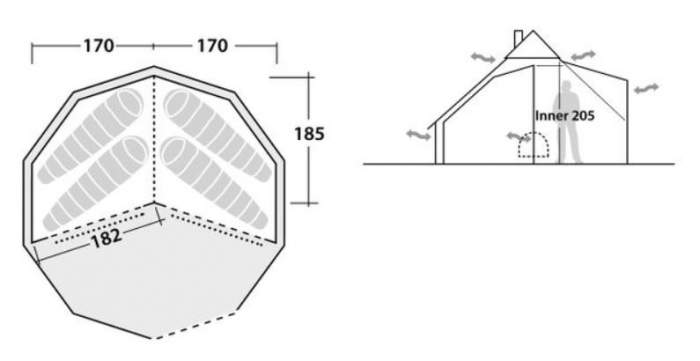 In the video below, you will be able to see how to pitch this tent and also how to add the Klondike Inner tent, please have a look:
Robens Klondike Outback Tent Footprint
So they have an optional footprint as well, which is inexpensive and it will protect its quality floor. It will provide a bit of insulation as well.
---
Robens Klondike Tent vs Teton Sports Sierra 12
This Klondike is built in the same style as the smallest of the tents from the Sierra series by Teton Sports. So I thought you might want to see how they compare. Note that the Sierra 12 is much heavier although it offers less area, but it is less expensive although both tents cost a lot. Clearly, the Klondike Tent has much more to offer and the price difference is justified.
---
Final thoughts
In the summary of this Robens Klondike Tent review, I would stress that my average rating above is not particularly high in view of so many of its great features. This is because I use several criteria and I apply them consistently to all the tents here for easy comparison. Using separate criteria for various sub-types of tents would only cause confusion.
So it does not score high in the packed size and the area/weight ratio but such a rating for these parameters is expected for cotton and polycotton tents.
But I must say again, this tent is one of the most remarkable in this group, with so many useful features and with top quality materials. This is a true 4-season tent and totally worth the money. You might want to know that they have yet another which I see as a 4-season tent, built in a completely different style, the Robens Cabin 600 Adventure 6 Man Tunnel Tent.
Please note that I have no relation whatsoever with this brand and this is not a sponsored text. Let me know what you think, share your experience if you have used this tent, there is a comment box below.