---
This CORE 11 Person Extended Dome Tent 18′ x 9′ is a new enlarged version of the most popular tent by this brand, suitable for 2-season family camping.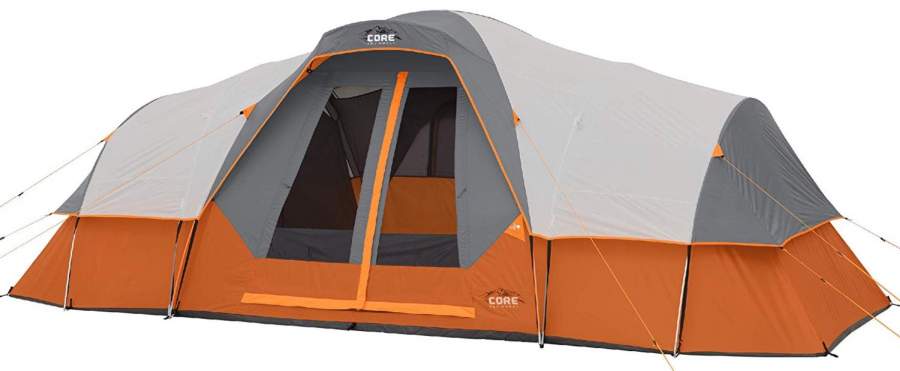 ---
Key features
Non-freestanding.
Extended dome type.
2 Rooms.
E-cable port.
Reasonable price.
---
So what this is about
If this tent looks familiar to you, there is a reason for that. This is an enlarged version of their most popular Core 9 Person Extended Dome Tent 16 x 9, but when you look closely you realize that there is a lot of structural differences.
For example, this again looks like an extended dome tent, but now it has two loops on each side. This is because of its extended length, the picture below shows it without the fly so you can see its poles structure. It looks like a mixture of a dome and a tunnel style tent. As you see, you have a combination of sleeves and clips for the attachment of the poles to the inner tent structure. At the base, the poles are connected with the pin system: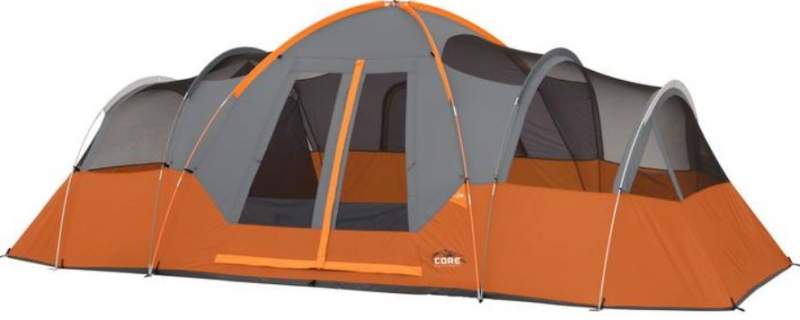 The tent is not freestanding, this should be obvious; the ceiling becomes tensioned only if you stake the tent on both narrow sides. The picture below shows poles' structure from the top view. The central part is a dome with the standard X-shape but you have two arches on both sides.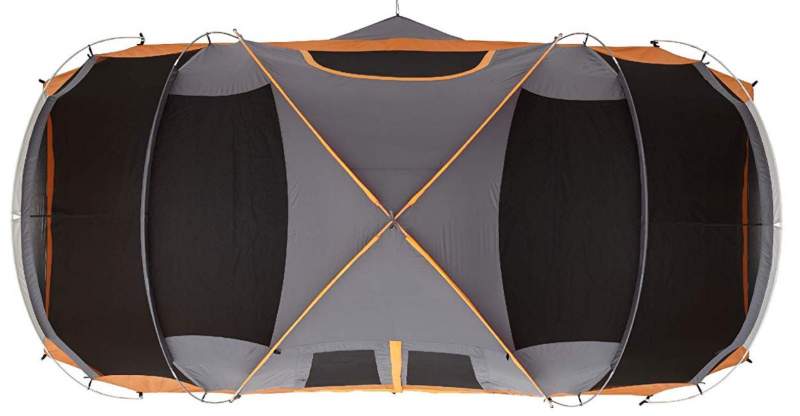 Formally, the fly is a partial-coverage type because it does not go all the way to the ground, but it protects the biggest part of the inner tent.
Note that the pictures on Amazon and even on the brand's site show the inner structure with one asymmetric divider, but I have asked the brand and they claim that the tent comes without the divider. The picture below is the inner view which shows the divider: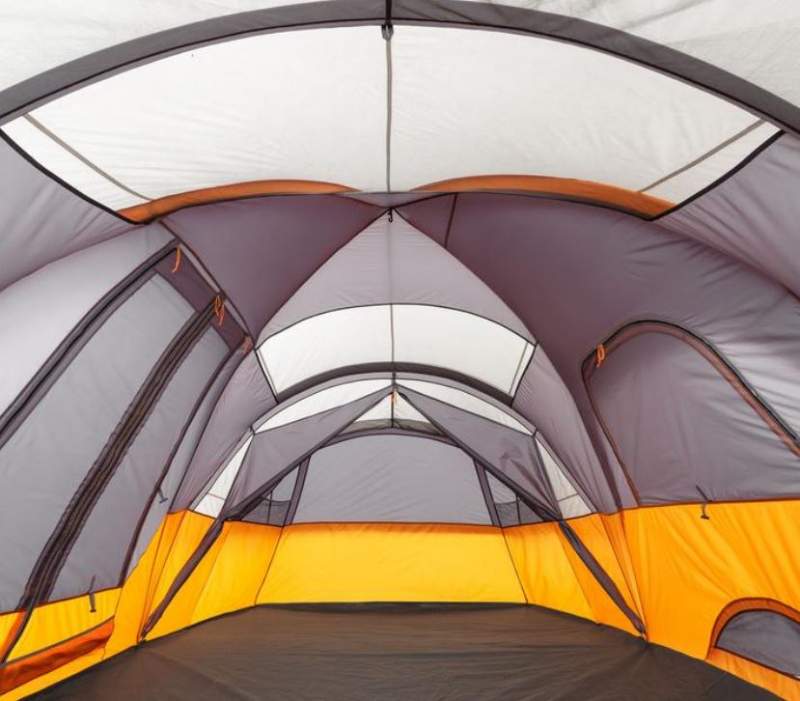 Later they contacted me again and confirmed that the tent indeed comes with a divider which breaks the tent into one third and two thirds.
---
Who is it for
Capacity: The declared capacity is 11 people. The dimensions are such that you can indeed put such a number of pads on the ground. But this is not realistic for camping. The area is close to 162 ft² (15 m²), and this would mean 14.7 ft² (1.36 m²) per person. It makes no sense of course. So this is for 6 people maximum. They claim it can accommodate 3 queen size bed and this is so, but again this is not suitable for camping.
Seasons and climate: This tent is with lots of mesh on the ceiling and on the two narrow sides, so this is great for summer camping. As you see from the picture below, you can roll up the fly on the two extensions and enjoy sleeping under the stars. But this is not for a cooler environment. So I see it best suited for 2-seasons, and this means summer, late spring, and early autumn.
Weight-wise, the official declared weigh on the brand's site is 40 lb (18.1 kg). Note that the number on Amazon is completely different. So this is a heavy tent.
The packed size is 31 x 11.25 x 9.75 inches (79 x 29 x 25 cm) and this is not bad for such a size. But you realize that this is only for car camping.
---
Materials & construction
The door and windows
The tent is with a single but large inverted-T shaped door with two huge mesh windows and panels on it. There is yet another mesh window on the opposite side.
The poles & stakes
The poles are fiberglass and they are all color-coded so the setup is intuitive and easy. They are in pairs regarding the color and size. This is a heavy material and this is partly behind the weight and also behind such a great price, this is an inexpensive but also not so durable material. There are 23 steel stakes in the package, 7 inches long.
The fabric
The fly and the walls are durable 68D polyester and this is an H20 Block Technology with water repellent fabrics and active bead technology. The seams are sealed. The fabric is PU coated but there is no statement about its waterproof rating. The floor is a durable 115 gsm polyethylene, so from this side you are definitely safe from water.
Ventilation
I already mentioned the fly that can be rolled up, and this is shown in one of the pictures above. This is for views and stargazing, and also for ventilation. This is what they call the adjustable ventilation, just to know. So there is lots of mesh on the ceiling and on the door and windows.
The tent comes with a small floor vent opposite to the door, shown below, so this is a nice addition for situations when you have to keep the door and windows closed.
Other features
You have an E-cable port available (picture below).
A lantern hook is in the central area shown below.
There are storage elements in the corners, far from enough.
---
Specifications
Declared capacity: 11 people.
Weight: 40 lb (18.1 kg).
Dimensions: 18 x 9 ft (549 x 274 cm).
Area: 162 ft² (15 m²).
Area per person: 14.7 ft² (1.36 m²).
Peak height: 74 in (188 cm).
Packed size: 31 x 11.25 x 9.75 in (79 x 29 x 25 cm).
---
CORE 11 Person Extended Dome Tent 18 x 9 vs Competitors
I thought it might be useful to show how this tent compares with two other that are also built as extended dome tents, so you can make an informed decision if you want to buy such a tent.
By price it is in between the two, the Mountain Trails tent is incredibly affordable and also incredibly lightweight. The NTK Super Arizona 12 is a larger tent and also with a full-coverage fly, so it costs more, and it offers far better protection than the other two tents.
31 x 11.2 x 9.7
(79 x 29 x 25)
Mount. Trails
Grand Pass 10 
28 x 16 x 14
(71 x 41 x 36)
---
Final thoughts, rating, pros & cons
So this CORE 11 Person Extended Dome Tent 18 x 9 is a larger tent than their 9-person bestselling tent, but there is no functional or material differences in the construction. Only the door is considerably better in this new tent.
It is too small for the declared capacity, but this is a huge tent so simply downgrade the declared number by half. This is a great tent for summer camping, most likely it is going to become yet another bestseller from this brand.
The price is very reasonable for such a big tent and from such a renown brand. Please see how I rate this tent against standard criteria used for all the tents here in the site:
You might want to know that they recently launched yet another new and very different tent, the CORE 12 Person Extra Large Straight Wall Cabin Tent 16 x 11.
Please note that this is not a sponsored text and I am not paid by the manufacturer. Let me know what you think, there is a comment box below.