The North Face Wawona 6 Tent is a very reliable and durable family camping tent for any weather and climate conditions in a 3-season use. This is a single-layer tent with a great organization and tons of useful features.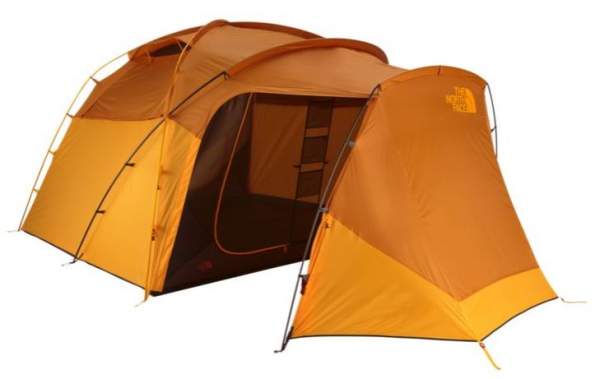 ---
Key features & benefits
3 external doors & 3 inner doors.
Single-layer structure.
1 vestibule + 1 porch.
Large vents on the roof.
2 large mesh windows.
---
What type of tent is this
This is a single-layer and single-room dome type tent. Such a single layer construction makes the setup easier and quicker as you do not have to put the fly extra; for such a tall tent this would be a task. Though the tent has an extension on one side which looks almost like a room, but this is a floorless area for cooking and to store your camping stuff.
They describe it as freestanding but this is not so. The huge porch area is with its separate poles and this part of the tent must be staked, otherwise you would not be able to use it.
---
Who is it for
Space-wise, the declared capacity is 6 people. I can tell you this is indeed so, the tent offers a lot of area. So let's break it down. The inner area is quite modest, you have 86.11 ft² (8 m²), and this means 14.3 ft² (1.3 m²) per person if used by 6 people.
But you have two vestibules. In fact, one is a standard vestibule and the other is a huge space which is almost like a room, I shall call it a porch. They offer 21 ft² (2 m²) + 44.7 ft² (4.2 m²), respectively. Now, when you add this to the inner are, you have the total protected space of 151.8 ft² (14.2 m²). So the total area per person is 25.3 ft² (2.4 m²) and this is quite a lot.
Bear in mind also that its height is 80 inches (203 cm). So you have a camping castle here. I am using the word castle on purpose, more below.
Seasons-wise, the tent is built in such a way that it looks like a 3-season tent and perhaps even more than that. But surprisingly, they do not provide the waterproof rating. I contacted them and the person on the line could not find any info except that it is double-side coated (his words). There are a couple of extra intersections of the poles and this makes the structure very strong. The sleeves on the top are a much stronger construction than clips because the pressure is distributed over a longer section of the pole. So the tent is built strong and it is able to withstand a lot.
Climate-wise, if you look inside you will realize that all inner doors (and you have them 3) are mesh. There is mesh also on other places in the inner. So this is a lot of space for the draft and this is great for warm weather conditions, but it is less good for a colder climate or for a desert-like area where you would have lots of dust in the air.

Weight-wise, with 20 lb 15 oz (9.5 kg) packed weight this is not something to carry around. Though they give the trail weight as well, see below, but better ignore, this is not a trail tool. The packed size is not bad at all, you have 27 x 10 inches (81 x 25 cm), but you clearly need a car for this. So this is a car camping tent, or to be used in such a way that you do not carry it yourself.
Please see a bit more in this video:
---
Materials & construction
The doors and windows
The tent has 3 external doors and 3 inner doors. The inner doors are mesh only, and you can roll them and fix them with toggles. There are also 2 windows on the sides. They are positioned very high and you have no views when you are sitting on the floor. They are with mesh, and with flaps from outside. You have zippers (from outside) so you can close them as much as you want; to keep them open and fixed you have toggles.
Vestibules
As mentioned above, you have them two, asymmetric by the design. The front porch is large and you have around 121 x 88 inches (307 x 224 cm) dimensions but this is not a rectangular space, and the peak height is 72 inches (183 cm). So you realize how huge and pleasant this area is. You can easily have a couple of chairs here and a table. There are two entry doors here on the opposite sides, and inside the porch you have two doors that lead to the inner tent.
The second vestibule is the standard shape, with two long zippers on the sides. Its dimensions are around 121 x 31 inches (307 x 79 cm). There is yet another inner door here as well. So this is again a useful space for storage and as an extra entry point to the tent.
Ventilation
For a single-layer tent like this Wawona 6, it is important to have vents, and indeed you have two large on the roof. Each of them is equipped with two stiffeners and you can close them when necessary. They are with Velcro tabs from outside, but you also have inner flaps with zippers, so this is really well done.
But as mentioned, the inner doors are all mesh and you will always have enough air circulation underneath the fly. If this is not enough, you can keep any of the doors at least partly open, dependent on the rain direction.
Setup
The setup is easy with such a single layer tent, everything is color-coded and you have sleeves on the top and clips on the sides. You can do it in 10 minutes or so. It is best that you see it done in this video:
Other features
There are around ten pockets, triangular in the corners and a series of rectangular pockets between the two inner doors on the porch side.
Note also that you have a cord that goes all the way around the perimeter under the roof, so you can hang your wet clothes here. It is fixed to the poles so it can take lots of stuff. On the apex, you have a Velcro loop to hang a lantern.
---
Specifications
Type: extended dome, single-layer, non-freestanding.
Capacity: 6 people.
Packed weight: 20 lb 15 oz (9.5 kg).
Trail weight: 19 lb 4 oz (8.7 kg).
Inner tent dimensions: 119 x 100 in (302 x 254 cm).
Inner floor area: 86.11 ft² (8 m²).
Area per person: 14.3 ft² (1.3 m²).
Peak height: 80 in (203 cm).
Vestibules: 2.
Doors: 3.
Vestibules area: 21 ft² (2 m²) + 44.7 ft² (4.2 m²).
Total protected area: 151.8 ft² (14.2 m²).
Total area per person: 25.3 ft² (2.4 m²).
Packed size: 27 x 10 in (81 x 25 cm).
---
The North Face Wawona 6 Tent vs Eureka Boondocker 6
The Wawona tent is very similar in structure to the new Eureka Boondocker 6 tent, so I give them side by side. Both have a huge porch plus a vestibule, but there are some differences in the design and in prices of course. So please check the links in the table to see more.
Vestibules area,
sq ft (sq m)
---
Final thoughts, rating, pros & cons
So to conclude this The North Face Wawona 6 Tent review, I am convinced that this is one of the best tents of this type on the market. They have built it nicely, with attention to details; as an example just see the vents where you have a triple-layer structure with Velcro tabs and dual stiffeners, and with zippered panels from inside.
But this all comes at a price, though the craftsmanship is indeed at a high level and the tent is worth the money. Check also the smaller tent from the same series, the North Face Wawona 4.
Please see how I rate this Wawona 6 tent:
BEST PLACE TO BUY:
Note that they have also a larger tent from this series, The North Face Wawona 8 Tent. See also their The North Face Kaiju 6 tent which is an extended dome type but two-layer design. You might want to compare it with this Marmot Orbit 6P Tent which is in the same price range and with a very similar design.
Thank you for reading. Please use the comment box below in the case of questions and comments. Have a nice day.