---
Marmot Orbit 6P Tent is an incredible design with a large porch and three entrance points, with two awning configurations and 182.5 ft² (16.9 m²) of the total protected area.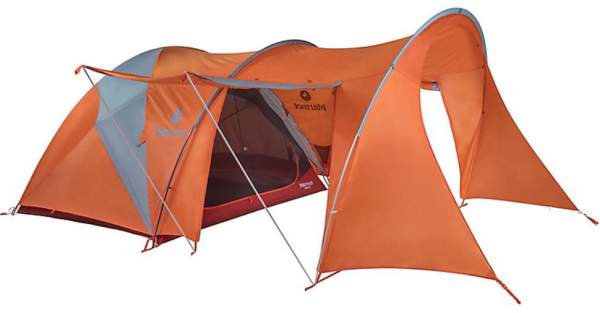 ---
Key features & benefits
Enormous porch area.
Very good waterproof rating.
Full-coverage fly.
3 entry doors + 1 inner door.
Aluminum poles.
Awning configurations.
Removable vestibule doors.
---
What type of tent is this
The Marmot Orbit 6 is an extended dome tent. Though the extension is larger than the inner part, and the poles in the extension create arches, so the tent looks like a dome-tunnel hybrid.
They claim it is freestanding, but this is not so. There is no way to use the tent without staking it down. The reason is as follows. The inner tent is indeed freestanding and self-supporting, see it shown below, but this is the smaller part of the tent. The much bigger porch (or vestibule) area has its own 2 extra poles and you cannot use this part without staking it down.
The tent is also a double-layer design, so you have an inner tent plus a full-coverage fly for a complete protection from elements. It is amazing how different the tent looks without and with the fly. See it below without the fly; the inner tent is a freestanding but rather small structure.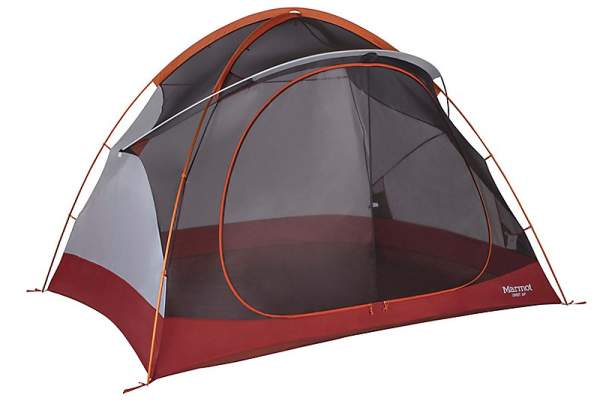 ---
Who is it for
Space-wise, they claim it is for 6 people. The picture below shows how they think you should use it. The inner floor area is only 77.5 ft² (7.2 m²), so it is practically impossible to squeeze so many people inside. They show that 6 people can sleep on the width of 292 cm, but in my view this just makes no sense.
On the other hand, the vestibule is gigantic, here you have around 100 square feet. So the total protected area is 182.5 ft² (16.9 m²), and this gives 30.4 ft² (2.8 m²) per person. This looks a lot and I give a rather high rating for this parameter, see below (I use the same formula for all tents, and this includes the total protected area). But in view of the small inner tent, here you should not plan to have more than 4 people maximum.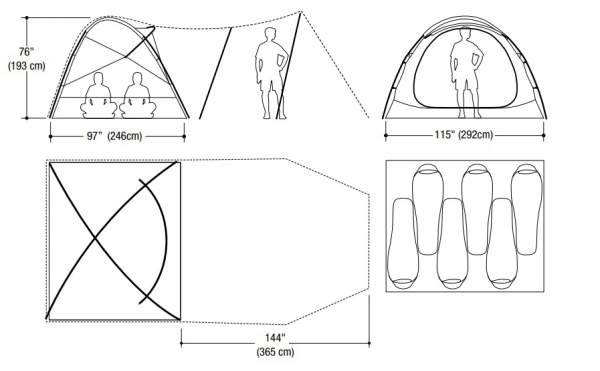 Seasons-wise, in view of its full-coverage fly and a very decent waterproof rating (more below), this is a tent for all weather conditions in a 3-season use. But the structure is big and I would not use it in a very windy place.

Climate-wise, the inner tent is with lots of mesh and you cannot close it. So it is best suited for a warmer climate. Do not even think of using it for camping in a very cold environment, at high altitudes, etc. If you need a tent for such conditions, better check some of those fully enclosed tents with solid windows and without mesh. See some of them here.
Weight-wise, this is a very heavy tool. You have 23 lb 2 oz (10.5 kg) so this is a tent for car camping only. They even give the minimum weight and this should imply carrying it, but I would not consider this as an option. If you need a 6-person tent to carry in the backpack, check this ALPS Mountaineering Taurus 6 or even lighter Eureka Midori 6.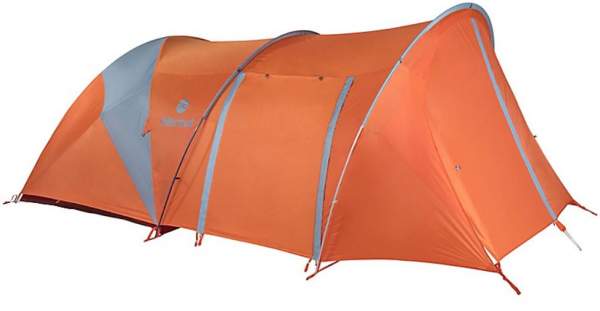 ---
Materials & construction
The vestibule area is very tall and you can stand up freely, well, unless you are a basketball player. The structure is big so setting it up is not so easy but you have color-coding to help you.
The poles
There are 5 poles in total, 3 are used on the inner tent and 2 on the porch. This is a high-quality material, the DA17 poles. The DAC is the world's leading manufacturer of tent poles. The diameter is 14.5 mm and 12 mm. Note that the DA17 means poles for family camping tents. This is the first of the type engineered for large modern tent structures and they have revolutionized the tents building industry. They are flexible and strong. Normally they build them in the diameter range 11.3 – 28 mm.
You have a combination of clips and sleeves on the inner tent where the poles are covered by the fly. The same clips and sleeves design is also on the porch area where the poles are from outside. So the porch zone looks like a tunnel structure.
The fabric
The canopy is 40D 100% polyester No-See-Um mesh F/R and 68D 100% polyester taffeta F/R. These are quite standard materials for the inner tent.
The floor is 68D polyester taffeta 190T F/R, and with a 2000 mm waterproof rating. Such a rating is good enough and this is a quality material, but you would not expect it in such a heavy camping tent. I would rather see something thicker on the floor.
Note, they have a footprint designed for this tent, it can be ordered separately here. It costs around $45 or so, and this is a 70D nylon. It would be a good investment to protect such an expensive tent.
The massive full coverage fly is the same 68D 100% polyester taffeta F/R and with a 1500 mm waterproof rating. These are decent numbers and I have no objections here, all good enough for a 3-season camping.
Everything is sealed, all seams are taped, you have nothing to do about it.
The doors & windows
You have three entry points into the porch area. Two large doors are on the opposite sides and on the front you have a vestibule with a central zipper. All of them are also removable so that you can have a shade only when the sky is clear. Both side doors can be used to create awnings, so imagine how much of the covered area you get with such a configuration.
The inner door is huge but this is only mesh. This is similar to some other tents, you have the same design in the North Face Wawona 6 tent. So there are no panels here to prevent cold drafts.
Other features
Color-coded design for an easy pitch.
Lampshade pocket to hold your headlamp for ambient light.
Interior pockets are available for small gear.
Light-reflective points.
Jingle-free nylon zipper pulls.
---
Specifications
Packed weight: 23 lb 2 oz (10.5 kg).
Dimensions (inner tent): 115 x 97 in (292 x 246 cm).
Inner tent area: 77.5 ft² (7.2 m²).
Inner area per person: 12.9 ft² (1.2 m²).
Vestibule area: 105 ft² (9.7 m²).
Total area: 182.5 ft² (16.9 m²).
Total area per person: 30.4 ft² (2.8 m²).
Peak height: 76 in (193 cm).
Packed size: 30 x 10 in (76 x 26 cm).
Doors: 1 inner 3 outers.
Poles: 5.
---
Marmot Orbit 6P Tent vs Eureka Boondocker 6
In the table below I give the Orbit 6 side by side with the Eureka's tent that follows the same concept – the small inner area and a huge porch. As you realize, the Orbit offers a larger porch and it is taller. But it is heavier and bulkier when packed. Please follow the links to read more.
Vestibule area, sq ft (sq m)
---
Final thoughts, rating, pros & cons
In the summary of this Marmot Orbit 6P Tent review, I would stress that they have built a great tent, but you should simply disregard the declared capacity. Formally, the tent has more than enough space for 6 people, but you can not squeeze them in such a number in the inner area. The design is great, but the price is a bit high, though this might be appropriate for such a quality item. It is far more expensive on the EU market than in the US.
Did you know that the Marmot company started in 1974? Their first big order was from the 20th Century Fox for the movie The Eiger Sanction with Clint Eastwood when they sold them more than one hundred jackets.
See how I rate it:
Marmot Orbit 6P Tent
Pros
Very functional.
Great packed size.
Great porch area.
Quality manufacturing & materials.
Cons
A bit heavy.
The inner door has no panels.
Too small inner area for the declared capacity.
If you need to see more tents, just look around, this site is all about tents in the sizes for 5 people and more. You will find something for you. Please check this Vango IRIS 600 XL Tent which is a huge tent with 21 square meters of the protected area. Thank you for reading and have a nice day.