---
Timber Ridge 6 Person Family Camping Tent is a nicely built summer tent for families and groups, freestanding, nicely packable, with an easy setup, and with an incredible price.
---
Key features & benefits
Incredible price.
Great packed size.
Easy setup.
Freestanding.
Dome type.
---
What type is this
The Timber Ridge 6 is the dome-type tent. This implies a simple X-shaped structure created by the two main poles. Such tents are much more stable in windy conditions than cabin-type tents. See more in my separate text.
The tent is also freestanding, which implies that you can pitch it on any terrain and you will not depend on the area where you are. But it is best to stake it to the ground whenever possible; all guylines and stakes are included in the package.
This tent is formally a 3-season type, but I think it would be more appropriate to call it a summer tent.
With the weight 16.5 lb (7.5 kg), this is a camping tent, a tool not designed to be carried around.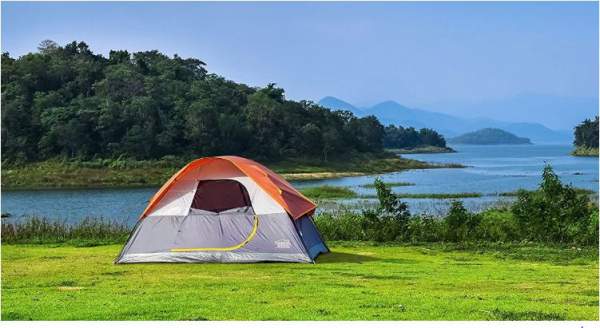 ---
Who is it for
The features given above tell a bit about the best use and about potential users. They do not provide any info about weather resistance, and I would not use it in a rainy environment. Bear this in mind and you will enjoy it. If you need something more appropriate for rain you will have to pay much more, just look around in this site, for example, this Marmot Limestone 6 tent.
Size-wise, with the floor area 99 square feet (9.18 m²), this tent provides more than 1.5 square meters per user if used as a 6-person tent. So indeed, it can accommodate such a number, and I can see it as a tool for some summer open-air music festivals or for nights spent on a beach, so for people without too much gear.
But for families, it is for parents with 1 or a maximum of 2 small kids. Remember that you do not have any vestibule, so there is no extra covered space for gear. Since this is a camping tent, to be used at places with a car access, you may keep some stuff in the car, and you will be doing fine.
The packed size of this tent is truly great, only 25.2 x 7.87 inches (64 x 20 cm), and it comes in a nicely designed carry bag with two straps. So with such a size, this tent can be transported even on a motorbike, bear this in mind if you are on a cross-country tour with your friends.
Price-wise, this is simply an incredible tent. So if you do not want to spend much, look no further, you will not find anything comparable to this tent.

---
What is included
You have the following items in the package:
Inner tent.
Rain fly.
Carrying bag.
3 poles.
7 guylines.
11 steel stakes.
---
Materials and construction
Poles
There are 3 poles in the package, the earlier mentioned 2 main poles plus a brow pole which creates a small awning above the entrance.
The poles are shock-corded which is good, you will never lose any segment of them, and they are made of fiberglass. The fiberglass is a great material, but it is less durable than aluminum and they need a more careful handling.
Fabric
The inner tent is 190T polyester with PU coating. The polyester is the best material for tents, durable and it does not absorb water.
The fly is also 190T polyester with PU coating. Here you have a rollback option, so you can sleep under the stars. There is no information about waterproofness rating, pity. Note that this is not a full-coverage fly, it covers only the upper portion of the tent where you have mesh.
The floor is a heavy-duty bathtub-style polyethylene. About such a design please see more in my separate text.
Setup
The setup is really easy, typical for dome-style tents. You have printed instructions on a piece of fabric sewn inside the carrying bag.
So you spread the tent and pass the main poles through the sleeves. When you fix their ends in the corners, the tent becomes self-supportive and freestanding. Note that there is no hub here, the sleeves do the job instead.
Adding the fly is also easy because it is minimal in size. You will stake it down and then add the short brow pole. Note that this tent is very similar in structure to the Alps Cedar Ridge Rimrock 6 Tent.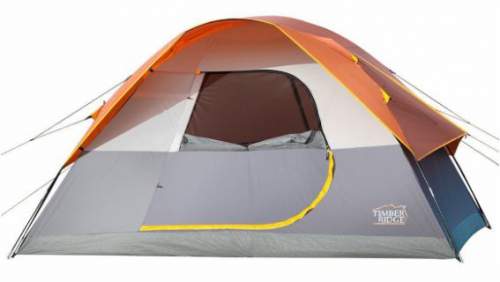 Ventilation
This is a summer type tent, but it is double-layer only partly, so the fly is minimal and you have a lot of mesh in the upper part of the tent. So ventilation should not be an issue,  you have a free airflow under the fly.
The single door is with the mesh in the upper part so it creates a window, and with a panel as a second layer, so you can close it when it is raining. But the small awning does the job and you can keep it partly open perhaps all the time, dependent on the winds of course, see the picture above.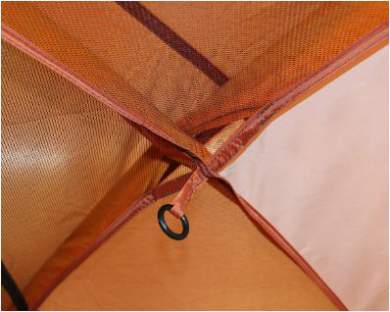 Inside structure
The single door is D-shaped and it rolls to the side. So once inside, you will notice that you have a set of mesh pockets for small items, very useful indeed, see them shown below. Above the head, you have a ring for lantern attachment (shown above), and this is basically all.
The inner height is really good, so you have 27 inches (183 cm) at the highest spot.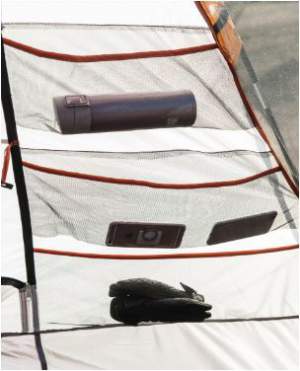 ---
Specifications
Type: freestanding, 3-season.
Capacity: 6 people.
Weight: 16.5 lb (7.5 kg).
Dimensions (L x W): 11 x 9 ft (132 x 108 in; 335 x 274 cm).
Floor area: 99 ft² (9.18 m²).
Area per person: 16.5 ft² (1.53 m²).
Peak height: 27 in (183 cm).
Packed size (L x D): 25.2 x 7.87 in (64 x 20 cm).
Doors: 1.
---
Timber Ridge 6 vs competitors
See how the Timber Ridge 6 stands when compared with some other tents built in the same style, this may help in making an informed decision:
---
Final thoughts, rating, pros & cons
In the conclusion of this Timber Ridge 6 Person Family Camping Tent review, I would stress that I love the design of this tent and its simplicity. The price is a story for itself, this is a tent without a match.
So if you do not want to spend much and need something for occasional outdoor use in mild summer conditions, you should not think twice. But bear in mind what I have just said, and do not expect too much from it, this is a summer-type tent.
The single door for such a size is not so great, but you will notice that many tents of this type are with a similar design. I am really puzzled with the idea to put zippers on the fly above the area with mesh.
The tent has already collected a number of reviews and customers' reports and the rating is very high. See how I rate it:
Timber Ridge 6 Person Dome D Door Family Camping Tent
$75.99
Note that there is yet another instant 6-person tent from this brand here in the site under the name Timber Ridge 6-Person Instant Cabin Tent with Rainfly.
If you need something different, bigger, etc., just look around, this site is all about tents and I am sure you will find something for you. In particular, check this Coleman Sundome 6, its price is in the same range, or the Core 6 Dome tent.
Thank you for reading, if you have any comment or question, please use the comment box below. I wish you a nice day.