Timber Ridge 6-Person Instant Cabin Tent with Rainfly is a pleasant tall summer camping freestanding tent with windows on all sides, easy to use and very affordable.
---
Key features & benefits
Instant setup.
3 Large windows.
Single door.
E-cable port.
Bathtub floor.
Freestanding.
Great price.
---
What type of tent is this
Here you have a nicely built cabin-style tent with straight and tall walls. The structure is completely freestanding so you can move it around and rotate even after you set it up. But do not miss staking it to the ground, you have simple steel stakes included in the package. It should not be mixed with their another 6-person tent which is a dome-type.
This is also an instant-setup tent, and this means that the frame is pre-attached to the tent and you simply extend its poles and have it ready in a few minutes. One person can easily set this tent up, you just unfold it and then extend its poles one by one. The structure is quite similar to this Caddis Rapid 6 Person Tent. It is included in my list of 6 person instant tents.
The picture below shows how it looks without the fly so you get the idea about its frame. I have added it to my list of instant camping tents. When you pack the tent, the frame remains attached to it.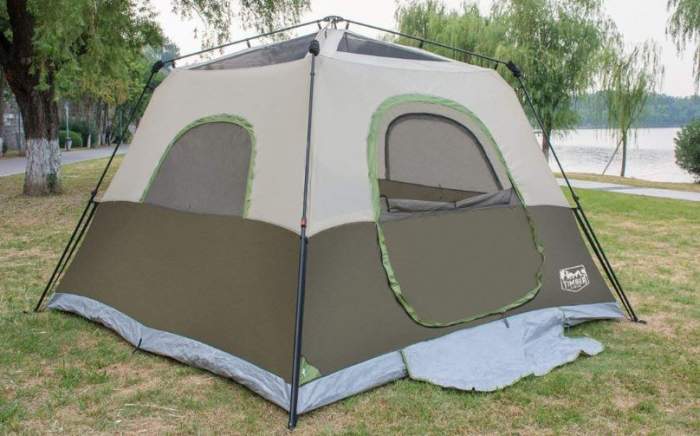 This is a simple single-room structure but very tall for its overall area, the peak height is 78 inches (198 cm). So most of the users can surely stand up in the middle. The fly is minimal and it covers only the ceiling, and it attaches to the leg poles.
The windows & the door
There are 3 separate windows on the three sides, plus one on the single door visible in the picture above. All these openings are the double-layer type with mesh and with zippered panels from inside for protection and privacy.
The poles
You have four thick telescopic leg poles and they continue on the roof with another four poles that converge at the center of the roof. There is yet another thinner fiberglass pole that is added above the door and it creates a small brim, its attachment point is visible in the picture below.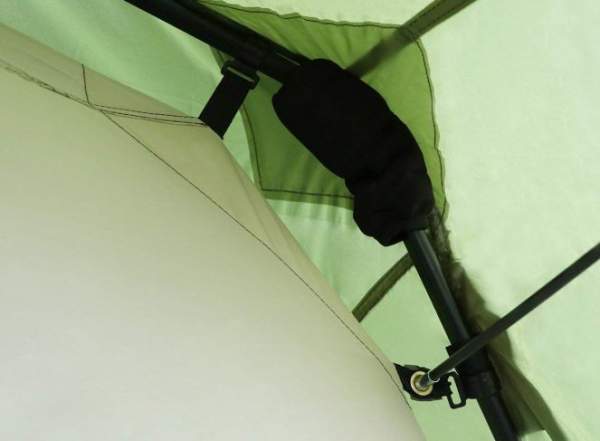 The fabric
They do not provide much info about the fabric's waterproofness, though this is a polyester and mesh. The floor is most likely a polyethylene and it is built in the bathtub style.

Other features
There is a lantern hook on the ceiling.
An e-cable port is available, see the picture below.
There are a few small storage pockets on the wall (shown below), far from enough of course.
A mud mat is in front of the door.
---
Who is it for
Regarding the size, the declared capacity is 6 people and the total area is 100 ft² (9.3 m²). This gives 16.7 ft² (1.5 m²) which is not so great. Below you see the floor plan and what the manufacturer suggests for using the area. So it can accommodate 6 users if you use the backpacking principle, but this is a camping tent.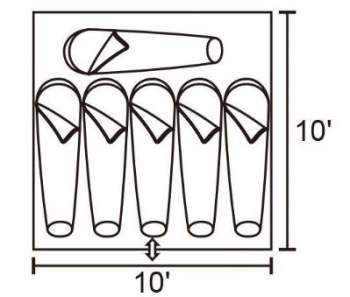 For real camping, I see it best suited for parents with one or two small kids, and it is also perfect for couples. With the dimensions of 10 x 10 ft (305 x 305 cm), you can put a large queen-size bed and you will still have plenty of space for the gear.
Regarding the seasons & climate, this is a summer camping tent and not much above that. There is plenty of mesh on the ceiling and on the windows, so this should give lots of airflow. Though I miss seeing floor vents here, pity they did not add them. This is necessary if you have to keep the panels closed when it is raining.
The tent is tall and boxy, the fly is minimal, so it is best to avoid windy areas and lots of rain. Use this tent for quiet summer camping.
Regarding the weight & packed size, the tent is heavy with its 25.4 lb (11.5 kg). It is also long when packed, this is quite typical for instant tents with telescopic poles. All in all, this is a tent for places with a car access, and it is an excellent option if you change your camping space frequently.
---
Specifications
Weight: 25.4 lb (11.5 kg).
Declared capacity: 6 people.
Dimensions: 10 x 10 ft (305 x 305 cm).
Area: 100 ft² (9.3 m²).
Area per person: 16.7 ft² (1.5 m²).
Peak height: 78 in (198 cm).
Packed size: 53 x 12 x 10 in (135 x 30 x 25 cm).
---
Final thoughts, rating, pros & cons
So this Timber Ridge 6-Person Instant Cabin Tent with Rainfly is nicely built, simple and very easy to use. In view of all its features, it is best suited for summer camping. If you do not want to spend much and want to have a pleasant warm-weather tent, this is one to consider.
Please see how I rate this tent against my standard set of criteria used for all the tents here in the site. This allows you to compare different models easily.
You might want to compare this tent with yet another built in the same style, the MOON LENCE Instant Pop Up Tent 4-5 Person. See also this KAZOO Family Camping Tent which is an instant cabin but with aluminum poles and a full-coverage fly.
Note that this is not a sponsored text, and I am not paid by the brand. Please use the comment box below in the case of questions or comments. Have a nice day.