The Vango Airbeam Odyssey Air 500 Villa Tent is a very tall 3-room structure with inflatable beams, solid windows, a fully sewn-in floor, and a huge waterproof rating.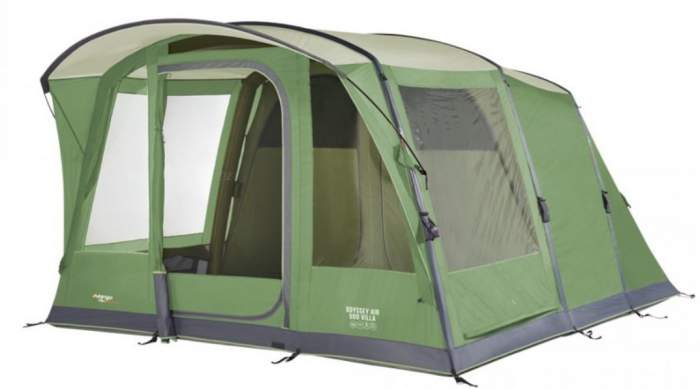 ---
Key features & benefits
Inflatable air beams.
Double action manual pump included.
Huge waterproof rating.
Very tall.
3 Rooms.
Solid windows.
E-cable port.
Lights-out design.
---
What this is about
Vango has many tents in the Odyssey series, some are with classic solid poles and some are with inflatable beams. You can see this Vango 6 Person Odyssey Air 600 Tent as a great example of the tents with inflatable beams.
This Vango Airbeam Odyssey Air 500 Villa Tent is an airbeam tent also with inflatable beams instead of poles. There are 3 of them and you can see the valves on the sides in the top picture above. Vango has started building such air beam tents about a decade ago. They claim they are leaders in this specific design, but this is not really so. There are also many inflatable tents by Coleman on the market, and a few more brands build such inflatable tents.
In any case, you have a manual double-action pump included, and one person can pitch it in under 10 minutes or so. I have included this tent in my list of best inflatable tents. Note that there is one short solid pole added to support a brim above the door so you have a dry entry design.
The pre-angled beams are straight on the sides, so the tent looks like a tunnel-cabin hybrid. But I have included it in my list of best tunnel-type tents.
No matter where it belongs, this is a very tall tent with an 82.7 inches (210 cm) peak height. The tent can be described as a 3-room structure. It includes an inner tent with two separate rooms (see the picture below) and a divider between them, plus a large living room in front of it.
So you can remove the divider and have a 2-room configuration with one large sleeping area. You can also remove the inner tent completely and use the shell alone as a single-room space. The two inner doors are part mesh for ventilation.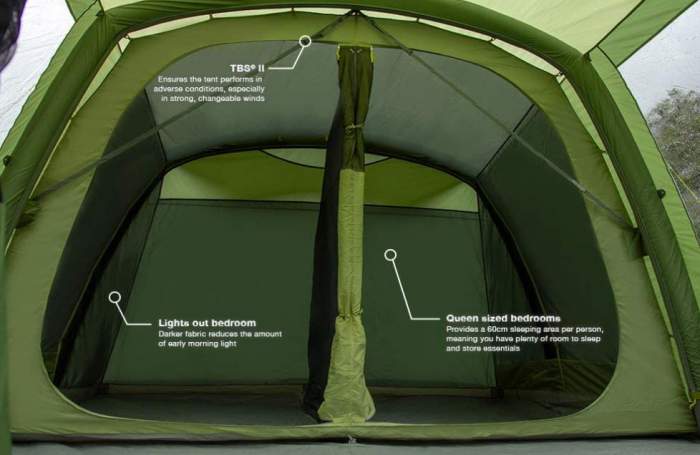 View into the sleeping area.This is why the tent is a hybrid double-single layer where the sleeping area is a double-layer part. The picture below shows the floor plan and the most important dimensions.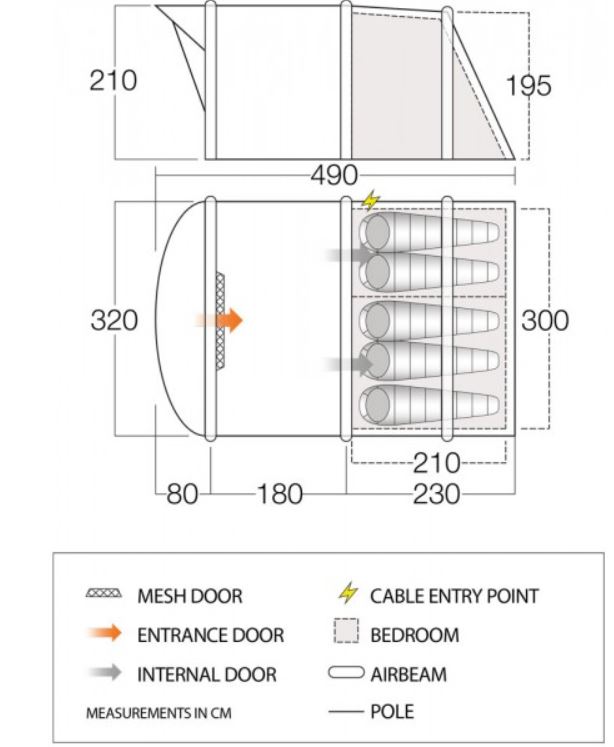 Materials
The shell fabric: They use what they call a specifically designed Sentinel Active Plus fabric. According to their statements, it is a strong 70D polyester with a 4000 mm HH rating. This is more than you will ever need. All seams are factory sealed. Note that in their more technical and smaller tents they use ProTex fabric which can be either nylon or polyester.
They also claim that the fabric satisfies ISO5912 standards regarding requirements on safety, performance, and rain resistance. It also offers UPF 30 UV protection. They claim the fabric exceeds fire retardant standards from European EN5912.
Note that the inner sleeping area is described as a Lights-out design, which means this is a darker fabric that reduces the amount of early morning light.
The floor: You have a fully sewn-in and sealed waterproof PE groundsheet. This is a very robust and hard-wearing fabric to stand up to the rigours of the most active campers. So you have full protection from bugs and from groundwater.
The inner tent has its own extra floor, so you have two floors in this area, both are sewn-in and sealed.
Windows: You have their Diamond Clear solid windows that maximize light and visibility, see the picture below. They are equipped with inner shutters for privacy.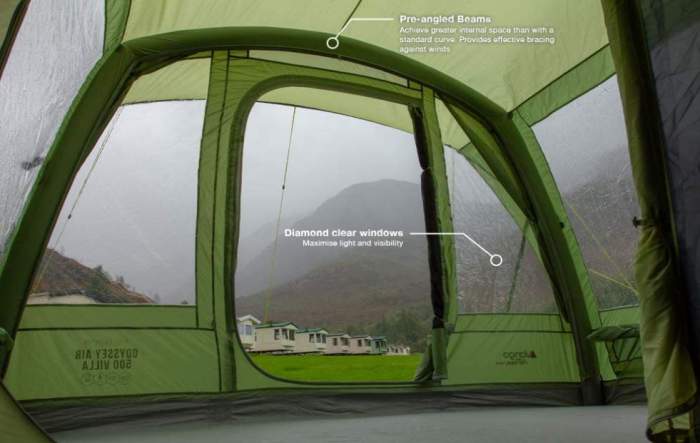 Ventilation
The tent is equipped with several low and high vents. You have long vents under the side windows, above the door, and behind the inner sleeping area.
But the external door is also with a huge mesh area to use whenever the sky is clear. Note that the inner tent hangs attached to the shell, this is clearly visible in one of the pictures shown above in the text. So there is a gap of around 10 cm or so everywhere between the inner tent and the shell. This will allow air circulation and help against condensation.
All in all, with respect to ventilation, there is practically nothing one could object to this design, ventilation is the best you can have in such a type of tents.
Other features
Lantern hanging points conveniently positioned to attach your lights, see the picture below.
Cable entry port is on the side, you can see its position on the picture with the floor plan given above.
Several bedroom pockets are on the walls.
TBSII Tension Band System. This is a set of straps that attach on the ceiling and on the side. They are with buckles to detach when not needed, see the picture below. They ensure that the tent performs in adverse conditions, especially in strong, changeable winds. This reduces sideways movement and makes the tent stable.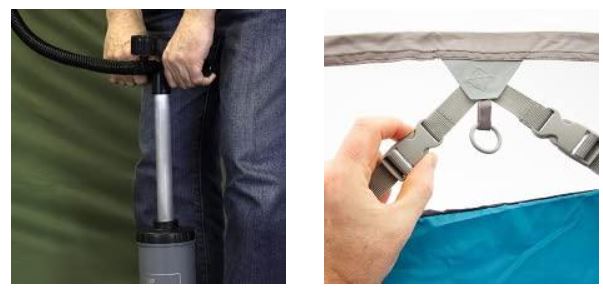 Expandable carry bag with an oversized wide opening makes it simpler to pack away your tent.
High visibility guylines are strong and easy to see in low light conditions.
You can see a bit more about pitching instructions in this manual. Note that the tubes are replaceable and repairable, just to know in the case of a leak.
---
Who is this Vango Airbeam Odyssey Air 500 Villa Tent for
Regarding seasons & climate, this tent is fully enclosed and with a huge waterproof rating, so it will protect you in a cool environment and in areas with lots of rain. Note that air beams can never break, they can bend in the case of sudden wind pressure, but they bounce back instantly when the pressure drops.
But I would not use this tent in areas with snow. The mentioned TBS II system will stabilize it laterally, but the tent cannot withstand pressure on the roof.
In a warmer climate, you have plenty of ventilation options, and you can keep the door with its full-size mesh as long as the sky is clear.
Regarding the area, the tent is officially for 5 people. For this you have a floored area of around 140 ft² (13 m²). This means 28 ft² (2.6 m²) per person. So this is a very luxurious camping tent, almost a castle.
Note that the living room is large, and 2 more people can sleep there if necessary, the protection is full in this area as well. So this tent can accommodate 7 people.
Regarding the weight and packed size, the tent is both heavy and bulky. It weighs 40.9 lb (18.55 kg) and its packed size is 27.6 x 15.7 x 14.6 inches (70 x 40 x 37 cm). So this is a car camping tent and you would not want to carry it anywhere.
Regarding the price, it is steep, but this is a quality tent from a globally-known brand. Perhaps you do not know, the Vango brand was established decades ago in the city of Govan in Scottland.

---
Specifications
Official capacity: 5 people.
Weight: 40.9 lb (18.55 kg).
Dimensions: 161 x 126 in (410 x 320 cm).
Area: 140 ft² (13 m²).
Area per person: 28 ft² (2.6 m²).
Packed size: 27.6 x 15.7 x 14.6 in (70 x 40 x 37 cm).
Peak height: 82.7 in (210 cm).
---
Final thoughts, rating, pros & cons
In summary, this Vango Airbeam Odyssey Air 500 Villa Tent is beautifully designed, tall, and pleasant with its numerous large solid windows. It is nicely ventilated yet fully enclosed for full protection against elements and insects. Fully recommended. I have added the picture of this tent in my list of best camping tents brands as a great representative of Vango tents.
Please see how I rate this tent against my usual set of rating criteria so you can easily compare it with some other tents here in the site:
For more tents with air beams please check under the category Inflatable Tents. But if you want more tents in this capacity group, please check Tents for 5/6 people.
There is a comment box below so let me know if you have a question or comment. Thank you for reading and have a nice day.