---
Vango 6 Person Odyssey Air 600 Tent is without metal poles, supported only by air beams. It provides a huge floor area of 190 ft² (17.67 m²).
---
Key features & benefits
No metal poles – all air beams.
Easy setup.
Very reliable and great weather protection.
"Lights out" design.
---
What type of tent is this
Air beams
The meaning of this is that you do not have classic metal poles. Instead, you have 3 air beams which support the tent. All you need is a pump which is included in the package and you can raise the tent from the ground in a few minutes. The air beams are pre-angled to achieve a greater internal space, and they provide effective bracing against side winds.
Lights out design
The meaning of this term is similar to dark rest or dark room phrase. So you have an inner layer which makes the interior darker and you can sleep longer in the morning, or take a nap during the day. This is a new trend in the family camping tents' design, see it below.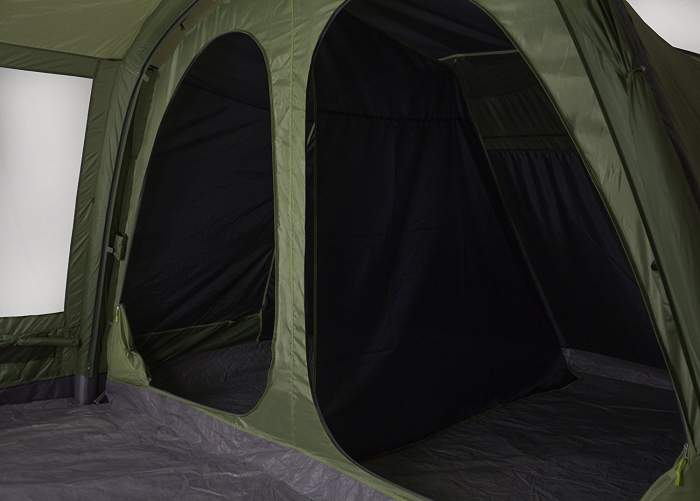 Tent within the tent
You have an inner sleeping area tent attached to the external shell. The sleeping zone is with a divider. This implies that you have a 3-room tent here, with two sleeping units and a large sitting zone. See the floor plan below: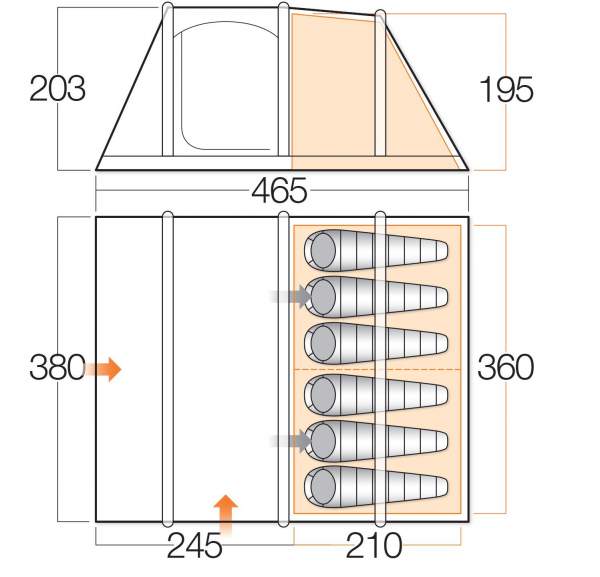 As you realize from the picture above, there is space of a few centimeters between the inner and the outer tent on all sides, and this is good for ventilation. The tent is with two external doors and two inner doors, and it is tunnel-type with 3 air loops that create its tunnel structure.
So this is a hybrid design with one part of the tent single-layer and the sleeping zone is a double layer structure.

---
Who is it for
The declared capacity of this tent is 6 people. The floor area is 190 ft² (17.67 m²), and this implies 32 ft² (2.94 m²) per person. So this is a real luxury in the camp.
The tent is obviously suitable for groups and for families. Its weather resistance is such that it is a true 3-season tent.
The packed size is around 70 x 37 x 36 cm, so this is really good, but its weight is around 17.5 kg, so you will need a vehicle for transportation.
---
A bit more about construction
The sitting area here is with a linked-in groundsheet, so this has both good and bad sides. The good is that it is easy to clean it as it can be attached or detached from the living area. If you do not need it, you simply roll it under the bedroom area. The bad is that the sitting area is not sealed from the ground, neither from water nor from the crawling creatures. But the sleeping area is indeed completely sealed.
You have inner pockets conveniently positioned for organizing your small items.
The carry bag is oversized and with 50% more volume, see it in the picture below.
The two bedrooms are spacious ISO standard sized. Each can accommodate a queen-size bed.
You have lantern hanging points conveniently positioned to attach lights.
The entrance has a full mesh door for ventilation and for keeping bugs out.
You have patented Vango TBSII Tension Band System for tent's stability in adverse conditions. The bands brace the pole at 3 points, and prevent sideways movement. When not needed, they can be stowed away, see one of them shown below.
The inner divider can be rolled away when not in use.
You have Vango AirZone high and low-level ventilation panels which create a comfortable flow of air.
Materials & weather resistance
You have Vango Protex 70 denier polyester flysheet. The waterproof rating is 4000 mm, so this is a highly waterproof material, reasonably durable and reliable fabric. It is weather tested to the European standard EN5912 by the certified test center.
The seams are factory taped and this applies for all flysheet and groundsheet where you have a waterproof PE material, robust and hard-wearing, built to stand up to the rigors of the most active campers.
The windows are solid PVC material, very clear to maximize light and visibility. The inner doors (you have them two) are part mesh to allow for ventilation whilst keeping bugs out.
---
Specifications
Capacity: 6 people.
Weight: 38.6 lb (17.5 kg).
Dimensions (L x W): 183.07 x 149.61 in (465 x 380 cm).
Floor area: 190 ft² (17.67 m²).
Area per person: 32 ft² (2.94 m²).
Peak height: 79.92 in (203 cm).
Packed size: 70 x 37 x 36 cm.
Pitching time: 8 minutes.
---
Vango Odyssey Air 600 Tent vs Vango Capri 600XL
See how this Odyssey Air 600 tent compares with its cousin built in a somewhat similar style. Both are air-beam tents but there are differences in the design and features. Please follow the links to read more.
---
Final thoughts, rating, pros & cons
To conclude this Vango 6 Person Odyssey Air 600 Tent review by stressing again that this is a luxurious camping option. You realize this when you compare it with its cousin Odyssey Air 800 tent from the same brand which is an 8-person tent; they are with almost the same floor area. So the Odyssey Air 600 offers far more floor area per person. This is a reliable but a bit pricey tent for family camping and for groups, and I can fully recommend it.
The floor in the sitting room is not fixed to the tent, this is one of the differences between this tent and the Capri 600 from the same brand, which you have in the comparison table. Just to know if this is of a particular importance for you.
All in all, this is an advanced technology, see how I rate it:
Vango 6 Person Odyssey Air 600 Tent
For EU & UK visitors, to check the price or to order this tent, please check here.
Note that there exists a version with metal poles which has been on the market for many years already, and it is far more affordable. If you need something smaller, check its smaller cousin the Vango Odyssey Air 500 Tent. You might want to compare this tent with yet another air beam tool, the MOOSE OUTDOORS 10 person inflatable tent. For a dome-style inflatable tent, you might want to check this incredible Crua Core 6 tent.
In the case of questions or comments, please use the comment box below. Thank you for reading and have a nice day.