This Vango Airbeam Portland Tent 500 Review is about a 2-room tent for 3-season plus family camping, with solid windows, a huge waterproof rating, and inflatable beams instead of solid poles.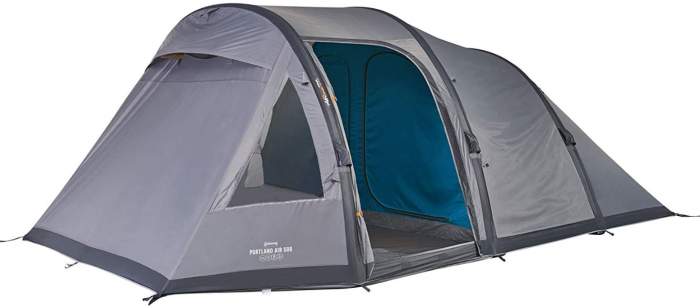 ---
Key features & benefits
Air beams instead of poles.
Solid windows.
2 Rooms.
Huge waterproof rating.
Lights-out design.
Air pump included.
---
What this Vango Airbeam Portland Tent 5 person is about
Here you have an inflatable tent. If you are not familiar with this technology, this means that instead of solid poles you have air beams. Vango as a brand is one of the first who started this technology almost a decade ago. There are more tents with such air beams here in the site, the popularity of this technology is growing. A manual air pump is included.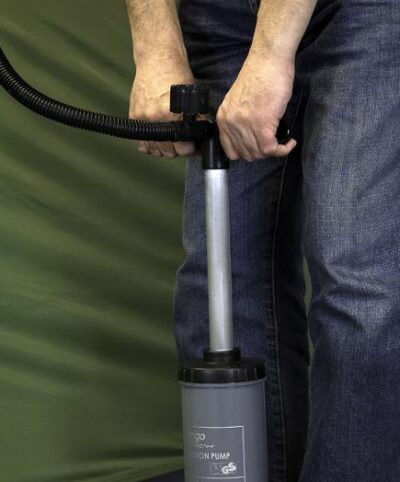 This is a tunnel-type tent, the three beams support it laterally but it is not freestanding, at least back and front sides must be staked. But you should always stake it down properly on all sides, stakes and guylines are included. It is added to my list of best tunnel tents.
They have what they call the TBS II system, this is a design with straps that attach to the sides and on the ceiling of the shell, see the picture below. The reason is to provide additional lateral stability in the case of winds. The design is patented and used in many tents of this brand. When the weather is stable you can detach the straps, you can see the buckles in the picture.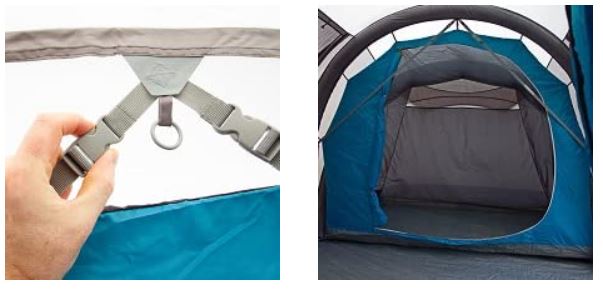 The tent is 2-room by the design, see the picture below, so you have a large living room plus a tent within the shell tent where you have the sleeping room for 5 people. This explains 500 in the name of the tent, this is the notation they use. This inner tent is visible in the picture above.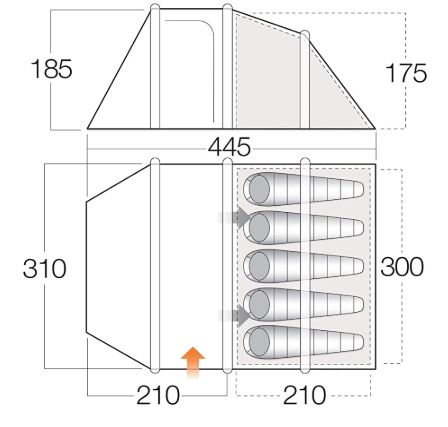 Note that the floor in the living room is not sewn in and sealed, it is linked-in instead. You have toggles that keep it in place. This is both good and bad. The good is that you can roll it to the side and use its living room for your camping chairs and for cooking without thinking about damaging the floor. The bad is that you have no full protection from crawling insects in the living room.
The tent is quite tall, you have almost a stand-up height in the living room with 72.8 inches (185 cm).
The doors & windows
There is only one large door on the side, plus two inner doors on the inner tent. Note that the two of the windows are solid and translucent. This may come good if you camp in a cooler environment.
Ventilation
The tent is without mesh on the shell, so it is quite enclosed with its solid windows. This is why you have to rely on its vents, you have them on both narrow sides of the tent. The inner tent is detached from the shell, so this gap is in place to allow for crossflow and to fight condensation.
One additional benefit of the previously mentioned linked-in floor is that you have some drafts from below and this is why the tent does not need floor vents. So all in all, ventilation is reasonably good in this enclosed tent structure.
---
Materials
The shell is a polyester with a 3000 mm HH rating, so this is more than what you will ever need. This is a fire-retardant material and they claim it meets ISO 5912 standards. The seams are taped. They claim it provides UV protection with UPF 30+ factor.
The inner tent has its own sewn-in floor, and its canopy is a breathable polyester. There is a mesh area that matches the rear roof vent. They do not provide information about the floor, but this is a durable and fully waterproof material.
Note also that the inner tent is what they call lights-out design, and this means glare is reduced due to its dark color and thick texture.

---
Who is it for
Regarding the area, you have a total space of 130 ft² (12.1 m²). This includes 6.3 square meters in the sleeping room plus 5.8 square meters in the living room. So this is a generous space and the official capacity is realistic. I have included it in my list of best 5-person tents.
Regarding seasons & climate, I see it as a 3-season-plus tent, more suitable for a cooler climate and for areas with lots of rain than for a warm environment. Because of its air beams, this is not for areas where you would expect lots of snow deposits on the roof.
But such air beams are a great option in a windy area because they can never break. The tent may bend but it restores its shape instantly when the pressure drops.
Regarding the weight, with its 28.4 lb (12.9 kg) of weight, this is a heavy structure. Note also that it is bulky when packed, it measures 29.5 x 13 x 13 inches (75 x 33 x 33 cm). All in all, this is a tent for places with a car access.
---
Specifications
Official capacity: 5 people.
Weight: 28.4 lb (12.9 kg).
Dimensions: 14.6 x 10.17 ft (445 x 310 cm).
Total inner area: 130 ft² (12.1 m²).
Area per person: 26 ft² (2.42 m²)
Peak height: 72.8 in (185 cm).
Packed size: 29.5 x 13 x 13 in (75 x 33 x 33 cm).
---
Final thoughts, rating, pros & cons
In the summary of this Vango Airbeam Portland Tent 500 review, I would point out again that this is an easy to use tent, one person can easily pitch it in under 10 minutes, the waterproof rating is great and you have full protection from the elements. But I do have a few objections summarized below.
Please see how I rate this tent against my standard set of criteria so you can easily compare:
If you want something else with the same official capacity, check under the category Tents for 5/6 people. For more tents of this shape check in the group Tunnel tents. Check this ust House Party Car Camping Tent 6 person if you would rather have a tent with classic poles.
Bookmark this site and visit again, we add texts here regularly and this will keep you informed about the situation on family camping tents' market. Thank you for reading and have a nice day.