Vango Ringstead Air Adult Mixed Inflatable Tent is easy to use, with a huge waterproof rating, with air beams instead of poles, and suitable more or less for all seasons.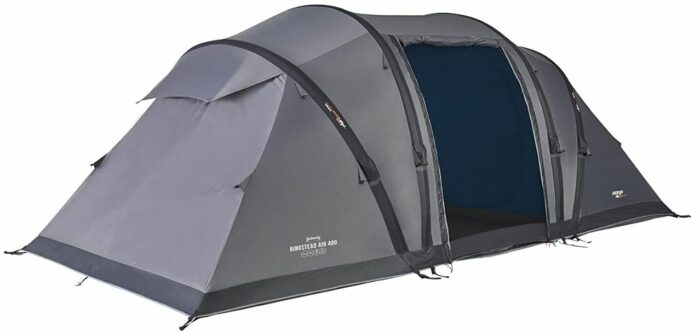 ---
Key features & benefits
Tunnel type tent.
Air beams instead of poles.
3 Rooms.
1 Door (mesh + panel) & 1 separate window.
Pump included.
Lights-out design.
---
What this is about
Vango is a Scottish tent maker located in Govan (the brand is coined from the name of the city Govan →Vango). So what you have here is a tent built primarily for the Scottish climate. The tent is formally a tunnel-shaped structure with a single door on the side shown in the pictures. Observe that the door is huge and tall, so this is quite enough for such a tent.
Air beams: It is not clear to me what they really mean by the words Adult and Mixed in the name, but what is clear is the fact that this is a tent with inflatable beams instead of classic poles. There are four of them, and a pump is included. One person can easily set this tent up in up to 10 minutes.
In view of such a design, one could describe it as a sort of instant tent, but in any case, I have included it in my list of best inflatable camping tents. Note that Vango has been developing this air beam design since 2011, they are among the first on the market with this type of tents.
You will see the floor plan below, and this will show you that this is a 3-room structure with two inner tents on the sides that represent sleeping areas, plus one large living room in the middle. The picture below shows one of the inner tents attached to the shell. Note that you can remove any of the two inner tents or both. So the tent allows for several configurations with 1, 2, or 3 rooms.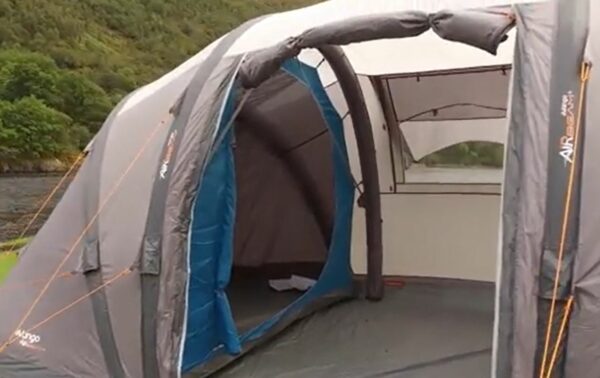 The tent is a hybrid single/double-wall type, the living room is the single wall part and the side rooms are with double walls. Note that the floor of the shell tent is fully sewn-in and sealed, see the picture above, and the two inner tents also have their own sewn-in floors. So the sleeping areas are with dual floors, this is the maximum protection from the ground that you can expect.
Shell first setup: The good side of such a structure is that it allows for a dry setup, and this means you can raise this tent even when it is raining, and the inner area will always remain dry. This is because the inner tents are pre-attached and you will pack them the same way.
Lights out design: This term applies to the sleeping rooms, and this means that the inner tents are from a darker material so glare is reduced and you can sleep longer in the morning. Although this is not in the rank of the so-called darkroom tents from Coleman, I have included it in my list of dark rest tents.
Note also that the tent comes with a drop-down door design suitable for wheelchair access.

Ventilation
This tent is quite enclosed, and it relies on vents for ventilation. So you have them on both narrow sides behind the sleeping rooms. In addition to this, there is a mesh section on the window.
On the other hand, the door is a double-layer type with a full mesh door plus a panel door, both equipped with zippers. You can roll them both up and fix them above the door as shown in the picture above. This means there are openings for ventilation on all four sides.
The inner tents are separated from the shell, there is a 10 cm gap on all the sides, so this is for air circulation. There are mesh sections on the inner tent that match the rear roof vents.
This all looks good, but I miss seeing some floor vents here, a pity they did not add some. This is needed when it is raining for an extended period of time and you have to keep the door with the panel on.
---
Materials
Having no metal poles, this is all about the fabric. They use what they call the Sentinel Active polyester flysheet with a 3000 mm waterproof rating. The floor is most likely polyethylene, they did not provide any information, but no doubt this is a fully waterproof material and it is a bathtub design.
All stakes and guylines needed to secure the tent are included in the package.
---
Who is it for
Regarding the area, this is officially a 4-person tent, and this you can see in the floor plan below. But the tent is included here in the site for the reasons explained in the About page; it can indeed accommodate more than 4 people.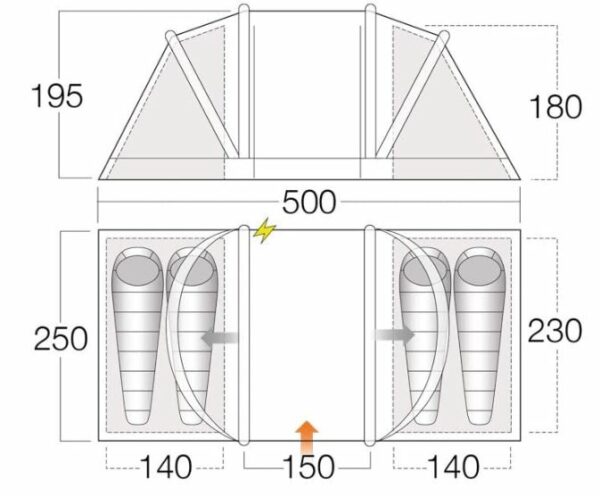 The total area is 110 ft² (10.2 m²), and this is when the inner tents are in place, otherwise, you have a bit more without them because of the space between the inner tent and the shell left for ventilation. This means you have at least 27.5 ft² (2.5 m²) per person, and this is quite a luxury.
As you realize from the picture above, there is enough space for two people sleeping in the living room. Now you understand why I have included it here in the site, this tent offers a generous place for at least 4 people, but it can accommodate 6 if necessary.
Regarding seasons & climate, the manufacturer describes this tent as suitable year-round, but this is more so for Scotland than for the rest of the world. I see it better suited for a cooler climate than for a warm area, but indeed you have the huge mesh door to keep it that way whenever the sky is clear, and you will have plenty of ventilation.
The waterproof rating is impressive and the tent is closable so it will work great if it is cold outside. The tent comes with Vango's TBS II system, this is their patented Tensioned Band System that stabilizes the tent in adverse conditions. This includes the bands shown in the pictures below.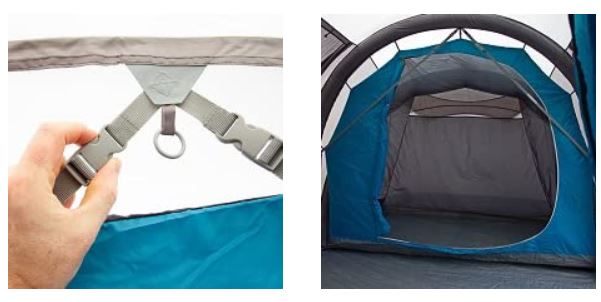 Note also that such air beams can never break in the case of winds, they will bounce back instantly when the wind pressure drops. But these air beams also mean that you cannot use this tent in areas where you can expect lots of snow. This is why I would not call it a true 4-season tent.
Regarding the weight, with its 38.1 lb (17.3 kg) this is a heavy structure and you would not want to carry it anywhere. The packed size 31.5 x 15.7 x 15.5 inches (80 x 40 x 40 cm) is also such that you need a car for this tent.
---
Specifications
Official capacity: 4 people.
Weight: 38.1 lb (17.3 kg).
Dimensions: 16.4 x 8.2 ft (500 x 250 cm).
Area: 110 ft² (10.2 m²).
Area per person: 27.5 ft² (2.5 m²).
Peak height: 76.77 in (195 cm).
Packed size: 31.5 x 15.7 x 15.5 in (80 x 40 x 40 cm).
---
Final thoughts, rating, pros & cons
In the summary of this Vango Ringstead Air Adult Mixed Inflatable Tent review, I wish to stress that here you have a reliable tent from a renown brand, with a great inner organization and a modular design that allows for several different configurations regarding the number of rooms. The waterproof rating is huge and this tent will protect you in any weather conditions. Fully recommended.
Please see how I rate this tent against my standard set of criteria:
You might want also to see their Vango Airbeam Portland Tent 500 built in the same style. Please check under the categories Inflatable Tents and Tunnel Tents if you need more options, this site is all about the family camping tents and you will find what you need. If you would rather have a tent with classic poles, check yet another tent from this brand, the Vango Tyneham Tent 500.
Let me know if you have any question, there is a comment box below. Thank you for reading and have a nice day.