If you are undecided about the type of tent you plan to buy and want to know more about the issue of single-wall vs double-wall tent, this is the text to read. Tents on the market belong to any of the two groups, or they are a hybrid type, so keep reading.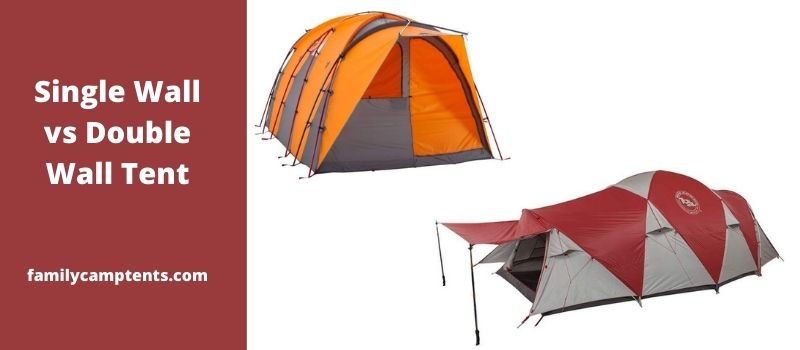 ---
Single versus double-wall tents – what this is about
I guess one could use the terms single-layer and double-layer as well, instead of single-wall and double-wall, but in any case, the meaning should be obvious. A single-wall tent has one layer that separates you from the outer environment, and a double-wall tent has two layers, as simple as that. But there are some hybrids, more about this below.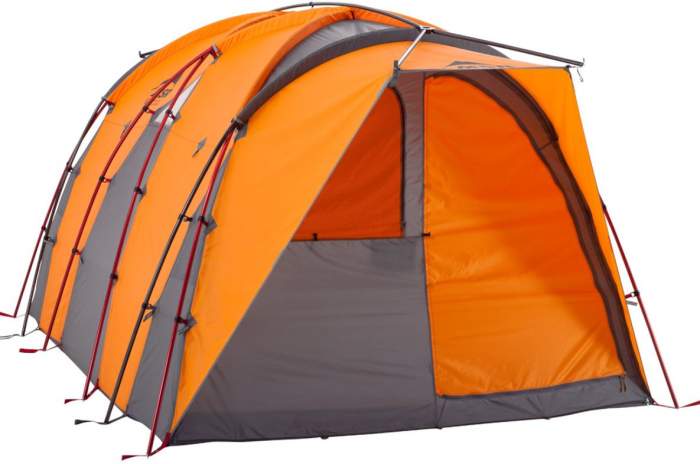 In the past, the tents were normally built as single-layer, the manufacturers have been adding a second layer in modern tents. But there are still many modern tents that are built as single-wall structures.
Sometimes, it may be difficult to determine the true meaning of the terms double-layer and single-layer. Take those cabin-style family camping tents with a minimal fly that covers only the ceiling. See this OT QOMOTOP Tent 10 Person or Columbia Mammoth Creek 8 Person Cabin Tent. Here you have a sort of a double-layer configuration on the ceiling. They also have many windows and they may have multiple doors, so these are usually double-layer areas with mesh and panels, but the rest of the walls is a single-layer structure. So are these tents single-wall or double-wall? This is hard to tell.
However, there are a few cabin-style tents that are true double-layer, like this Coleman Octagon 98 Full Fly Tent. On the other hand, all tents with a full-coverage fly are obviously double-wall structures, and most of them are dome tents.
Advantages of using a single-wall tent
As you would expect, one layer weighs less than two layers, and it also packs better. So if you are a backpacker you will go for a lighter and more compact variant. Single-wall tents tend to be more compact, but this is not always so, more below. But the same holds if you are a mountaineer, such single-wall tents are easier to use, adding a separate fly may be tricky in very windy and exposed places.
Some of these single-wall tents have poles from outside, so this is what is described as a dry setup. If you pitch a tent when it is raining, everything inside will remain protected.
Disadvantages of using a single-wall tent
Almost always, you pay the price for the advantages mentioned above, this is related to condensation which is hardly avoidable in any tent, and in particular in a single tent.
Sagging: Dependent on the tent's material there will be sagging due to moisture. Without an inner layer to make a barrier, you will have a wet sleeping bag when it comes in contact with such wet shell walls.
In the case of a minimalist design, without a true frame, such tents can be weak in heavy winds and rain. This is when it is good to have an inner tent with a frame. But there are excellent mountaineering single-layer tents with strong external frames where you do not have any issue of this type. So it depends on the construction.
Advantages of using double-wall tents
This is about a combination of a waterproof but not breathable shell and a breathable inner layer. So why is this important? With an inner layer, even if it is a mesh, the condensation droplets from the underside of the fly will not go directly on you and on your sleeping bag. They will end up on the inner walls.
With an inner wall, your sleeping bag is better protected from the wet shell side walls.
With a separate fly you can have vestibules for storage.
A true double-wall tent is generally warmer. One great example is shown in the picture, the Big Agnes Mad House 6 Tent: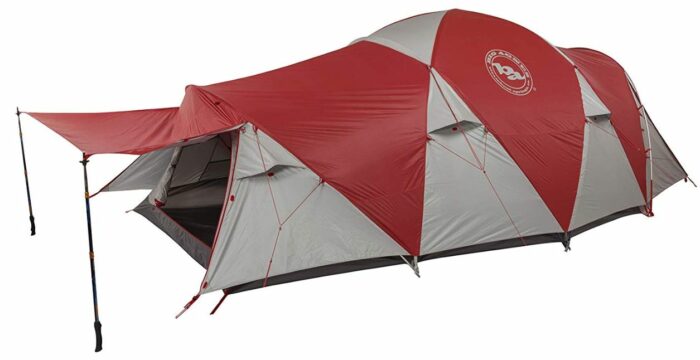 Disadvantages of a double-layer design?
Two layers usually mean the tents are less compact when packed, and they can be heavier. But this depends on how much you are ready to pay.
Vestibules are useful for storage, but they can be annoying when you have to get in and out. Sometimes it may be convenient to have a dry entry provided with a nice brim or an awning.
A full fly with vestibules must be staked to be functional. Such tents are almost never fully freestanding. But there may be situations where you cannot stake the tent, like on the frozen ground, on a rock, or on the sand.
If you want an ultralight double-wall tent this may cost a lot.
If the tent is with an inner frame and the fly goes over it, there is nothing of a dry setup here. When you pitch such a tent in rain, everything will become wet before you add the fly.
---
Specific types of single-wall and hybrid camping tents
There are two types of tents that could be placed in this group:
Canvas tents.
Tunnel tents.
Here is what makes them specific.
Canvas tents: Most canvas and polycotton tents on the market are built as single-layer tents. The reason for this is simple, these tents are breathable and the usual problems of condensation are reduced to a minimum. So these are the best possible single-layer tents, but these are car-camping tents and this is what makes them specific, they are always heavy and bulky, not designed to be carried anywhere.
But there are manufacturers that add an inner layer, so you can attach it from inside if you wish, for privacy, and to make the tent warmer. You can see a nice example in this Robens Klondike 6 Tent.
Tunnel tents: Many tunnel tents are built with a shell and with one or more inner tents. The stress here is on the shell tents with a sewn-in and sealed floor. The inner tents make such structure multi-room and hybrid single/double layer. What I mean by this is that you have a living room that is a single layer, while the sleeping areas are double-wall parts.
But you can also completely remove the inner tents and have a single-layer fully sealed shell tunnel tent. Want to see some examples of tents that allow for such versatility? If so, check these Vango Purbeck Tent 600, Coleman Tent Pinto Mountain 5 Plus, Wildcat Outdoor Gear Premium Family Camping Tent Bobcat 500, and many more here in the site. Note that the mentioned Wildcat tent is a canvas tent.
So you realize why these tents are specific, they are built as hybrid single/double-wall tents, but you can use them as single-layer tents by removing their inner tents/layers.
---
Frequently asked questions
Are double-wall tents warmer?
There is no simple answer here. In most cases they are warmer, but this depends on several factors and on the combination of features. Here are some:
The material of the inner tent. If you have a real breathable taffeta then this is an extra layer that makes the inner warmer. If this is a mesh, do not expect much difference.
The material of the shell tent. If you have a cotton canvas shell, this will insulate better than a synthetic tent with a mesh inside or even a taffeta. The best combination would be a cotton canvas shell plus an inner layer.
Presence or absence of vents. Vents are there to allow for air circulation and to reduce condensation. But as you can imagine, these are openings on the shell and you have cold drafts, so you have to find a proper balance.
Are single-wall tents more compact than double-layer tents?
It is easy to assume that one layer of fabric should take less space when packed than two layers. But there are big differences in the fabric materials. A cotton canvas tent or a polycotton tent is never compact, no matter if they are single or double-wall type.
There are also differences in the floor material. A thin floor will pack better but it is not durable. So if you have to add a footprint to protect the floor, then you will not save any space in your pack or in your car trunk.
Think also about poles. There are differences in their material, high-quality aluminum poles are always more compact than fiberglass.
Are single-wall tents lighter than double-wall tents?
The same holds here as for the packed size discussed above. This all depends on the materials.
What are the best environment and the best use for a single-wall tent, and what for a double-wall tent?
Regarding the environment/climate, typically this is about problems of condensation, so a single-wall tent might work well in a dry climate. The double-wall type will work well where it is humid.
Regarding the best use, if this is about carrying the tent in the pack, then you want something light and less bulky and this would be a single wall tent. But as mentioned above, you can have the same features in an expensive double-wall tent as well.
However, large family camping tents are usually a hybrid between the two groups, while with canvas tents you do not really need any extra layer.
Thank you for reading. Please use the comment box below in the case of questions or comments. Have a nice day.