This Wildcat Outdoor Gear Lynx 640 Air Inflatable Camping Tent Review is about one of the most amazing family camping tents on the market, a modular 4-room polycotton canvas tent with inflatable beams and lots more.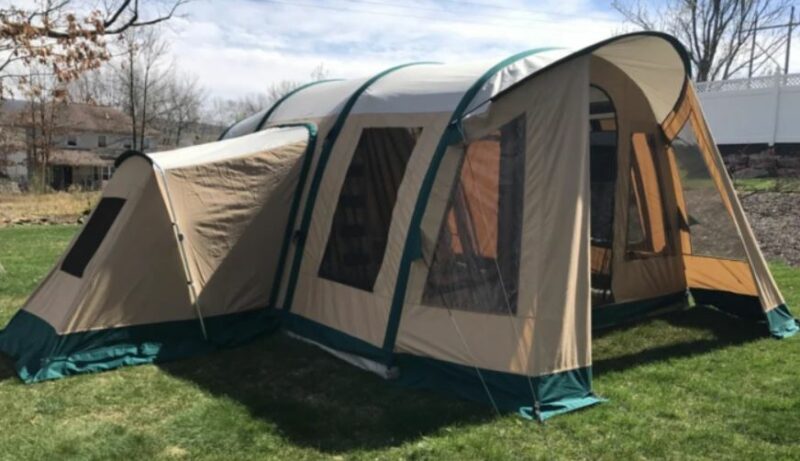 ---
Key features & benefits
Inflatable beams instead of classic poles.
Poly-Cotton canvas tent.
Breathable & waterproof.
Modular design.
Solid and mesh windows, 7 in total.
4 Rooms + porch.
3 Entry points.
E-cable port.
Tinted PVC windows.
Air pump included.
---
What this Wildcat Outdoor Gear Lynx 640 Premium Family Camping tent is about
I can say that this is one of the most impressive tents presented here in the site. By the shape, it belongs to the group of tunnel tents, but here you do not have poles, you have inflatable beams instead. So it is not freestanding and it must be staked down.
Note that the number 640 in the name means its length in centimeters. On the manufacturer's site it is under the name LYNX 640 Premium Family Camping Tent.
The tent has a maximum of 4 rooms plus porch, more about the rooms below. Here just a few words about the porch, this is a semi-enclosed area with windows and a large opening of 230 cm shown below. The porch is with a roof and a brim. The total area under the porch is around 3 m².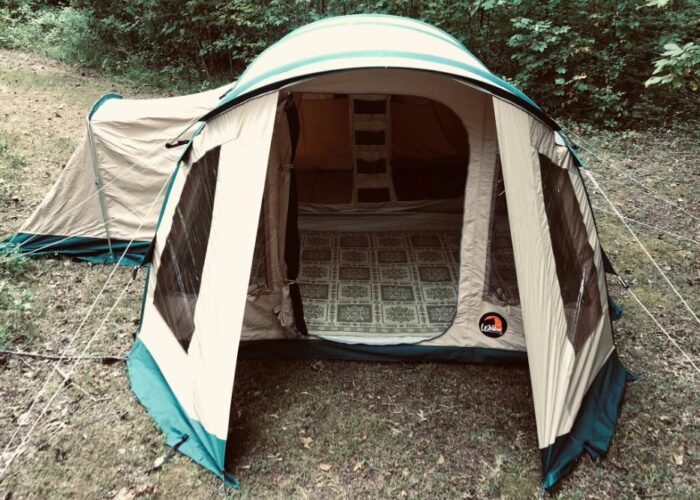 The picture above shows that the porch is deep and the area is well protected. So you can use it for sitting and cooking and this in practically all weather conditions.
Note also that the tent is quite tall with its 6'11" (211 cm) peak height, so you have a standing height in the bigger part of the tent.
The doors & windows
All the openings here are impressive just like the tent itself. See what this tent offers:
There are 3 external doors, and all of them are the double-layer type with mesh and with zippered panels for protection and privacy. The picture below shows the main front door under the porch when the panel is closed:

The view of the main door when the panel is on.

There are 4 windows on the living room, 2 of them are PVC with zippered panels for privacy, and two are double-layer with mesh and zippered panels. The picture below shows the panels on the windows.
The side room has its own extra two-layer window, you will see it in the picture below.
There are also 2 large PVC windows on the sides of the porch, they are visible in the picture above.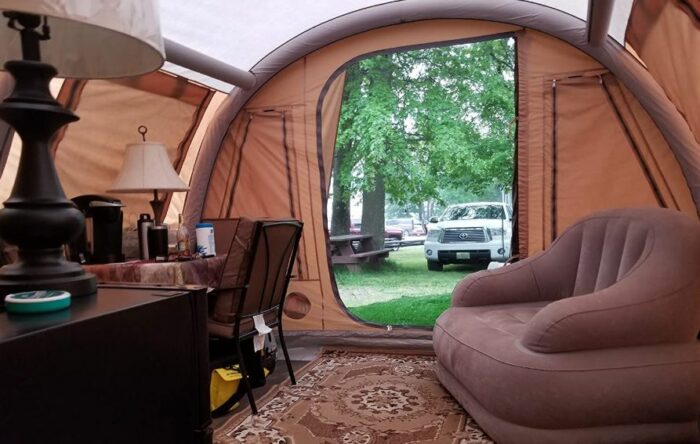 Because of all these features, you will see this tent mentioned in my separate text about best family tents for hot weather camping, but it is far more than that.
Air beams
The picture above shows also its massive air beams, as you realize they not only create the loops but you have also horizontal air beams on the ceiling. They are removable and attached with Velcro.
They inflate separately and you install them separately after the tent is up. Their purpose is to act as spreaders between the main Air Trusses that they come in contact with. More about air beams in the part about materials.
Modular design – what is this
There is an internal tent within the main shell and this is the sleeping area with two sleeping units. There is a removable divider between them so you can use it as one large sleeping room if you wish. Note that this inner tent has its own extra floor, so this area is with two floors in total. The picture below shows how it looks.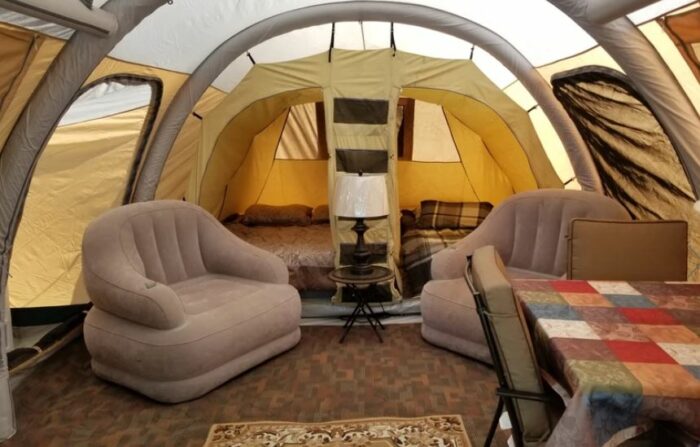 The main room is the living area and it has entry points from three sides, and it is with 4 windows in total.
There is also a side room that is zipped to the tent, and you can attach it on either of the two sides, this is indeed convenient dependent on the situation in the camp, so you can orient the tent as you wish. You can remove it completely when not needed. Its dimensions are 6 x 4 ft (1.83 x 1.22 m) so you can use it in various ways, as a room for kids, as a room for the toilet, as a room for storage, or as a dressing room.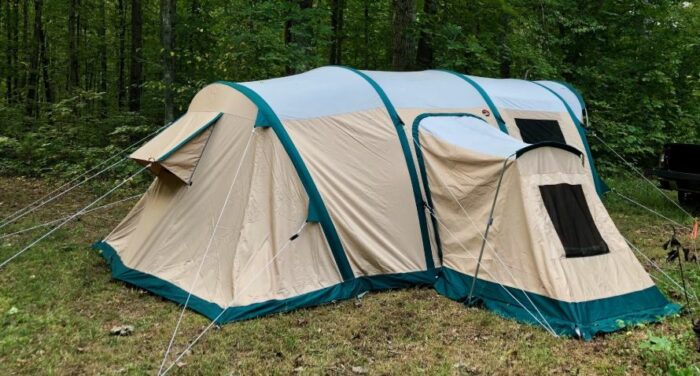 Note that this side room is fully floored and the floor is sewn-in and sealed, so you have complete protection here as well. The picture above shows how it looks, and you realize that it has its own large double-layer window as well. Its inner door is in fact one of the side doors of the shell tent, so you can use it with the mesh and with the panel.
So in total, you can have 4, 3, 2, or 1 room, and the side room is interchangeable. This all is behind the term modular design. I have included this tent it in my list of best tents with 4 rooms.
Ventilation
The only thing that I dislike a bit (apart from the high price) is the absence of floor vents. But this is a canvas tent and this should not be a problem in any case. On the other hand, the huge main door can always be kept with mesh because it is fully protected, and on the back you have a large vent visible in the picture above. So this will create great airflow in this tunnel configuration.
As mentioned earlier, both side doors are also full-size mesh so you can keep them that way when the sky is clear.

---
Who is it for
Space-wise, the declared capacity is 4-10 people. So let's see how this looks and what the tent can offer. Note that the numbers provided on Amazon and also on the manufacturer's site do not seem to add up correctly, so I use the official floor plan below and the numbers given there by the manufacturer. In any case, if you see some differences, they are immaterial, this is a huge tent by all standards.
The two asymmetric sleeping rooms have 4 m² and 3 m² of the area. Bedroom 1 is designed to fit a queen size air mattress, while the bedroom 2 is designed for a full-size air mattress. As mentioned above, the divider can be rolled up to create one large bedroom.
The living room is almost a square and it offers 9.9 m². The side room offers 2.2 m²; note that is not square as the picture below shows, see the numbers.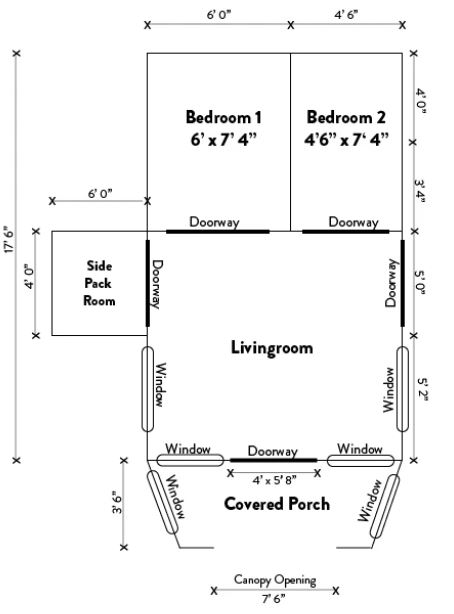 So the total fully protected area is a bit more than 19 m², and even in the case of 10 people this would give 1.9 m² per person, plus the area under the porch. As you realize this is a huge space and I have included this tent in my list of extra large family camping tents.
Now back to its capacity, how many people it can accommodate? The two sleeping rooms are 1.83 and 1.37 meters wide, so 5 people can sleep there.
The side room's dimensions are 1.83 x 1.22 meters, so two kids can sleep there easily. Then there is the whole living room which is fully protected and sealed, it can accommodate more than 6 people if necessary.
So to be realistic, for a family camping, I would say this tent can easily accommodate a family with 3-5 kids and you would still have plenty of space and full comfort. This is why I have put it in the group of camping tents for 7 people. But clearly, this tent can accommodate far more people.
I really like their statement about the capacity: "We don't classify our tents by the number of bodies that you can lay on a floor next to each other. We refer to that as the "sardine can" approach. Instead, we refer to our tents as two-bedroom tents, but you can sleep as many as you would like in a 200+ square feet of living space. There is plenty of additional room for gear storage both inside and outside of our tents."
Seasons-wise & climate-wise, this is a tent for all seasons and all climates. However, having no solid poles, you should never use it in an environment where the snow can be expected. This is why I would not describe it as a true winter tent.
Note also that the manufacturer is clear about this: they describe the tent as being a 3 season tent, for the same reasons as mentioned above. No doubt they are very responsible.
Some of the windows are solid and some are with mesh, but those with mesh have panels that can be fully closed. The mentioned mesh areas and the polycotton fabric make it great also for summer camping. This material will create a cool atmosphere and you will feel far more comfortable than in any synthetic tent.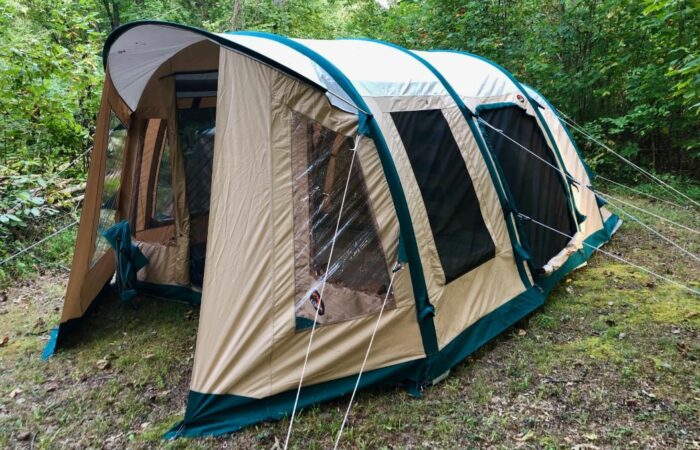 The picture above shows numerous guylines to keep the tent secure in windy conditions. Note that air-beam tents are the best options for such situations because those beams can never break. They will give way and bend under the pressure, but they will restore its shape instantly when the pressure drops.
Weight-wise, the tent is heavy, but this is normal in view of such a size and features. It weighs 108 lb (49 kg), so this is not for everybody to handle, bear this in mind.
The picture below shows how it looks in its carry bag that measures 38 x 18 x 17 inches (97 x 46 x 43 cm). So it is bulky when packed but this is normal for canvas tents. As you realize the bag is large and you can easily put everything inside.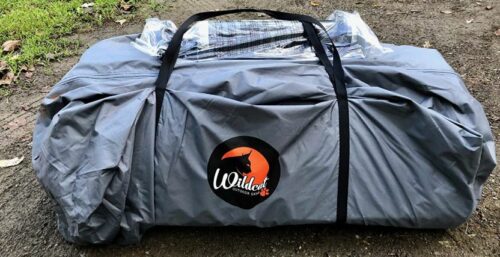 ---
Materials
The shell: They use what they call WOG Stable-Vent fabric, their own blend of cotton, polyester, and rip-stop material. They claim it is tested to provide exceptional waterproof specifications without sacrificing breathability. Namely, some canvas tents on the market come with coating and this makes them non-breathable, so this is what they wanted to avoid here.
They also claim that their poly/cotton fabric holds up well against Sun and its UV rays, and this should far outperform life expectancy of standard synthetic tents. They also write the tent is completely waterproof whatever this may mean. In my book, such a statement makes no much sense, pity they did not give some numbers.
The floor: So as mentioned above, there are two floors. The inner tent has its own 195 g PE material, and there is also the additional PE shell footprint. This polyethylene is plastic and it is normally highly waterproof, so ground protection is guaranteed here.
Both floors are sewn in and the shell floor is 7 inches (18 cm) high bath-tub style on the entire perimeter of the tent, you can realize this from the pictures where it is a different color than the shell tent.
Inner tent: This is a fully breathable cotton with just a bit of polyester to provide strength and years of service.
Carry bag: This is a polyester Oxford with ample room for everything.
Stakes: You have steel pins for staking out and galvanized stakes for guying out.
Air tubes: They use durable TPU tubes and they have 2 protective covers. The tubes require 6-7 psi for inflation using the provided air pump. Air Truss inflates in less than 60 seconds, all 3 tubes can be done in less than 3 minutes.
Note this: if you have a puncture in a tube, there is a patch kit provided. So you can unzip the air truss bladder from the sleeves and make a repair from inside the tent. They offer to send new bladder as a replacement at no charge.
They also claim that the tubes can keep the air without the need to pump up for 4-6 months. This is based on their experience after leaving out tents up all season in a campground near where they live. See how quickly the tent's tubes can be inflated:
Other features
Multiple storage pockets are available, see the picture below.
Power access: There is an e-cable port behind the water apron on the exterior of the tent, so it is fully protected.
Guy lines are reflective and adjustable, they store in their own integrated storage pockets as part of the structure.
Top-quality zippers.
A repair kit is included.
Windows are tinted to aid in keeping interior cool and to increase privacy.
Mesh is a high-quality no-see-um grade.
Gear rings along the beams, see the picture below, so here you can hang lanterns and other stuff.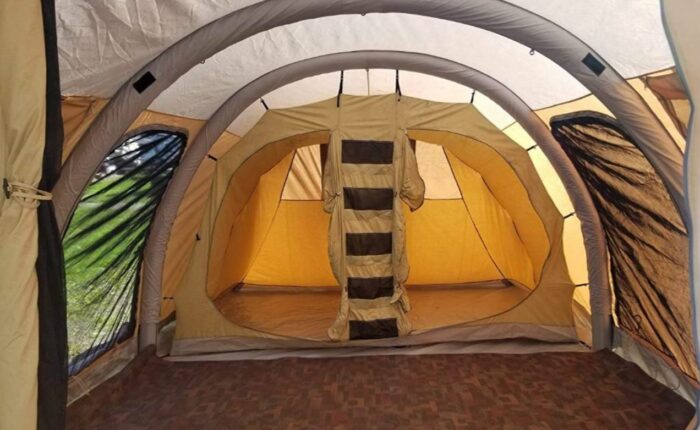 Warranty
Warranty: 1-year warranty.
Items covered under this warranty are stitching failures, Air Truss bladders, Air Truss valves, and zipper failures. The stitching that attaches the stake loops to the tent base is not included.
They claim that no matter what damages may have occurred, Wildcat Outdoor Gear stands by their customer and will help in any way they can. If they cannot warranty a damaged product, then offer a repair at a small fee, or they might send the customer a discount to a replacement product.
---
Specifications
Declared capacity: 4 – 10 people.
Weight: 108 lb (49 kg).
Dimensions: 20'12" x 16'6″ (640 x 503 cm).
Inner area: 207 ft² (19.2 m²).
Porch area: 32.3 ft² (3 m²).
Peak height: 6'11" (211 cm).
Packed size: 38 x 18 x 17 in (97 x 46 x 43 cm).
---
Final thoughts, rating, pros & cons
In the summary of this Wildcat Outdoor Gear Lynx 640 Air Inflatable Camping Tent review, I can only say that I am very impressed with this tent and its overall features. There is an interesting statement by the manufacturer where they describe it as heavy but this means durable and stable, and stable means comfortable. So they summarized it all nicely.
The tent is expensive but there is no doubt it is worth the investment. This is a structure built to last for years, warranty conditions are great, fully recommended. I have included it also in my lists of best tunnel tents for camping and best polycotton tents.
Please see how I rate this tent. The average rating is negatively affected by the weight, but I consistently use the same formulas for all the tents so it is easy to compare:
Wildcat Outdoor Gear Lynx 640 Air Inflatable Camping Tent
Note that there is yet another great tent from this brand here in the site, the Wildcat Outdoor Gear Premium Family Camping Tent Bobcat 500.
Please check under the category Canvas Tents if you want to see more options of this type, and also under the category Inflatable Tents where this tent belongs.
We add texts regularly so bookmark this site and visit occasionally. There is a subscription form below, so subscribe and receive our weekly newsletter. Have a nice day.