This Wildcat Outdoor Gear Premium Family Camping Tent Bobcat 500 is an impressive poly-cotton ventilated 4-room 4-season tent with solid windows, a huge awning, and air beams instead of poles.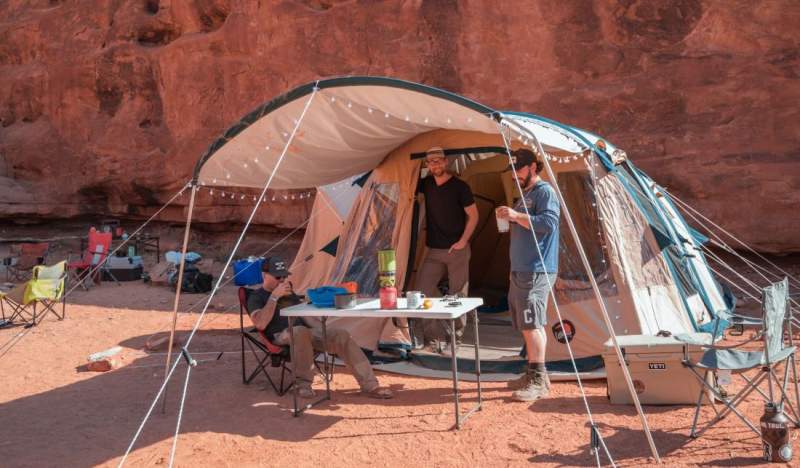 ---
Key features & benefits
Inflatable beams.
Poly-cotton ripstop canvas tent.
4 Rooms.
2 External doors.
7 Solid tinted windows.
2 Mesh windows.
3 Huge vents.
Huge removable awning.
Huge area.
E-cable port.
Great waterproof rating.
Breathable.
---
What type of tent is this Bobcat 500
Here you have an incredibly well-built and unique tent, the only one similar to it is its bigger cousin Wildcat Outdoor Gear Lynx 640 Air Inflatable Camping Tent. So this is a tent with air beams instead of classic poles. You can see them in the picture below that shows the inner view of the sleeping area.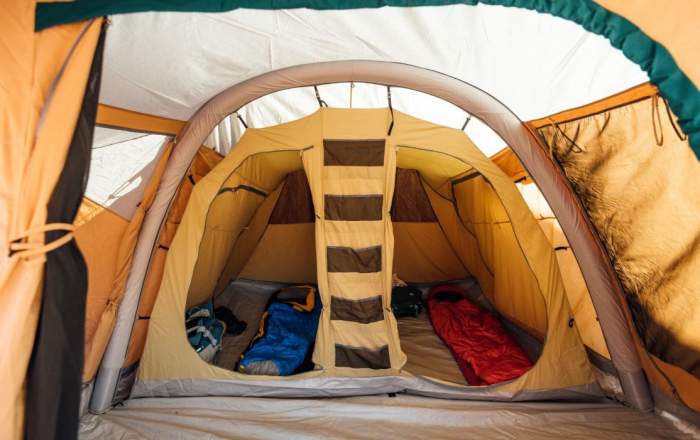 Because of these massive air beams, the tent is pretty much freestanding, and you could also describe it as an instant setup tent. You only need a pump to raise it from the ground, it is included in the package.
But the tent has a massive awning (the picture below) with two extra classic poles, so this part must be staked to be functional. Note that the awning is removable, this is convenient if you plan to use the tent in a windy place where it is better to have a more compact configuration.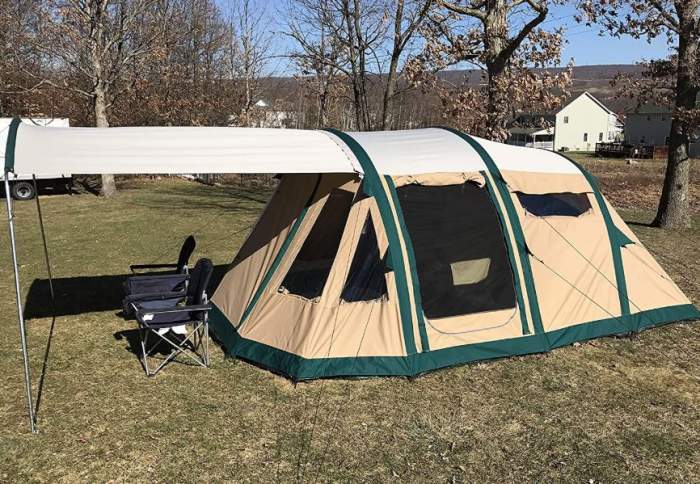 This awning extends the useful protected area, you will see in the floor plan below how long it actually is. It provides 66 square feet (6 m²) of the shade.
The rooms
So you have seen that there is an inner tent within the tent, it is attached to the shell. This is a sleeping area with 2 sleeping rooms. Note that this inner tent has its own floor. But there is a shell floor underneath it as well, and it is also fully sealed. You have two fully sealed floors in this area.
There is one smaller side room shown below. It is not particularly large so this is not for sleeping, it is square and its area is 16 ft² (1.49 m²), and it is fully floored and sealed.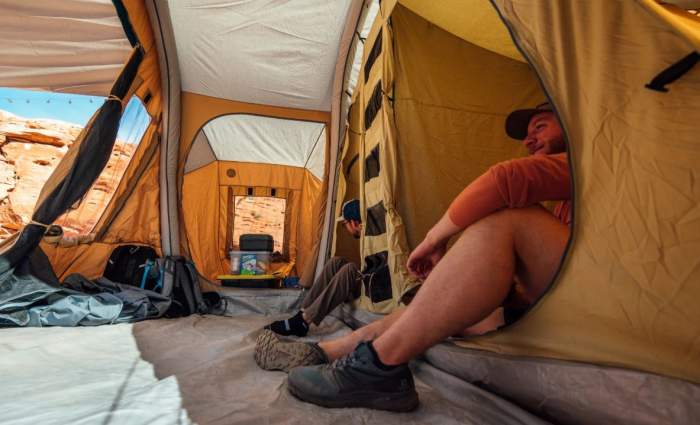 This side room is with windows on all the sides, see below more closely how this all looks. As you see, it is with solid windows on its three sides, and they are also with zippered shutters. Its inner door is huge and you can roll it up.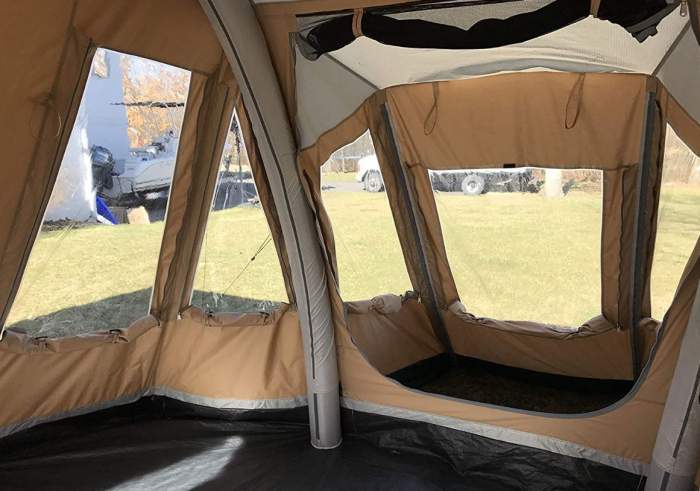 But the best part is the gigantic living room, its area is over 10 square meters. You have 4 solid windows here. The picture below shows the view inside through the main front door, but there is also a side door that is a 2-layer type with a full-size zippered mesh door plus a full-size zippered panel.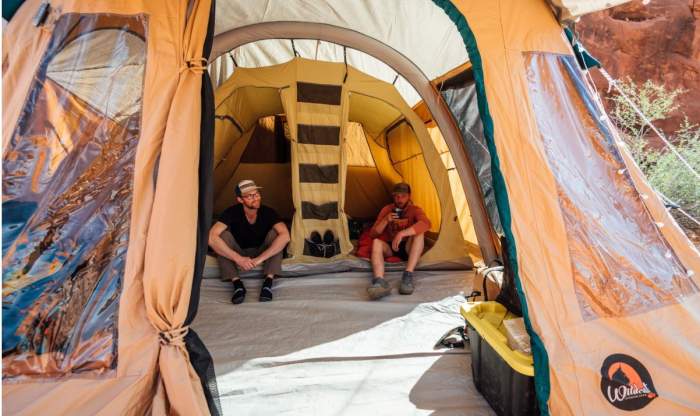 So the maximum number of rooms is 4. Note that you can remove the divider in the inner tent and have one large sleeping area, this would give you a 3-room configuration.
But the inner tent can also be removed completely and you have one extremely large fully sealed room, plus the small side room. So this is a modular design that allows for several different configurations with the rooms.

Ventilation
This is a polycotton material, breathable itself so this is the best you can have in any case. But there are several elements here that improve ventilation. The inner tent is separated from the shell, so there is a large gap for airflow around. The side door is with full mesh.
There are also two mesh windows on the sides, one is visible in the picture below. Note that the inner tent is with large zippered side windows that match these vents, see the picture: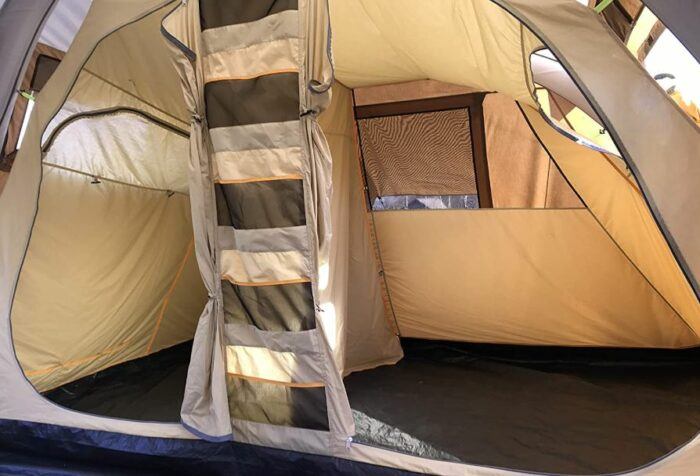 But they have added several vents here, one large is on the back, see the picture below. Two large vents are above the mentioned side windows. Pity they did not add some floor vent as well.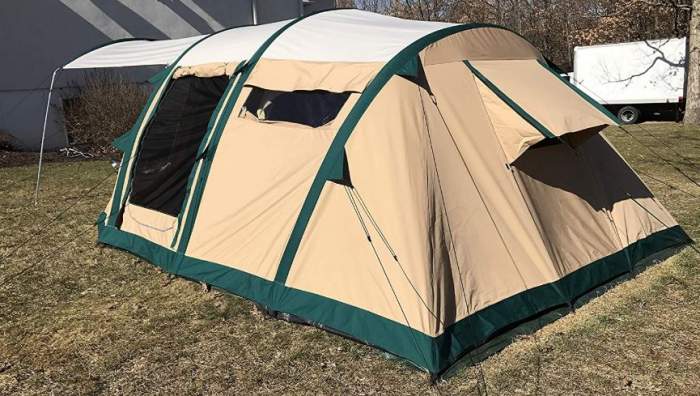 ---
Materials
The fabric
They use their own blend of cotton and polyester. This is a rip-stop material built to be waterproof without sacrificing breathability. This is one of the best materials used for the tents currently on the market, it creates a cool and pleasant atmosphere. They claim that this poly-cotton fabric holds up well against UV rays and it has a longer life expectancy than polyester tents.
The inner tent is fully breathable cotton with a smaller amount of polyester added for strength. Top-quality zippers are used here that work without snagging. The floor is a 195 g polyethylene and the shell floor is also polyethylene. So you have the best possible protection from the ground.
Air beams
They use what they describe as Air Truss, durable TPU Tubes with 2 protective covers to keep the tubes safe. In the case of a leak, the tubes can be accessed and repaired with the included repair kit, and this can be done from the inside of the tent so you remain protected from the elements.
The air tubes require 6-7 psi for inflation using the provided air pump. Each of them inflates in less than 60 seconds. To deflate, simply unscrew the air valve and the tubes with collapse.
Other features
The storage bag is Oxford fabric large enough to store everything inside, see the picture.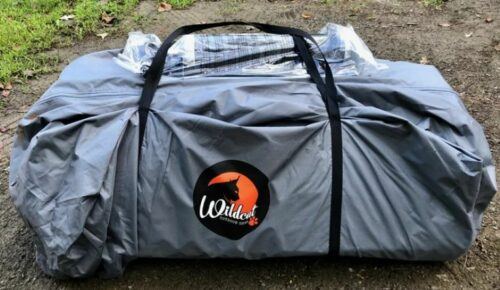 Stakes are a galvanized steel.
A power access port is behind the water apron on the exterior of the tent. It sheds any water away from entering through the access point.
Guy lines are reflective and adjustable. They conveniently store in their own integrated storage pockets that are permanently part of the structure.
A manual air pump is included. They do not recommend electric DC air pumps as they could cause over inflation and damage to the tubes.
A few more details can be seen in this short video:
1 Year Product Warranty
The warranty covers stitching failures, Air Truss bladders, Air Truss valves, and zipper failures. The stitching that attaches the stake loops to the tent base is not included.
The items that are not covered under a manufactures warranty (poles, shock cord, and spring links) are seen as a wear and tear item, much like tires on a car.
They stress that no matter what damages may have occurred or why they may have occurred, Wildcat Outdoor Gear stands by their customer and will help in any way they can. If they cannot warranty a damaged product, they will offer a repair at a small fee, or send our customer a discount to a replacement product.
---
Who is this Bobcat 500 Tent for
Regarding the area, the declared capacity of this Bobcat 500 Tent is only 5 people. But look how incredibly large space you have here. The two sleeping rooms have 73.2 ft² (6.8 m²). The small side room has 16 ft² (1.49 m²), the gigantic living room has more than all these three together, so the total inner area is 202 ft² (18.8 m²).
The larger room is designed for a queen size air mattress and the smaller for a full-size air mattress. The living room offers full protection with its sealed floor. So this is enough to easily accommodate twice as many people as they declared. The picture below shows its floor plan.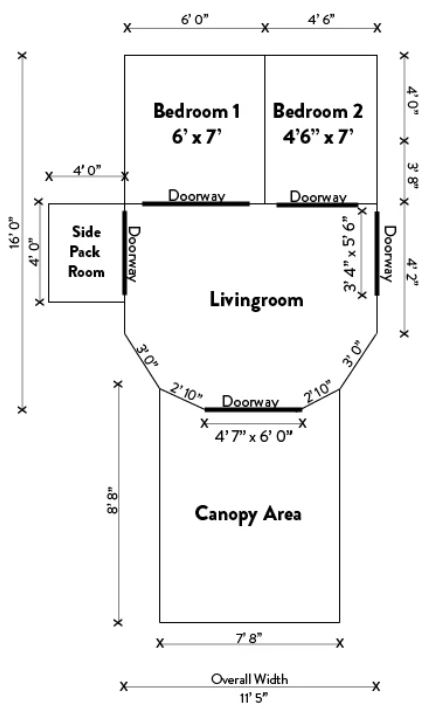 Regarding seasons & climate, there is no doubt this tent is suitable for all seasons and for all climates. It is breathable yet waterproof, and it is nicely ventilated. This makes it great for warm-weather camping. The air beams cannot be broken, if pressed by the wind they will bounce back instantly as the pressure drops.
In a cooler environment, you have those numerous solid windows, and all vents can be closed. You should only avoid places where snow is expected, these air beams are not the best option for vertical pressure caused by the snow accumulated on the roof.
Regarding the weight & packed size, this is not where this tent shines. It is both heavy and bulky, but this is a big tent and with so many features that the weight and packed size are justified. In any case, this is a tent for places with a car access.
Regarding the price, the tent is very expensive, but this is a top-quality product and built to last for many years.
---
Specifications
Declared capacity: 5 people.
Weight: 88 lb (40 kg).
Total dimensions: 24.7 x 11.5 ft (753 x 350 cm).
Inner area: 202 ft² (18.8 m²).
Inner area per person: 40.5 ft² (3.76 m²).
Peak height: 79.92 in (203 cm).
Packed size: 38 x 18 x 17 in (97 x 46 x 43 cm).
---
Final thoughts, rating, pros & cons
In the summary of this Wildcat Outdoor Gear Premium Family Camping Tent Bobcat 500 review, I would point out again that this is one of the most impressive tents of this type on the market. When I say 'this type' I mean both inflatable tents with air beams and canvas tents. These are the two most important features of this tent, but it has them many.
As a multi-room structure, it offers versatility in the ways of organizing the inner area. So in spite of its 5-person capacity, it is suitable for larger families and it can easily accommodate 10 users and offer full protection and comfort in any weather conditions. Fully recommended. It is included in my list of best inflatable canvas tents and also in my list of best polycotton tents.
Please see how I rate this tent. The same criteria and formulas are applied to all the tents here so you can easily compare, but this also affects the average rating:
Wildcat Outdoor Gear Premium Family Camping Tent Bobcat 500
Do not miss checking also its bigger cousin Wildcat Outdoor Gear Lynx 640 Air Inflatable Camping Tent.
Note that you can save 5% for the tents of the Wildcat company (which will be $60-$85 on average) if you use this Promo Code: FamilyCamp5 with the purchase directly from them through the link above.
For more options check under the category Inflatable Tents and also in Canvas Tents. If you want something very different but still canvas, check this Guide Gear 10 x 12 Canvas Wall Tent.
Please bookmark this site and visit again, this is how you will stay informed, we add texts here regularly. Thank you for reading and have a nice day.