In my selection of the best polycotton tents presented here you have incredibly reliable shelters designed for all seasons, with classic poles and also with air beams.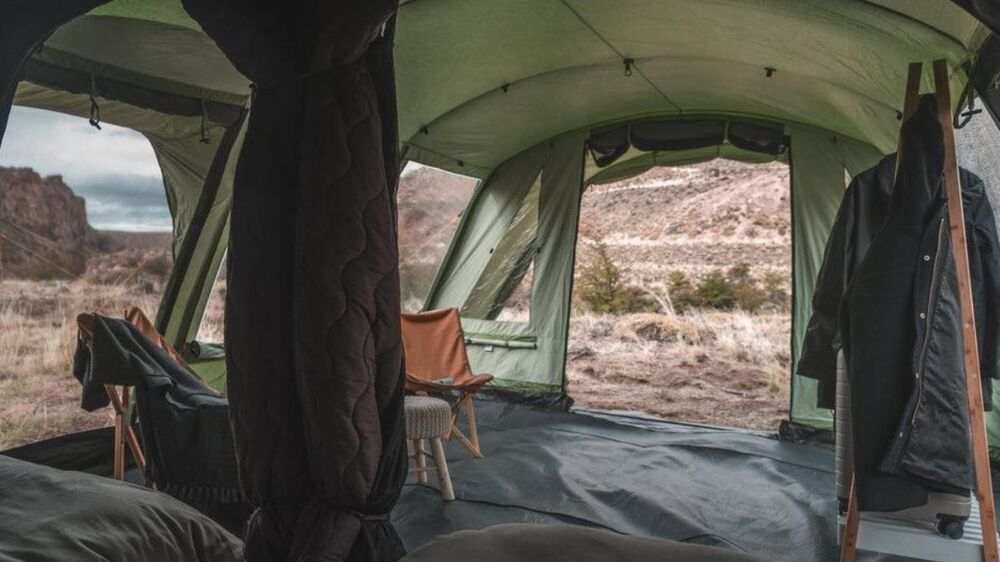 Polycotton tents are built from a blend of cotton canvas and polyester. Such a material includes best features of both fabrics, so they are durable and breathable. These tents are the closest you can get to have a true 4-season family camping shelter.
But they can still be heavy and bulky, so bear this in mind, and they are also usually quite expensive. The list below includes tents in a variety of styles, and some are with a unique shape and with multiple rooms.
If you need a tent with an integrated pipe jack, no worry, you will see it here. Did you know that there are insulated tents on the market? Well, some of the best examples of this type you will see here.
My list of best polycotton family camping tents
Here is my list of the tents ordered by the floored area:
Here I give only a few basic details here, so please follow the links to my full texts.
---
1. Robens Klondike Tent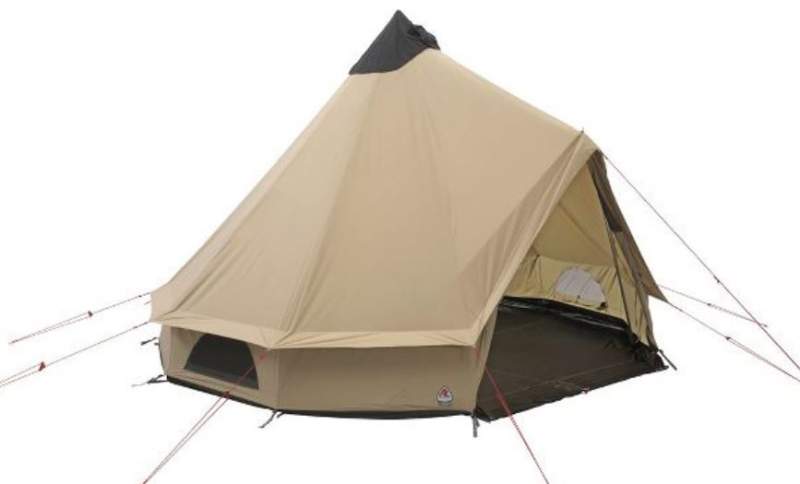 This Robens Klondike tent is from a Danish brand that builds excellent tents that are widely available on the EU market. From the picture you realize this is a bell-shaped tent, and this is also a true 4-season tent.
It is here because of its poly-cotton fabric and they claim that they did not use any coating so the tent is breathable. The declared capacity is 6 people, and for this it offers 127 ft² (11.8 m²) of floor area. The tent is not freestanding.
You have a standing height in its bigger part. It comes with an integrated stovepipe port on the top. There is also a floor zipper that you can unzip and roll one part of the floor to the side when you put a stove inside.
But it all floor is also zipped to the tent, it creates a bathtub structure so the zipper is above the ground. This means you can unzip it and use the tent as a canopy only.
It is nicely ventilated with its 3 floor vents, they are so large that they look like windows, and they are with mesh and canvas. Note that there are also 2 top vents with an integrated pulley system so you can open and close them from inside.

You might want to know that they have yet another bigger tent from this series under the name Robens Klondike Grande Tent.
---
2. Robens Aero Yurt 8 Man Airventure Air Tent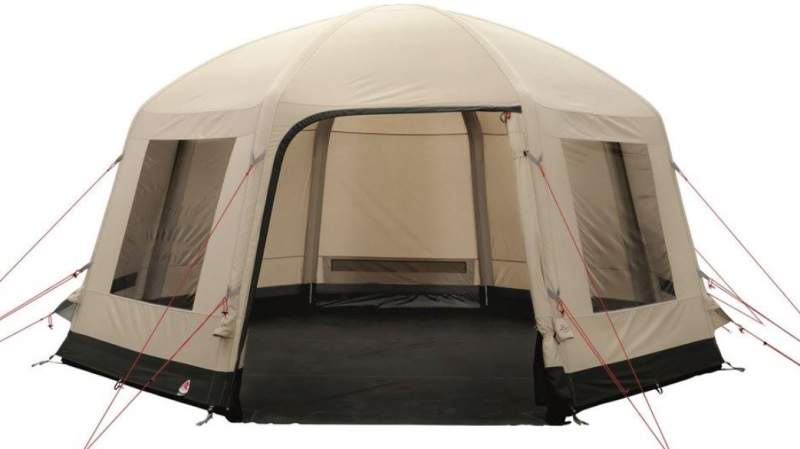 Here you have a unique and impressive tent. The fabric is a breathable poly-cotton blend with 35% cotton and 65% polyester, and this is a ripstop material. The floor fabric is 210T Oxford polyester with a 10000 mm waterproof rating, and this is a bathtub design.
The tent is supported with 8 air beams, and it is fully freestanding. The peak height is impressive 106.3 inches (270 cm), this is why I have included it in my list of very tall tents.
Regarding the beams, they use an ingenious design here, so all 8 beams can be inflated through one single valve. Now you understand why I have included it also into my list of best inflatable tents.
The floored area is 181 ft² (16.8 m²) and this its official capacity is 8 people. Please follow the link to read more.

---
3. Crua Cottage Premium Quality 4-6 Person Family Tent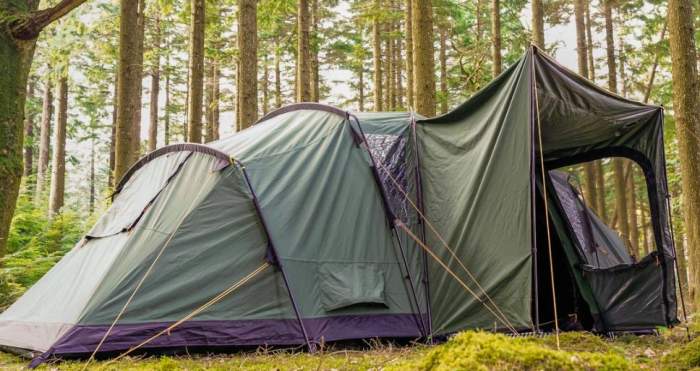 Here you have yet another great example of poly-cotton tents. It is breathable and waterproof, built for all seasons and all climates.
You have 4 rooms in this tent, three rooms are are with a sewn-in and sealed floor. There is yet another which they call the Sun Room that is without floor but fully functional and protected as a room. In addition to all this, the tent has a large porch.
One extra feature here is that two of the rooms are insulated bedrooms, so this is why I have included it also in my list of best insulated tents. These rooms are also dark rest rooms because the light is completely blocked.
Regarding the shape, the tent is a mix of a cabin-style and a tunnel-type tent with an incredible peak height of 8.2 ft (250 cm). So I have good reasons to have it included in my list of very tall family camping tents.
Note that it is heavy, the weight is 172 lb (78 kg). But the total floor area is 188 ft² (17.5 m²), and you have plus the mentioned Sun Room area of 67.3 ft² (6.25 m²).

---
4. Wildcat Outdoor Gear Premium Family Camping Tent Bobcat 500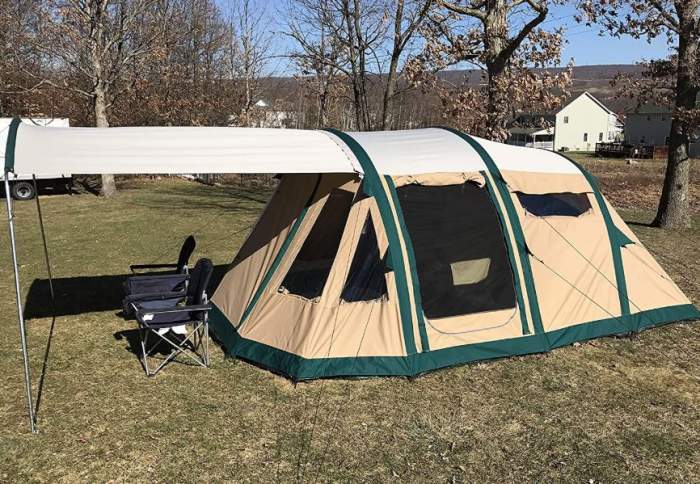 This Wildcat Outdoor Gear Premium Family Camping Tent Bobcat 500 is from a US-based brand. If you follow this tent industry, you will know that there are no many of them.
The fabric is a very durable and breathable poly-cotton ripstop canvas and this is why the tent is here. But this is a tent with many great features as well. So here you have inflatable beams instead of poles, and I have included it also on my list of air beam tents. The tent has 4 separate rooms.
There are two doors and seven solid tinted windows, plus 2 mesh windows. The tent has 3 huge vents, so this with its breathable fabric makes it nicely ventilated.
In the picture above you can see its huge and removable awning. You also have an E-cable port. The total area is 202 ft² (18.8 m²), so it deserves to be included in my list of extra large family camping tents.

---
5. Wildcat Outdoor Gear Lynx 640 Air Inflatable Camping Tent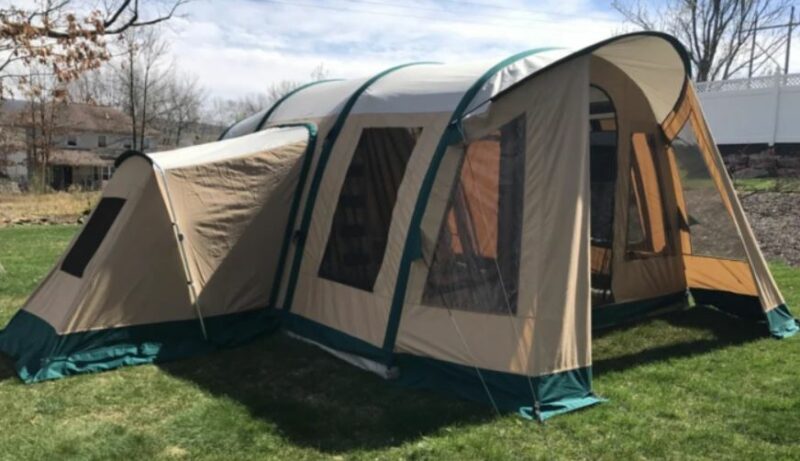 The shell fabric of this tent is a top-quality blend of cotton and polyester, a this is a rip-stop material. The tent is supported with air beams instead of classical poles, and this is why it is added to my list of best inflatable tents.
There are 4 rooms, and they include a large living room, two sleeping rooms, and a very specific side room visible in the picture above. You also have a protected porch.
Regarding the capacity, it can easily accommodate up to 10 people. The area is 207 ft² (19.2 m²) so this tent is included also to my list of extra large tents. Note that it is heavy with its 108 lb (49 kg), but this is expected in view of its size.

---
6. Crua Loj 6 Person Tent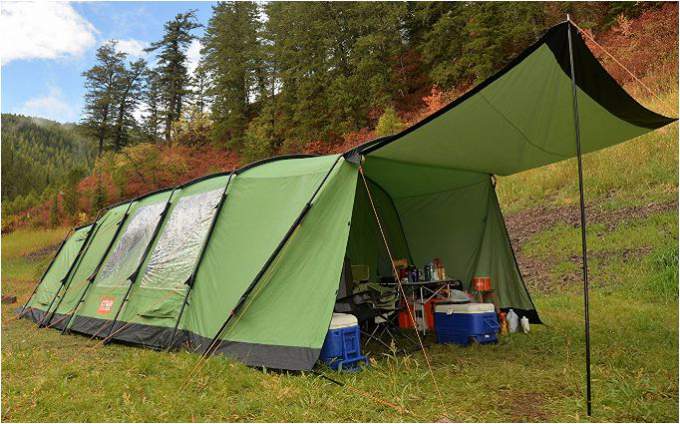 This tent is again something exceptional and it is impossible to find anything on the market that could be compared with it.
I would start with the fact that it is an insulated tent. Its R-value for bedrooms is 4. This is a huge 3-room structure, and you also have a fully enclosed porch with a vestibule.
There are 3 external doors and 2 inner doors. The tent is supported with a steel frame and the material is breathable. The fabric of the inner tent is a 65/35 ratio poly-cotton, and the outer shell is a laminated poly-cotton 80/20.
The tent comes with a footprint included and with an insulated carpet. The bedrooms are dark rest design and you also have sound insulation. Note that there are 6 PVC windows here.
The total inner protected area is 235 ft² (22 m²) and the porch area is 65 ft² (6 m²). The only difference between the two is that the porch is without the floor. Please follow the link for more.

---
Final thoughts
So this was my selection of the best polycotton tents, and these are all top-notch products from renown and reliable brands. This list will be updated whenever I find good tents on the market worth adding here. So bookmark this page and come back from time to time.
You have plenty of options to choose from. There are single and multiple room tents here, and you also have classic poles and inflatable beams as options.
These are all true 4-season tents, but there are big differences among them. So you have insulated tents here, and there is also a tent that comes ready to put a wood burning tent stove inside.
Polycotton tents are pleasant and breathable, but bear in mind the weight given for each of them here in the text. They are heavy, and when they get wet they become even heavier and they may be difficult to dry.
So these big tents presented here are attractive, but they may be hard to handle when they are supported with classic poles. This is what makes those with inflatable beams more attractive. One person can set such a tent with ease. But moving such a tent from one place to another is a different story.
Thank you for reading, please let me know if you think I have missed a good tent, or if you have any question or comment. There is a comment box below. Subscribe to my weekly newsletter and stay informed, there is a subscription form below.