Guide Gear 10 x 12 Canvas Wall Tent is a very tall breathable cotton cabin-style floorless structure built for all seasons, and with an integrated pipe jack.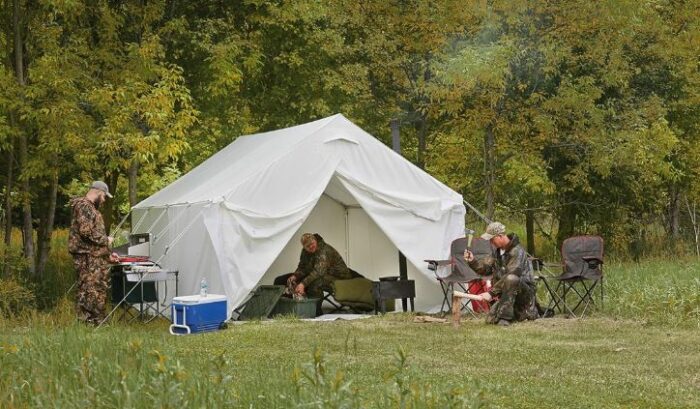 ---
Key features & benefits
Cotton canvas breathable material.
Integradted pipe jack.
Framed tent.
Floorless.
Very tall.
For all seasons.
---
What is in the name
The words 'wall tent' are most likely used to describe the fact that you have a real cabin-style tent with completely vertical and tall walls. This is a fully freestanding structure (but only after you order the frame separately), and this means that the frame is self-supportive and freestanding itself. You will realize this from the video below.
You might see this tent also at some places under the name Sportsman's Guide 10 x 12 Tent, but this is because Guide Gear sub-brand is owned by the Sportsman's Guide company. In the video from the manufacturer below they call it also Guide Gear Outfitter tent. So just to know, this is all about the same tent.
The tent is a very simple structure, with one zippered door on its narrow side, no mesh here, and it is 218 cm tall. The door has extra metal clips to reinforce the structure and to protect the zipper in the case of strong side winds, and you have them 3 on both sides, from outside and from inside.
There is one small window on the opposite side that has both mesh and a zippered panel, see the picture below. The dimensions are 23 x 17 inches (58 x 43 cm) and it is quite high above the ground, not sure why they designed it that way.
The inner area is a simple one-room configuration without a floor, but with an inner floor flap, this means that the walls simply extend inside of the tent for some 30 cm or so. The floor can be ordered separately (more below), and then it will overlap with the mentioned flap. The picture below shows how the tent looks with the floor in place. There are inner D-rings above the ground where you can attach the floor.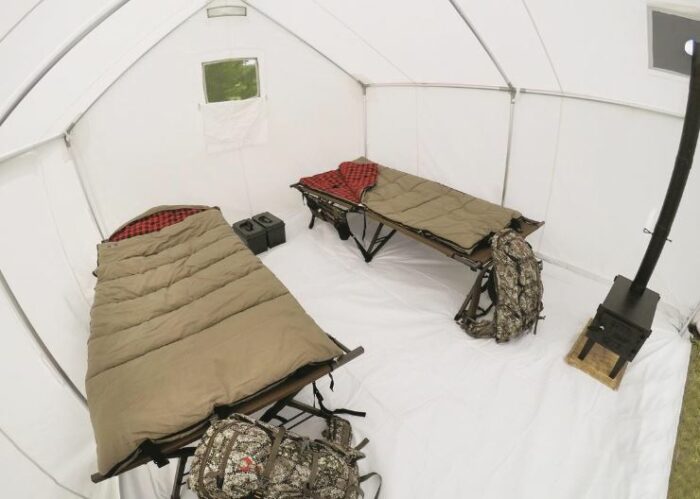 So the tent is just a shell, but a high-quality cotton canvas structure, and you have to order the frame separately or you can build it yourself. The other accessory elements are not compulsory (you will see them below), but they transform the tent in a very pleasant environment.
Stovepipe jack: So this is a bonus included here, the tent is ready to use with a wood-burning stove. The opening is 5 inches (13 cm) and it is 24 inches (61 cm) from the wall. There are many of the stoves presented here in the site, have a look here.
This is a very tall tent with a maximum height of 8'3″ (251 cm) along the central roof pole, so I have included it in my list of extra tall tents.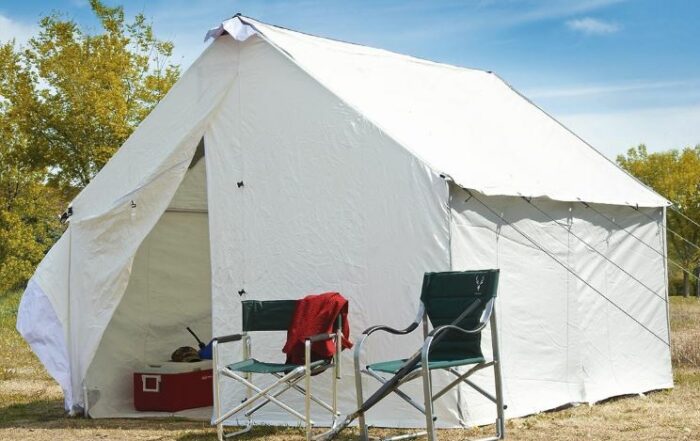 The fabric is a fire-retardant 10-oz canvas cotton canvas and as you realize from the pictures it is a white canvas. If you would rather have something darker, check in the group of canvas tents here in the site. In any case, I have included it in my list of best canvas camping tents.
Ventilation
This is a breathable cotton canvas tent so ventilation is naturally regulated and you should have no issues with condensation. But they have added two roof vents, plus you have the small mesh back window. You might expect a bit of vertical draft as well because the tent is without the floor.

Please see a bit more in this promotional video by the brand:
---
Who is it for
Seasons-wise, this is a strongly built structure and it can withstand a lot of force from any side. You can use it in all seasons and in all climates.
The frame which they provide separately is strong, and they have added metal triangular tie-down elements on the eve, you have them 5 on each side and they are also on the two narrow sides of the tent, so you can secure the tent against the winds. Similar D-rings are also at the tent's base, you will see them in the video below. There are 12 inches (30 cm) plastic stakes included in the package.
You have the pipe jack integrated so you can use a wood-burning stove inside. Note that they have their own stove (presented in this site), the Guide Gear Outdoor Wood Stove and you can use it here. I have included it in my list of cold weather tents for camping.
On the other hand, this is a breathable canvas, and you also have roof vents, so the tent can be used in a warm climate as well.
Capacity-wise, they do not declare officially how many people this tent can accommodate. But you have 120 ft² (11.2 m²) of the inner area and the capacity will depend on using it without the stove or with the stove, with cots or without cots. Note that they have some of the largest cots on the market and you can use them in this tent.
So I would say with a stove and cots you can have 3 people inside very comfortably, and without the stove up to 6 people or so.
Weight-wise, as you would expect from a canvas tent, this is a heavy structure so the shell alone weighs 53.3 lb (24.2 kg). But this is all normal in view of the durability of the materials used here.
The packed size is also huge, the tent measures 32 x 15 x 14 inches (81 x 38 x 36 cm) when packed. So this is a structure for car camping and you would not want to change the camping place frequently.
Please see more in this video:
---
Specifications
Weight: 53.3 lb (24.2 kg).
Dimensions: 12 x 10 ft (366 x 305 cm).
Area: 120 ft² (11.2 m²).
Peak height: 8'3″ (251 cm).
Side walls height: 5′ (152 cm).
Door height: 7'2″ (218 cm).
Packed size: 32 x 15 x 14 (81 x 38 x 36 cm).
---
Accessories
The frame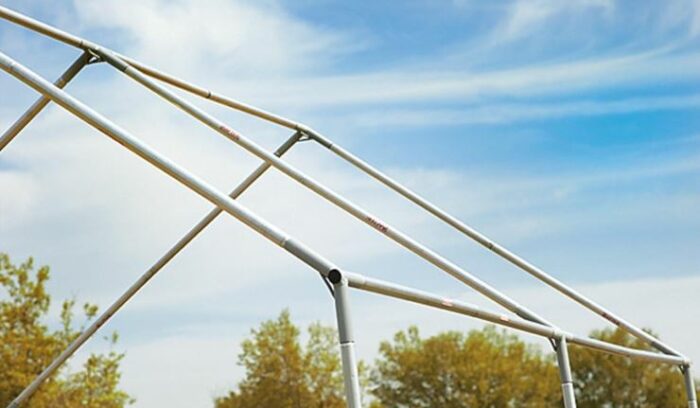 Strictly speaking, the frame is not an accessory, you cannot use the tent without it unless you plan to make your own frame. This is a durable aluminum frame, corrosion-resistant, and with a tool-free assembly. The tubes attach easily to the 3-way and 4-way hub elements, and they are with pop-up buttons that lock them in place.
The frame weighs 38 lb (17.2 kg). You can order it from Guide Gear and on Amazon in this link:
The Guide Gear Wall tent floor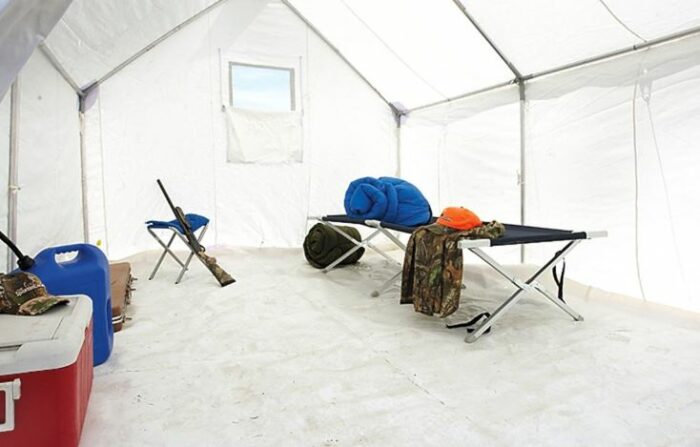 The floor is a 100% heavy-duty PVC construction and its size is 12 x 10 ft. The weight is 19 lb (8.6 kg). You can order it in the link:
---
Final thoughts & rating
In the summary of this Guide Gear 10 x 12 Canvas Wall Tent review to stress again that here you have a high quality and very durable tent. It is floorless so you do not have full protection from crawling insects, bear this in mind if you plan to use it in a warm-weather environment.
The frame is separate so when you add all together this is an expensive structure but it is worth the investment. Fully recommended.
My average rating is low but this is because I use the same rating formulas for all the tents here in the site, this is how you can compare easily. I am not really impressed with the single small window.
Please see around if you need more options, this site is all about tents and you will surely find something for you, in particular check in the Canvas Tents category.
We add texts here regularly, so bookmark this site and check occasionally. Thank you for reading and have a nice day.