The Zempire Aerodome II Pro 6 Person Tent is an impressive large 4-room plus porch structure with incredibly strong fabric, great ventilation and a high waterproof rating, tinted windows, and supported by air beams.

---
Key features & benefits
4 Rooms + porch.
Storage room.
Inflatable beams.
Incredibly large area.
Incredibly strong ripstop fabric.
Huge waterproof rating.
Awning configuration.
Tinted windows.
Excellent ventilation, 15 ventilation points.
10 Windows & skylight windows.
---
What this Zempire Aerodome II Pro 6 Person Tent is about
I would start with the II in the name, this means two inner tents (pods), they have an option with three inner tents as well. Note that this tent has been on the market for several years already and it seems there are some minor differences when you compare this latest version with the previous tent.
As for the word Pro, this implies a series with an incredibly high waterproof rating and fabric with a strength that is rarely seen, more below. This New Zealand's brand is well known for the high waterproof rating, and here you have it at its best.
The shape is very interesting as you realize from the floor plan below. The tent is T-shaped and you have a central dome space that extends into three sides supported with long loops. So it is a dome-tunnel type hybrid.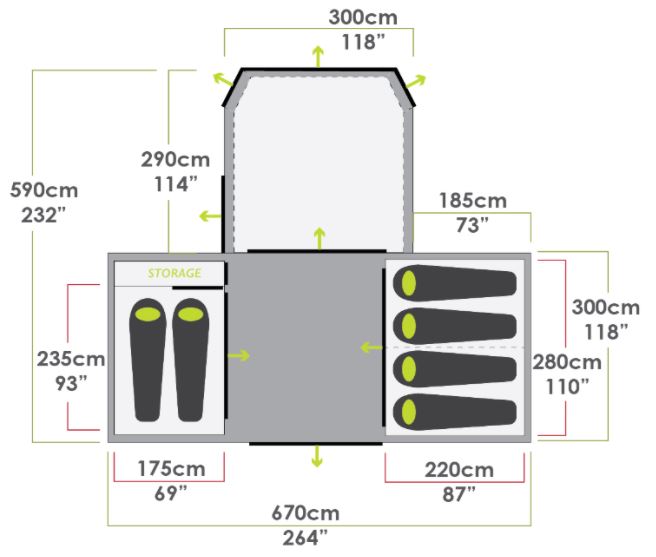 The part on the top is the porch, note that it is fully closed and protected so it is like a floorless room. The dark gray area in the center is the living room, and on the sides you have two inner tents that represent bedrooms, the one on the right has a removable divider. Observe that there is a separate storage space on the left.
So in terms of rooms, I would describe it as a 4-room tent plus porch, and it is included in my list of best 4-room tents. Note also that it is very tall so you have a stand up height almost everywhere. The picture below shows some of its venting places and the height.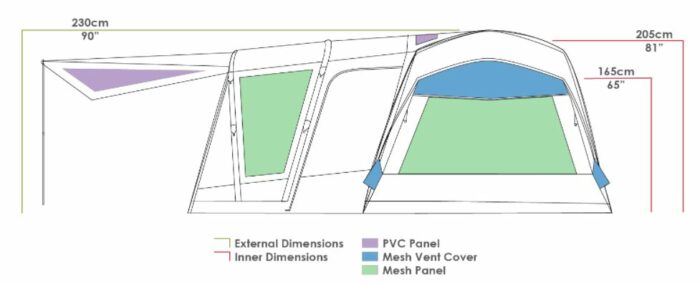 The doors
The tent can be described as a 3-door configuration, but there is more to this. The positions of the doors are shown by yellow arrows in the floor plan above, so you have one on the porch, one on the rear side, and one narrow side door on the porch.
The main front door allows for a huge awning with the help of three aluminum poles that are included in the package. The picture below shows how much it extends the covered area in front of the tent.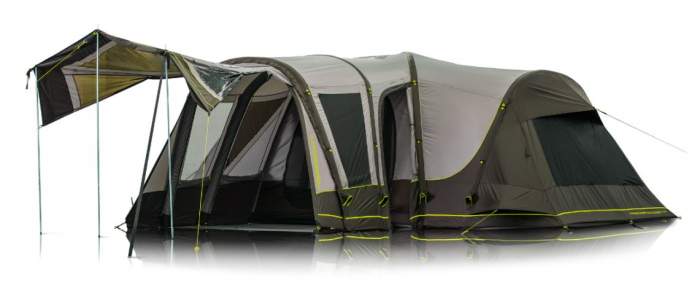 But when you keep its large flap closed, you can still create two narrow doors on its two sides, see the picture below. So you realize that the number of doors depends on how you use the main porch door. In any case, the organization is excellent here.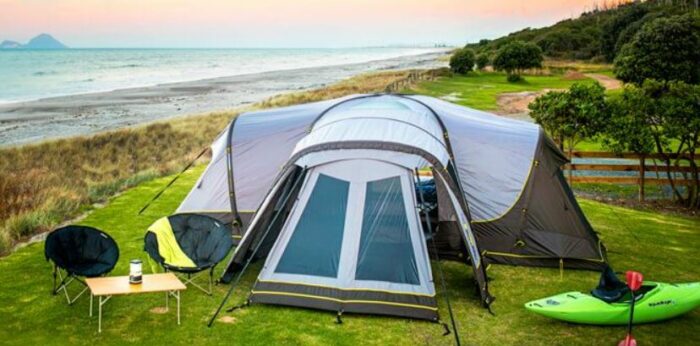 You can use only one of those front narrow doors, and you can combine it with the side door, see how this looks: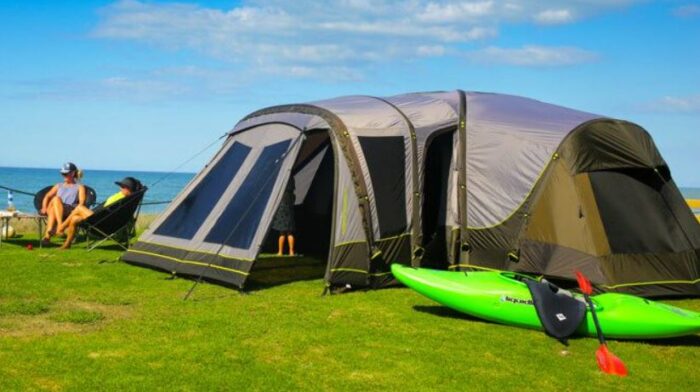 Though the side door on the porch is usually with many guylines in front of it, so it is not very useful if you properly secure the tent for windy situations.
Below you can see the tent from the rear side, this is opposite to the position of the porch. So you see the large rear door which is with mesh and panel.

The picture below shows this rear door and the front door on the porch, so you get some idea about the long tunnel profile here, with huge mesh on both sides for plenty of air flow: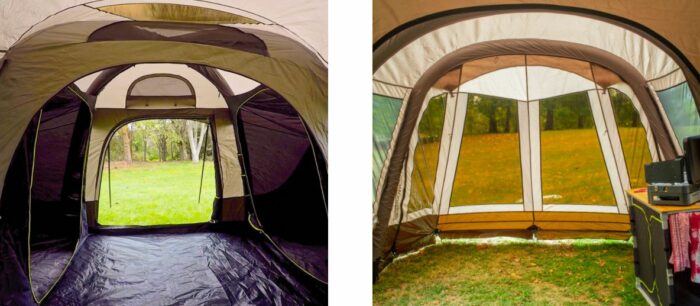 The windows
They write that the tent has 10 windows, but I guess this depends on how you count them. Note that some of the windows have a solid tinted part plus a mesh part for ventilation, both are triangular in shape. The picture below shows the triangular tinted PVC part and the mesh part is covered with the shutter.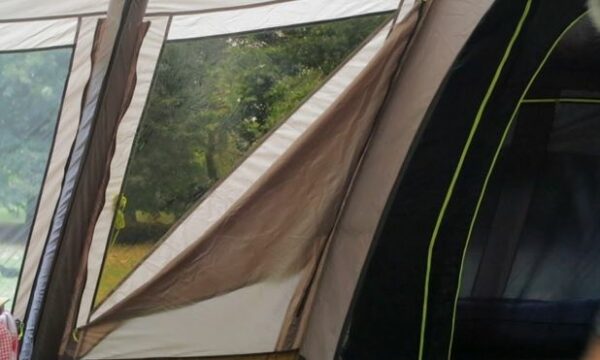 Both parts can be closed with inner shutters for privacy. So you can adjust all this as it suites you best. Even these shutters are properly designed so you have zippers. This is the same design as in their Zempire Aero TL PRO Series Tent. Note that you also have tinted skylight windows.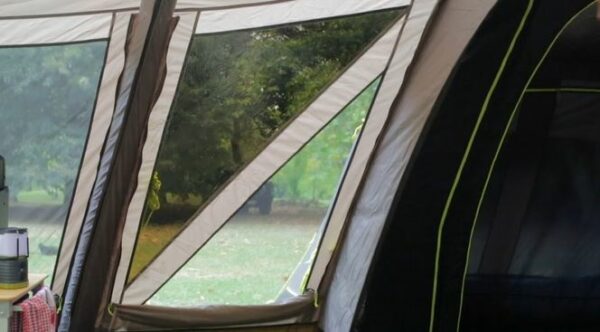 Ventilation
The ventilation here is at its best. They write about 15 ventilation points, and this is simply incredible. These include gigantic mesh doors, large mesh sections on windows, and numerous low and high vents on all the sides. There is nothing one could possibly object to this design.
Materials
The support & poles: The main support here is with inflatable air beams equipped with external double seal boston valves. I already mentioned the aluminum poles that are included for the awning, but you do not have to use them of course.
The fabric: The shell fabric is a 210D 130T poly oxford with a 420D ripstop grid, and its waterproof rating is no less than 10000 mm, yes this is ten thousand, you are reading this correctly. The UV rating is the highest I have ever seen UPF 100.
The inner tents are built from durable and breathable 68D 190T polyester, this is a dark material so glare is reduced, this is suitable for families with kids that need to sleep during the day.
The floors is a durable 180 g/m² polyethylene. Note that the inner tents have they own separate floors, so you have dual layers in the sleeping areas.
These are all fire retardant materials with TPU taped seams, and torrential rain tested. The carry bag is the same material, 210D 130T poly oxford with 420D ripstop grid.
Here are some features of this incredible tent, please have a look:
Other details
You get 52 pegs that are 18 cm long and 6 mm thick.
Guide straps.
Carpet attachment rings.
360° fold away inner door.
Gullwing awning.
Rain skirt.
Bedroom area light rigging system.
Living area LRS.
Aluminum shaft double action pump included.
Pressure gauge.
Pressure release valves
Adjustable peg loops.
Steel D ring peg points.
Webbing peg points.
3.5 mm polyester cords.
Aluminum tri sliders.
Front anchor fins.
Rear anchor fins.
Reflective guy ropes.
Removable anchor webbing.
Safety bright glow.
Zippers with anti grit reversed and glow zip pullers, two way zipper heads
Bedroom storage ladders (4).
Integrated storage cupboard.
Living area storage ladders (4).
Removable storage hammock.
---
Who is it for
Regarding the area, officially, the tent has the floored area of 220 ft² (20.4 m²), plus 90.4 ft² (8.4 m²) under its fully protected porch. Now, for 6 people this is incredibly generous space.
Note that the living room offers around 7.8 m² (84 ft²), so if necessary, this is large enough to easily accommodate 3-4 people more. I have all the reason to include this tent in my list of extra large family camping tents.
Regarding seasons & climate, this tent is so nicely built that it is suitable for every environment and climate. It is designed for the New Zealand climate with cold winters and warm summers, and it will perform great no matter where you use it. Ventilation is here at its best and the same holds for the weather protection.
Regarding the weight, this is a heavy shelter, it weighs 95.5 lb (43.4 kg). But see again its overall area and its height, so this weight is justified.
The packed size is also substantial, the numbers are below, so you definitely need a car for transportation.
Regarding the price, this is a high quality tent and this is reflected in its price. But there are many sellers (links below) so it makes sense to check and to compare.
---
Specifications
Weight: 95.5 lb (43.4 kg).
Official capacity: 6 people.
Dimensions: 264 x 232 in (590 x 670 cm).
Inner area: 220 ft² (20.4 m²).
Inner area per person: 36.7 ft² (3.4 m²).
Living room area: 84 ft² (7.8 m²).
Porch area: 90.4 ft² (8.4 m²).
Peak height: 90.6 in (230 cm).
Packed size: 32.3 x 23.6 x 19.7 in (82 x 60 x 50 cm).
---
Accessories
Note that they have their Zempire Aerobase 3 Pro Shelter that fits all the tents from the Pro series. With this you create a pleasant extension for sitting and relaxing. The picture below shows how this may look: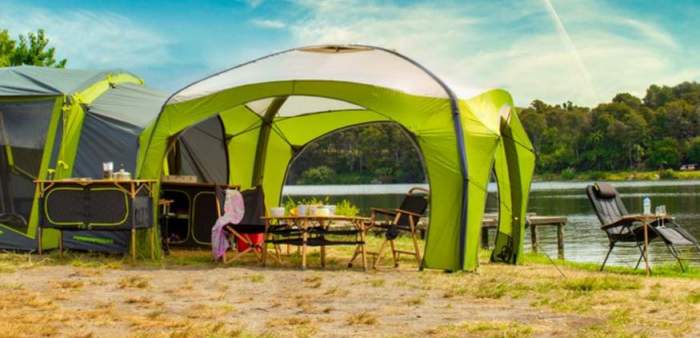 ---
Final thoughts, rating, pros & cons
In summary, this Zempire Aerodome II Pro 6 Person Tent is one of the most impressive tents I have ever seen, but this is not surprising for this brand. The materials here are of the highest quality, and attention to details is at its best.
The tent is with excellent ventilation, dark bedrooms, tinted windows, and with plenty of storage options, a true camping castle for families and for group of friends.
Below you can see how this tent stands against my standard rating criteria that I apply consistently to all the tents here in the site so that you can easily compare:
BEST PLACEs TO BUY:
For more tents with such beams check under the group Inflatable Tents. If you need something smaller, check their Zempire Pronto 5 Tent. Note that this brand also has their Zempire Pocket Rocket Campsite Utility Tent that you can use as a toilet or shower room next to your tent.
Let me know if you have questions, there is a comment box below. Bookmark this site and come again, this will keep you informed, as you realize I add texts here on a regular basis. Thank you for reading.