ALPS Mountaineering Taurus 5 Outfitter Tent is a very strongly built reliable dome structure with an easy setup and aluminum poles, and with a full coverage fly for a full weather protection. It is designed for at least a 3-season use.
---
Key features & benefits
Very durable floor.
Aluminum poles.
Number 10 zippers.
Full coverage fly.
2 doors.
2 vestibules.
Bonus gear loft included.
---
Where to buy
---
What this is about
The Taurus Outfitter series includes the tents in the sizes for 2, 3, 4, and 5 people. These tents have been on the market for many years, so everything is known about them and there should be no unpleasant surprises. It should not be mixed with the "ordinary" Taurus series which includes the tents for 2, 4, and 6 people.
But wait, there is more; there is also the Taurus AL series in the sizes for 2 and 4 people. So if you are confused you have lots of reasons to be, therefore here is a short explanation:
The Taurus AL series is with aluminum poles, while the ordinary Taurus series (see the 6-person tent) is with fiberglass poles. But they have the same waterproof rating and the denier of the fabric. They also have the same #8 zippers.
Now, the Taurus Outfitter series is with aluminum poles. It has a much thicker floor, and it is with #10 zippers. But there are a few more differences, some will be mentioned below.
So this was in a nutshell about the three series with such similar and confusing names.
Back to the Taurus Outfitter 5 tent – this is a very typical dome style tent, more typical it cannot be, you have only two poles that create the tent's structure. It is slightly elongated and this makes it different from the Taurus 6 tent which is a pure square. This is also a tent with a full-coverage fly.
Is it freestanding? The manufacturer says yes, I would say strictly speaking it is not because the fly creates two large vestibules and those must be staked down. So, let's say it is semi-freestanding. The inner tent and the frame are indeed self-supporting and you can move it around as long as the fly is not on, see the picture below. You can certainly sleep in it even if the fly is not staked, so this is probably a good enough reason to call it freestanding.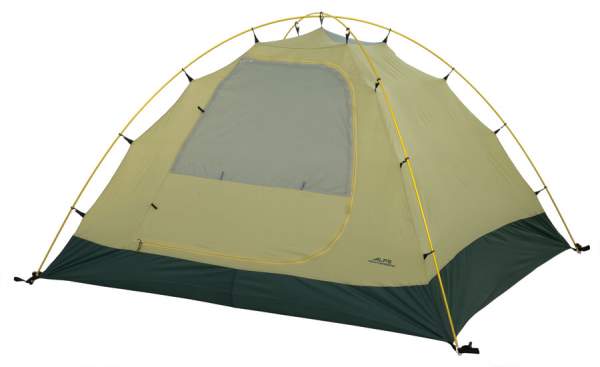 ---
Who is it for
Size-wise, the ALPS Mountaineering Taurus 5 Outfitter is as the name suggests, for 5 people. See the picture below which shows what they think how you should use it. However, its inner area is quite modest, only 80 ft² (7.44 m²) which means less than 1.5 m² per person. But there are two vestibules which add 32 ft² (3.25 m²), so the total protected area is 112 ft² (10.7 m²), and you have 22.4 ft² (2.14 m²) per person.
You can squeeze 5 sleeping pads on the floor if you play a bit of a Tetris game with them, but probably not the way shown in the picture. So if used on a summer festival or for backpacking this can work. But for ordinary camping, in my view, this is a tent maximum for parents and a kid.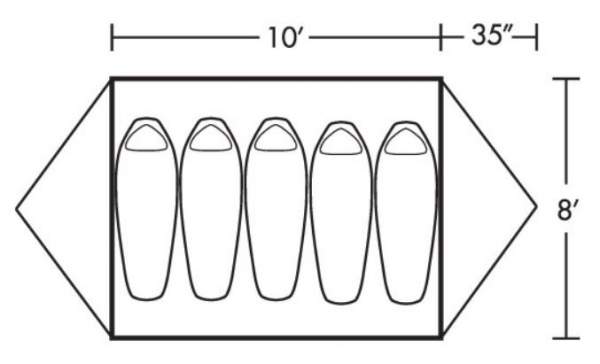 Seasons-wise, with such a full-coverage fly and the dome shape, this tent offers a full protection in a 3-season use. I would say it is built as a 3-season-plus tent. The structure is aerodynamic and this should work great in the case of wind, but note that the tent is very tall, you have 72 inches (183 cm) the peak height. So I would not go above the tree line with it or to very windy areas in general.
Climate-wise, this tent has no much mesh, there are only two relatively small areas on the top which you cannot close, plus the mesh on the doors that can be closed. So in a very hot area and in particular if you have to keep the vestibules closed due to lots of rain, this tent may be an unpleasant space. I see it better suited for a cooler environment.
Weight-wise, with its 13 lb 5 oz (6.04 kg) this tent is light enough to be carried on shorter tours. The users can share the pieces and weight. Note that they give also the minimum weight (or the trail weight) as 12 lb 5 oz (5.58 kg), but they do not describe what is meant by that, this is typical with such a terminology, some of the manufacturers do not describe it in detail, you can see more here.
Its packed size is good, so you can transport it even on a motorbike, it reduces to 25 x 9 inches (64 x 23 cm).
---
Materials & construction
The doors & windows
There are two inner doors on the opposite sides and they are with mesh and panels in the upper sections. So you effectively have windows here and you can use them that way when the weather is fine. The panels can be unzipped and fixed with toggles on the lower sections of the doors.
The poles
This simple structure is with only two aluminum poles 11 mm in diameter, shock-corded as usual. This is an aircraft alloy 7000 series, very strong and lightweight. There is nothing one could object to this.
The fabric
The fly is 75D 185T polyester, with a urethane coating. Surprisingly, they do not give the waterproof rating. I assume it is the same 1500 mm as in the ordinary Taurus series.
The floor is a very durable 210D 110T nylon oxford with a 1500 mm coating. Here again something surprising, its waterproof rating is lower than in the ordinary Taurus tents, compare it with this Taurus 6 tent. The floor is a bathtub style. All seams are sealed throughout the tent.
The two vestibules create a very useful storage area. Note that each of them is 35 inches (89 cm), deep so the tent needs far more ground for the setup than what you would expect from its inner area alone.
Note that you have a gear loft included in the package. You also have a couple of tiny pockets to store small items. As I already mentioned, the zippers are extra large and durable #10.
Ventilation
The fly has two vents on the top, they are with Velcro stiffeners and can stay open almost all the time, dependent on winds of course. But if the vestibules must be closed, then use the mesh on the doors to get some crossflow. If the weather is fine, keep the vestibules open, otherwise with such a structure, it can be hot on a sunny day.
---
Specifications
Type: dome-style (semi)freestanding tent.
Capacity: 5 people.
Packed weight: 13 lb 5 oz (6.04 kg).
Minimum weight: 12 lb 5 oz (5.58 kg).
Dimensions: 10 x 8 ft (305 x 244 cm).
Inner area: 80 ft² (7.44 m²).
Inner area per person: 16 ft² (1.49 m²).
Vestibules area: 32 ft² (3.25 m²).
Total area: 112 ft² (10.7 m²).
Total area per person: 22.4 ft² (2.14 m²).
Peak height: 72 in (183 cm).
Packed size: 25 x 9 in (64 x 23 cm).
Vestibule depth: 35 in (89 cm).
---
ALPS Mountaineering Taurus 5 Outfitter vs Competitors
As always, I am convinced the best way to understand the features of such a tent is to compare it with its competitors, then you can get some feeling about what you pay and why. So here are two of them side by side. Please see more in the links, in that way you can compare the current prices.
Vestibule area, sq ft (sq m)
ALPS Mountaineering
Taurus Outfitter 5
---
Final thoughts, rating, pros & cons
In the summary of this ALPS Mountaineering Taurus 5 Outfitter Tent review, I must say they have built a really nice and reliable tent, all materials are high quality and durable, the craftsmanship is on the high level. The price is high, but if you can afford it, you will have a great tent.
If this is too expensive, check the standard Taurus tents, the 6-person version is described here in the site. There are also the ALPS Mountaineering Meramac 5 ZF and Meramac 6 ZF tents as more affordable options.
The rating by users is very high, see how I rate it:
ALPS Mountaineering Taurus 5 Outfitter Tent
$321.35
If you still need something different with the same declared 5-person capacity, check this list with 5-person tents. Otherwise, just look around, you have all possible sizes from 5 people and up described here in the site. Please use the comment box below in the case of questions and comments. Have a nice day.