---
ALPS Mountaineering Meramac 5 ZF Tent is a new version of a very popular tent that has been on the market for many years. They have improved it now with a much stronger floor and robust zippers.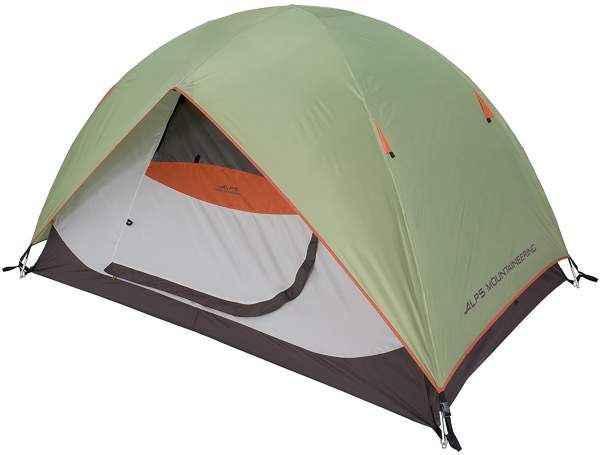 ---
Key features & benefits
2 doors.
2 windows.
Very durable floor fabric.
Very easy setup.
Bonus gear loft.
---
What is in the name – what type of tent is this
The Meramac series has been around for many years already. The series includes the tents for 2, 3, 4, 5, and 6 people. But they have recently launched a new series with the letters ZF which you see in the title. This indicates that they have improved the zipper (Z) and the floor (F), so the letters are for these two parts of the tent. In the review of the previous 2-person tent, you will see the statement that the floor material was not so great. So they were aware of this and improved the tents in this new ZF series.
Note that both versions are on the market but the previous one is far more affordable, see it here. It is a bit lighter with 14 lb 10 oz (6.63 kg)
The tent is a dome-style in the best and the most typical sense. So it is with just 2 main poles that create the usual X-shaped structure, and they have added a short brow pole to support the fly.
This is also a fully freestanding tent so this is both good and bad. The good is that you can pitch it anywhere and sleep safely. But do not miss to stake it down if the ground allows this; the stakes are included. Yet this full-freestanding features here also means that you have no vestibules (which normally must be staked to be fully functional), so this is the downside of it. However, with such a design you have two windows on the doors.
In other words, the fly is in the group which I would call a partial coverage type. It protects the tent from the two sides but the doors are with a free access. This does not mean they are unprotected, more below.

---
Who is it for
Capacity-wise, the declared capacity is 5 people, and below is the floor plan where they suggest how to use it. The floor area is 80 ft² (7.4 m²), and this means 16 ft² (1.49 m²) per person. So they have used the backpacking principle. Five people can fit in and this can work if you use the tent with friends at a summer festival, or you are on a motorbike tour and anything similar. You will be fine without vestibules for such a use.
But for a real camping, this is for couples, or for parents with one small kid maximum. As you realize from the pictures, you do not have any external protected storage space for your gear.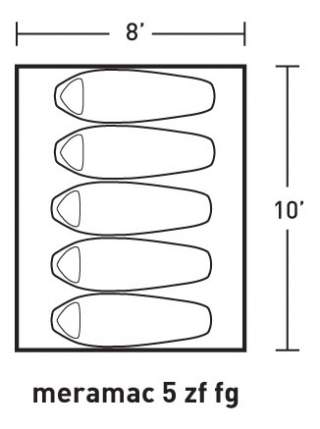 Seasons-wise, the tent is with a good waterproof rating, but the fly is not a full coverage type. So it is almost OK for a 3-season use, but I would not use it in a very windy place and with lots of rain.
Climate-wise, there is less mesh in the inner tent when you compare it with some other dome style tents. But the mesh is still there and this is good for a warmer climate, but this is far less good in a cold environment. You would feel cold in such a structure. Check some of these tents if you need a tool for a cooler climate.
Weight-wise, with 15 lb (6.8 kg), this tent is light enough to be carried if the pieces are shared among the users. But this is not the lightest option for such a purpose. Note that they give also the minimum weight which is 14 lb 3 oz (6.43 kg). This terminology is not unified (more here) and it can imply several possibilities so you never know unless they are very specific and describe what they mean by that; this is not the case here.
---
Materials & construction
The doors & windows
This tent has two doors on the two wider sides, one is visible in the picture below. This is convenient as the occupants would sleep oriented in the same direction (see the floor plan above) and they can get out easily without jumping over other people inside. The doors are with waterproof panels and mesh, so you have both protection and privacy. Note that the mesh is in the upper section so you can keep it that way even when it is raining, there is a brim created by the fly above which protects it. The same design is on both sides. So you effectively have two windows here.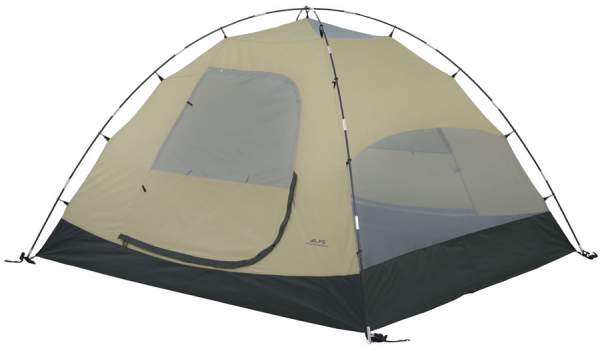 The poles
You have two main poles for the dome (see the picture) plus a short brow pole, all fiberglass 11 mm in diameter and shock-corded, and with aluminum connectors. This material is heavy and not particularly durable.
The fabric
The upper body is a lightweight but strong polyester. The fly is also polyester, 75D 185T, and with 1500 mm waterproof rating. The fly covers the narrow sides of the tent all the way to the ground. This is good because of the large mesh sections which you have there.
The floor is very durable with 210D 110T nylon oxford 4 oz, with the same 1500 mm multi-pass urethane coating. So they have really made it much stronger than in the previous version. It is unusual to see such a huge denier value for a nylon floor.
All seams on the exposed sections of the tent are factory sealed.
Ventilation
The two doors on the opposite sides are with mesh (windows) in the upper sections, and those are protected with the small awnings. So you can keep them open practically all the time and you will have a good air crossflow. There are two large mesh sections on the two narrow sides, plus some smaller sections on the top (see the picture above), and they are covered by the fly.
On the other hand, the fly is with those two brims, so the vapor can escape easily. I would say you should not have condensation issues with such a design.
Other features
The zippers on the doors are a #10, which is also one of the improvements they introduced here. So this is a durable design. There are a few small mesh storage pockets above the floor, and you also have a bonus gear loft which you attach to the tent under the ceiling to keep your small items safe. Note that for a dome tent, this is a tall structure with 72 inches (183 cm) peak height.
---
Specifications
Type: dome-style freestanding tent.
Total weight: 15 lbs (6.8 kg).
Minimum weight: 14 lb 3 oz (6.43 kg).
Dimensions: 10 x 8 ft (305 x 244 cm).
Area: 80 ft² (7.4 m²).
Area per person: 16 ft² (1.49 m²).
Peak height: 72 in (183 cm).
Packed size: 25 x 8 in (64 x 20 cm).
---
ALPS Mountaineering Meramac 5 ZF vs Competitors
Do you remember what I said about the absence of vestibules? So here I compare this Meramac with one tent which has vestibules, and one without them. So what they offer. There are big differences in prices, please follow the links to see more:
Vestibule area, sq ft (sq m)
ALPS Mountaineering
Meramac 5
---
Final thoughts, rating, pros & cons
In the conclusion of this ALPS Mountaineering Meramac 5 ZF Tent review, I can say that they have improved the tent considerably, such a durable floor is rarely seen in the tents that are designed to be carried on the trail. Note that sometimes you will see its name written as Meramac 5 ZF FG, so do not get confused, the meaning of this FG is just "fiberglass", and this is not so great feature of this tent. If you need a smaller 4-person tent from this series, please check here.
See how I rate this tent:
ALPS Mountaineering Meramac 5 ZF
If you need something different in the same size, check my list of tents for 5 people. Check also this Coleman Namakan Fast-Pitch Dome Tent 5 with a fast-pitch design.
This 5-person tents category is about the smallest tents here in the site, so if you need something bigger just look around. You might want to check also this Taurus 6 tent from the same brand with a full-coverage fly, and also this ALPS Mountaineering Taurus 5 Outfitter Tent in the same style. This Browning Camping Hawthorne 6 Person Tent is also built in the same style and it is fully freestanding.
Note that this is not a sponsored text and I am not paid by the manufacturer. I am only expressing my own unbiased views about this product.
Thank you for reading. Please use the comment box below in the case of questions and comments. Have a nice day.