---
If you need a very reliable and easy to use versatile 3-season tent, this Mountainsmith Conifer 5 Plus Tent review is a right place to start. Here you have a tent that has stood the test of the time.

---
Key features & benefits
Lightweight.
Versatile.
Easy setup.
Very reliable.
Full 3-season protection.
Very strong structure with 3 intersections.
2 Doors.
2 Vestibules.
Gear loft included.
---
What type of tent is this
The Conifer 5+ tent is a versatile dome style and a partly-freestanding tent designed for the 3-season use. The term freestanding should be understood in the following way; when you put the poles in place and attach the inner tent, the structure is self-supporting and you can move it around. Even when you attach the fly the same holds. But to have the fully functional vestibules, it is necessary to stake the tent down. Here you have an extra pole for this purpose. So you can set it up anywhere and spend the night protected but the tent is not fully freestanding.
The tent is versatile in the sense that it is light enough to be carried as a hiking and mountaineering tent, or a basecamp tent. But you can use it also as a camping tent, it is nicely packable to be transported even on a bicycle or a motorbike, in a kayak, etc.
From the floor plan below you can see that the base is almost a hexagon; this unusual shape is due to the third pole they added here. So you have some extra space due to this design.
This tent looks quite different without and with the fly; you have seen it above with the fly, but see it now with the fly on: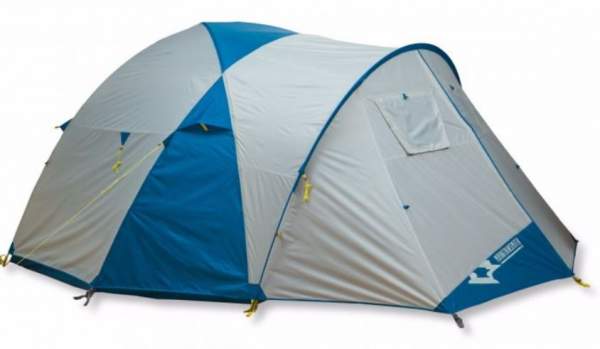 As you realize, with the fly on and this extra pole, the tent becomes an extended dome but the extension is not a room in the strict sense, it is a porch without floor.
New version vs old version
In the video below you will see the previous version. But there are a few important changes in the new version which is currently on the market.
The solid windows that were available in the previous version are now replaced with mesh and flaps. You can see them on the porch in the picture above.
There are differences in colors and in color-coding. This new version is with blue color, the previous was green, so it is easy to know which is which.
The carry bag is changed, it is like a suitcase now with separate compartments. See the elegant carry bag as it is now:
---
Who is it for
Sizewise, it is declared as a 5-person tent but it is too small for such a number. But this is so typical for most of the tents, I discussed the issue in my text about the tent capacity. They use the backpacking principle for its capacity, so yes you can put 5 sleeping pads on the ground and this number of people will have a shelter and protection to spend the night. See the floor plan below: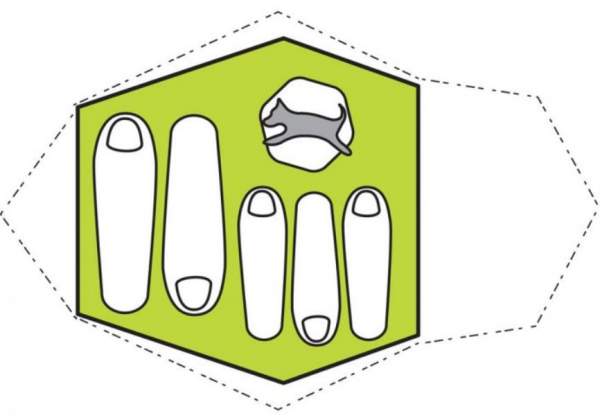 This picture indicates what the term 'plus' in the name means; this is not a simple rectangular shape so there is some extra space but bear in mind the floor area and the dimensions. You have 84 ft² (7.75 m²) and this means 16.8 ft² (1.55 m²) per person. The dimensions are roughly 3 x 3 meters, so the picture looks too optimistic. They probably wanted to show parents and three kids, with some space for a dog.
But let's not forget the vestibules; one of them looks more like a porch because of its extra supporting pole. So they give an additional 33 ft² (3.1 m²). With this, the area per person becomes substantially bigger and you have 23.4 ft² (2.2 m²) per person. This makes lots of difference if this is about real camping. Nevertheless, I would downgrade it to parents with a maximum of two kids, and forget the 'plus', I mean the dog, there isn't any plus here. If you really need a 5-person tent with lots of plus space, check some of the tunnel tents in this list.
Seasons-wise, here you have the combination of a very good waterproof rating plus the full coverage fly, so this should be a guarantee for a full protection of elements in a 3-season use. I mentioned the third pole they added in the main dome part, so this creates the unusual floor shape, but it also adds two extra intersections between the poles, and you have them 3. This makes the structure particularly strong and it can withstand lots of pressure from any side. By the way, do you know that some top-notch winter tents can have tens intersections of that type? The more the better with respect to the tent's stability.
Climate-wise, there is lots of mesh in the inner tent and this will not keep the warmth, so the tent is better suited for a warmer environment. If you need something for a cooler environment, please check some of those fully enclosed tents with PVC-windows, like this Vango Capri 500 XL or the Coleman Rocky Mountain 5 Plus tent.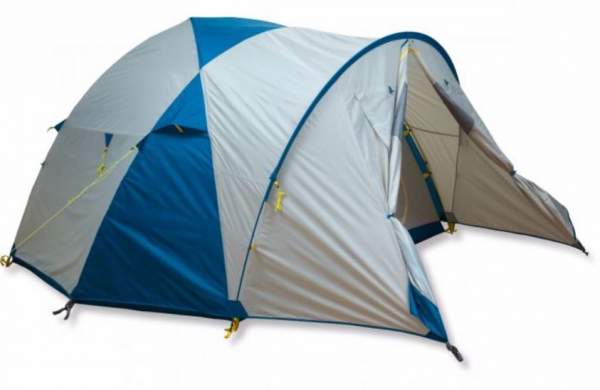 Weight-wise, I already mentioned its versatility; so you have 14.69 lb (6.7 kg) and this is light enough to be carried by 4 – 5 users. Note also that the packed size is great, you have it all in 22 x 10.5 x 10.5 inches (56 x 27 x 27 cm).

---
Materials & construction
The poles & stakes
There are three poles in the dome, plus one pole which you add to create the porch (or vestibule as some call it). Those are 7000 series aluminum Yunan poles 11 mm. Perhaps you might want to know that Yunan is a well-known pole manufacturer from South Korea.
The stakes are 6061 series aluminum, J-type and you have them 18 in the package. This is not the best type, in their Genesee 4 tent they use V-stakes which are better.
The fabric
The fly is full coverage as mentioned above and this is 68D x 185t polyester with 2000 mm PU coating, fire-retardant. So this is quite durable stuff and the waterproof rating is very good. The inner tent is the same 68D x 185t but breathable polyester, fire-retardant, plus lots of No-See-Um mesh. Note that the fly is with vents, this in combination with the mesh sections around should work fine against condensation.
The floor is also polyester, so you realize this is not a heavy plastic, hence the good weight of the tent; it is also fire-retardant and 68D x 190t with the 5000 mm PU coating. This is a bathtub type construction.
All seams are taped of course. The carry bag shown in the pictures above is 68D polyester.
Other features
You have two doors and two rather asymmetric vestibules. There are 3 guylines on each of the two sides plus 2 on the porch, so the tent should have no issues in windy conditions. There are several storage pockets around and you also have a gear loft included.
Forged for life
This subtitle describes their manufacturing and policy, you have a lifetime warranty against manufacturer's defects.
Here is a video by Mountainsmith which shows the previous version, but there are no big differences as I mentioned above, you can see all the functionality of the tent here:
Mountainsmith Conifer 5 footprint
They have built a footprint specifically for the Conifer 5 tent and you can order it here. It adds extra 2000 mm water resistance from the ground, and it protects the tent's floor physically from sharp objects, so it is a wise investment.
---
Specifications
Type: freestanding dome.
Capacity: 5 people.
Weight: 14 lb 11 oz (14.69 lb; 6.7 kg).
Dimensions: 120 x 120 x 74 in (305 x 305 x 188 cm).
Area: 84 ft² (7.75 m²).
Area per person: 16.8 ft² (1.55 m²).
Vestibule area: 33 ft² (3.1 m²).
Peak height: 74 in (188 cm).
Packed size: 22 x 10.5 x 10.5 in (56 x 27 x 27 cm).
Lifetime warranty against manufacturer's defects.
Pop-up vents.
Detachable ceiling loft.
Mesh storage pockets.
Multiple reflective guylines.
---
Mountainsmith Conifer 5 Plus Tent vs Eureka Tetragon HD 5
Here you have the Conifer 5+ tent side by side with the tent from Eureka in the same size range. This may help in making an informed choice. As you see, it offers far more protected space, and the poles are better. Please follow the links for more.
Vestibule area, sq ft (sq m)
---
Final thoughts, rating, pros & cons
In the summary of this Mountainsmith Conifer 5 Plus Tent review, I would stress again that it is a high-quality tent from a very reliable brand. Both the brand and the tent have been around for quite some time already so you know what you buy, they are known for their quality customer service and support. See below how I rate it:
Mountainsmith Conifer 5+ Person Tent
If you need something different for 5 people, check this ALPS Mountaineering Meramac 5 ZF Tent which is more compact and without vestibules. Please check this list with many great tents. Otherwise just look around, this site is all about tents and you will find something for you. You might want to compare it with this dome-shaped Kelty Acadia 6. If you would prefer a cabin-style tent, check this reliable ALPS Mountaineering Camp Creek 6 and also the 2-room version from the same Camp Creek series.
Please use the comment box below in the case of questions or comments. Have a nice day.