---
ALPS Mountaineering Taurus 6 Tent is a very simple and reliable dome-style freestanding structure which offers a full protection in a 3-season use, and this for a really affordable price.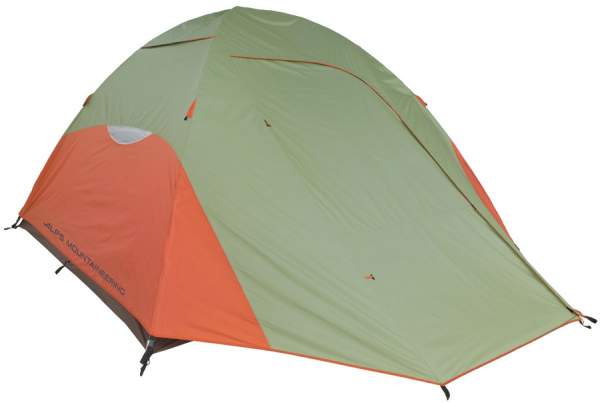 ---
Key features & benefits
2 Doors & 2 vestibules.
Fiberglass poles.
Full coverage fly.
Translucent windows on the fly.
Very reliable tent.
Gear loft included.
Very good price.
---
What type of tent is this
This is a celebrated series from the ALPS Mountaineering, and it includes tents for 2, 4, and 6 people. So the tent presented here is the largest in the series. The Taurus 6 is a very simple rectangular dome style structure with the dome created by the two poles only. It is also in the group of tents with a full-coverage fly, so you could call it a rain tent.
The tent is also freestanding up to a point; namely, when you set the poles in place, this is a fully freestanding structure. But when you add the fly, as in the picture below, the vestibules must be staked otherwise they will be flapping around in the wind. So this terminology is quite vague and it is good to know what you really have; more about this terminology you can find here.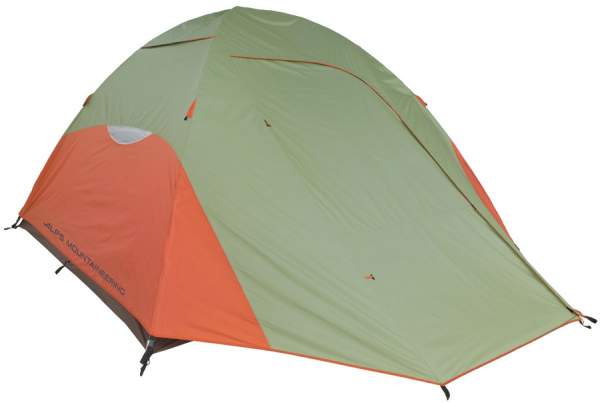 ---
Who is it for
Space-wise, the tent is declared as a 6-person tool. So let's see what it offers. The inner area is 100 ft² (9.3 m²) which means 16.7 ft² (1.55 m²) per person. As usual with such tents, this is far from enough although you can put 6 narrow sleeping pads on the floor.
But see also its two vestibules; they add 45.5 ft² (4.2 m²). So the total protected area becomes 145.5 ft² (13.5 m²), and this gives 24.2 ft² (2.25 m²) per person. So this is a lot of space if used at a summer music festival or for hiking. Nevertheless, for a real camping, this is a tent for a couple, or for parents with one child.
Seasons-wise, I am confident in saying that this is a true 3-season tent and for practically any weather conditions. The waterproofness rating is good, the fly covers the whole tent, so this will surely keep you dry. The poles are not the best, but you have guylines included and you can stake the structure properly. With such an aerodynamic shape it will behave great in windy conditions.
Climate-wise, the tent has far less mesh than many other tents of this type. So it will perform better in a cooler environment than many of its competitors. Though, this is better suited for a milder climate in any case. There are mesh sections on the inner tent which provide ventilation but they do not keep the warmth in general.
Weight-wise, with its 17.12 lb (6.4 kg) this is quite a lightweight and portable tool, suitable for shorter tours if its 6 users share the weight. Note that it is lighter than the Meramac 5 tent from the same brand which is with a partial coverage fly.
The packed size is where this tent shines, it is simply incredible and I gave it one of the highest rates. You have 25 x 8 inches (64 x 20 cm), so you can transport it even on a bicycle.
Note that I do not calculate the packed size in the absolute sense, this would not make sense because smaller tents would dominate over the big tents although they provide less space. I rather do it with respect to the total protected area, so the criterion I use is applied the same way to all tents in the site. This gives the packed size in the relative sense and when you compare two tents you can get a better feeling of what it offers and to how small package it reduces.
So even if you are puzzled with the numbers which you see for some of the tents, just remember that the formula used is always the same, and the packed weight is a relative value, determined with respect to the total area.

---
Materials & construction
The doors & windows
There are two doors on the opposite sides, and on their upper sections you have mesh so you effectively have windows there. Each of the doors has its own large vestibule with around 2 square meters of area. They are with single #8 zippers.
Note that you also have some narrow solid translucent windows on the two sides of the fly, it is nice to have at least some views around even when the vestibules are completely closed.
You might want to know also that each of the vestibules adds around 35 inches (90 cm) of length, so bear this in mind when you plan where to set this tent in the camp.
The fabric
You have a full-coverage fly here so the protection is complete from all sides. This is what makes this series different from their Meramac series. This is a quite durable 75D 185T polyester with 1500 mm coating.
The floor is also 75D 185T poly taffeta but you have 2000 mm coating. It is a bathtub style and it goes some 12 – 15 cm above the ground. This thickness for the floor is quite normal for tents that are built to be carried, but if you want extra protection, they have built footprints for the tents in this series and you can order one here.
Note that all exposed seams are factory sealed so you have nothing to do, this tent will keep you dry both from the ground and from the air.
The poles
I am not impressed with the poles; they are fiberglass which means rather heavy and not so durable. The diameter is 12.7 mm. But attaching the inner tent to them is easy and fast, there are no sleeves here, just clips.
Ventilation
The fly has two large vents with Velcro stiffeners so you can keep them open most of the time. The two vestibules can be open at least partly even when it is raining, to have some crossflow. There are mesh sections on the inner tent. All in all, this tent is well designed and ventilation should be optimal. But as I mentioned above, it has far less mesh than other tents, perhaps not the best option for a very warm and rainy environment when you would have to keep all entrances closed.
Other features
There are a few tiny mesh pockets, and a far more useful bonus gear loft.
On the inner tent, you have mesh sections that match the clear windows on the fly, so this adds to the livability of this tent.
Included in the package are also 7075 aluminum stakes, and guy ropes.
---
Specifications
Type: dome tent.
Capacity: 6 people.
Weight: 17 lb 2 oz (17.12 lb; 6.4 kg)
Dimensions: 10 x 10 ft (305 x 305 cm).
Inner area: 100 ft² (9.3 m²).
Inner area per person: 16.7 ft² (1.55 m²).
Peak height: 72 in (183 cm).
Vestibules area: 45.5 ft² (4.2 m²).
Packed size (L x D): 25 x 8 in (64 x 20 cm).
Total area: 145.5 ft² (13.5 m²).
Total area per person: 24.2 ft² (2.25 m²).
---
ALPS Mountaineering Taurus 6 Tent vs Competitors
In the table below I give this Taurus 6 side by side with two other brands' tents built in the same style. Observe that it is far lighter and it packs better. Please follow the links to compare the current prices.
Vestibules area, sq ft (sq m)
ALPS Mountaineering
Taurus 6
---
Final thoughts, rating, pros & cons
In the summary of this ALPS Mountaineering Taurus 6 Tent review, I would stress again that this tent is built in such a way that it should provide full protection from elements in a 3-season use. All features needed for such a use are there. Its weight is such that you can even carry it short distances, and the price tag is great. Just disregard the declared capacity if you use it for ordinary camping.
See how I rate it for several parameters:
ALPS Mountaineering Taurus 6-Person Tent
Pros
Very simple structure.
Easy setup.
Very reliable tent.
Windows on the fly.
Great Packed size.
Great Area/Weight ratio.
Cons
Fiberglass poles.
Small inner area for the declared capacity.
If you feel you need a different tent, I already gave some alternatives in the comparison table. Check also the Meramac 5 ZF tent from the same brand and also the ALPS Mountaineering Taurus 5 Outfitter Tent with aluminum poles.
Otherwise, just look around, this site is all about large family camping tents, check for example this Mountain Hardwear Optic 6 tent with its unique vestibules. If you need a 6-person tent to carry on the trail, check this Mountainsmith Cottonwood 6P Tent. Thank you for reading and have a nice day.