This Mountainsmith Cottonwood 6P Tent Review is about a unique two-layer dome-style structure for a 3-season camping, with aluminum poles, high waterproof rating, and an exceptional price tag.
---
Key features & benefits
Dome-style tent.
Two-layer design with a full-coverage fly.
Aluminum poles.
Huge porch.
Great waterproof rating.
Unique features – fly windows.
Exceptionally affordable tent.
---
What type of tent is this
I mentioned unique features, so to start with this – the tent has several windows on the fly, those are zippered panels plus mesh, so you can keep them open when the sky is clear and have views around. For such a dome-style structure this is quite unusual.
The tent is almost a 2-room structure. By this I mean the following – you have the inner tent which is the sleeping area, but the entrance is through a huge vestibule or perhaps better to use the word porch, supported by its own separate pole. The porch is so large that you can put two big camping chairs there and still have a wide passage to the inner tent.
I would call it almost freestanding because of its clever design, the porch pole is connected with the main structure, but to have the vestibule functional, you have to stake it at two places on the front, you realize this from the picture above.
This is a two-layer design with an inner tent and a full coverage fly.
---
Who is it for
Space-wise, the tent offers 90 ft² (8.4 m²) of the inner area, plus 29.5 ft² (2.7 m²) under its large vestibule. The declared capacity is 6 people, and the total area per person is 20 ft² (1.85 m²). So it can accommodate such a number of users and you will even have the storage area outside.
But for a family camping, I would say it is perfect for parents with a small kid. You will have plenty of space under the vestibule which is more like a porch, and you can use it for cooking and sitting.
Seasons-wise, the tent is with a really good waterproof rating, the poles are aluminum, and the fly is a full-coverage type. The structure is dome-shaped and aerodynamic, although rather tall. So this tent is properly built for most situations in a 3-season use.
Climate-wise, there is lots of mesh on the inner tent and it will perform well in a warmer environment, there are windows on the fly for ventilation and to prevent condensation. But you should not use it in a cold environment, it would be unpleasant with so much mesh.
Weight-wise, the tent weighs 13 lb 5 oz (6.04 kg) and this is very reasonable for such a size. You will be able to compare this with some other tents in the comparison table below. So it is even backpack-portable and I have included it in my list of best 6-person backpacking tents.
The packed size is also very good, 24 x 11 inches (61 x 28 cm), so you can transport it on a bicycle or on a motorbike, in a kayak, or attached to the pack.
Price-wise, this is an incredibly affordable tent. Just think of what you have here: aluminum poles, impressive waterproof rating, full coverage fly, and some unique features.

---
Materials & construction
The poles & stakes
Two poles create the main dome section with the inner tent, see the picture, and you have one extra pole for the porch. This is 7000 series aluminum, I stress this here to realize that there are no many tents with aluminum poles and with such a price. The stakes are stainless steel J-type.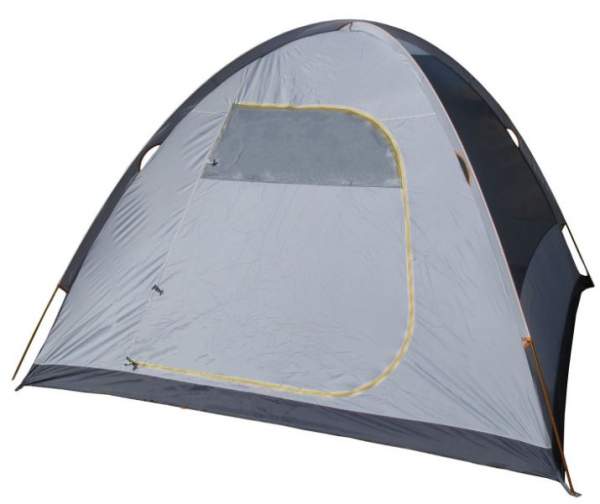 The fabric
All the fabric is 68 denier polyester, and the difference is only in the coating. So the fly is with a 2000 mm polyurethane coating, and the floor is with 5000 mm. These are great numbers for a tent which costs far below $200. The inner tent is a combination of the No-See-Um Mesh and panels.
The floor is also a bathtub style, and all seams are fully taped. So one cannot find any objection here. They have done a proper job and the durability of the fabric is good.
Ventilation
There are no floor vents here but I do not see this as a problem at all. There are plenty of mesh sections around. The fly is with a unique design – you have 3 zippered windows with panels and mesh, so this should be enough to reduce condensation. Note that you can keep the inner door always open, it is completely protected under the porch/vestibule.
---
Specifications
Type: dome style tent.
Capacity: 6 people.
Packed weight: 13 lb 5 oz (6.04 kg).
Dimensions: 118 x 110 in (300 x 280 cm).
Area: 90 ft² (8.4 m²).
Inner area per person: 15 ft² (1.4 m²).
Vestibule area: 29.5 ft² (2.7 m²).
Total protected area: 119.5 ft² (11.1 m²).
Total area per person: 20 ft² (1.85 m²).
Packed size: 24 x 11 in (61 x 28 cm).
Peak height: 76 in (193 cm).
Doors: 1.
Vestibules: 1.
Poles: 3.
---
Mountainsmith Cottonwood Tent 6 Person vs Competitors
I hope you might want to see how this Cottonwood 6 tent compares with some of its competitors. So I give two top-notch tents from other renown brands, this might help you in making the right decision.
Note that the prices are very different. Compare all the features and you will understand why I am saying that this tent is quite exceptional in terms of the value-price combination. Please follow the links in the table for more details.
Mountainsmith
Cottonwood 6
Mountain Hardwear
Optic 6
---
Final thoughts, rating, pros & cons
The purpose of this Mountainsmith Cottonwood 6P Tent review is to present this tent as good as I can, and you will then decide if this is what you want or not. I am not biased here, have no relations with this brand. But you should know that Mountainsmith is highly appreciated by outdoor people, they have many great products on the market. Note that there is yet another tent from this brand presented here in the site, the Mountainsmith Conifer 5 Plus Tent.
So far, this tent has scored a very high rating by Amazon customers, and I must say, I am not surprised. My rating is also high, I use numerous criteria for all the tents here in the site, so it is easy to compare.
Mountainsmith Cottonwood Tent 6-Person
If you need more options in this capacity range, please check my long list with best 6-person family camping tents. You will notice a variety of types and styles. But if you are focused on dome tents only, then check the list with dome style tents. Check this Browning Camping Hawthorne 6 Person Tent which is a fully freestanding structure. Yet another great full coverage fly tent for 6 people is this Slumberjack Roughhouse 6 Person Tent.
Note that this is not a sponsored text and I am not paid by the manufacturer. I am only expressing my own unbiased views about this product. Please use the comment box below in the case of questions or comments. Thank you for reading and have a nice day.