Tent vents are essential in all situations when you have to keep the doors and windows closed. So if you want to know what a tent vent is and what types of vents exist, keep reading.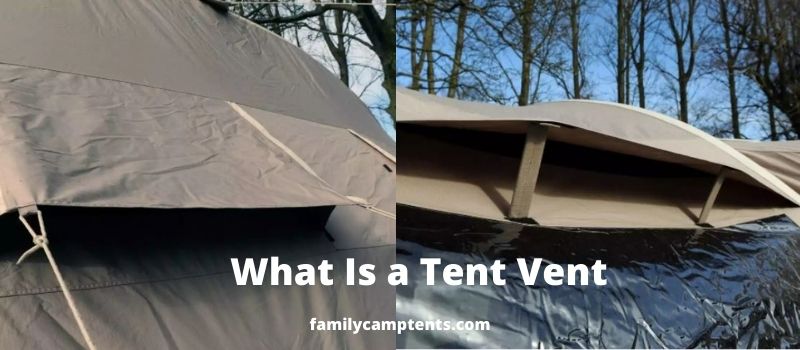 This text is motivated by a comment I received in one of my texts. The person claimed something that was clearly wrong regarding vents in a tent. It is possible that she simply did not understand the meaning of the word tent vent. So this is why I have decided to have this text as a reference.
What is tent ventilation?
It can be hot and humid in a tent, and you can have unpleasant experience in particular in long intervals with rain when you have to keep the tent closed.
So tent ventilation is everything that can contribute to improving the air in the tent and exchanging the inner air with the fresh air from the outside.
How do you vent a camping tent?
As long as the sky is clear, venting a tent is usually easy. This all depends on the construction and on the type of the tent.
Tents can be ventilated in various ways. Here are some venting options that you can have in camping and trail tents:
If this is about summer camping tents, you will usually have a mesh canopy or a mesh ceiling. The former is typical for dome tents, and the latter you have in most of cabin style tents.
If the tent is more enclosed, say you have an inner tent with a taffeta, then you can expect to have double-layer door(s). This means one zippered mesh door and a zippered panel. In the worst case, you can have at least a mesh section in the upper part of the door.
A tent can have double-layer mesh windows with panels.
The tent's fabric itself can be breathable. This you have in many cotton canvas tents.
If the sky is clear, you can roll up the fly. Some tents are built so that the fly can be kept partly open and you can enjoy sleeping under the stars. This is usually in dome tents.
If the tent has a vestibule, you can roll it to the side and have fresh air in.
All these elements should allow for fresh air getting in so that you have air circulation. But this may not be enough. This holds in particular if you have a tent with a full coverage fly, if it is raining, or if you have a tunnel tent with solid windows. In such situations, manufacturers add vents as extra venting options.
What type of tent vents exist?
Typically, this is about:
Floor vents.
Roof vents (or fly vents).
Wall vents.
The meaning of these terms should be obvious, but here is a bit more.
Floor vents: These are low vents, usually located directly above the floor, and they are frequently under the windows. They are useful because you have inflow of fresh air from the ground, and such air may be cooler that the air higher above the ground.
In combination with high vents, they create vertical air flow. This makes the atmosphere more pleasant. One example is shown in the picture below, this is a floor vent in the CORE 6 Person Tent with Block Out Technology.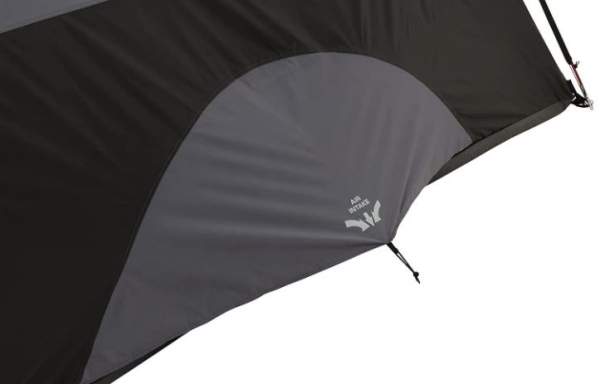 Fly vents or roof vents: These are high vents located on the fly or on the roof of a tent. They are particularly important for allowing vapor to escape. This reduces condensation on the underside of the fly.
The usual problem with such fly vents is that they may be too high, so rain can get in if there is a strong side wind. Some good tents have an inner barrier that prevents this. But manufacturers position them high for a more efficient venting.
On the other hand, sometimes these vents may be too low and you may have condensation on the material above them. So you realize there is a sort of trade-off and there should be a fine balance.
Fly vents are typical for dome tents with a full or partial coverage fly, and I would say they are essential to fight condensation in the tent. See how this looks in the REI Co-op Base Camp 6 Tent.

The term roof vent I use for single-layer tents where the roof is the fly and there is no inner canopy tent. So their design follows the same logic as the design of fly vents.
Wall vents: This type of vents you have in many tunnel tents. Typically, you have such vents on the rear side behind bedrooms, and they are paired with some mesh sections on the inner tent. See one example in the Coleman Mosedale 5 Family 5 Person Tent.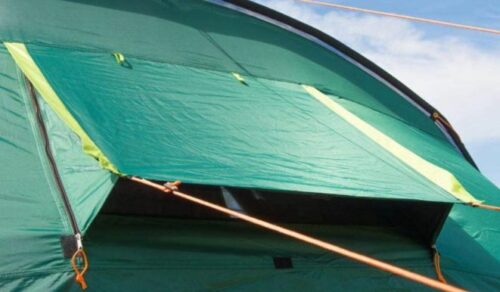 Many tunnel tents are a hybrid single/double layer with a living room being the single layer part. In such tents, you have high wall vents above windows in the living room and sometimes also in the other parts of the tent. The picture below shows several of them in the OLPRO Wichenford 8 Berth Family Camping Tunnel Tent.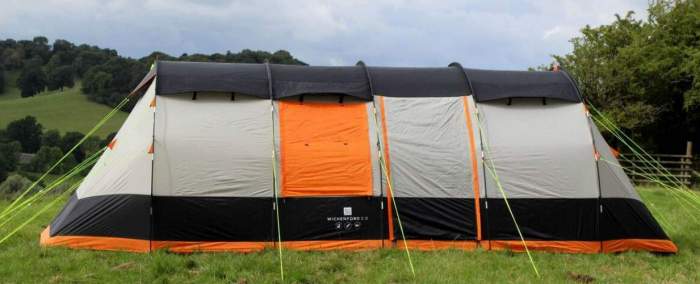 One separate group is vents in vestibules. This is mainly in dome tents, but you can find vestibules even in tunnel tents, and there you can have vents. The picture below shows an example in Eureka Kohana 6 person tent.

So what is a tent vent really?
From all this it should be clear, a tent vent is a dedicated ventilation opening integrated into the tent structure. It should not be mixed with mesh windows, mesh doors, or with vestibule flaps.
The purpose of a tent vent is to reduce condensation and also to improve ventilation when you have to keep other openings closed (when it is raining or you feel cold).
You might want to read also about moisture in a tent. Thank you for reading. Let me know if you feel I missed to add something important. There is a comment box below.