Bushnell Sport Series 12 Person Cabin Tent 20 x 10 ft is a huge freestanding 3-room & 3-door structure with 7 windows and a floor vent, most suitable for summer camping.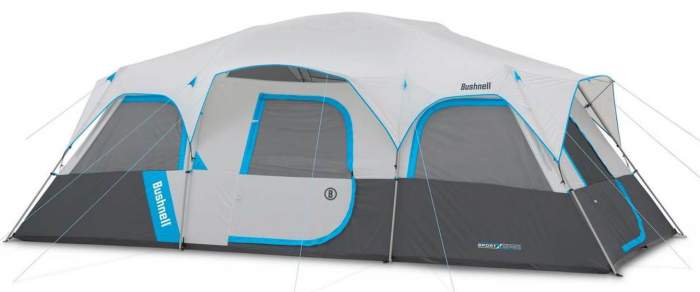 ---
Key features & benefits
Freestanding cabin type.
3 Doors.
7 Windows.
3 Rooms.
Very tall tent.
E-cable port.
Wall organizer.
Floor vent.
---
What this is about
So this Bushnell Sport Series 12 tent is the largest in their Sport Series that includes also 8-person and 4-person tents. This is a huge and tall freestanding cabin-style structure, and you can see its frame in the picture below that shows it without the fly. Surprisingly, the manufacturer describes it as a dome tent.
It has some unique details, in particular those two loops added to support its frame. The tent is very pleasant with its 84 inches (213 cm) high ceiling.

The tent is with two removable dividers, so this is formally a 3-room structure, and all the rooms have their doors. There are 4 separate windows, plus 3 on the doors. Those are two-layer structures with mesh and panels for privacy and protection from rain. This is why I have added it to my list of 3-room tents and also to best camping tents with 3 doors.
Ventilation
As mentioned, all the openings have mesh, and the huge ceiling is almost all mesh. The picture below shows what you see above your head when the tent is without the fly. So when the sky is clear you can sleep without the fly and enjoy watching the stars.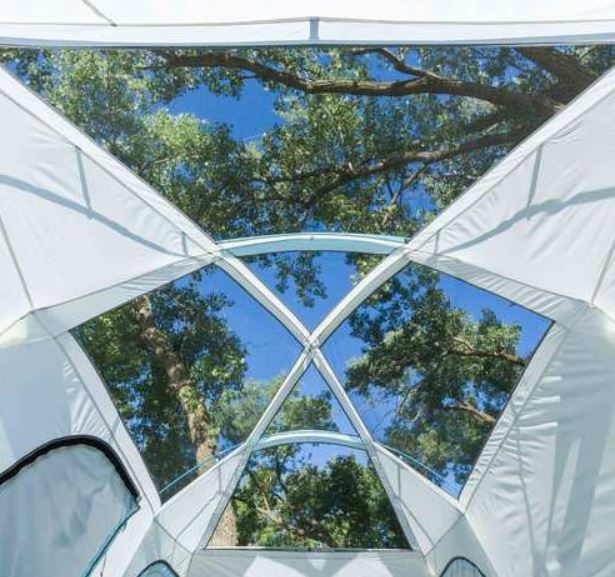 But they have added a floor vent which you can see in the picture below, it is under one of the windows on the right, but you will see it also in one of the pictures further in the text. This is useful when you have to keep all the windows closed (when it is raining or too windy).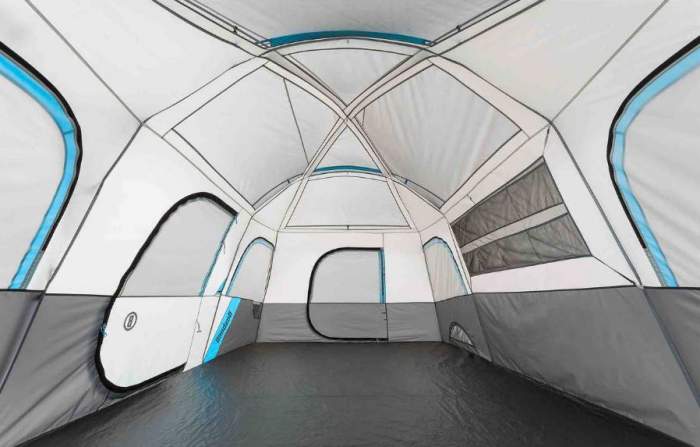 The fly covers the ceiling only, but it also creates small brims above each of the doors. With such a construction you have unobstructed views on all sides, all the walls are with windows.
---
Who is it for
Seasons-wise & climate-wise, you have seen its structure and you realize this is a tent for summer camping and for warm weather. It is well ventilated and pleasant, but such a ceiling is not for a cool climate.
Also, the structure is so large and boxy and the fly is positioned high, so it would not last long in strong winds. This is a tent for quiet weather situations.
Capacity-wise, they measure the capacity by the number of sleeping pads that can be placed on the floor. The dimensions are such that it can accommodate 12 people as they claim. The area is 200 ft² (18.6 m²) and per person this would give 16.6 ft² (1.5 m²). Because of its size, I have added it to my list of extra large family camping tents.
But for actual family camping, it is best to downgrade the number of users to half of its declared capacity or so.
Weight-wise, with its 48 lb (21.8 kg) of weight, this is a heavy thing. But you have seen all the space and volume it provides, so this is normal to expect.
The packed size for such a tent is very good indeed. It packs to 31.5 x 12.5 x 12.5 inches (80 x 32 x 32 cm), see the picture. All in all, this is for places with a car access.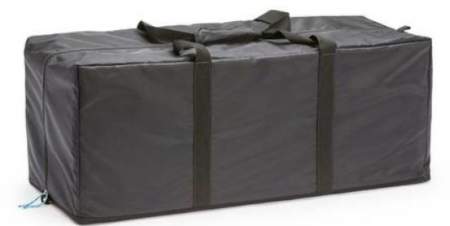 ---
Materials
The poles
The poles are a combination of steel and fiberglass, this explains the weight of the tent. The attachment to the tent is a combination of sleeves on the roof, clips on the sides, and a pin and ring system on the base.
The fabric
They use polyester for the tent and this is a flame-resistant fabric that meets CPAI-84 specifications. But they do not provide any info about its waterproof rating. There is only a statement about fully taped factory-sealed seams and that the fabric is weather-resistant. But they provide a toll-free number 1-888-774-5840 for warranty service or product questions.
Other features
E-cable port is available, see the picture below.
There is a couple of small wall pockets, far from enough, one set is shown in the picture below.
A hanging mesh gear organizer is included, shown below.
---
Specifications
Declared capacity: 12 people.
Weight: 48 lb (21.8 kg).
Dimensions: 20 x 10 ft (610 x 305 cm).
Area: 200 ft² (18.6 m²).
Area per person: 16.66 ft² (1.55 m²).
Peak height: 84 in (213 cm).
Packed size: 31.5 x 12.5 x 12.5 in (80 x 32 x 32 cm).
Warranty: 1-year limited warranty.
---
Final thoughts, rating, pros & cons
In summary, this Bushnell Sport Series 12 Person Cabin Tent looks great and this is a very pleasant structure for warm-weather camping. The price is steep but here you have a tent with some great features and from a reliable brand.
I have included it in my list of best 12-person tents. Please see below how I rate it, the same criteria are used for all the tents here in the site for easy comparison.
Note that they have yet another 12-person tent, the
Bushnell Shield Series 12 person tent
, you might want to compare them. You might want to compare this tent with this
Coleman 12 Person Skydome XL Tent
which is officially with the same capacity but an extended dome tent. See also this
CAMPROS Tent 12 Person
that is a 2-room tunnel-type tent.
I wish to stress that this is not a sponsored text, and I am not paid by the manufacturer. Please use the comment box below in the case of questions or comments. We add new items regularly, so bookmark this site and also subscribe to our weakly newsletter, the subscription form is below.