---
This Bushnell Shield Series 12 Person Instant Cabin Tent 18 x 11 ft is a steel construction with multiple windows and 3 rooms, suitable for warm weather camping.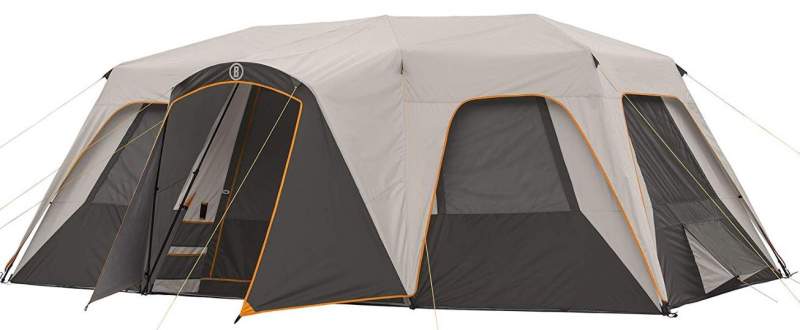 ---
Key features & benefits
Instant setup tent.
3 Rooms.
6 + 2 Windows.
Steel frame.
Awning.
Multiple storage options.
---
What type of tent is this
As you realize from the title, this is a tent with the frame pre-attached to the tent, so it is an instant setup tent in the true sense and I have included it in my list of best instant camping tents. The picture below shows the tent without the fly so you get an idea of its structure; this is a very stable and strong design with 8 legs.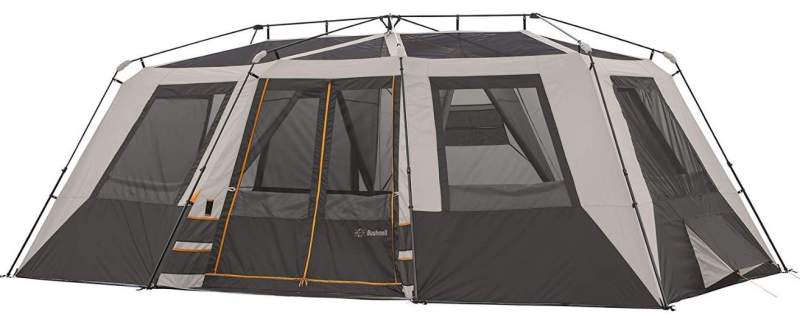 The tent comes with two removable dividers, so formally this is a 3-room construction. But do not expect lots of privacy here, the dividers are just simple curtains, see the picture below.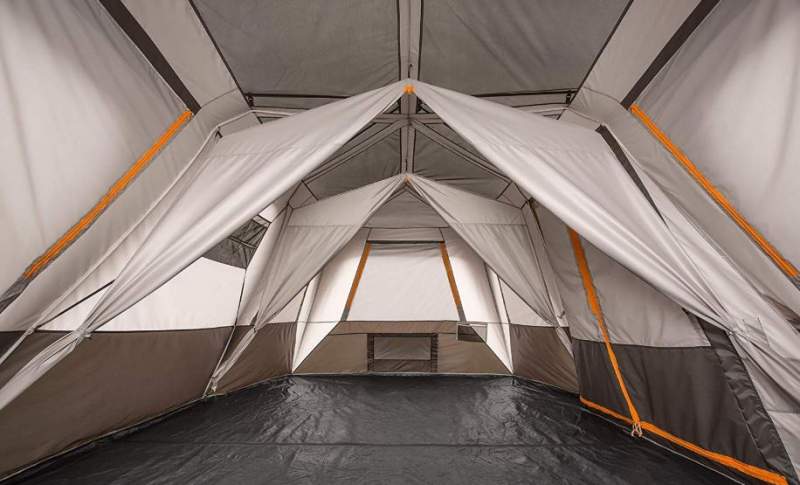 The picture below shows how it looks when one od the dividers is closed. The view is from the central room where you have the large double-size door with the inverted-T shaped zipper, it is on the right. There are 8 windows in total here, all with mesh and with zippered panels.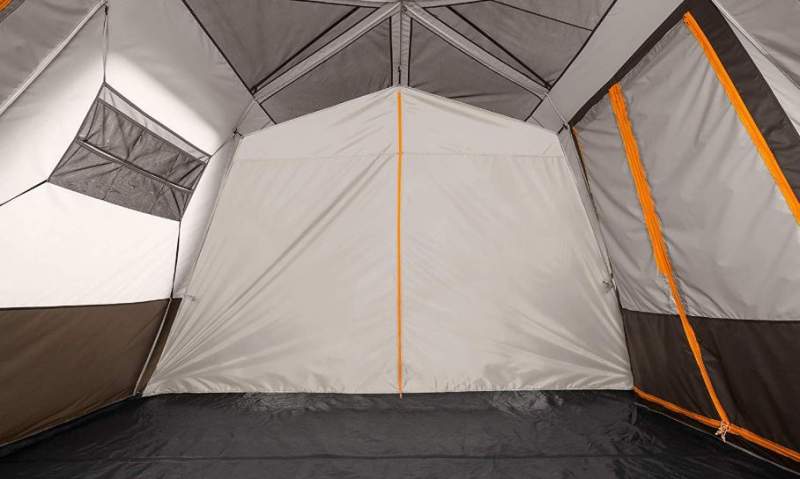 The tent is very tall, so you have a stand-up height in the bigger part of it, the peak height is 80 inches (203 cm).
---
The materials
The poles
So the frame shown in the pictures above is all steel. This includes the roof poles as well, and this is why the weight of this tent is fully justified.
The fabric
The manufacturer does not provide much information about the fabric, but this is polyester in the fly and the tent's body. Not sure what the floor is made of. But the fly is with a reflective coating on the underside to blocks the sun's UV rays. This makes the inner space darker and cooler.
As for the waterproof rating, having no info about this, I contacted the seller and asked. The answer is that tents from this series have an IPX4 rating and that they are water-resistant but are not waterproof. This is why above I suggested not to put this tent to harsh conditions. Test it at home in any case and do some sealing, no doubt you will have to.
Other features
E-cable port, see the picture above.
Floor vents, one shown above. You have zipper so you can close it if you feel cold. There is mesh on it against insects.
Reflective piping and guylines.
External storage elements, see the picture below. They are protected by the awning which is created by the fly.
Internal wall hanging organizer (it is visible in one of the pictures shown farther above) and pockets.
Aluminum stakes are included.
Expandable carry bag.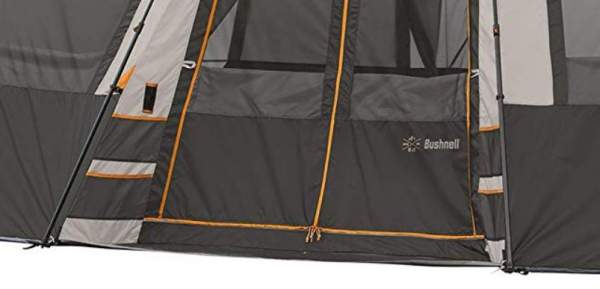 ---
Who is it for
Space-wise, with the declared capacity of 12 people this tent offers 198 ft² (18.4 m²) of the inner area. So this is a large structure and I have included it in my list of extra large family camping tents.
With such a number of people this would give 16.5 ft² (1.53 m²) per person. So it is possible to put 12 sleeping pads on the floor but this is not so practical. For family camping, make it 6-8 people maximum. But the issue with maximum capacity is always the same, manufacturers use backpacking principle. In any case, I have included it in my list of best 12-person camping tents.
Seasons-wise & climate-wise, I would describe it as a 2-season tent and this is mainly because of its ceiling which is all mesh, so using it in a cooler environment would not be a great option. But all other openings are with zippered panels and you can close them if you feel cold.
With so many windows with mesh and also with floor vents, there is nothing one could object to ventilation in this tent, this is why it is very suitable for warm-weather camping. But I would not use it in areas with lots of wind or rain, see more about the waterproofness below.
Weight-wise, with 59.9 lb (27.2 kg) of weight this is a heavy structure. But you are not supposed to carry it anywhere. See also its packed size which is 49.5 x 13.3 x 11.3 inches (126 x 34 x 29 cm). Clearly this is a tent for places with car access, but being instant design, it is suitable if you and your friends or family change your camping place frequently.
---
Specifications
Weight: 59.9 lb (27.2 kg).
Packed size: 49.5 x 13.3 x 11.3 in (126 x 34 x 29 cm).
Dimensions: 18 x 11 ft; 216 x 132 in (549 x 335 cm).
Area: 198 ft² (18.4 m²).
Area per person: 16.5 ft² (1.53 m²).
Peak height: 80 in (203 cm).
Warranty: 1 Year Limited.
---
Bushnell Shield Series 12 Person Instant Cabin Tent vs Competitors
I thought it would be a good idea to show this tent side by side with some of its competitors built in the same style. All are instant-setup tents, but the Ozark Trail tent is also a dark-rest design. The Core 12 is also a very popular tent and slightly lighter, but it offers less area. There are differences in prices so please follow the links to read more.
Bushnell Instant
Cabin 12
---
Final thoughts, rating, pros & cons
So this Bushnell Shield Series 12 Person Instant Cabin Tent 18 x 11 ft is a really nicely built and pleasant construction with so many windows and storage elements. It is so big but you can pitch it in no time. Use it in calm weather conditions and for summer camping and you will enjoy it.
Bushnell Shield Series 12 Person Instant Cabin Tent
They have two smaller tents in this Shield series, one 6-person tent and one 9-person tent, they are all different. You might want to compare this tent with this CORE Two Room 12 Person Instant Cabin Tent with Side Entrance. But check also their another 12-person tent, the Bushnell Sport Series 12 Person Cabin Tent 20 x 10 ft.
Note that this is not a sponsored text, and I am not paid by the brand. Please use the comment box below in case of questions or comments. Have a nice day.