---
Need one tent that can do it all, in all climates and conditions? Here you have it; read about this Bushtec Adventure Nomad 6 Person Bow Tent, a breathable canvas structure with a spring steel frame.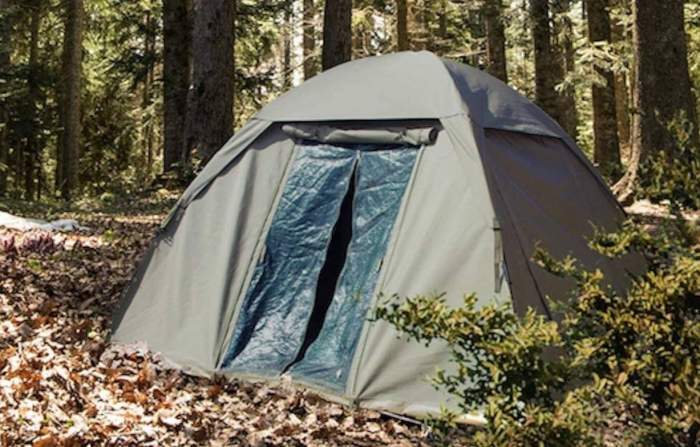 ---
Key features & benefits
Canvas tent.
Dome-style construction.
Spring steel poles.
2 Windows.
Very durable materials.
Tall tent.
4-Season tent.
---
What is in the name
This tent is on Amazon under a long name Bushtec Adventure Nomad Waterproof Ripstop Canvas All-Season 6 Person Bow Tent, but its true beauty is in its simplicity. Although the mentioned name is very descriptive and complicated, this is a very basic dome structure supported by two spring steel bows mentioned in the title above.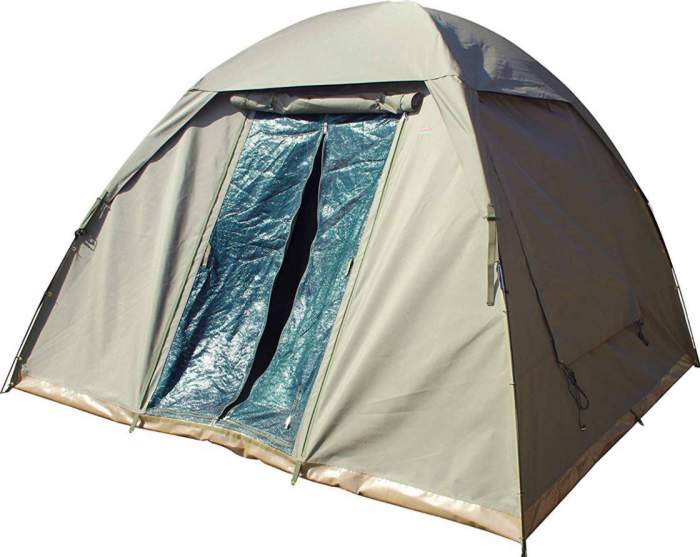 You have a single-room structure but observe that this is a very tall tent with a peak height of 7 ft (213 cm). For a dome tent, this is unusually high. The picture above shows its front where you have a very tall double-layer door with the flap that can be rolled under the roof. The inner door is a mesh with an inverted-T shape zipper structure. There are also two side windows with the same double-layer configuration, one is shown below.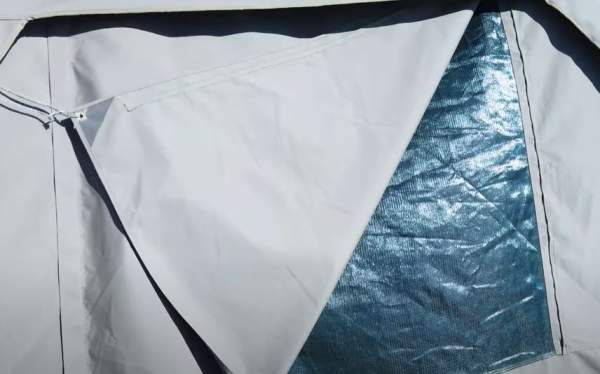 This tent is very similar to their Alpha Kilo 4000 Canvas 6 Person Bow Tent that has an extra awning included. The fly in this Nomad tent is minimal and its main role is to cover the top with vents. The tent can be described as freestanding.
Materials
I already mentioned the spring steel bow poles, so this is an ultra-strong and rigid material. But this is not all, they also use the best possible YKK zippers and unbendable pegs, and you have zinc coated D-rings and brass eyelets. Some of these elements are visible in the picture: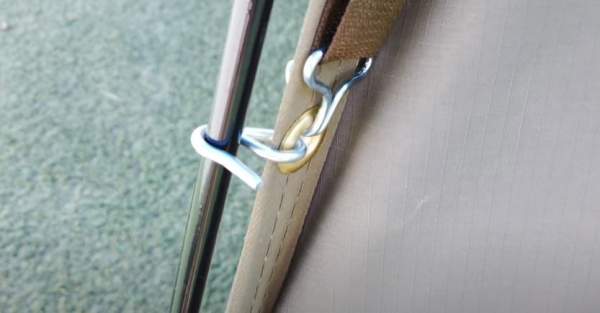 The fabric is a separate story, you have a rip-stop military-grade canvas (you can see this in the picture above), heavy-duty, and top quality 320 g/m². If you are not familiar with these numbers it is best to check among canvas tents here in the site and compare. Note that this is considerably different from their mentioned Alpha Kilo tent that is much heavier.
The fabric is impregnated during the production process and it is fire-retardant to all international and USA standards (CPAI 84). They write it is safe to use internal heating.
They claim that the technology used here prevents it from rotting, and it blocks UV rays to reduce color fading (4 on the blue wool scale). I have seen two different numbers, 15 and 20 years mentioned without color fading, hard to know which is true but both numbers look impressive to me. In any case, I have included it in my list of best canvas tents.
The waterproof rating looks small, only 500 mm but this is a leak-proof tent and the seams are taped. The floor is a rugged 19 oz/m² (550 g/m²) PVC with a bathtub design to prevent flooding and splashes, so you are also completely safe from the ground. Note that there is an e-cable port included. The tent comes with a waterproof carry bag.

---
Who is it for
Regarding seasons & climate, they describe it as a 4-season tent and there is no doubt this is so. The fabric is breathable so you have a pleasant and cool atmosphere in a warm environment. But canvas also gives a bit of insulation in a cold climate, and also the tent can be completely closed with those flaps on the windows. 
Regarding wind resistance, this is an ideally shaped aerodynamic structure though it is very tall and with a partial coverage high fly. But they claim it is wind-tunnel tested. There is some inconsistency in what they claim, on Amazon they write about 100 mph wind resistance but on the manufacturer's site I have seen 50 mph mentioned. In any case, this is an incredibly reliable tent with such strong steel bows.
Regarding capacity, this tent is officially for 6 people, and for this you have 100 ft² (9.3 m²), which means 16.7 ft² (1.55 m²) per person. So indeed you can put 6 pads on the floor and this can work for a group of friends at some open-air gathering.
For true camping, I see it best suited for 3 people, in this case you can place 3 cots along the walls and still have some free space in the middle and in the door area. 
Regarding the tent's weight, the numbers that are on Amazon and even on the manufacturer's site are obviously wrong, the weight is around 56 lb (25.5 kg). The packed size is 42 x 9 x 8 inches (107 x 23 x 20 cm), so you realize it is quite long when packed and you need a car for transportation.
---
Specifications
Official capacity: 6 persons.
Weight: 56 lb (25.5 kg).
Dimensions: 10 x 10 ft (305 x 305 cm).
Area: 100 ft² (9.3 m²).
Area per person: 16.7 ft² (1.55 m²).
Peak height: 7 ft (213 cm).
Packed size: 42 x 9 x 8 in (107 x 23 x 20 cm).
Material: military spec rip-stop canvas.
Frame: spring steel.
---
Final thoughts
So it is easy to get delighted with the features of this Bushtec Adventure Nomad 6 Person Bow Tent. This is a tent you can use anywhere and it is designed for year-round use, with a breathable fabric and with vents and mesh windows. I would ignore its declared capacity, it is too small for 6 people.
The tent is very tall in the center, you have 7 feet height there. The official setup time is around 20 minutes and this is realistic. This is a great tent but indeed a bit expensive. If you can afford it, it will protect you no matter where you use it. Fully recommended.
I use the same criteria for all the tents so you can easily compare them. It scores great in almost all specific criteria:
For more tents of this shape please check under the category dome tents, you will find them many. Bookmark this site and visit again, this will keep you informed as we add texts here regularly. Thank you for reading and have a nice day.