---
Kodiak Canvas Flex Bow Basic 6 Person Tent 10 x 10 – 6051 model is a canvas waterproof but breathable non-freestanding structure for all seasons and all climates. The tent has been on the market for many years now, tried and tested, built to last for many years.
---
Key features & benefits
Canvas tent.
Breathable yet waterproof materials.
Very sturdy construction.
Very reliable tent.
2 doors & 2 windows.
Large awning.
---
About terminology – what is in the name
These tents have been around for at least 8 – 9 years already and pretty much everything is known about them, there are several models and they have been used by many people. The word Basic in the name describes the fact that this is the version with two windows, as opposed to the Deluxe version which has mesh windows also on the doors, and the VX version which has extra windows on the side. The summary of the differences between all these models is given in my separate text so please have a look.
The phrase Flex-Bow indicates the fact that you have steel rods in the roof structure and those create tension in the roof fabric. This is helped with the main ridge pole which has three pieces. So the roof is oval in the profile, almost like the top of an airplane wing.
Finally, the numbers 10 x 10 indicate the ground dimensions in feet. In short, this is a non-freestanding and canvas camping tent, a single-room structure and a single-layer design.

---
Who is it for
Capacity-wise, the tent is declared for 6 people. But the area is 100 ft² (9.3 m²) so you have 16.7 ft² (1.55 m²) per person if used for 6 people. This is far from enough for a real camping although indeed it is possible to squeeze 6 pads on the floor. So in my view, this is a tent for couples, for a pair of hunters, or for parents with one small kid. But this is also a very pleasant tent where you can stand upright and walk everywhere inside.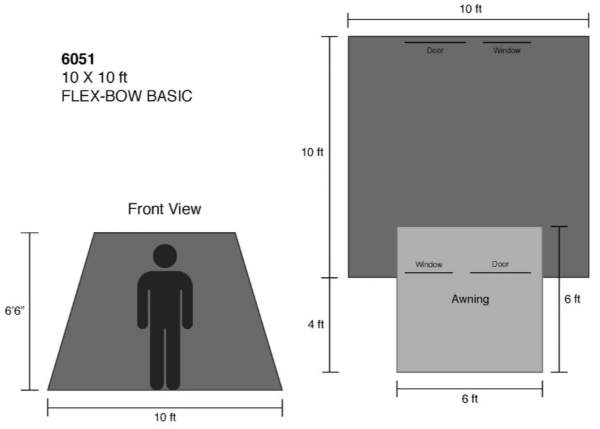 There is an awning area 6 x 6 ft (183 x 183 cm), see the picture, but this is not protected from the sides and you cannot store things underneath it. Though they have some options to add walls around and to protect the gear.
Weight-wise, this is a heavy item and it is very bulky when packed. So the weight is 68 lb (30.8 kg) and it comes in two packages for the tent and the poles, see in the specifications below.
Nevertheless, this is an incredibly clever design and one single person can set it up easily under 10 minutes time. You start by staking the tent floor first, then construct the roof, and after that add legs poles one by one.
Seasons-wise, this is a true 4-season tent. But this is also a tall and boxy structure with the 6 ft 6 inches (198 cm) peak height. It is not freestanding and it is essential to have it staked down properly. So I do not think it is the best choice for very windy situations or for high altitude mountaineering tours where you might have the problem of finding a proper terrain to stake the tent.
Its huge awning will not last long in a very strong wind, so position the tent carefully and also roll the awning up if it is very windy. Note that it cannot be unzipped, pity. Have noticed that some people roll the awning incorrectly; so roll it down and under to avoid the water pool on the roll, it will run off if you do this correctly. This is not a simple task for one person. If they would have a thin pole sewn in at the end of the awning, this would make the job easy, hopefully, they might read this and make such a change in the design.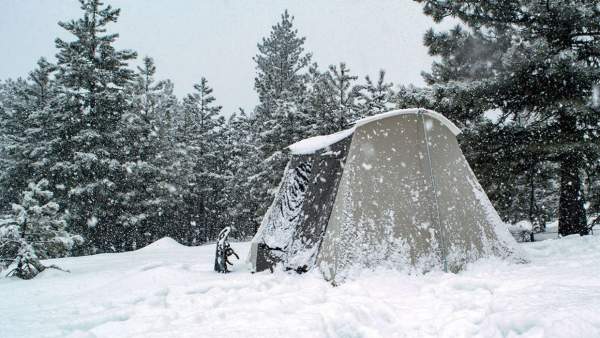 Climate-wise, this is again related to the 4-seasons features of this tent. If used in a cold environment, it will offer more insulation than any standard synthetic tent. On the other hand, if used in a warm environment, this is a breathable and natural material so it creates a pleasant and cool atmosphere, definitely much more pleasant than in synthetic tents.
But this is not an insulated tent, those are rare, so check this Crua Loj 6 if you need such a tent. Note also that this tent has no flapjack for a stovepipe, so if you need something of that kind, check this White Duck Alpha Wall tent, or this Danchel bell-shaped tent which has two flapjacks.
This Kodiak Canvas Basic tent will also work great if you use it in a dusty area because you can zip it up completely, just make sure that the ground will keep the stakes and do use all the stakes that are in the package. Once this is done properly, you can rely on this structure.
So all in all, you need a car for transportation of such a tent and you need lots of space in it, and do not plan to move the tent far from the car parking, it is heavy. This is not a tent for frequently changing your camp place, this simply because it is so heavy and bulky. But this is a tent which you will use for many years, it is built to last, the craftsmanship here is on the highest level in this industry.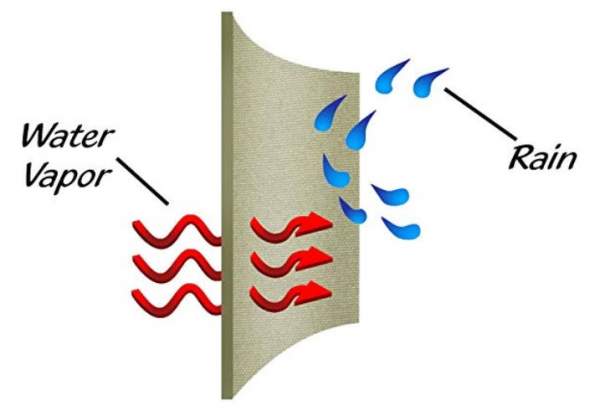 ---
Materials & construction
The fabric
The fabric is obviously a cotton canvas and they use different thicknesses on the roof where you have 10 oz Hydra-Shield canvas as compared to 8.5 oz in the walls. In general, this is a very durable, watertight, and breathable structure. After so many years on the market, you can see only very positive reports by users. Only the floor is synthetic and here you have a seamless thick 16 oz vinyl reinforced with polyester.
They recommend seasoning the canvas at home when you receive the tent, so spray the tent with water and allow it to dry. This is mainly for closing needle holes at stitching. This is done only once. They also warn that in spite of the water repellency, not all tents are completely waterproof out of the box and there may be some leak but the mentioned seasoning will help. If/when waterproofing is required, they suggest treating the area with a silicone-based sprays like the Kiwi Camp Dry. Such sprays make the material waterproof but it remains breathable.
There are no vents here and I think you do not need them, the fabric is naturally breathable and you also have mesh on the windows. But I think the first version of this tent years ago was with side vents. They keep them now only in the Deluxe models.
The poles
There is lots of steel here, see the picture with all the poles which you should have included in the package. Essentially, those are 3 groups: the roof poles and rods, legs, and awning poles.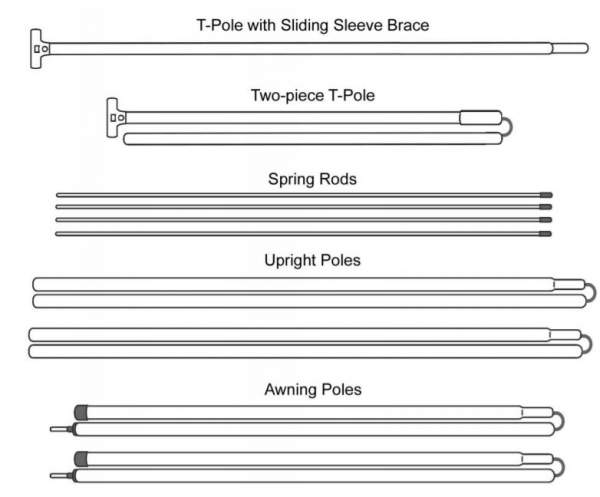 The main poles are 1-inch in the diameter and galvanized, while the Flex-Bow rods are 3/8-inch solid spring steel. The two T-shaped roof poles nest the two legs and the four rods, and the tension is created when you connect the two T-shaped poles and position the sliding sleeve over the connection. This is depicted in the picture: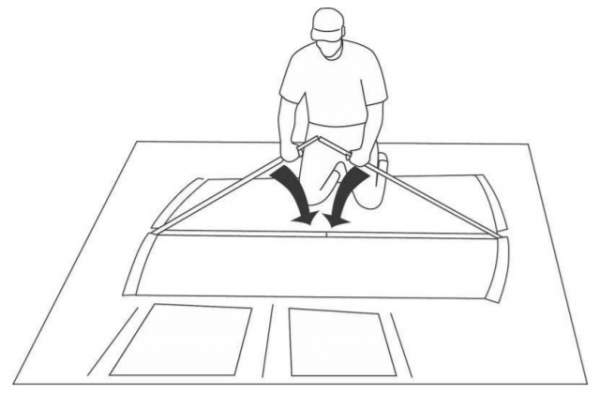 The windows & the doors
In this Basic version there are two windows, one on the front and one on the rear side, you can see them in the pictures. So here you have a dual-layer design with a fine mesh plus canvas. When you zip the panels up, the water cannot pass, there are wide storm flaps around.
Next to each of the windows, you have a door, but this is only canvas. So to keep the bugs out, you have to keep the doors zipped up. The front openings are under the large awning so you can keep the mesh on the front window almost all the time, at least in its upper section. But the design is different on the back side, see the picture, so because of the slightly angled wall, you have to keep the panels zipped if it is raining, or the water will drop directly in. This is a bit of a downside of the design but not a big issue.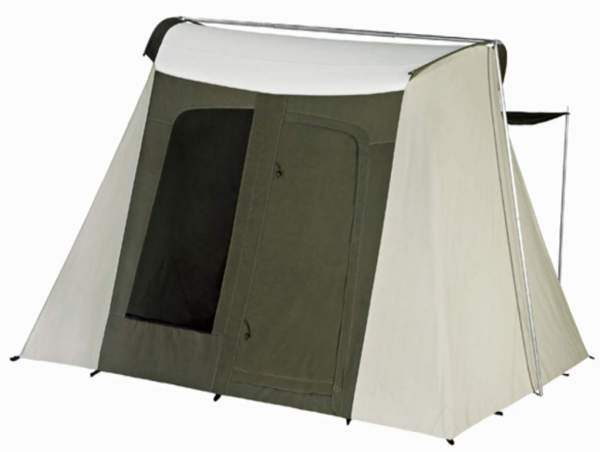 What is included
These are all the components you should have in the package to have a working tent:
Tent body.
1 roof T-pole with sliding sleeve brace.
1 two-piece T-pole.
4 spring rods for the roof.
2 upright poles.
2 awning poles.
2 guylines.
18 stakes 12-inch long. You use 14 of them for stake loops and 2 for the D-rings on the sides. The remaining 2 are for the awning guylines.
1 bag for poles.
1 stake bag.
1 zippered tent bag. As far as I know, the early versions were with a better design, a piece of a panel with straps and buckles that you simply wrap around the tent.
Note also that the zippers are durable and strong #10 coil zippers.
---
Specifications
Model: 6051.
Capacity: 6 people.
Weight: 68 lb (30.8 kg).
Dimensions: 10 x 10 ft (3.05 x 3.05 m).
Area: 100 ft² (9.3 m²).
Area per person: 16.7 ft² (1.55 m²).
Packed size:
– Tent (L x D): 30 x 13 in (76 x 33 cm).
– Poles (L x D): 50 x 5.5 in (127 x 14 cm).
Peak height: 6 ft 6 in (198 cm).
Warranty: lifetime limited warranty.
---
Kodiak Flex-Bow Basic 6 Person Tent vs Competitors
I am hopeful you might want to see some more options when you choose some of these expensive tents, so here I give two of them, the true top-notch items. Both are in the category Deluxe because of some extra features they offer, and all three tents are with the same capacity and the floor size. The weight of this Basic 6 tent is quite normal for such tents, and you may realize this even more if you check my list with best canvas tents. In any case, please follow the links in the table to read more, those two tents are described in detail in my separate reviews.
Kodiak Canvas
Flex Bow VX
White Duck
Explorer Deluxe 6
---
Final thoughts, rating, pros & cons
So in the summary, I can only stress again that this Kodiak Flex Bow Basic 6 Person Tent is really nicely built, there is lots of attention to details here and you will not find many tents with such a craftsmanship. I have a few objections given above so bear them in mind, but I can fully recommend this tent to anybody.
This tent may look expensive but this is a very fair price for this type, you can realize this if you compare it with its competitors. The tent is built so that it will serve you for years, totally worth every penny.
Please see how I rate it, I use the same formulas for all tents so the criteria are the same and you should compare the tents and the rating rather than focusing on the absolute numbers.
Kodiak Basic Flex-Bow Quick Set Up Canvas Tent 6051
$459.99
Pros
Waterproof.
Very reliable.
Top level craftsmanship.
Breathable fabric.
Very sturdy construction.
Suitable for all seasons & all climates.
Cons
Heavy.
Expensive.
Bulky.
The doors are without mesh layer.
Currently, they have quite a number of models on the market and I have already mentioned a few. Yet another very different is this 12×9 Canvas Cabin Tent built as a typical cabin tent.
If you need more options, check in the category Canvas Tents here in the site. But if you need some other type, just look around, there are many tents of all possible types presented in detail. Thank you for reading and please use the comment box below in the case of questions and comments.