---
OzTent 30 Second Expedition Tent RV 5 is a unique and patented instant setup cabin-style tent for all seasons and all weather conditions. Read more here.
---
Key features & benefits
Unique design.
Instant setup.
Poly-cotton fabric.
Fully waterproof.
Tent for all seasons.
Stand-up height.
---
What type of tent is this – what is in the name
These tents have been on the market for many years already, more precisely from 2006, and this is the largest of several award-winning tents in this 30-second series. This is a unique and patented design, but being unique does not necessarily mean it is perfect, below you will see what I mean.
As the name suggests, this is an instant tent and one person can really pitch it under 30 seconds. This is because of its design which includes a frame that is pre-attached to the tent. In view of such a design, I have added it to my list of the best instant tents.
When you unfold the tent and raise it, you lock the frame on the sides and from this moment the tent is self-supporting, so this is a freestanding tent. But as usual, it has an awning which needs to be staked down properly with the help of the poles and guylines which you have in the package. So this additional steps will take you a few minutes, but this is all easily done by one person.
This is also a breathable tent built from a blend of polyester and cotton which is usually called polycotton. This is why I have included it in my list of best canvas tents for camping. As you realize from the picture above, this is a typical cabin-style tent with vertical walls.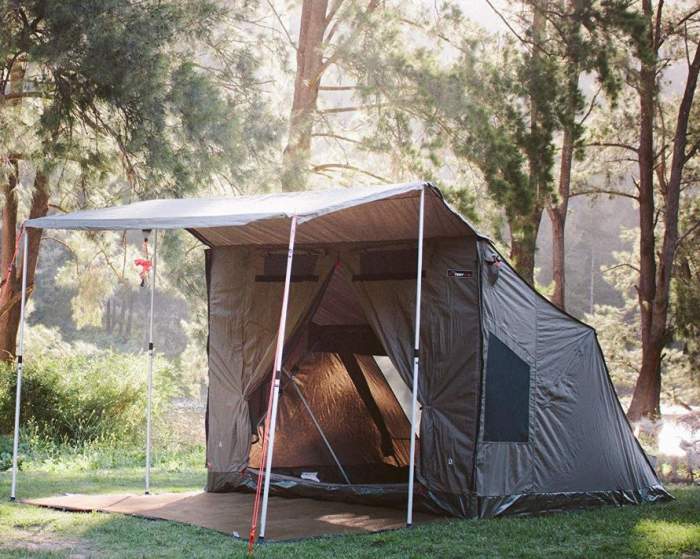 ---
Who is it for
Space-wise, the declared capacity is 5 people. In fact, on Amazon they write 5 – 6 people. But the tent offers only 72 ft² (6.7 m²), and for 5 users this would give 14.4 ft² (1.3 m²) per person. So this is far from enough regardless of how you would plan to use this tent. So it may be large enough for parents with one small kid, or for couples. You do not have storage areas, but you will have your car, see the weight and the packed size below to realize why.
Seasons-wise, they claim it is fully waterproof, and the material and the construction is such that you can close it when it is cold, or let the air flow freely when it is warm. The structure is very strong and you have a few guylines to secure it against winds. The official wind rating for this tent is 100 km/h or 62 mph. So I would say it is good enough for all seasons.
Climate-wise, this is related to the seasons mentioned above. I have included it in my list of cold weather tents because it can be used for such a purpose, but it is equally good for a warm climate.
Weight-wise, this is a very heavy tent with the weight of 55 lb (25 kg), and above all, it is very bulky when packed. Its packed size is such that not everybody can use it even if you have a car. Can you believe this packed size: 78.7 x 15.7 x 7.1 inches (200 x 40 x 18 cm)? This is due to the frame which is pre-attached to the tent and which makes the setup so quick and easy, as you realize you have a true trade-off here.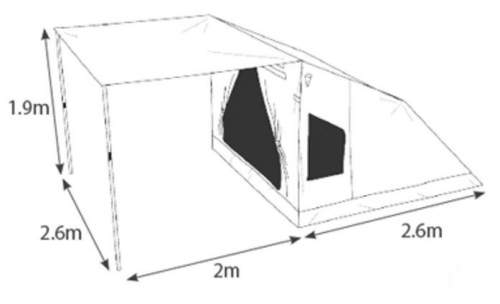 ---
Materials & construction
This is a square structure 102 x 102 inches (259 x 259 cm) with the stand-up height of 6.2 feet (188 cm). The tent fabric is a waterproof 8-oz rip-stop polyester and cotton canvas, and the floor is a heavy-duty PVC with welded seams. The awning is also square and you can use it with an RV or with poles. The frame is preattached and you will see how it works in the video below.
Openings & ventilation
You have one large door plus side and rear windows, and all openings are with mesh and with panels. You also have two vents above the door, under the awning so even if you have to keep all the other flaps closed, you can still keep those vents open; but they are with flaps as well and you can close them if you use the tent in winter conditions.
They suggest lowering one awning pole when it is raining so that the water can go to the ground easily. The floor is a heavy-duty heat-sealed PVC and it is bathtub style, so you are fully protected from the groundwater.
They claim that the tent is 100% waterproof. Well, I do not think that there is such a thing as a 100% waterproof tent, but this is what they claim and it shows their confidence in this tent.
All the zippers are YKK and those are the best of the best. You also have a power inlet. The two side windows open and close from the inside. The mentioned awning is always attached so all you need to do ist to undo the straps and roll it out. Please see more in this short video:
---
What is included
You have the following in the package:
Tent.
Attached awning.
2 telescopic poles 1.9 m (6'2").
Attached guy ropes: 4.
Pegs/Stakes: 16.
Awning guy ropes: 2.
Owners manual.
Carry bag.
---
Specifications
Type: cabin style tent.
Capacity: 5 people.
Weight: 55 lb (25 kg).
Dimensions (W x D x H): 102 x 102 x 74 in (259 x 259 x 188 cm).
Awning: 78 x 78 in (198 x 198 cm).
Area: 72 ft² (6.7 m²).
Area per person: 14.42 ft² (1.34 m²).
Packed size: 78.7 x 15.7 x 7.1 in (200 x 40 x 18 cm).
Setup time: 30 seconds.
2-year warranty.
---
OzTent 30 Second Expedition Tent RV 5 vs Competitors
In fact, I do not see any true competitor to this tent because of its completely unique structure. So I have decided to show you a couple of other canvas tents as some extra options in particular because of the high price of the OzTent RV 5 tent. Canvas tents are usually expensive but the two examples which I show in the table are far more affordable.
78.7 x 15.7 x 7.1
(200 x 40 x 18)
33 x 24 x 19
(85 x 61 x 48)

43 x 13.5 x 13.5
(109 x 34 x 34)

---
Final thoughts, rating, pros & cons
In the summary, this OzTent 30 Second Expedition Tent RV 5 is a totally unique construction, yet very bulky when packed and very expensive. But if you can afford it, you will have a reliable tent. This series has been around for over a decade already and there should not be unpleasant surprises.
The tent comes with a 2-year warranty, and this should not be a surprise in view of its price. You have seen some numbers already so you realize why I dislike the weight and the packed size. The tent is expensive, so this is far from an affordable item. See how I rate it:
Note that they have another instant tents for 5 and 7 people, the Oxley Oztent Lite 5 Fast Frame Family tent and the Oxley 7 Lite.
If you need more options, check my list with canvas tents. Check this Alpha Kilo 4000 Canvas 6 Person Bow Tent which is a dome style 4-season tent and also this White Duck Outdoors Family Explorer Deluxe Tent which is a cabin-style flex-bow construction. If you need a cabin-type 5-person with much more space, check this Skandika Weatherproof Tonsberg Tent with its 3 rooms.
Note, this is not a sponsored text and I am not paid by the manufacturer, I am only expressing my own unbiased views about this product.
Do you have any experience with this tent? If so, please let us know, there is a comment box below. Have a nice day.