---
Bushtec Adventure Alpha Kilo 4000 Canvas 6 Person Bow Tent is a freestanding and durable steel frame dome-style tent for all seasons and for all climates.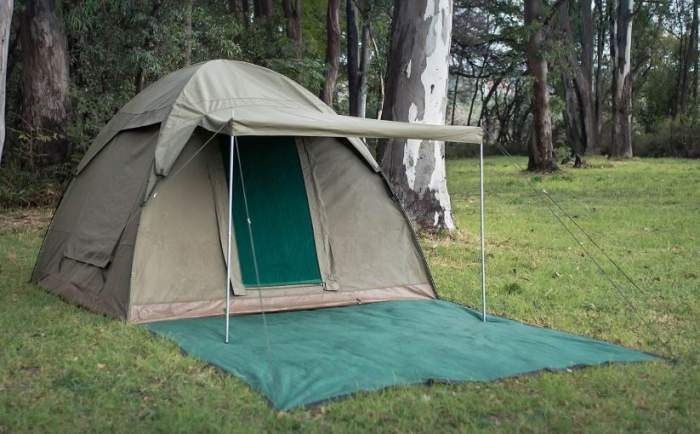 ---
Key features & benefits
Canvas tent.
Dome-type structure.
Steel poles.
Freestanding.
4-season tent.
3-year warranty on all parts.
Built to last over 15 years.
---
What is in the name
This Bushtec Adventure Alpha Kilo 4000 Canvas 6 Tent is a dome type tent and it is also a canvas tent. So these are its two most remarkable features. They use the term bow tent in the name but this is nothing but dome style construction yet of a particular type – with spring steel poles. The tent is very similar to their Bushtec Adventure Nomad 6 Person Bow Tent that appeared on the market recently.
The tent is freestanding and you will see this in the video below. Though it has an awning which you have to stake out and support with extra two poles. You have a partial-fly structure here, so they add such a design because the tent is waterproof itself but it has vents on the top and the main function of the fly is to protect that ceiling section.
Yet another function of the fly is ist awning which is the part of the fly, so this creates lots of pleasant covered space in front of the tent, see the picture below. I have included it in my list of best canvas tents with awning.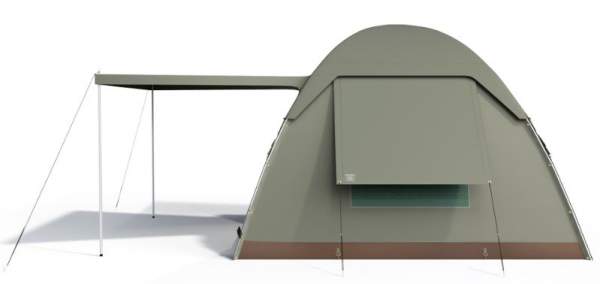 The tent is a single-room structure. Note also that for a dome tent, this is a very tall structure with a peak height of 84 inches (213 cm). They claim it is so durable that it will last at least 15 years.
---
Who is it for
Capacity-wise, the tent's declared capacity is 6 people. But it offers only 100 ft² (9.3 m²) so for such a number of users this would give 16.7 ft² (1.55 m²) per person. This is far from enough for camping but it might be OK if you are attending an open-air festival or you are on a cruise tour with your friends and you use the tent only to stay the night. For real camping, I would downgrade it to 3 people maximum, like parents with one kid, or for couples.
Seasons-wise, I am convinced this tent might be good enough for all seasons. As a canvas tent, it keeps the warmth well so it is better suited to a cold environment than synthetic tents. For summer camping, it has lots of mesh on the windows and on the door, and it is breathable so it looks perfect for me. They claim that it can easily withstand winds of 60 mph. In view of its aerodynamic dome structure and all the hardware, this looks realistic to me. But note that the declared waterproof rating is very low.
Climate-wise, this is related to the mentioned 4-season use. Note also that you have a triple structure on the openings, the inner and outer flaps for extra warmth or cooling.
Weight-wise, well, this is not where this tent shines; it weighs 90 lb (40.8 kg). So you should be a strong person to carry it around. Also, the packed size is such that you definitely need lots of space in the car, it packs down to 50 x 18 x 13 inches (127 x 46 x 33 cm).
---
Materials & construction
The fabric
The Bushtec Adventure uses a military-grade canvas and they supply tents to the military, United Nations, WHO, UNICEF, and UNDP. So in this tent, you have a heavy-duty, rip-stop canvas 550 gsm. The canvas is impregnated during the production process and it is fire retardant to all international and USA standards (CPAI 84). It also blocks UV rays and prevents decoloring with rating 4 on the blue wool scale. They claim that there is no noticeable color fading for 15+ years.
They write it is totally leak-proof and the waterproof rating is 550 mm. This does not look much, only a bit more than an umbrella, but then you might not need more. They claim that Bushtec Adventure was the first tent and gazebo manufacturer to implement Sweden's Eton System, making the products built to last and to withstand the elements making them true Four Season tents. The partial coverage fly is canvas and the same material is the awning.
The floor is a rugged 550 gsm PVC with a bathtub design, see the picture below. There are re-enforced heat-sealed sections to prevents leaking and to ensure longevity. Note that the carry bag is waterproof.
The door & windows
There are two side windows with mesh and inner and outer flaps. Those flaps can be rolled up when the sky is clear and you can have only mesh on the windows. The tent is with a single front door that is also with a mesh and a panel.
Ventilation
Since this is a canvas tent, it is naturally breathable so ventilation should never be an issue. The windows are designed so that their flaps can always be open and you stake them out, so they work like vents.
But they have also added two vents on the top and you can see them in the picture below. As you realize, they are with zippers so you can regulate the airflow. You will need it if you camp in a cold environment and want to preserve the warmth. This is an excellent design that will work well in any climate.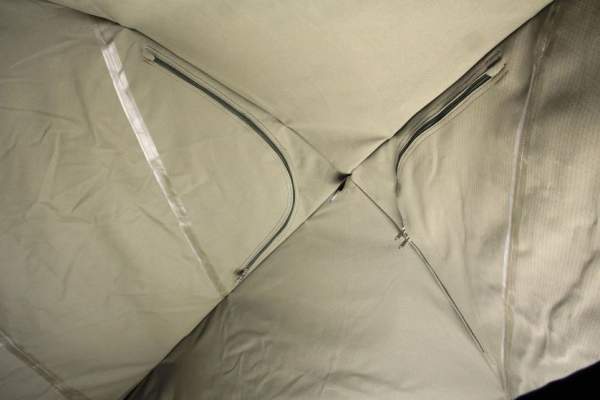 The frame & hardware
The poles are a premium grade powder coated flexible yet ultra-rigid and high tensile spring steel. The zippers are the high-quality #10 YKK, and you have unbendable pegs, zinc-coated D-rings, and brass eyelets, see the pictures below. This is all built to last for many years.
The hardware includes the main X-shaped frame, two awning poles 19 mm in diameter and 1.6 meters long, and 16 stakes.
Other features
Inner and outer flaps retain warmth and design encourages airflow.
Electric socket pockets.
Storm straps included.
Safe to use internal heating with normal precautions.
4 guy ropes included in the package, plus 4 attached to the tent.
Stand-up design.
Window heights and air vents designed to maximize airflow at bed level.
Please see how to set this tent up:
---
Specifications
Capacity: 6 persons.
Weight: 90 lb (40.8 kg).
Dimensions: 10 x 10 ft (305 x 305 cm).
Area: 100 ft² (9.3 m²).
Area per person: 16.7 ft² (1.55 m²).
Peak height: 7 ft (84 in; 213 cm).
Packed size: 50 x 18 x 13 in (127 x 46 x 33 cm).
Spring steel frame.
Setup time: under 20 min.
3-year warranty on all parts.
---
Bushtec Adventure Alpha Kilo 4000 Canvas 6 vs Competitors
In the table, I give a couple of options to consider. The Crua Tri is a unique insulated tunnel tent and with the poly-canvas fabric, and this is the tent which is with the quality totally comparable to this Alpha Kilo 4000 Tent. The OzTent tent is an instant cabin type tent with canvas fabric. So all are different but with incredible features. Ignore the officially declared capacity and just focus on the features and the floor area instead. Please follow the links to read more, they are described in detail in my separate texts.
50 x 18 x 13
(127 x 46 x 33)
33 x 24 x 19
(85 x 61 x 48)

78.7 x 15.7 x 7.1
(200 x 40 x 18)

---
Final thoughts, rating, pros & cons
They make strong statements about the durability, and from the description above it appears that this Alpha Kilo 4000 Canvas 6 Person Bow Tent is indeed as durable and reliable as they claim.
So when they write it is built to last 15+ years, I would take this literally. The tent is quite unique on the market in view of its dome shape and the canvas material combination. I have included it in my list of best dome tents, best cold weather tents for camping, and best canvas tents.
The current Amazon price high but I am totally convinced that it is worth every cent, this is a tent built to last as they claim. See below how I rate it. My rating for the reliability and protection is lower than I would normally give to a tent with such a quality craftsmanship, but the official waterproof rating is very low. Otherwise, I would give it a pure 10/10, this is how well-built this tent is.
Bushtec Adventure Alpha Kilo 4000 Canvas 6 Person Bow Tent
You might want also to check this Delta Zulu Combo Canvas 4 Person Chalet Tent with Gazebo from the same brand. But if you do not wish to spend much and need a tent only for occasional summer camping, check this freestanding Browning Camping Hawthorne 6 Person Tent. But if you want something different in style yet with the same canvas material, check this Trek Tents 246C Cotton Canvas Cabin Tent and also this Kodiak Canvas Flex-Bow VX tent.
There is yet another tent from this brand here the Bushtec Adventure Echo 2200 Luxury Camping Tent, so you might want to have a look.
Note that this is not a sponsored text and I am not paid by the manufacturer. I am only expressing my own unbiased views about this product. Thank you for reading. Please let us know if you are familiar with this tent and the brand, there is a comment box below. Have a nice day.